Real trading results are important for us, so we are ready to publish online statistics of profitable trading robots designed to make money on the Forex market online. This is a handy tool for users who prefer automated trading.
Best Forex Robots table is regularly updated and completed with new Forex EAs, software & platforms. Therefore, if you do not want to miss anything – add the page to your bookmarks and from time to time come back here for new information. Good luck 🙂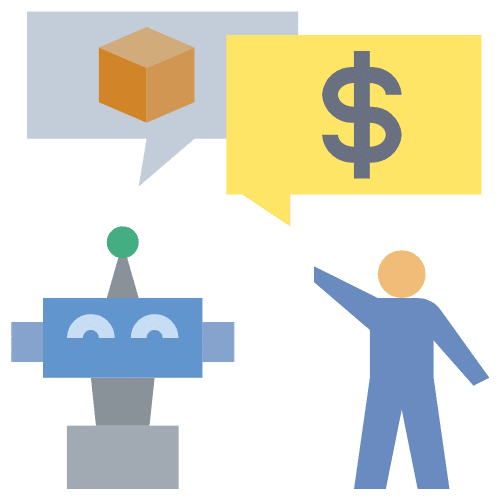 | № | Forex Robot | Account | Started | Deposit | Profit | Gain | Monthly | Daily | Chart |
| --- | --- | --- | --- | --- | --- | --- | --- | --- | --- |
| 1 | TechBerry | Review | Real (USD) | Jan 25, 2015 | $50000 | $431200 | +762.40% | 11.2% | 0.37% | |
| 2 | DynaScalp | Review | Real (AUD) | Jun 18, 2021 | A$1325 | A$1283 | +884.36% | 11.17% | 0.33% | |
| 3 | Happy Forex | Review | Real (USD) | Jun 18, 2021 | $1000 | $578 | +69.00% | 4.71% | 0.15% | |
| 4 | Fast Money | Review | Real (USD) | Jun 21, 2021 | $5000 | $2003 | +94.08% | 5.99% | 0.19% | |
| 5 | inControl Reborn | Review | Real (USD) | Feb 12, 2018 | $1000 | $12767 | +1277.27% | 5.17% | 0.17% | |
| 6 | The Skilled Trader | Review | Real (USD) | Oct 16, 2019 | $5000 | $8103 | +161.64% | 7.01% | 0.20% | |
| 7 | FXHelix | Review | Real (USD) | Jul 21, 2020 | $1000 | $4116 | +411.65% | 15.51% | 0.48% | |
| 8 | WallStreet 2.0 | Review | Real (AUD) | Dec 22, 2017 | A$866 | A$1261 | +174.72% | 2.57% | 0.08% | |
| 9 | FXStabilizer | Review | Real (USDcent) | Apr 04, 2016 | $500 | $11147 | +2229.52% | 5.34% | 0.17% | |
| 10 | GPS Forex Robot | Review | Real (USD) | Oct 08, 2019 | $50000 | $121091 | +242.18% | 1.13% | 0.04% | |
1)    Random robots that have just appeared and have not proved their effectiveness are not added to the table. Therefore, you will only work with proven algorithms and get more chances for a positive result. We believe that a quality best forex robot should be tested by time – this is the main factor that is taken into account before including the program in the overall rating.
2)    In the table, you will see the indicators of all trading advisors who have worked for several months or years. This will help you to understand which of the robots is the safest or which program you need to connect for aggressive trading and getting quick results. For the convenience of search, you can use a filter that will sort the algorithms according to the following criteria: drawdown, initial deposit, number of days worked and total profit. The better the ratio of these indicators, the greater the assessment assigned to the robot in the overall rating. For clarity, you will see a graph giving a visual assessment of the performance of each robot.
3)    If in the process of studying a trading robot, any questions arise or the published information is not enough, then you can click on the additional link and see a detailed overview of the program you like. In the review, you will find trading account statements and a link to the official website, where developers add all the available data.
What is a forex robot (EA)?
Forex trading robots are automated software that executes trades based on a coded algorithm. These EA are becoming popular among investors due to their automatic nature to make passive income. With the developments in the financial and software industry, there are tons of expert advisors at a trader's disposal.
It can be extremely taxing for you to choose the right trading robot that fits your risk appetite and will not disappoint over the long term. To help save you from selecting the top, we have carefully analyzed the best forex robots in the market and included the top ones in our article today.
How do forex robots work?
Depending on the coding, your robot may be designed to work on the industry-standard MetaTrader platform or come with an investment program that asks for a deposit from your side, and the company handles the rest. EAs are also available for other software such as cTrader; however, their quantity is low.
To put these automated traders into their job, you must first install them in the MetaTrader 4 or 5 directories of MQL experts. Once you finish copy-pasting, they will show up in the expert advisors tab. Drag robots out and drop them on the chart and time frame. Do not forget to click the auto-trading button.
Based on their algorithm, the expert advisors may request inputs from you such as the lot size method, frequency of trades, etc. Services providing best forex robots are entirely automated and only require an investment from your side. After the deposit, you will receive the profit daily or monthly, depending on the chosen plan.
Is it legal to use forex robots?
It is definitely legal to use automated software for trading. Some brokers even introduce accounts that are exclusive to handle robots that use arbitrage or hedge strategies extensively. There might be restrictions by some companies as their network system is unable to take bulk orders.
Proprietary firms may also limit trading robots as they like to test out a trader's performance. Inhibitions are there if the EA fails to work without any proper stop loss and take profit. It is indeed legal for a retailer to use and employ expert advisors in their own trading.
What are forex robot types?
The extensive collection of automated trading software has inducted categories within this tool. There are different types of forex robots:
Arbitrage

. These EAs exploit the difference in prices amongst the two brokerages for minuscule profits. Due to the high-frequency trading style, many brokers do not accept them.

Scalping

. Scalper EAs utilize the market volatility to their advantage. They open up trades for a few seconds to several minutes and mostly work without a proper stop loss system.

News EA

. These robots wait for a fundamental release and capitalize on the volatility generated by them. They open up positions before and after economic releases. 

Hedging

. As the name indicates, this automated trading software uses the hedging technique that opens orders on both sides in a losing trade.

Grid

. Grid robots open orders on the chart that makes it look as if a grid has been formed. It takes market volatility into account and opens trades at a certain distance amongst price levels.

Trend

. These robots take the market trend and momentum into account and open positions in a similar direction. These trades are kept open for a long or short duration.

Level trading

. These EAs are suitable for conditions when the market is ranging. It considers price levels before opening trades and are available to employ on all instruments.

Machine learning

. Machine learning EAs utilize the neural network that allows them to learn much like any average human. The fact that these are robots gives them a statistical advantage over us.
Can you make money with robots?
It is possible to make money with robots, given that you use the correct risk management settings and the time frame. Automated trading software is exclusive to the kind of currency pairs they work on. The developers make sure to backtest them extensively to determine the best possible settings. To see if an EA will work, you can try backtesting trading platforms features and later employ them in live portfolios.
Make sure you stay away from scammers that guarantee instant profits with their system. In currency trading, robots that work without a proper set of rules and risk often lose. Check out for verified results on popular tracking websites such as Myfxbook to see if the automated software can make money.
Pros and cons of automated forex trading
Using expert advisors to make passive money, helping you make trading decisions, and managing current ones have their benefits and demerits. Let us take a look at the possible advantages and disadvantages of automated forex trading:
Pros:
You can make money passively by sitting at home and without moving a finger.

It is relatively easy to set up a robot on your trading platform. You only need to download the setup file of EA and copy it in the software's directory. After that, the automated trading robot will show up in the list of expert advisors, and you can place it on any chart.

Trading robots allow you to add the element of automation in trading, improving your consistency and gains. They are able to monitor multiple pairs at once and work without any stress.

Almost all robots can be easily backtested using the backtesting features to determine future performance.

It is possible to use automated trading systems over multiple accounts and diversify your equity.

Trading robots are free of emotions and therefore trade consistently based on the input algorithm.
Cons:
Any disruptions in the internet connection can hinder the trading activity. You may also require ultra-low latency and spread according to your robot's demands.

There are too many poorly designed robots in the industry that choosing the right one can be a hassle.
How to avoid scam forex robots?
There are several points that you can point out to note if a forex robot is a scam:
Easy profits

. If there are huge promises of easy wins and becoming rich overnight, then it is indeed a scam. Everyone comes into the market to make money, and scammers readily exploit this.

No track record

. A good trading robot always has a verifiable track record of its results on notable websites such as Myfxbook. The developers are also not afraid to answer any incoming questions.

Blacklisting

. You can find various regulatory authorities put these EAs under their blacklisted category. The regulators constantly list genuine and fake companies. 

Backtesting

. Make sure that the robot is available for free backtesting. Test out the robot comprehensively under different settings to make sure it can handle the worst possible market conditions.

Overpricing

. The automated trading software famous for scams is usually priced higher and demands a lot of initial investment from you. Even the MQL platforms list robots with pricing of over $10,000 with no proof records.

Data manipulation

. Scammers change the results of a trading robot to show only what is profitable. You can demand a complete overview if you feel something fishy is going on.
How to create a forex expert advisor?
It is possible to create a perfect trading robot. However, you have to keep the following things listed below in mind before considering yourself eligible to develop one.
Trading strategy
The strategy that a robot executes must be developed with ultra-precision and care. Create a precise chart that the developers can easily comprehend. Never expect an inexperienced trader to establish a profitable game plan or an EA.
Learning MQL or hiring a professional coder
You do not want your perfect trading system to underperform because of coding issues. Always hire a professional software developer to build your own EA if you can not perform the task independently. They may charge more money but remember that the return on investment is substantial.
Backtesting
We can not stress the importance of adequately backtesting your system. Do not directly hand out your cash to a developer before putting the EA on a demo or a live trading account. You can also utilize forex simulators to your advantage that will complete the testing within minutes.
Fixing issues
If there are any recurring issues with the robot, discuss them with the coder and fix them properly. Remember, this can change your life, so removing all the errors and bugs within the system will help your cause.
Do you need a VPS for automated trading?
There are so many benefits of using a virtual private server, especially with automated trading software. The service doesn't cost a penny and saves you from the potential troubles of losing the Internet. All the VPS services related to forex have 24/7 connection and ultra latency to brokers, usually 1ms. This is useful for expert advisors that demand high-speed connections. There is also no load on your PC/Laptop as the trading platform works on another computer.
What factors do we consider while selecting the best forex robots?
Each of the following points below may be crucial while selecting the best trading robot. However, a lot will depend on your trading style and preferred strategy. 
Reliability and reputation
Before selecting the best trading robot, the first and foremost criteria are to check the team's reliability behind the idea. The developers should have years of experience in coding alongside trading. Some EA vendors will provide loss coverage if you put funds in their programs to build up the reputation and show confidence in their services.
Trading strategy
Your robot can perform much like an average trader by following regular strategies such as scalping, day, and swing trading. Some EAs can also incorporate hedging and arbitrage at a much faster pace than normal humans. The trading plan of your automated software will decide the amount of risk it takes on each execution.
Backtesting and verified results
We always select the automated trading software that has been verified in live trading by popular websites such as Myfxbook. You can scan the website to get information on the drawdown, monthly gains, performance chats, winning ratios, risk-reward, etc. 
It is also essential that we test out the robot on our platforms before buying it. Make it work under the same settings, or tweak them according to your taste to see how it goes for certain market conditions.
Customization
We check out robots for customization within the interface to make it work according to our strategy. Settings such as time frame, lot customization, currency pairs, maximum orders, and TP/SL adjustment can help increase robot consistency by a significant margin.
User reviews
With Forex Peace Army and Trustpilot's help, you can look for reviews from other investors who have bought the trading robot. It is possible to gauge the outcomes by solely utilizing others' ideas. Ratings above 4 qualify an EA for our reviews. 
You can also find criticism on the robot's website; however, the best option is third-party platforms.
Easy user interface
The user interface of a robot must be easy for beginners to comprehend. Having complex installation procedures only adds to the misery of traders who are looking for a stream of good passive income. 
Automation
The best trading robots are those that offer full automation in their service. Some EAs are built for managing trades or providing signals which require effort from your side to click the buy or sell button. 
Filtering news
Being able to filter out essential fundamentals before their release is a plus. Volatile economic events can cause extreme fluctuations in liquidity and price, leaving your equity at the mercy of drawdowns.
Customer support
Good trading robots have superb customer support handed out via live chat, email, or phone. The representatives are clear and concise in their answers. We contact the services to ask them questions about the robot to put them on our list.
How do we analyze performance statistics?
To analyze Myfxbook trading data for scanning profitable robots, you can use the following criteria.
Account types
Check to see if the account that the robots show its performance is live or demo. Paper trading portfolios do not respect real market liquidity, and most EAs fail to deliver similar results on a real account.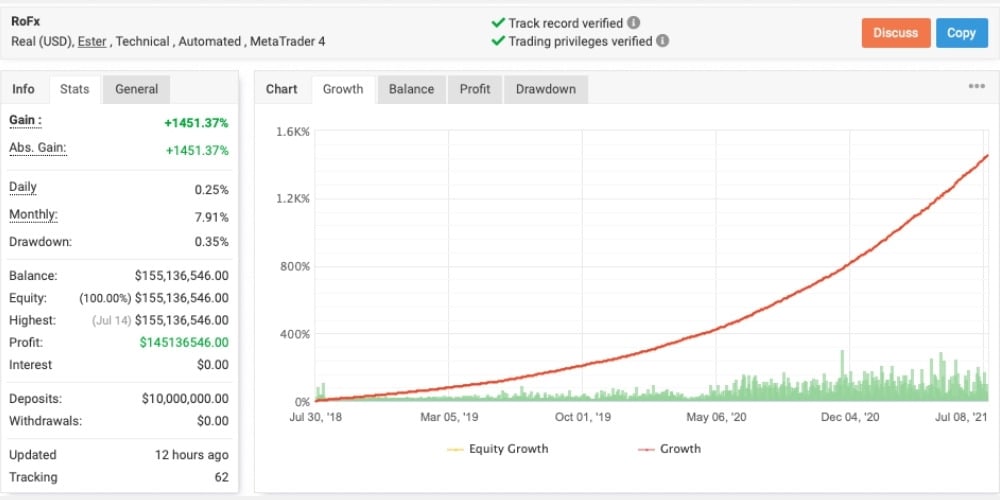 Total, monthly and daily gains
See how much profit you'll be making on the initial investment for 24 hours, a month, or a year. Robots can hand out 5-15% return a month with drawdowns that do not exceed 10%. With Myfxbook, you can see the monthly gains and get additional information.
Dynamic monthly change
Myfxbook allows you to see the monthly change in regards to a set number of previous years. By doing so, you will cancel the noise created by the significant gains or drawdowns.
Drawdown
See the amount of drawdown that a robot offers. If the account value suffers a loss of -70% and provides a monthly gain of 10%, it should raise alarms. You can also click on the risk of ruin which tells the probabilities of hitting certain drawdown levels.
Trading days
Check and see the number of days the robot trades. The more, the better is the formula here, as further executions mean that the system is active. It will also help in getting better gains if the EA is profitable.
Profit factor
Profit factor is the difference between the number of pips your system is beginning versus the losers. You can also define it as a risk-reward ratio – contrast it with the winning percentage to see how profitable the automated trading software is.
Deposit/balance ratio
Check to see if some recent deposits in the account may tweak the percentage gain values. There should be a single cash-in at the initial stages when the robot is put on the pairs.
Currency pairs trading summary
It is possible to filter out the currency pairs and see the performance of each of them. Click on the monthly gain values – and you'll witness profit factors and trading frequencies.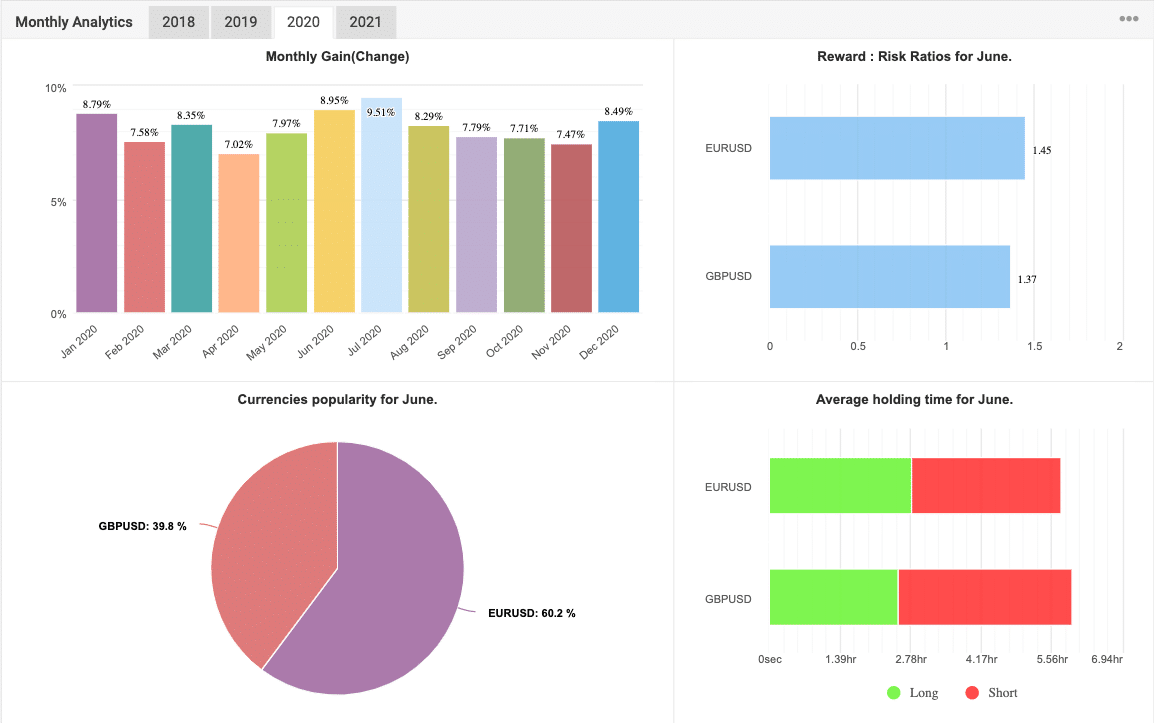 Equity curves
The graph on the equity curve shows the amount of drawdown or profits on a single position. If you see a sudden fall in the equity growth, understand that the EA utilizes a system that works without stop loss and uses hedging or other risky strategies. 
Browser
The browser helps you view specific buy or sell trades on currency pairs in relation to the time frames. The benefits don't just stop here, as clicking on the executions will give you detailed information on all the essentials.