Happy Fast Money is a Forex robot owned and developed by Happy Forex. The company has a wide array of products and services related to forex listed for sale on the market like robots, indicators, news updates, etc. The EA operates by using buy or sell limit orders. To better understand the performance of this system, we will analyze and discuss its key features in this Happy Fast Money review. 
Product offering
The parent brand, Happy Forex, shares the trading strategy of the algorithm on the website, along with live trading results and backtesting records.
Vendor transparency
Happy Forex is the trading company behind Happy Fast Money. Customers or users can contact them through a contact form on their website, email, or company page on Facebook. All trading reports like live trading results and backtesting records are verified by trusted authorities, pointing towards good practices. 
Price
Prospective customers can buy the robot from the website in two packages. One is sold for 299 Euros which provides access to 2 Real Accounts, whereas the second package is sold for 499 Euros which entitles the users to 5 Real Accounts. Along with this, benefits like 24/7 customer support, free lifetime upgrades, a detailed user manual, and a 30-day money-back guarantee are provided. 

Trading strategy
The developer states that the robot trades on EURUSD, GBPUSD, EURGBP, AUDUSD, EURCHF, and USDCHF. It uses buy or sell limit orders to place trades. Traders can trade the robot on any account size i.e. micro, mini and standard. 
From the live history present on Myfxbook we observe that it uses averaging techniques and swing trades the market with an average holding duration of 4 days. The phenomenon of grid trading is obvious when we see that multiple trades are closed at the same instance with identical lot sizes. We also deduce that the robot uses a cumulative profit option as the exit trades are on multiple currencies.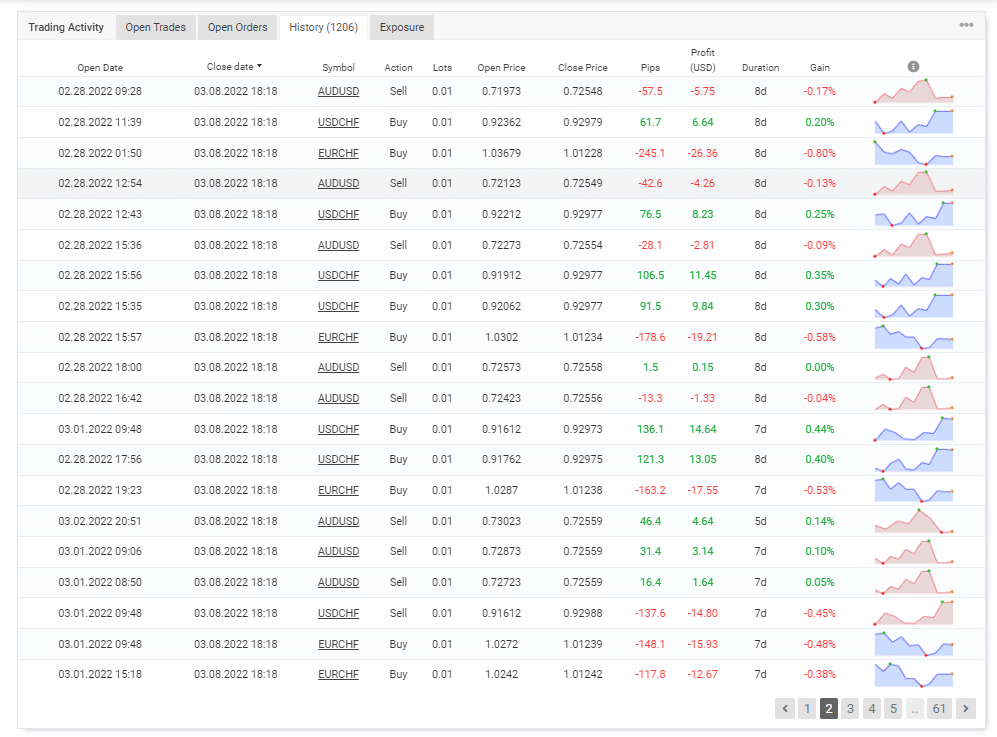 Trading results
Unfortunately, the seller does not share backtesting results with us, which could help us analyze the system's past performance. 
We can access the live trading records of the robot through a hyperlink. All results are certified by Myfxbook. These results are from June 21, 2021, until March 09, 2022. 
The EA has a monthly growth rate of 6.05%, with a drawdown value of 20.97%. The balance amount is shown as 3,3345.29 USD. The algorithm has accumulated a profit of 1,345.29 USD during this time period. Deposits stood at 2000 USD. 
The product has participated in a total of 1205 trades, out of which it has won 72%, which is very impressive. The lot size is reported as 12.9. The profit factor stands at 1.67. The robot has an average trade length of 4 days.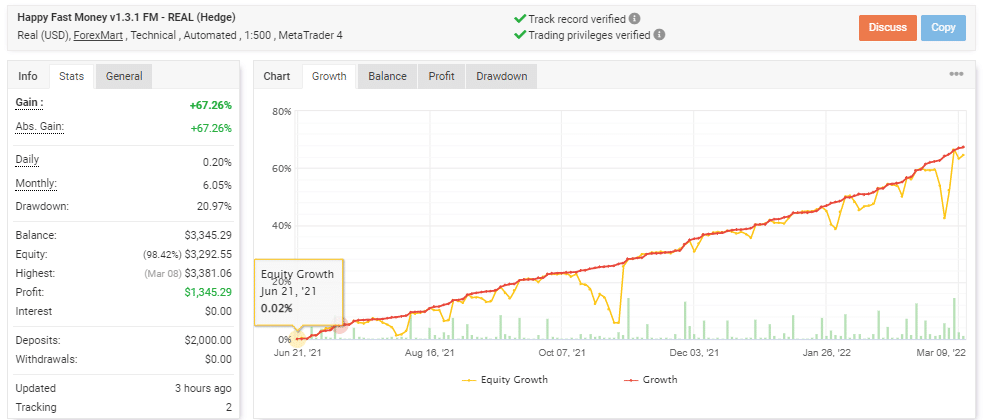 Customer reviews
Very positive customer reviews can be found about the parent company, Happy Forex, on TrustPilot. Over there, the company has an excellent rating calculated from 13 reviews, all of which are positive.
One satisfied customer highly appreciates the company for developing such good products because he saw a 35% increase in gain within a week after activating the product.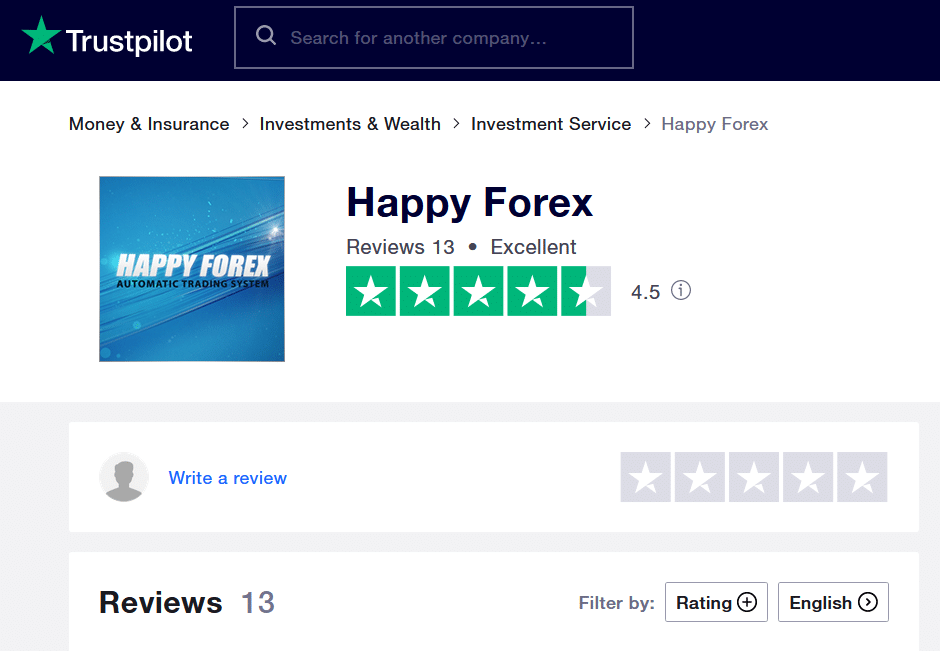 Pros
Detailed information on the strategy
Verified live trading results have been provided
Provides money-back guarantee after the purchase
Cons
No backtesting records
Verdict
Happy Fast Money is very transparent about its strategy. The sellers provide concrete stats like live trading results that show the robot's up-to-date performance. Along with this, positive customer feedback and a money-back guarantee are at hand with the purchase.