We've received a lot of requests to review GPS Forex Robot during the past month. So here we go.
GPS Forex Robot is one of the first automated forex expert advisors for the MetaTrader 4 platform. The software has been developed by Mark Larsen, who's also known for his sites and blogs covering automated trading such as Forex EA Lab. Currently, we have a deal with the latest update of the software which is GPS Forex Robot 3. The major improvements are the speed of trade execution, trailing Take Profit, and optimized settings.
Based on our research, the robot is available for traders since 2011. It's quite a long time in this industry. In this review, our primary focus will be on the latest performance of the robot, as well as reports from real customers. Let's check whether GPS Forex Robot can be one of the best forex robots or it's just another Forex EA.
Product Offering
| TYPE | Forex Robot |
| --- | --- |
| COMPATIBLE TRADING PLATFORMS | MetaTrader 4 |
| CURRENCY PAIRS AVAILABLE | EURUSD, USDCHF |
| MINIMUM DEPOSIT | $100 |
| TIMEFRAME | Any |
| PRICE | $149 |
| MONEY BACK GUARANTEE | Yes |
Mark Larsen offers to by a copy of GPS Forex Robot for $149 to a limited amount of traders. For the price, you will get instant access to the software, free video tutorials, webinar recordings, and lifetime support service. Taking into account promises to make over 30% a month for such a low price, we have a reason to be cautious here. Why would the developer of such profitable software sell it so cheap instead of offering a managed account service? Will it show the same performance on a user account? These are the questions we want to find answers to in our review.
Trading Strategy
Strategy explanations of GPS Forex Robot are vague and pretty much useless. We assume that the software implements some trend-following strategy (buy with an up-trend, sell with a down-trend; the robot predicts whether price movements will continue in the same direction). If a trade goes wrong, the robot can open a reverse order to cover the small loss. Well, at least we know one trick.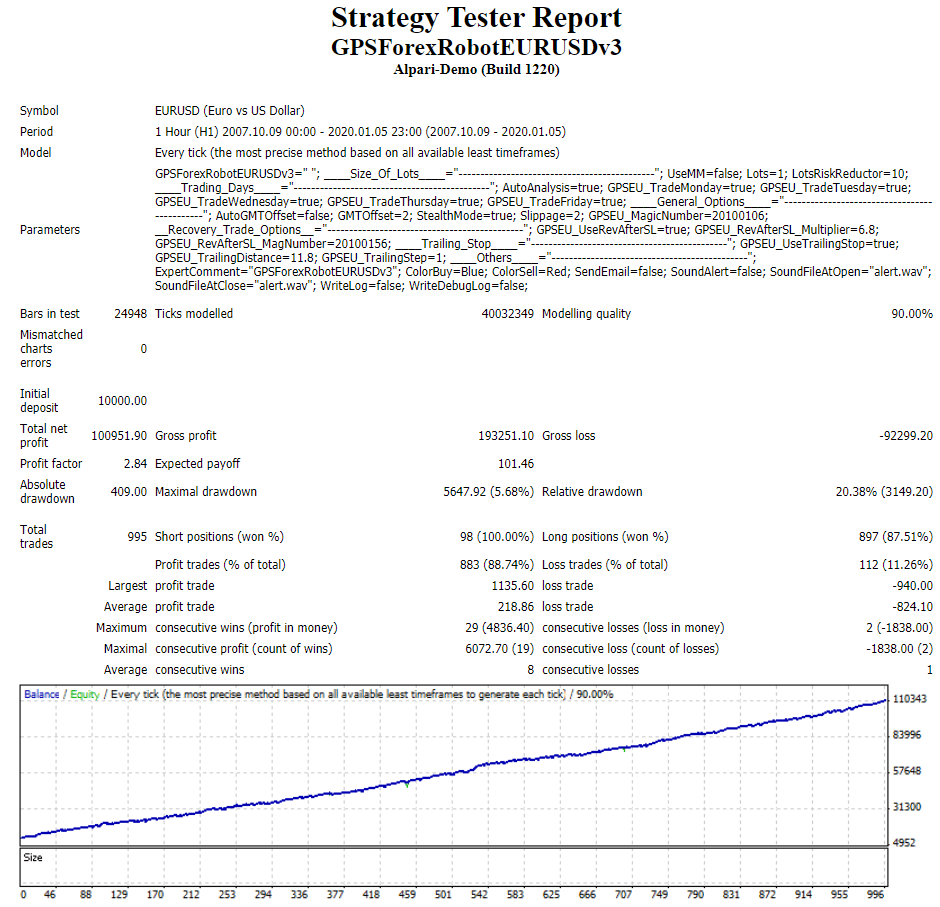 Trading Results
Here comes the most interesting part. 80% of the presentation is filled with live accounts statements. The first one is a myfxbook verified real live account with a $100000 deposit started in May 2012. It uses 1:200 leverage with FX Choice as a brokerage company.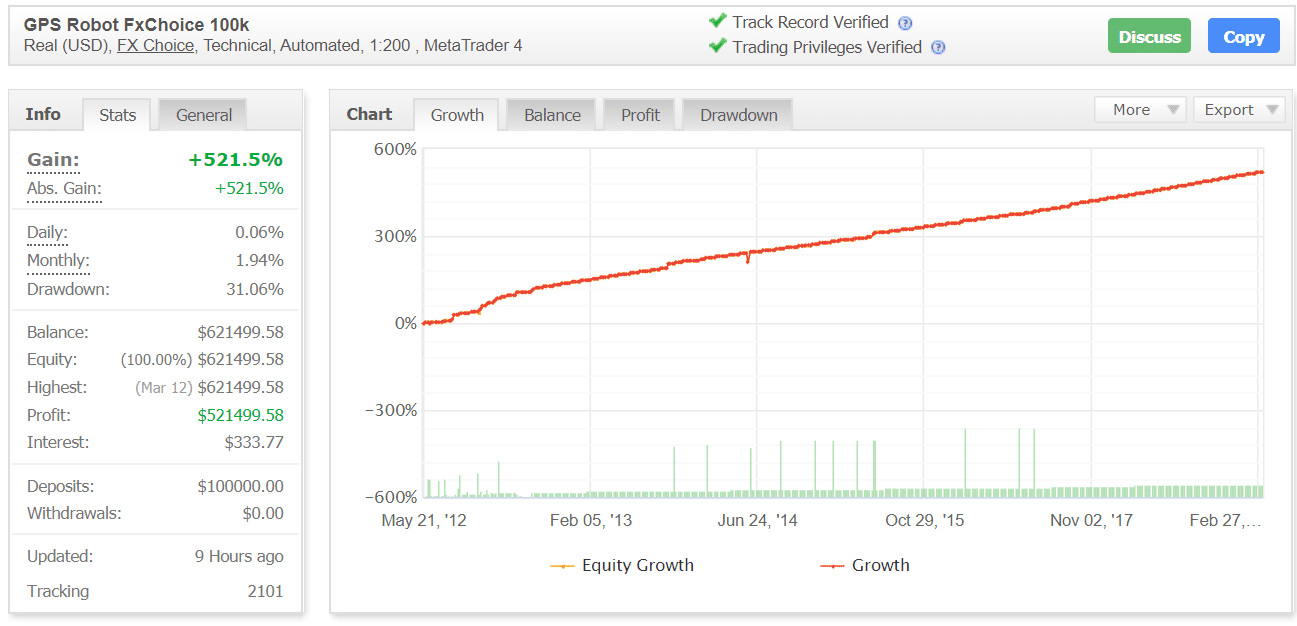 The system is showing an absolute gain of 521% but with a monthly profit as low as 1.94%. On the charts below, we can see that the most profitable months were back in 2012. Since then GPS Forex Robot performance is showing the downtrend.
At the moment of this review, an average monthly gain for 2020 equals 0.31%, which is way too far from the expected numbers. Pretty much the same picture with another live account with a smaller deposit.
Customer Reviews
For the robot that has been on the market for such a long time, it's no wonder that the system should have tons of reviews from real users. GPS Forex Robot has mixed reviews from customers. The most common complaints refer to infrequent trades (2-3 per week), weak performance compared to promised returns and slow response time from support service.



There are some requests from people asking for a refund because the service is not answering their emails. So, we can't be sure that you can get your money back in case if the system blows up your account.
Pros
Low price
Tutorials and free updates
No martingale, grid or scalping
Cons
Weak performance
Customer support
Lack of strategy explanations
Verdict
We have mixed feelings about GPS Forex Robot. The software can be good enough for someone who wants to make 2 pips of profit weekly. We are looking for a system that shows consistent returns over a long period of time. For now, we can't recommend GPS Forex Robot to our readers.