DYNASCALP is a Forex expert advisor that claims to have made more than 500% profit with a low drawdown. According to the developer, this EA lets you make triple-digit makes even if you are an inexperienced individual. It is a fully-automated expert advisor that does not follow risky strategies and is supported by a real-money trading account.
Product offering
The vendor has made an elaborate presentation on the official website. They have highlighted some of the main features of the system and explained in detail how it works. We have the trading test statements for each pair, along with a live trading account and pricing details.
The parent company, LeapFX, has its headquarters based in New York, United States. This company has a reputation for manufacturing profitable Forex expert advisors like Funnel Trader 2.0, Automic Trader, AX Trader, The Fund Trader, Easy Money X-Ray Robot, Trade Explorer, and Bounce Trader. 
There are two pricing plans for this EA. The yearly plan costs $247, while the lifetime plan can be bought for $397. With each plan, you get the best recommendations, customer support, best settings, and free updates. The vendor also offers a 30-day money-back guarantee for this expert advisor. 
| Type | Fully-automated EA |
| --- | --- |
| Price | $397 |
| Strategy | Scalping |
| Compatible Platforms | MT4, MT5 |
| Currency Pairs | AUD/CAD, AUD/USD, CHF/JPY, EUR/AUD, EUR/CAD, EUR/CHF, EUR/GBP, EUR/JPY, EUR/USD, GBP/CHF, GBP/USD, USD/CAD, USD/CHF, USD/JPY, & XAU/USD |
| Timeframe | N/A |
| Recommended Min. Deposit | N/A |
| Leverage | 1:500 |
Trading strategy
This is a fully-automated expert advisor that uses a news filter for making its decisions. It is a beginner-friendly system that closes trades on the same day and refrains from using risky strategies like grid and martingale. 
DYNASCALP uses a scalping strategy known as asset weight management. Here, the EA adds more weight to the relevant pairs for the particular time period and reduces the weight of the ones that are not so relevant. When the strategy yields satisfactory results for some pairs, it increases the participation for the same in order to cover the bad results for other pairs. 
To make the most of this strategy, the system employs a night scalping technique that, according to the developer, has a high win rate. This way, the market controls the weight of pairs in the trading portfolio, which allows the system to balance itself based on certain conditions. The EA sets an initial participation point for all pairs, updating it according to the outcomes for each pair. 
Trading results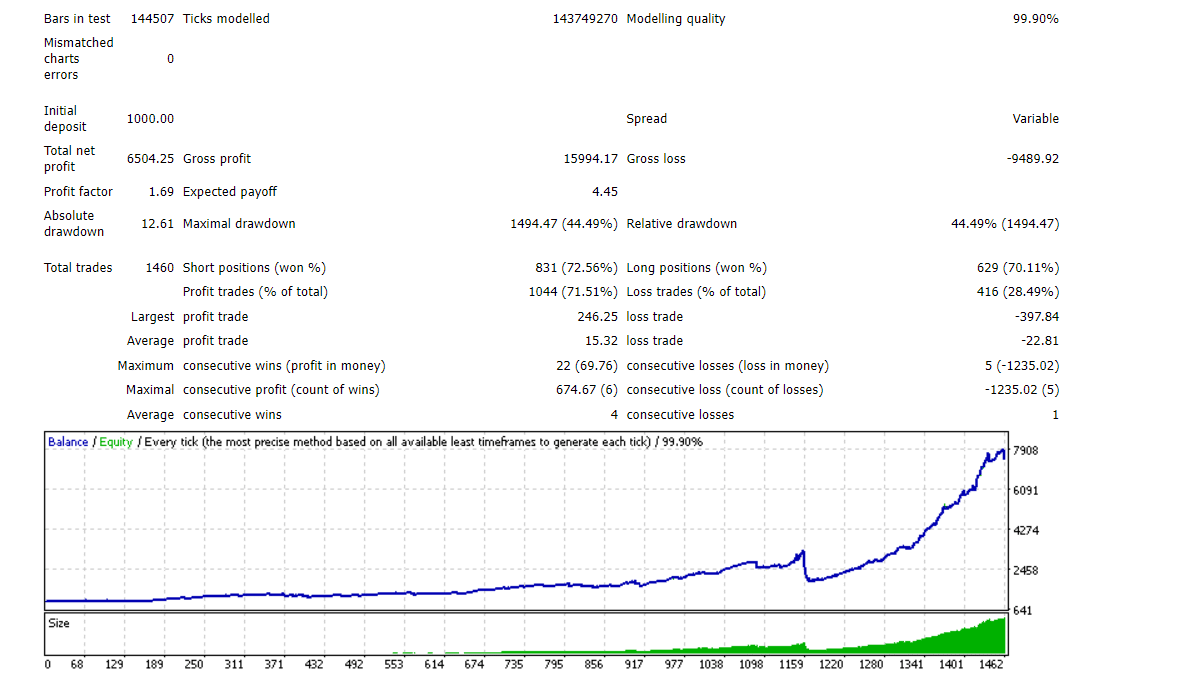 This backtest was conducted on the AUD/CAD pair for 10 years. The EA used an initial deposit of $1000 to conduct 1460 trades, winning 71.51% of them and generating a total profit of $6504.25. Apart from the high win rate, the EA also had a high profit factor of 1.69. Looking at the maximal drawdown of 44.49%, we can tell that it was following a risky strategy. There were 22 maximum consecutive wins and 5 maximum consecutive losses.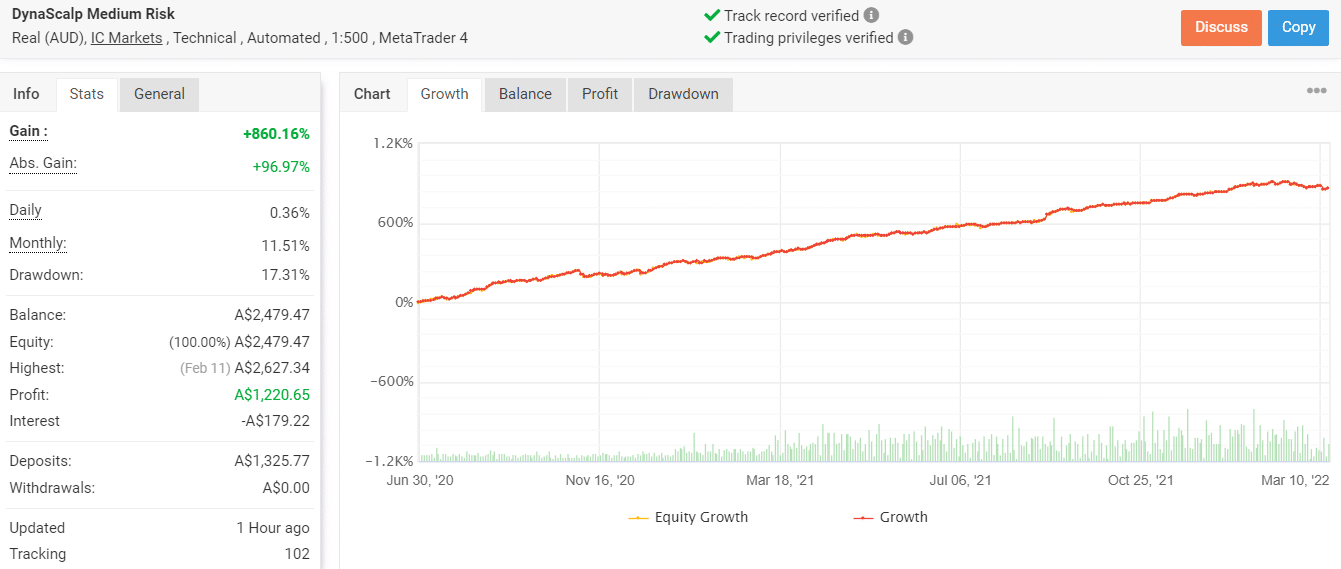 This live trading account on Myfxbook has been active since June 30, 2020. Since then, 4420 trades have been placed through this account, out of which 3180 have been won. This means, the EA currently has a win rate of 72%, which is almost the same as what we saw in the backtest. 
Compared to the backtest, however, the live trading account has a low drawdown of 17.31%, which means there is very little risk of suffering heavy losses. Currently, the daily and monthly gains are quite impressive at 036% and 11.51% respectively, while the total profit is A$1,220.65.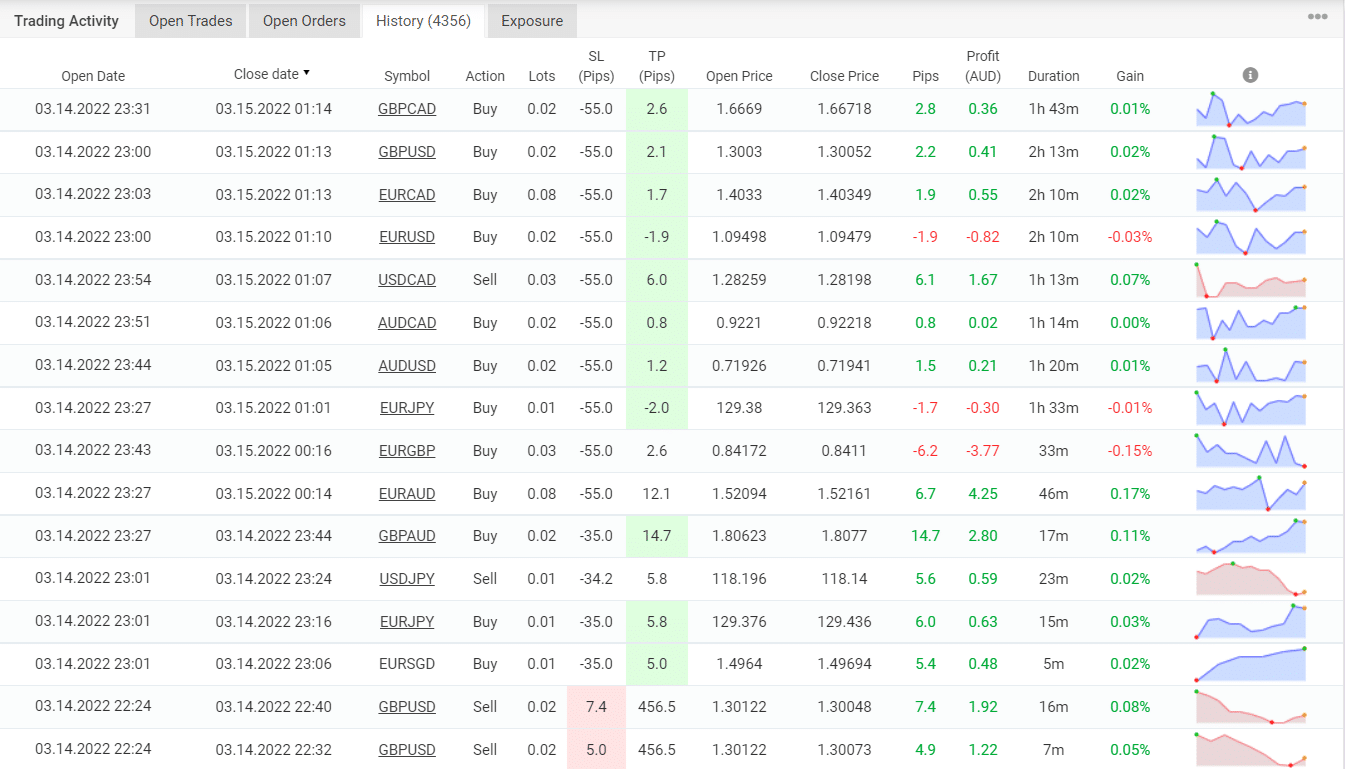 From recent trading history, we can see that EA is capable of generating steady profits without suffering frequent losses. For the last 20 trades, it has used a lot size of 0.01-0.08. The average win and loss for this account are 3.82 pips/A$0.95 and -4.38 pips/-A$1.46, respectively. 
Customer reviews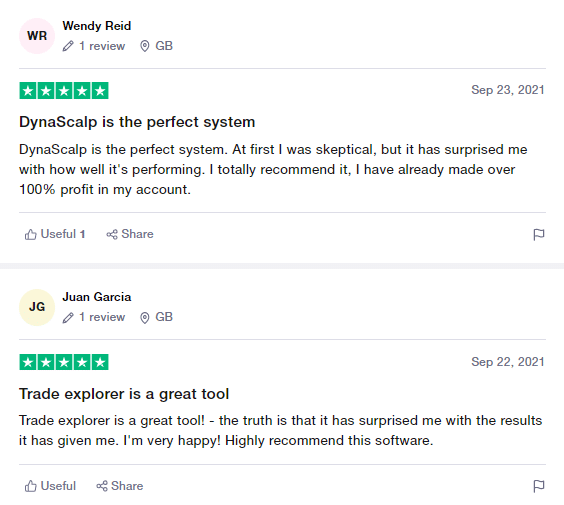 At this moment, there are no user reviews for this expert advisor. However, LeapFX has a rating of 4.1 out of 5 on Trustpilot, based on 14 reviews. Most users are quite satisfied with the performance of the robots.
PROS
High win rate
Money-back guarantee
Works with multiple pairs
Verdict
DYNASCALP has proven itself capable of generating steady profits in the live market. It doesn't use risky strategies, so your investments should be safe with this robot. The vendor offers affordable pricing plans and a 30-day money-back guarantee as well.