4C-Trading supposedly makes crypto trading easy for you. According to the devs, the software's smart bots will enable you to work smarter, not harder, and never miss on a trading opportunity. The bots make calculated decisions and never sleep. 
About 4C-Trading
Payment options:

Credit or debit card

Price:

Monthly: $59/m, $139/m, $179/m

Annually: $48/m, $112/m, $144/m

Supported exchanges:

Binance
4C-Trading features
These are the features of the platform:
These pertain to the signals that the bots and traders offer you. They comprise "buy range" coupled with a target and stop loss. So, you can follow the margins on the exchange platform. 
A variety of bots are provided to assist you to spread your capital between them. As a result, the bots are able to help avoid slippage and mitigate any losses in the market. 
If you are plunging into crypto trading and have no idea how to go about it, a trading course taught by veteran traders is available to graduate you from a newbie to a pro instantly.
This feature allows you to manage all your trades and investments. 
How does it work?
4C-Trading is a platform that offers you a chance to set up your trading bots and permit them to increase your portfolio without much input from you. Once you subscribe to the service, you obtain access to its smart bots that can help you to trade BTC, ETH, BNB, SOL, and LINK. The bots act according to fluctuations in the market. As such, they buy when prices surge and sell when slumps are confirmed, safeguarding profits. 
Compatible exchanges
The platform only supports a single exchange—Binance. 
How does 4C-Trading stand out?
Crypto trading is increasingly attracting the attention of developers and all kinds of investors. It is no wonder we have a myriad of crypto trading bots emerging everywhere. In order to stay on top of this saturated market, the vendor of 4C-Trading is providing clients the opportunity to leverage the skills of professional traders through its trading room. The goal of the room is to offer a relaxed, welcoming environment with like-minded traders to talk, learn and grow together. You will also get daily BTC updates, a channel and community chat, and on-demand analysis. 
Best for: both new and advanced traders
The system is user-friendly, and if you want to learn more about its workings, then you will find the trading course useful. Advanced traders can join the 4C investors club to capitalize on the most advanced trading algorithms. 
Pricing
The vendor offers three different pricing plans. The beginner package is being sold at $59 monthly or $576 if paid annually. For the advanced package, the monthly and annual prices are $139 and $1334, respectively. Lastly, the expert plan asks that you pay $179 per month or $1728 for the annual option. 
All the three plans feature full access to deep market analysis, smart bots, and trading signals. However, the maximum capital per bot ranges from $2500, $5000, to $10000. Notably, a 7-day free trial is provided for each package. 
How safe is 4C-Trading?
The safety of funds in the smart bots depends on the safety of your Binance account. Therefore, if you fail to take all the vital measures to secure this exchange account, then your assets may be at risk. Even then, the bots cannot withdraw your cryptos from your Binance through API since they don't store them in the first place. 
4C-Trading reputation
This software has a good and a bad reputation in the Forex market. We were able to conclude this by assessing customer feedback on Trustpilot.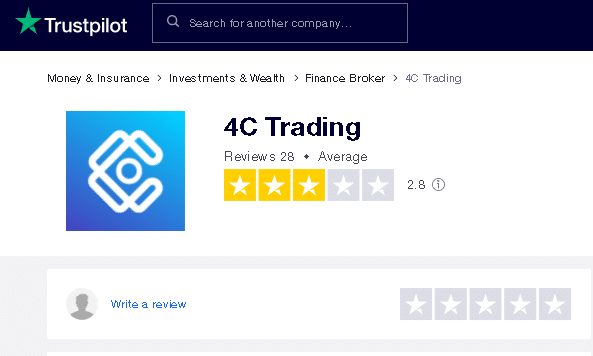 There are traders who are satisfied by the product because, according to their reviews, it works and generates profits. As you can see in one of the screenshots below, one customer claims that the bot has made more than 30% profits for him.
However, we have clients who claim that the system makes losses continuously. So, they caution others against using it.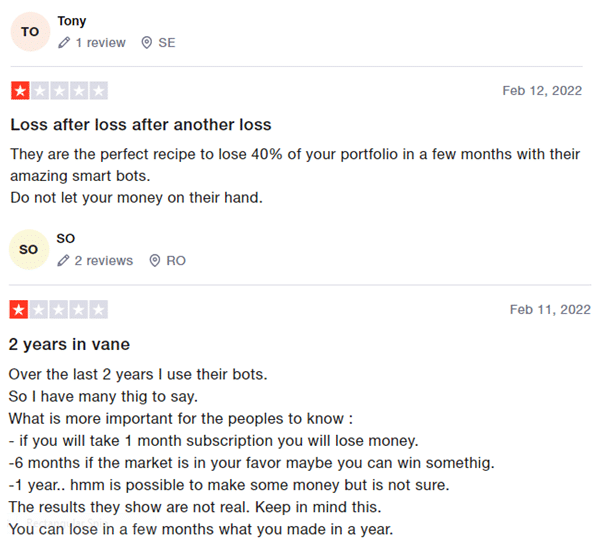 Is it a good choice for beginners?
4C-Trading is a good tool for newbies. This is because trades are handled automatically. It basically takes care of the heavy lifting as you enjoy the profits, so the vendor says. 

Pros
Beginner-friendly
Offers a free trial
A trading course and trading room are available for users
Cons
Only 1 exchange platform is supported
Negative comments from users
Expensive plans
Verdict
4C-Trading is beginner-friendly, meaning that you don't need specialized skills to use it. You can also learn and get more from the system by capitalizing on the trading course and joining the trading room. Moreover, a free trial helps to deal with any doubts you have regarding the bot before investing by seeing how it performs first. Unfortunately, you might experience some losses while using the bot like some of its users.