The Forex Robot Trader company introduces Odin Forex Robotas as an "unrivaled expert trading advisor with brutal trading accuracy." It goes on to list the astronomical profit figures they claim to have achieved with the robot trader in the last 30 days and 'so far this year.' This spikes off the first red flag not just because of their incredibly high numbers but because they have little evidence to back the results. 
Product Offering
As earlier mentioned, Odin Forex Robot trading system is distributed and maintained by ForexRobotTrader.com that is in turn owned and operated by Don Steinitz. Apart from Odin Forex Robot, Don is also the developer of the equally controversial products. Yet they all have the same characteristics and key among them is the promise of huge profits from small initial investments.
Vader Forex Robot

Falcor Forex Robot

Ganon Forex Robot

Hedge Forex Robot

Directional Forex Robot

WaveRunner Forex Robot

Reaper Forex Robot

HAS Forex Robot

Pterodactyl Forex Robot

Volatility Forex Robot

Free Forex Robot

Fractal Breakout Indicator
Although the list is quite long, there are no live trading tradings for any of the products provided. It's nonsense to say something about profitability, reliability, or accuracy if there is no proof to back up these claims provided.
No trial 
Legit Forex trading system developers, confident about their systems, give their clients enough time to test their trading robots. They provide a free trading period, allow for the use of demo accounts or opt for the more popular money back guarantee strategy. Odin Forex Robot offers none of these, neither does it promise to give back your invested amounts should their system lose you money or perform dismally.
No PAMM
PAMM forex accounts management has also evolved into one of the ways traders use to test the effectiveness of trading robots, as well as trading signal service providers. Before PAMM investors deposit into accounts they demand access to a trading system's actual trading history and vet every possible threat to their often huge investments.
But the net reward from maintaining these accounts is worth the close scrutiny. It is, therefore, suspicious that Odin Forex Robot would forego the lure of guaranteed profits made from maintaining PAMM accounts only to sell their system that "beats the market" for $99 (-50% off). Oddly enough, there is no info on the amounts of demo accounts provided. We can assume that the dev offers only one license for a single trading account with one package.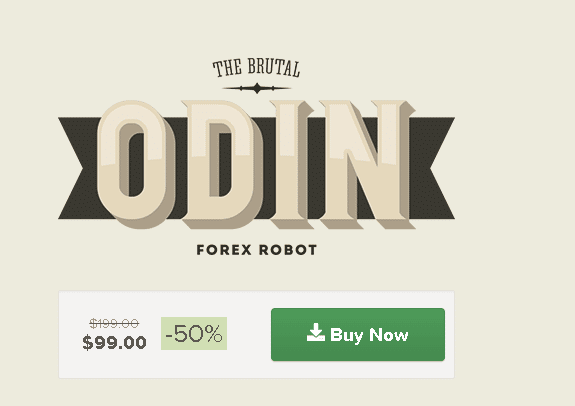 Trading Strategy
According to the Odin Forex Robot website, their system embraces the Grid trading system that they claim plots charts in real time to identify trends that it then uses to "enter and close trades with no lag time." The process is fully automated which then makes the Don Steinitz algorithmic trader deployable for all traders regardless of their skill as they don't have to "lift a finger." 
Historically, grid trading approaches can easily ruin trading accounts by opening too many trades a one time, thereby making all the open trades go in the wrong direction. To understand how the system functions, it needs a detailed trading strategy info provided as to how the dev is going to avoid these pitfalls.
It supports the following currency pairs: EURUSD, USDSGD, EURCHF, GBPCAD, NZDCHF, USDJPY, EURGBP, EURAUD, EURNZD, USDCHF, AUDCHF, EURCAD, and NZDJPY. The developers do not mention the best trading timeframe.
From an experienced trader's point of view, the explanation of this strategy is just meant to lure in traders. It glosses over all the important details that help an experienced trader determine whether robot trader is worth investing in or not. For instance, it doesn't mention whether the strategy allows for the implementation of stop-loss or any other risk management protocol aimed at protecting the trader's investments. It also doesn't provide info on the number of trades the system can open during a trading session.
Trading Results
Backtests remain one of the most effective methods of helping prospective traders understand the inner working of the trading robot they hope to acquire. In an ideal situation, you would expect these backtesting results to include such factors as settings; tick data variation, stop loss levels, time frames, and amounts invested as well as the duration of the backtest. But Odin Forex Robot provides none of that.

Independent reviewers that have purchased and tested the system have nonetheless flocked such reputable trading robot review sites as forexpeacearmy.com, expressing their disappointment with the system. The chief concern in the unreliability of Odin's default settings that don't live up to the expectation peddled on their website.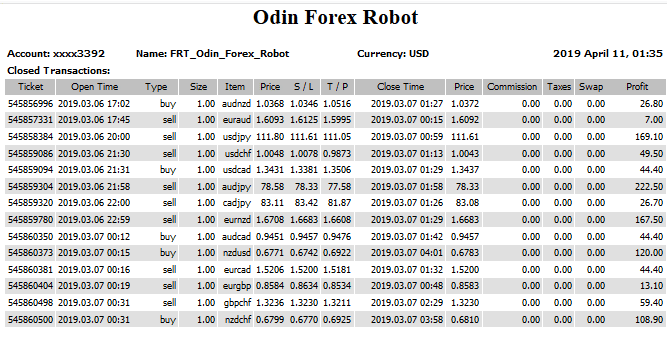 Independent trading review sites like Myfxbook and FxBlue give trading system developers a chance to host the verified trading history of their automated systems on their platforms. Odin Forex Robot developers, however, decide to forego either of the platforms and link the results of their live trading accounts to a suspicious and unverifiable trading history profile.
This isn't the first time the devs are foregoing the independent and reputable trading history providers and hosting their forex robot's trading history on unverified third-party websites. It is a trend as none of their forex trading robot has its history on an independently verifiable history tracking platform. This shoots up as yet another red flag that makes trader think hard about the trading robot provider's transparency.
Customer reviews
We agree that there may be a host of reasons why a disappointed trader may leave a negative review on a forex broker's website. But a load of them, all from verified traders that have interacted with the system, addressing such common issues as poor performance, poor support, and poorly researched deposit settings, cannot be wrong.

Checking up on Forexpeacearmy.com, there are hundreds of negative reviews from verified traders directed at Odin and its Forexrobottrader.com developer as well as the other trading robots that the developer gives out for Free as an added bonus for every purchase.
Final Verdict - Scam
You shouldn't trust the company with your money by way of purchasing their trading system or integrating it into your live trading account. The system uses a very risky trading approach you should avoid if you are looking for a reliable and safe trading strategy. Additionally, the robot does not have a verified trading account. The trading results we see on their website do not match with real clients' feedback. It would be good if FRT created a live trading account on the reputed third-party websites like Forex Peace Army, Trustpilot, or Quora. It would significantly raise trust in the company as well as in the product they offer.