According to Forex Robotron website, the EA is a 'Fully automated forex trading system' and 'one of the only' forex robots tested with such real data as real ticks and variables, slippage, and real commissions. It is available in Gold and Premium packages that cost $499 and $999 respectively. But how reliable is the expert advisor, does it have a proven and verifiable trading history? This review digs deep into the automated trader's ownership and mode of operation to help you make a more informed decision with regards to investing in this tool.
How does it work?
According to their website, the auto trader specialises in three currency pairs EUR/USD, EUR/CHF. USD/CHF having 'temporarily' halted GBP/USD and GBP/EUR pairs due to what they refer to as 'Brexit uncertainties.' The EA exploits 5-minute timeframes, 5% risk and operates within 25 pips with a guaranteed 80%+ win rate going by the backtesting screenshots shared.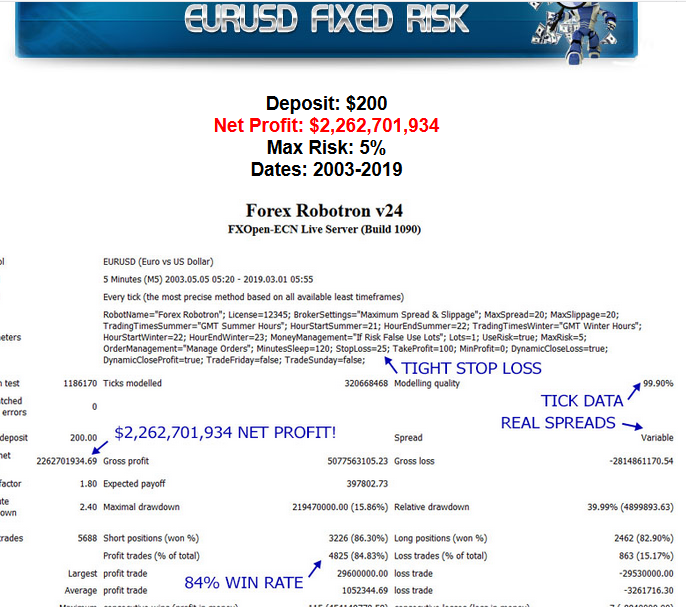 While the 5-minute timeframes and the fact that it risks not more than 5% of your investment sounds great, the 25 pips and 80% gain theorems don't hold water. In the volatile markets that the major currencies are accustomed to trading in, pips often get past the 25 maximum set by the trade implying that it locks these safe traders out of most trades.
Years of testing and interesting profits
The company states that it has a team of expert IT programmers and traders who worked thousands of years in developing a proprietary algorithm supposedly meant to earn you 80% trades and make you high profits. They even have the profit calculator as the first thing that greets you upon loading their site.

The high profits reported by the calculator are however only meant to fuel your curiosity and draw you all in. While the company claims to have been in operation for years and worked on the system for thousands of hours, there is little to no information about their auto-trader before 2016. You can also see through this lie based on the fact they are using backtesting to prove the robots trading power and not the actual record of successfully executed trades.
Backtesting Vs. Actual Trading Results
Forex Robotron claims to have back tested their system using real trading data in an effort to ensure it mimics the market and in effect gives a near-perfect illustration of their performance on a live account. They use real tick data and spreads as well as a tight stop loss of 25 pips and still reported huge net profit from minimum deposits. The win rate for the different currency pairs under these settings average between 81% and 89%.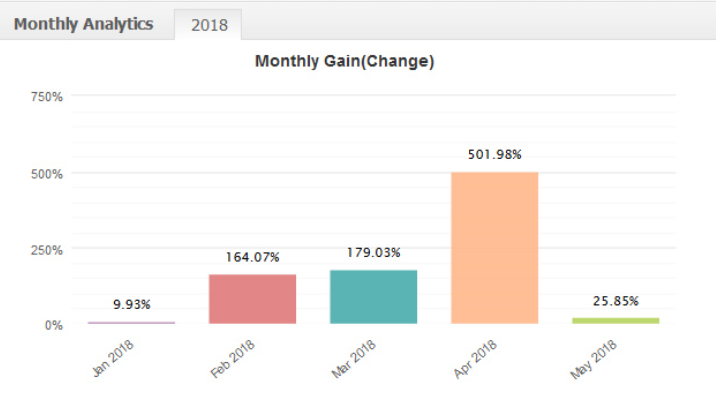 Going by the live trading history provided on the company website, the auto-traders performance doesn't get anywhere close to its backtesting results. For instance, the 2018 monthly trading results indicate the algorithmic trader reported a net gain of 25.85% for the month of January and a mere 9.93% in May. This falls way below the acclaimed 80% average achieved with the backtest.
Unverifiable MyFxBook trading results
MyFxbook presents the best platform to vet forex trading software's history. Instead of linking back to verifiable pages showing the algorithmic trader's trading history, Forex Robotron displays screenshots purportedly derived from the site. It also seems to be hosting two trading accounts with MyFxbook in the name of Forex Robotron and GOB Trade 2.

The fact these accounts are non-existent on the Myfxbook platform raises several questions about the credibility of the website and their automated trader.
Strong and contradictory disclaimer
The high potential profit and 'Foolproof' backtesting results were meant to safeguard Forex Robotron customers. For instance, the 25-pip rule on stop loss is supposed to make a potential client believe that the auto-trader will protect their investments in times of volatility.

However, the company then drops a strong disclaimer, plastered at every section within their website, dissociating themselves from any notion of guaranteed profits and protected assets a trader may have picked from these results. The trader argues the 'only robot tested with real tick and spread data' neither guarantees future performance and profitability or investment protection in the case of volatile markets.
More red flags and why you shouldn't buy this product:
Mysterious management
While the information on the auto-traders website implies that the company has been in operation since 2017, there is little to no information about its activities online. The site makes no mention of the algorithmic trader developers or their parent company. In fact, safe for the sponsored reviews showering the trader with praises, you won't find any other official document or mention of their system in a reputable publication online.
Doesn't notify you of updates
Auto trading system testers and traders that went ahead and purchased the problem have complained of more than losses. The algorithmic trader doesn't notify you of system updates. You might, therefore, find your account locked out of trades or unable to withdraw profits simply because you haven't manually checked, downloaded, and installed the updated version of the auto-trader.
Expensive with no guaranteed results
The often unspoken but general rule of the thumb in Forex, especially when dealing with a robot and automated trading systems is that no system should cost more than a few hundred dollars. You should particularly be wary of highly priced robots like Forex Robotron that have no verifiable background or solid trading history.
Complicated installation process
The auto-traders installation process is too complicated for its intended market – beginners. You might have to spend hours on end on the phone with Forex Robotron customer support team seeking assistance in setting it up. Plus, unlike most other versatile auto-traders with a condensed user interface, the algorithmic trader's display is rather extensive. While such an informative display may be useful to an experienced trader who wants to understand the nitty-gritty of long and short trading positions and drawdowns, it may end up confusing a newbie.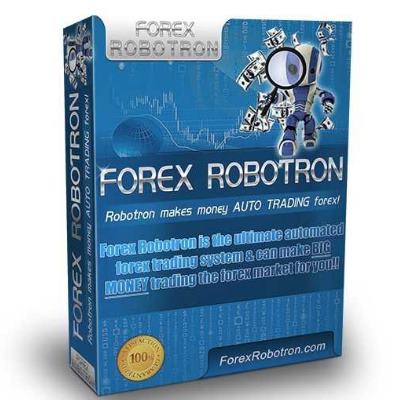 Conclusion
Forex Robotron trader has numerous red flags that you shouldn't ignore when searching for an automated forex trader. It has employed all the tricks of scam trading software and even though it may be allowing for withdrawals, albeit in small doses after huge losses, you never know when it will tip and go down with your hard earned cash.