AstreoBot buys and sells cryptocurrencies like Ethereum, Bitcoin, Litecoin, and Monero automatically for a profit. But the vendor reminds us that the crypto market is innately volatile, where profit cannot be guaranteed. So, you are advised to research the best trading methods, currencies, and market conditions to optimize your gains.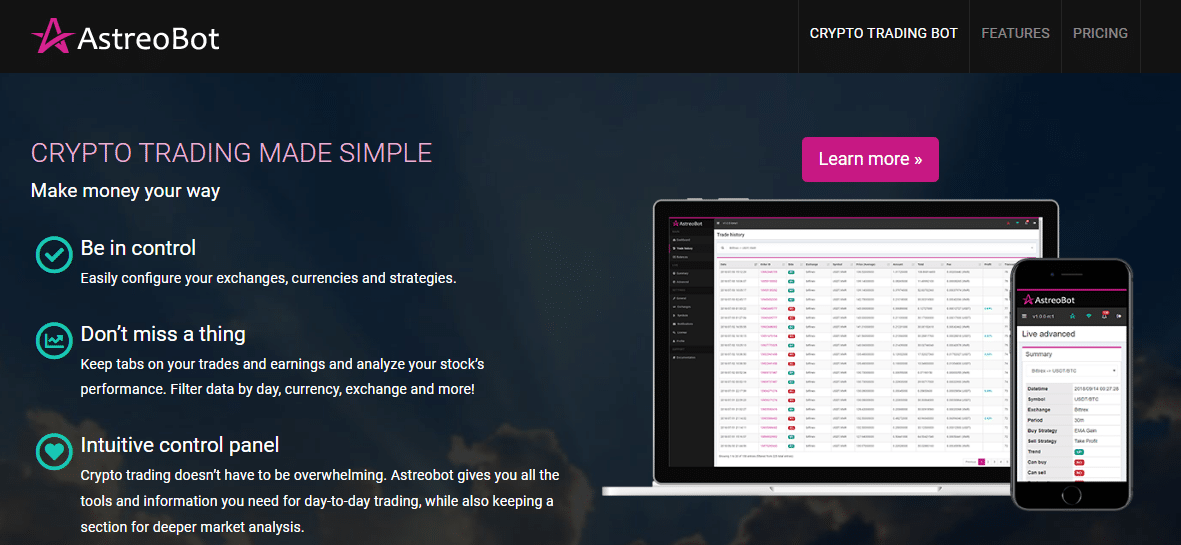 About AstreoBot
Astreobot is an easy to configure cryptocurrency trading tool. It keeps tabs on your income and trades as well as evaluates the performance of your stock. With the system, you can filter data by day, exchange, currency and do more. 
| | |
| --- | --- |
| Payment option | Bitcoin |
| Price | Free trial/0.01BTC/0.0165BTC/0.0299BTC |
| Supported exchanges | Binance, Bitfinex, Bittrex, HitBTC, KuCoin and Poloniex |
AstreoBot features
Once you configure the robot, it will work for you round the clock right through the year. 

The vendor recommends that you use technical indicators such as Bollinger Bands, RSI, MACD, Stochastic, etc., with the robot so as to make your investments secure. External signals will also be incorporated into the software to ensure the info provided by analysts comes straight to the bot and tells it when to purchase orders. 

Being a cross-platform tool, Astreobot can operate on MacOS or Linux, a VPS or desktop PC running Windows, as well as on Raspberry. 

Its interface is user-friendly, So  it allows users to configure cryptocurrencies, exchanges, and strategies without any difficulties. It also enables you to watch and evaluate trades and profits, currency, and exchange. 

The bot provides live notifications on your phone through Telegram or Pushover notifications showcasing what you have sold, bought, and earned. 

Once you purchase the license, you will receive lifetime updates for free.
How does it work?
AstreoBot is a trading bot that trades cryptocurrencies. It comes with configurable features, so you can easily set currencies, exchanges, buying and selling strategies to fit your trading preferences. The system will show you open trades and transactions (complete buy-sales cycles) with your revenues. It is also possible to see how the bot thinks whenever you want and how it expects the market to behave to begin trading. 
Compatible exchanges
AstreoBot supports supports 6 main exchanges, namely Binance, Bitfinex, Bittrex, HitBTC, KuCoin, and Poloniex.
How does AstreoBot stand out?
AstreoBot promises to earn money for you and allow you to enjoy life at the same time. According to the vendor, you can go for a walk, spend time with your children, or read a good book as the software invests and generates money on your behalf. 
Best for: risk-oriented traders
The crypto market is naturally risky. Therefore, you will be taking a huge risk trading with Astreobot since you won't know how it will behave under different market conditions. 
Pricing
AstreoBot has three paid plans: start, basic, and pro plans that cost 0.01BTC, 0.0165 BTC, and 0.0299 BTC, respectively. A free 7-day trial package is available for traders who would want to test the efficiency of the bot before staking their money. All packages feature exchanges, dynamic double up, unlimited pairs, and customer support. 
How safe is AstreoBot?
The vendor guarantees the safety of this trading tool. The software does not necessarily store your coins since they are mainly in your exchange. Therefore, your funds will remain safe even if your installation gets compromised by cyber attackers.
AstreoBot reputation
The developers of this robot are anonymous. There is no info on the official website that can point us to the identity of the vendor. We also don't know where the parent company is located. The product has several followers on its Telegram, Twitter, Facebook, and Instagram pages, and the engagement level is very minimal. This makes it hard to gauge whether it has a good or bad reputation. 
Is it a good choice for beginners?
Yes, AstreoBot is suitable for beginners. As we mentioned earlier, the software is easy to use and configure. The vendor is there to guide you through the installation process, and after that, you can link the bot with your exchange, and select the base currency and a strategy. Each option in the settings is explained, and all have the correct default values. If anything is unclear, the team is there to help you. You can initiate chats about the bot on its Telegram groups and other social media platforms like Facebook, Twitter, and Instagram.
PROS
Supports all types of OS
Customizable features
Is compatible with several exchanges
A free plan is offered
CONS
Is costly
Vendor is unknown
AstreoBot: the bottom line
AstreoBot offers to make your crypto trading easier by automating it and providing you with customizable features to meet your trading needs. The system is also easy to use, and you can navigate through it without much effort. However, the plans available are costly, and since we are dealing with a volatile market, it would be best to try the free plan first.