The Axion crypto is a cryptocurrency trading bot designed by Apex Trader Software Ltd. The product presentation states it supports over 1000 businesses and thousands of individual traders. They do it by processing over $200 million in annual transactions. The first official mention of Axion was in the official blog on December 15, 2020. Back then, version 5.3 of the product was released.
About Axion 
The Axion bot is one of the ways to automate the crypto trading process. Users can utilize the following functionality:
Manual builder and code editor to create their own strategies. 

Back-testing tools for their ideas and new trading strategies.

Signals that work on TradingView charts and other signals, etc.
The platform has data encryption, and the bot does not have direct access to the users' accounts. 
Payment Options:

Credit or Debit Card 

Price:

Starter plan–£15

Premium pack–£30

Pro subscription–£50

Ultimate Pack–£90

Supported Exchanges:

Binance, Binance.US, Kucoin, Kraken, FTX, Coinbase Pro, Bittrex and Bybit
Axion bot features
All bots run on the company's secure enterprise network. The bots are up and operating in minutes, and the devs claim that it has a 99.9% uptime rate.
It is possible to develop elaborate automated trading algorithms and indicators with this software. It can also be used to set dynamic entries, stop losses, and take profit targets.
This is an online vantage point to find ready-made trading strategies. Unfortunately, most of them are not free to use or test.
How does it work?
The bot will place the order based on the custom alerts set up in the TradingView by the trader. A trader can customize the settings that will control all of the positions that are active on the site. One can limit the number of positions the bot can open at any given moment. With a percentage indicator, one can dictate how deep into profit the bot should start trailing. Alternatively, one can give a trailing width percentage, which specifies the distance between the current asset price and the price at which the position should be closed.
Compatible exchanges
The bot is compatible with the most popular and reputable centralized cryptocurrency exchanges:
Binance

Binance.US

Kucoin

Kraken

FTX

Coinbase Pro

Bittrex 

Bybit
How does Axion stand out?
Axion is a large and reputable blockchain platform, regularly audited by Hacken, Certik, and Solidity. It is compatible with the major crypto exchanges and the TradingView charting platform. The developers also promise it will work well with your trading system. The platform offers your own trading algorithm automation with the Axion Script feature.

Best for: experienced traders 
We can only assume it works best for experienced traders. Not only that, but the professionals will also need coding skills to make the most of the service. This is because you have to create your own bot manually and input the different parameters.
Pricing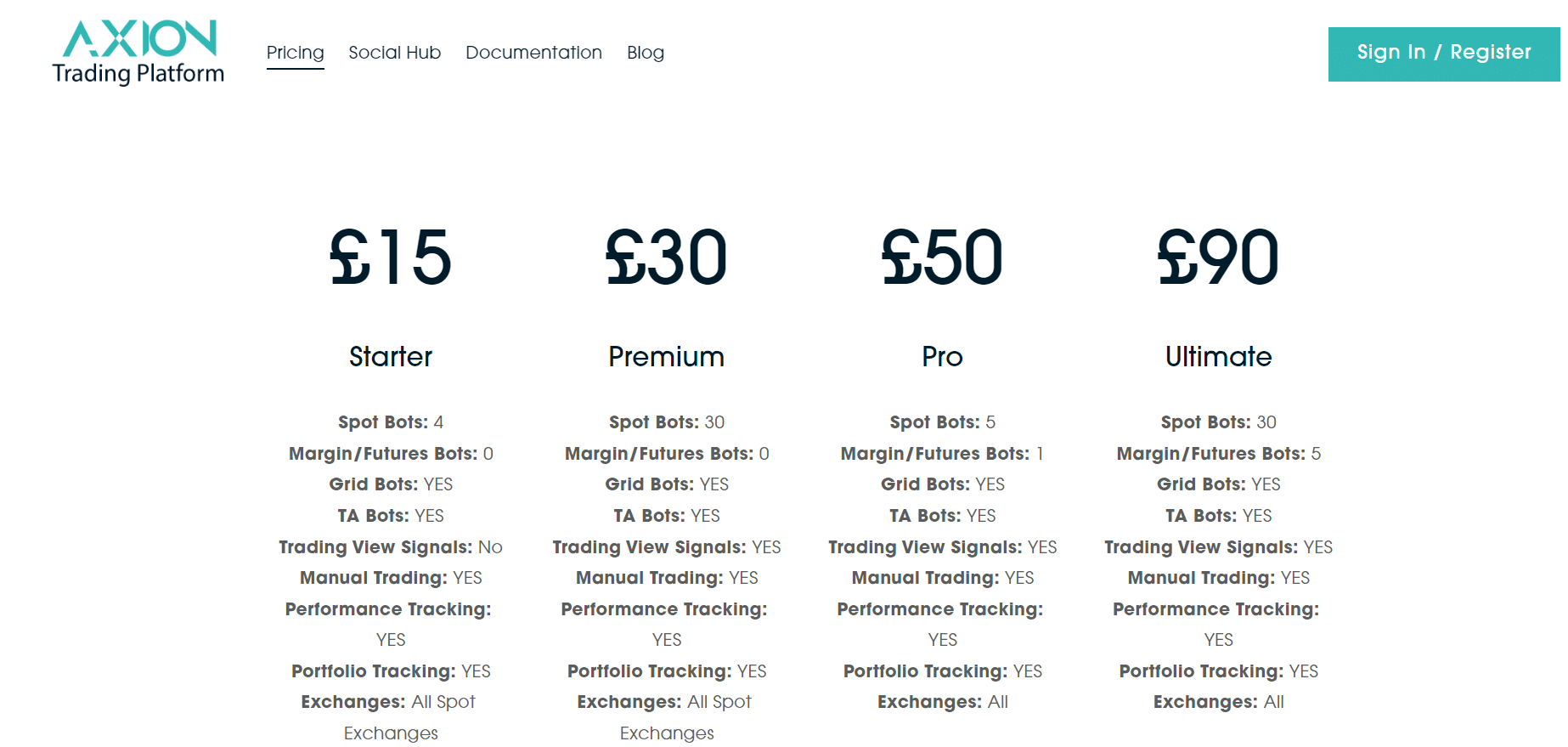 The Starter plan costs £15. Users have access to 4 spot bots. The Premium pack costs £30. Subscribers have access to 30 spot bots. A Pro subscription costs £50. It's the ideal option for individuals looking to use margin or futures bots. This subscription type allows one such bot as well as five spot bots.
The Ultimate Pack is priced at £90. It supports 30 spot bots and 5 margin/futures bots, alongside all capabilities, including TradingView Signals and various tracking options.
How safe is Axion?
Axion Crypto is only as good as the strategies and signals it offers for free or for a price. You really need expert knowledge to make the correct choice and place your funds safely. There is only one reference to the platform on TrustPilot was posted on November 7th, 2021. It includes a 5-star rating and a short commentary by a user from Great Britain.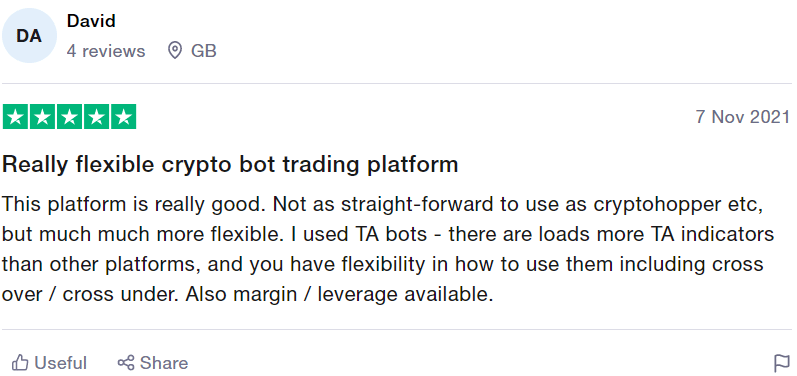 Axion reputation
The Axion parent company was registered in the United Kingdom in 2015. Its headquarters are in Cambridgeshire, England. We found it on Find and Update Company Information, the British state platform for verifying the legal entities. Apex Trader Software Ltd. profile ID on the platform is 09757060.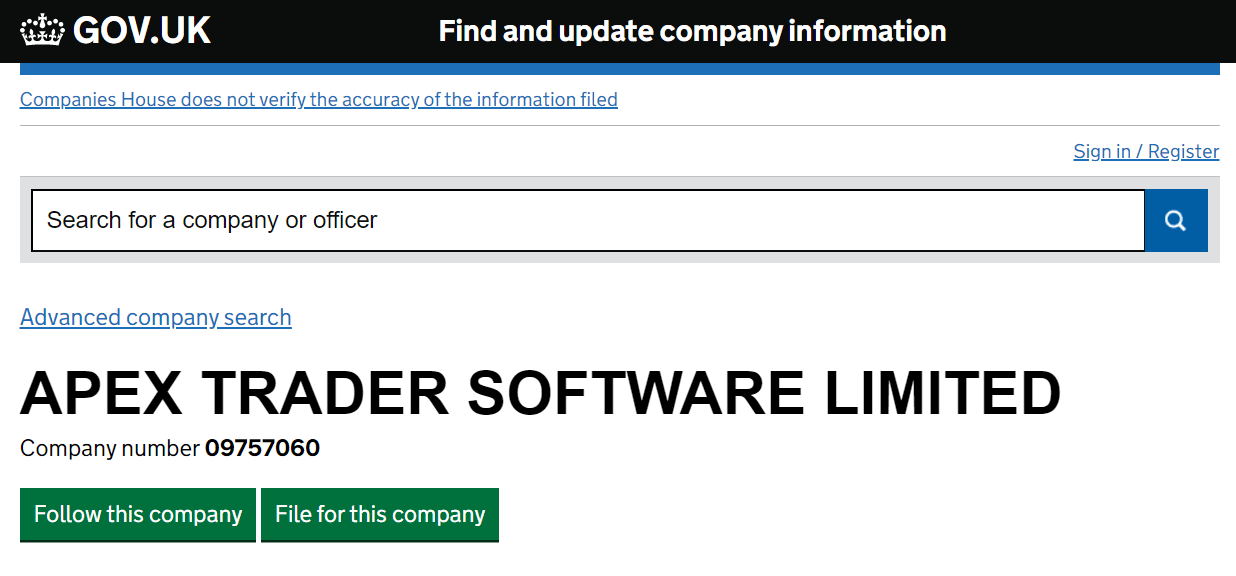 Is it a good choice for beginners?
We cannot recommend it to beginners. It is designed for experienced traders. You have to create your own bot manually and input the different parameters.
Pros
Free built-in marketplace and strategies
Customizable algorithms and robot parameters
Cons
High prices
Limited number of starter packs
Only 3 to 5 spot bots in the majority of subscription packs
Lack of feedback and transparency on the user experience
Verdict
Axion has four subscription plans to choose from, each with its own set of features. It also allows users to use a variety of bots. The main drawback is the complexity of the platform, which could be problematic for beginners.