It seems as though everything that Binance touches turns to gold. Founded by the Chinese-Canadian billionaire CZ in 2017, this exchange has been one of the most influential brands in cryptocurrencies and remains the largest by trading volume.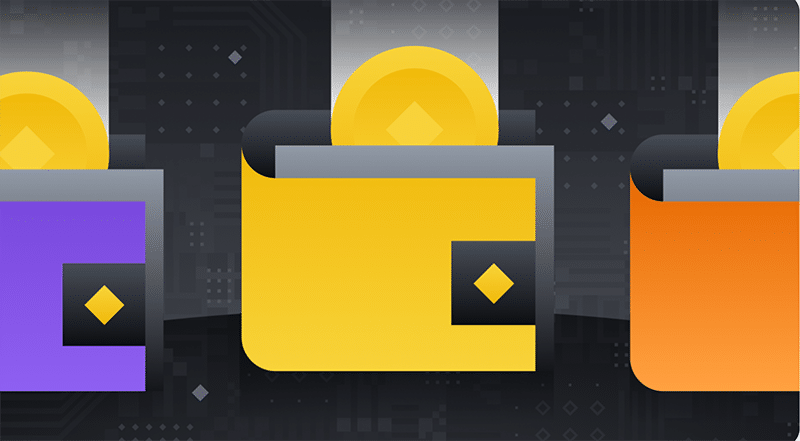 BNB (Binance Coin) is Binance's utility token, the fourth-most traded cryptocurrency globally, with a market cap of about $68 billion. 
BSC, the second blockchain launched by Binance, was created to enable smart contracts and compatibility with Ethereum. Therefore, BNB's usage has increased as more users explore the rich universe of Binance and Ethereum's tools and applications. 
Aside from BNB, other popular BSC-powered tokens include CAKE (PancakeSwap) and BUSD (Binance's USD stablecoin).
The primary wallet types supporting BSC are 'cold' or hardware (not connected to the internet) and 'hot' or 'software' (connected to the internet). You should always firmly understand your custodianship, security, integration, and usability priorities in choosing either of these.
Presently, only 16 wallets support the Binance Smart Chain. While this selection is relatively small, we should note that this blockchain is less than two years old. Fortunately, we've trimmed down the options to only the best 5.
Ledger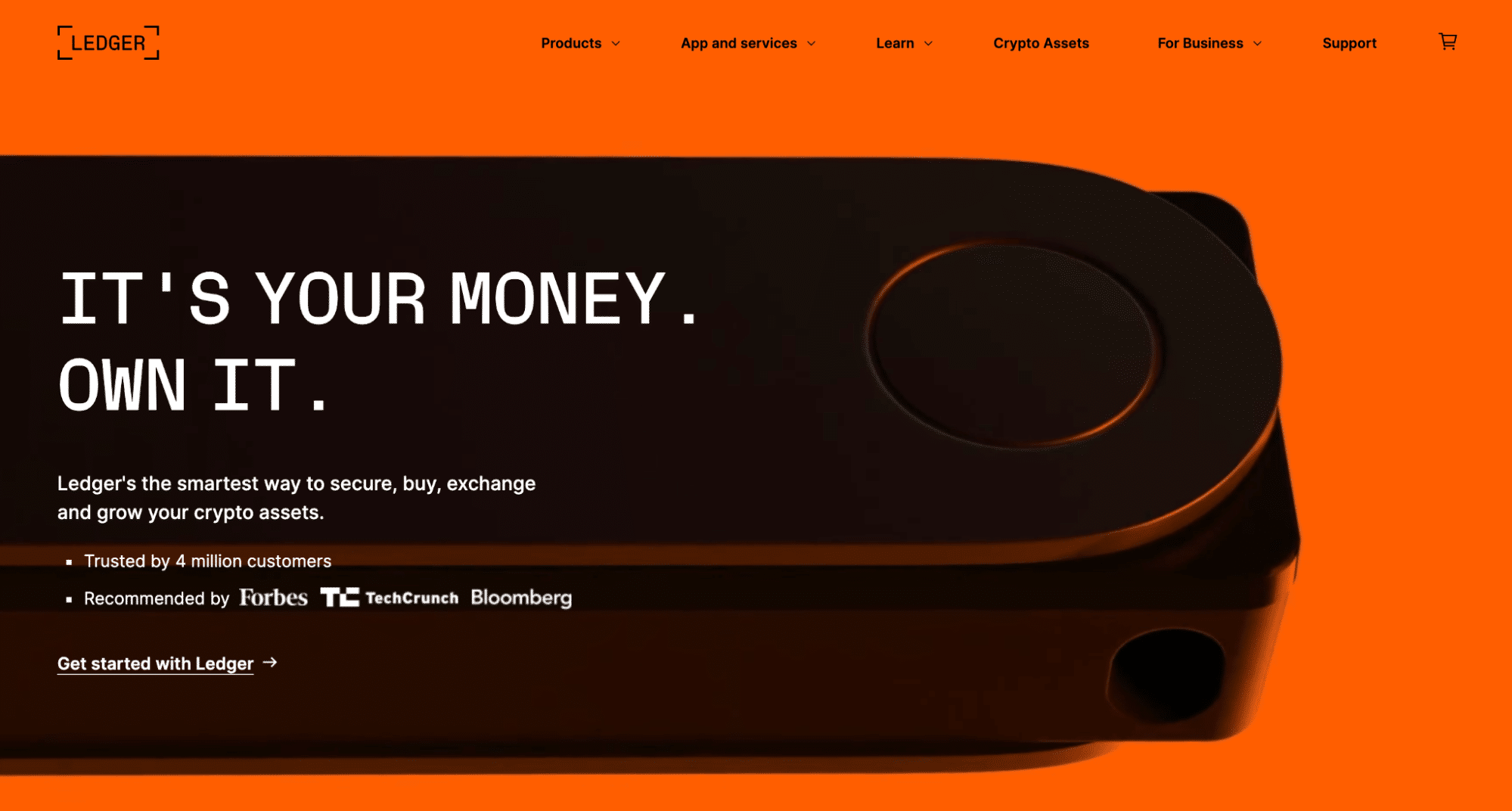 Cold storage is always considered the safest way to store your coins. In this regard, we have Ledger, one of the most prominent and trusted USB hardware wallet brands, first launched in 2016. Ledger tops our list for several reasons. 
Firstly, its range of products – the Nano X, Nano S, and Nano S Plus – are some of the most affordable on the market, ranging from $59 to $149. Secondly, it's one of the few BSC-integrated wallets that support staking. 
Ledger supports more than 1800 different cryptocurrencies. Ledger's devices are similar regarding security features, usability, and how many apps you can install. However, they differ in that some may have Bluetooth, more battery power, and a larger screen.
Trezor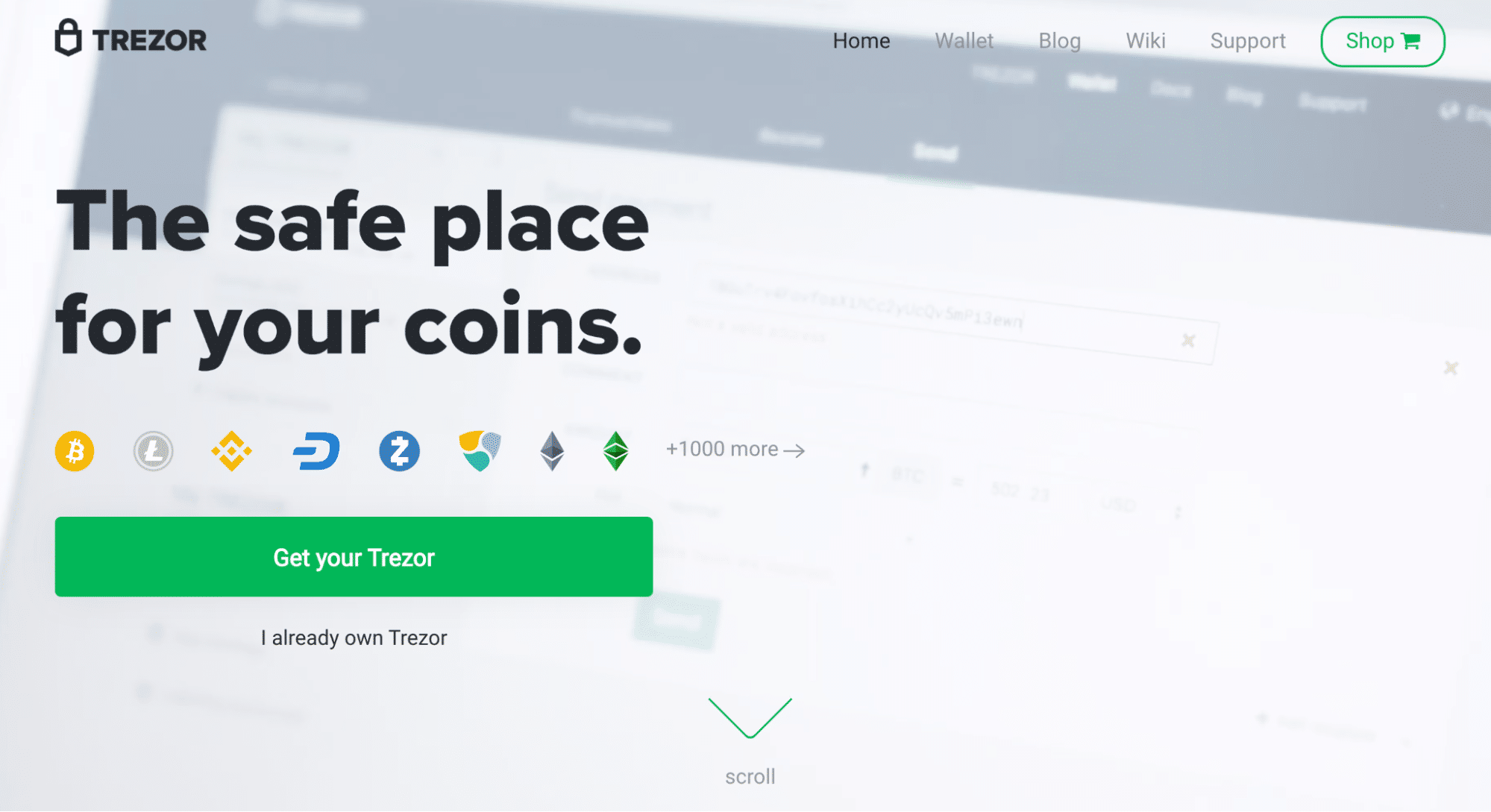 Along with Ledger, Trezor is another leader in the crypto hardware wallet market. Trezor was launched in 2014 and is recognized as the first cold wallet to store Bitcoin (in fact, the company behind the product is aptly named Satoshilabs).
Like its closest competitor, Trezor is renowned for having sophisticated security. It works with your personal computer or smartphone and supports 1649 coins. Ledger's wallets come in small plastic hexagon-shaped buttoned devices with screen displays.
The brand's two product lines are currently the One and Model T. Each wallet is almost identical in features. However, the Model T has a full-color touchscreen, holds more cryptocurrencies, and will cost you about $140 more (or €130).
Unlike Ledger, Trezor's devices don't support Bluetooth, or staking, and have no mobile app access. Yet, we've ranked it second as it's still the most secure crypto wallet for Binance Smart Chain tokens.
MetaMask
MetaMask is one of the world's most widely used software crypto wallets, created by the blockchain software tech corporation, ConsenSys, in 2016.
It is non-custodial, meaning that users retain custody of their private keys. MetaMask began as a browser-based application and shares compatibility with many Chromium browsers like Chrome, Brave, Opera, and Edge, along with Firefox. 
Additionally, you can use MetaMask on your Android or iOS phone device. MetaMask is immensely popular for users trading Ethereum-based tokens and technically supports token standards from this blockchain like the prevalent ERC20 and ERC721 (for non-fungible tokens). 
Moreover, the wallet works with most Ethereum-enabled networks like Polygon, Arbitrum, and, of course, Binance Smart Chain. You can connect to a world of compatible dApps (decentralized applications) like NFT marketplaces and lending platforms through MetaMask.
Trust Wallet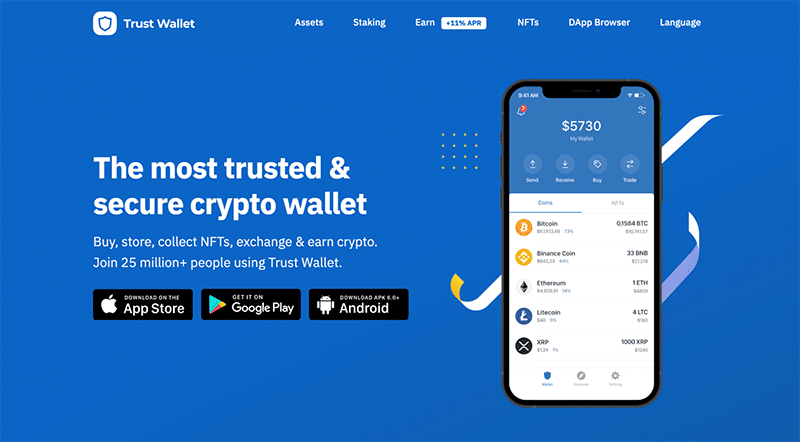 Trust Wallet is a non-custodial software crypto wallet recommended by Binance as one of the best for storing BSC tokens. It works as an Android/iOS mobile app and a special dApp browser.
Impressively, Trust works with tokens created by 53 blockchains, the most popular of which are Ethereum and BSC. This selection results in hundreds of thousands of digital assets like utility and non-fungible tokens.
With Trust, you can buy crypto with a credit/debit card and exchange all their available coins across different platforms. Interestingly, Trust Wallet has its own utility token (TWT) deployed by the Binance Smart Chain.
With TWT, customers receive discounts on in-app purchases and DEXs (decentralized exchanges). Moreover, TWT offers governance power where users can vote on update proposals, influence the platform's development, etc. Lastly, Trust Wallet is one of the few with staking integrated for BSC tokens.
Binance Chain Wallet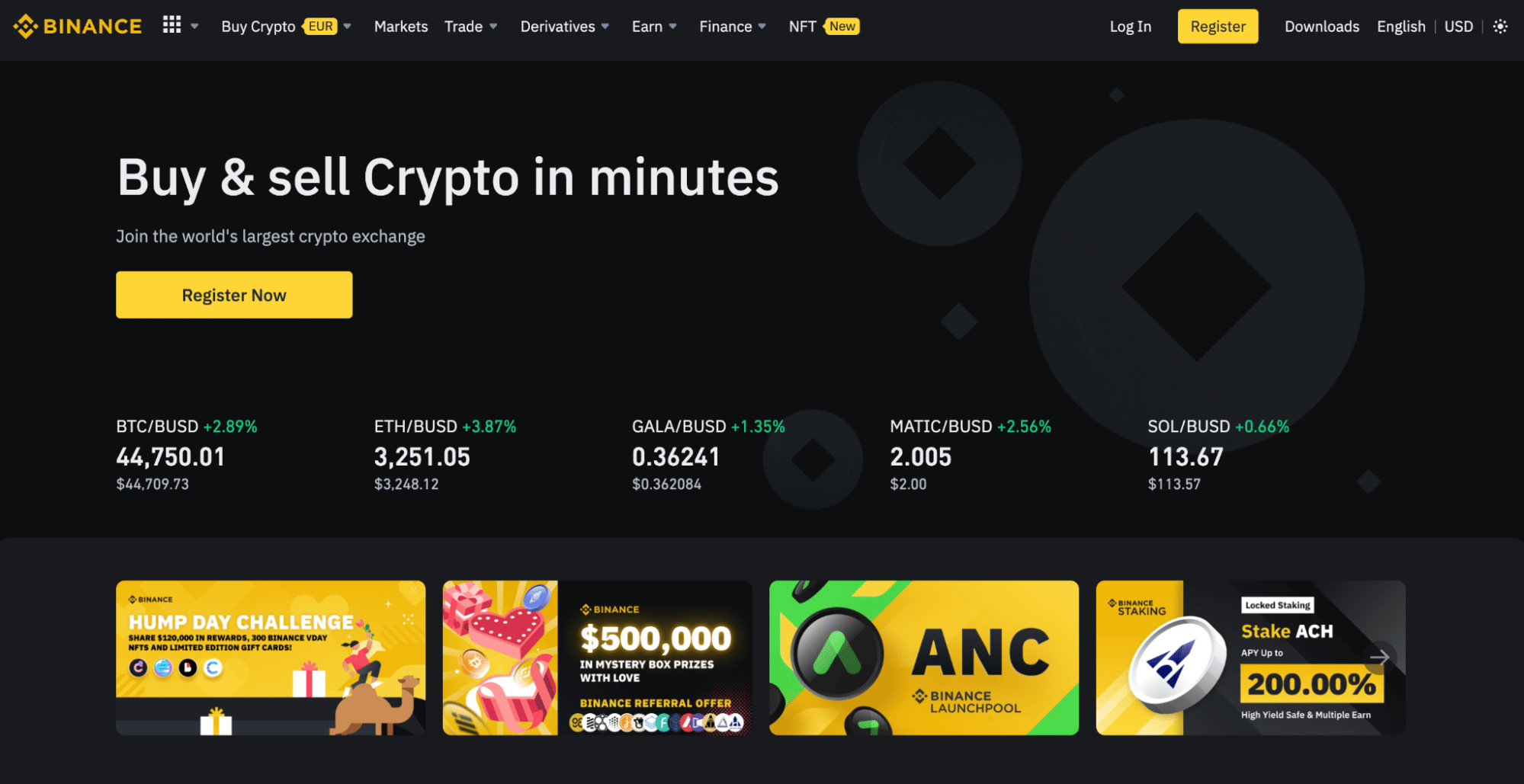 The Binance Chain Wallet (BCW) is Binance's official browser-based non-custodial wallet built exclusively for Binance Chain, BSC, and Ethereum cryptocurrencies. It works with Chrome, Firefox, and Brave.
It's worth mentioning that this wallet is not the same one found with Binance, meaning it exists as a separate application. With the BCW, you can store, receive, swap, send all your tokens and partake in other activities like yield farming, staking, and NFT 'minting' through the compatible blockchains.
This wallet could be a suitable choice if you use some or many products in Binance's ever-expanding ecosystem.
Curtain thoughts
The five wallets we've briefly reviewed here are highly regarded in the BSC community. Experts recommend hardware ones for investors holding substantial amounts of crypto, who invest long-term, and who don't transact much. While these come at a cost, they remain the most secure.
Software wallets are the most convenient to access and are free to use, making them preferable for those who regularly transact in crypto. Yet, while you retain the private keys, the most sensitive data for any holder, you should note they are much more vulnerable to online hacks. 
Fortunately, you can own multiple of these for different needs, so long as you understand how to navigate between them and enforce the highest security possible to prevent loss or theft.