The surge in interest in digital currencies, whether for educational or recreational purposes, is astounding. When there are so many websites reporting on this topic, it can be tough to determine where to focus your efforts. There are myriad factors that will affect your decision on which crypto news site to choose. There are also many websites competent to keep readers informed about the most recent advancements in the area.
Which are the factors to consider before choosing a news website
Availability in your country
It may seem absurd, but not all crypto exchanges are open for legal judicature over the world. This is owing to the fact that the crypto market is primarily governed by financial regulations. Before you enter this market, check with your trading platform and bank to see if your fiat currency and deposit exchanges are accepted in your country.
Available cryptocurrencies
The majority of exchanges allow investors to purchase, sell, and trade internationally recognized cryptos. However, if you wish to invest in certain lesser-known cryptocurrencies, make sure the exchange permits you to trade those cryptocurrencies for fiat money.
Security
All of their security and precautionary clauses should be available on their website, and it should, at the very least, include features like cold storage wallets, easy transfers between exchange and hardware wallets, SSL Site Security Certificate, multi-layered verification for withdrawals, and a two-factor authentication.
You should also read user reviews and ratings on social media to learn about the exchange's flaws.
Trading fees
This is an important consideration because the platform/bank/currency exchange deducts a portion of your investment or transaction every time you buy/sell/trade. Trading fees should be low and competitive in order to maintain your assets even if you trade frequently.  You should also keep an eye on spread costs, which can vary from 5 -6% and are not published directly by exchanges.
Crypto coin news websites
CoinDesk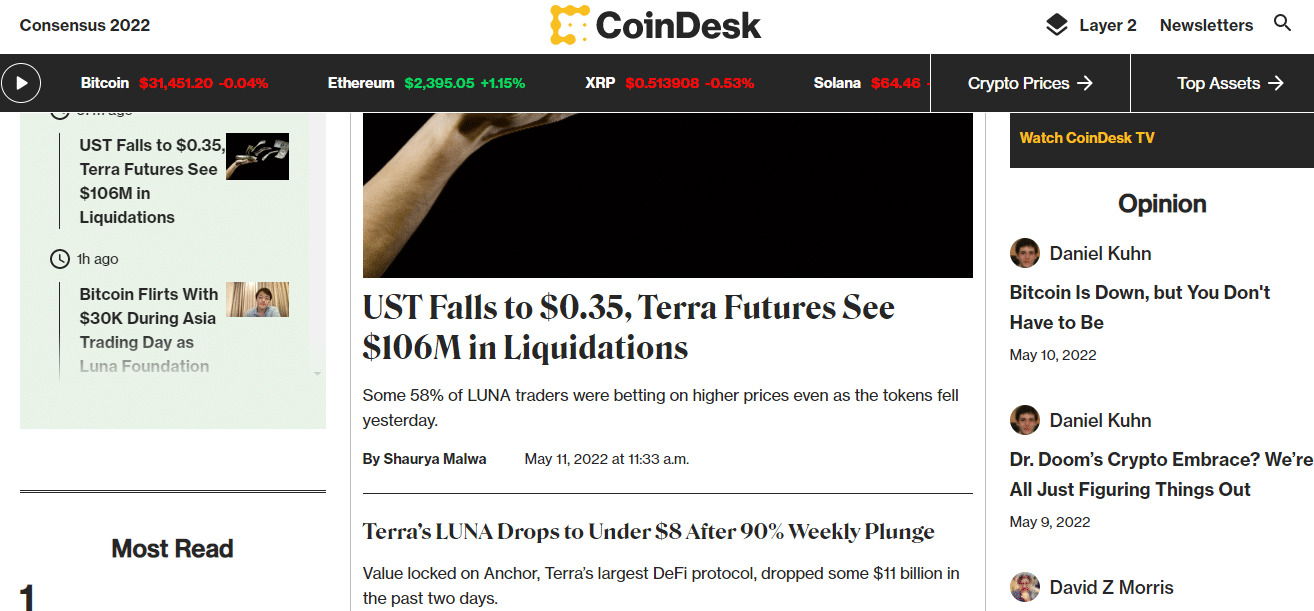 CoinDesk is a media, event, indices, and data organization that is widely regarded as the most trusted platform for the emerging crypto economy. The CoinDesk Media platform, which launched in May 2013, provides news and analysis, podcasts, live streaming TV shows, and research papers to millions of consumers interested in cryptocurrency assets and blockchain technology.
It also features an app with exclusive material for subscribers. You can keep track of price fluctuations and which cryptocurrencies are more volatile, which will aid you in making the best investment decision. The CoinDesk Bitcoin Price Index (XBX) is the world's first publicly traded bitcoin fund and bitcoin ETF.
Its leading journalists and analysts are frequently featured in top-tier media outlets such as Bloomberg, Wall Street Journal, Financial Times, and CNBC.
CoinPricePredict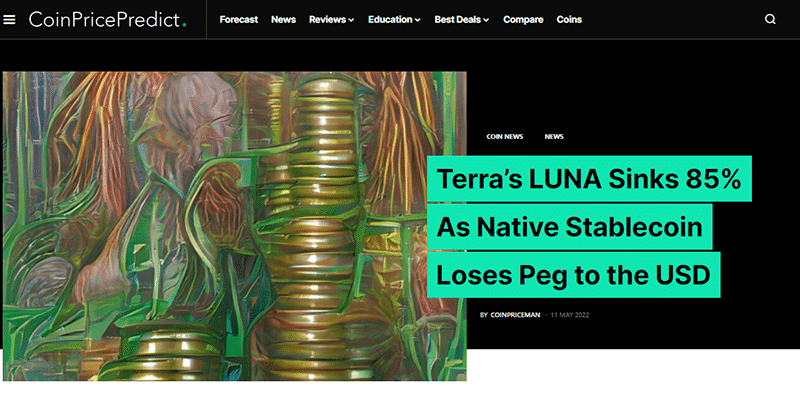 CoinPricePredict.com is growing faster among cryptocurrency media websites. Its popularity is due to honest reviews and current news that assist readers on a daily basis.
It performs an excellent job of informing its readers about the entire crypto sector. It covers everything from the Bitcoin Price Index to the newest cryptocurrencies generating headlines in the market.
You can find out which currencies are the best investments right now and which crypto will rise or fall using their price predictions, crypto news, and expertise. The website's poll function allows visitors to vote on the price direction of the coins. The voting reflects the retail trading segment's overall market mood.
CoinMarketCap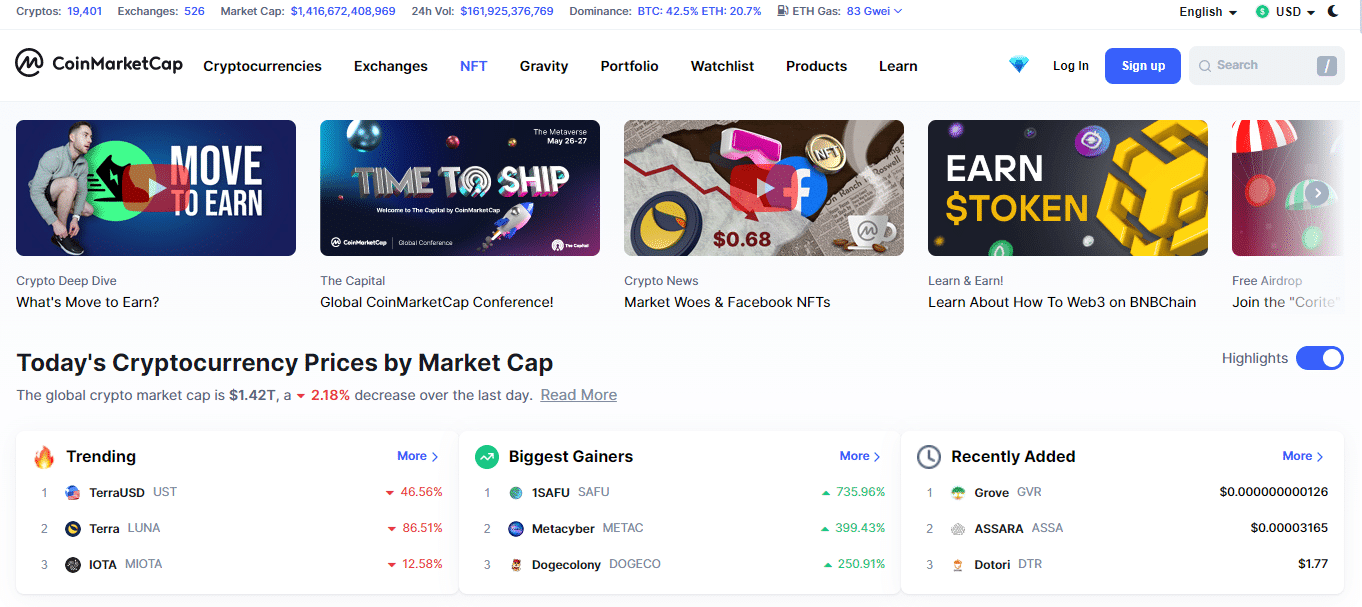 It is one of the most-referenced price-tracking services for crypto assets in the fast-growing cryptocurrency market. Its mission is to make cryptocurrency more accessible and efficient all across the world by giving unbiased, high-quality, and accurate information to retail customers so they can make their own informed decisions.
CoinMarketCap is dedicated to providing unbiased, accurate, and timely data. Since its acquisition by Binance in early 2020, it has functioned independently of its parent company. It serves as an ICO tracker, with data on planned and already completed token offerings. It also has detailed information on market capitalization. As blockchain technology and digital currencies gain traction, this can help you make informed real-time investment decisions about crypto assets.
Bitcoin Magazine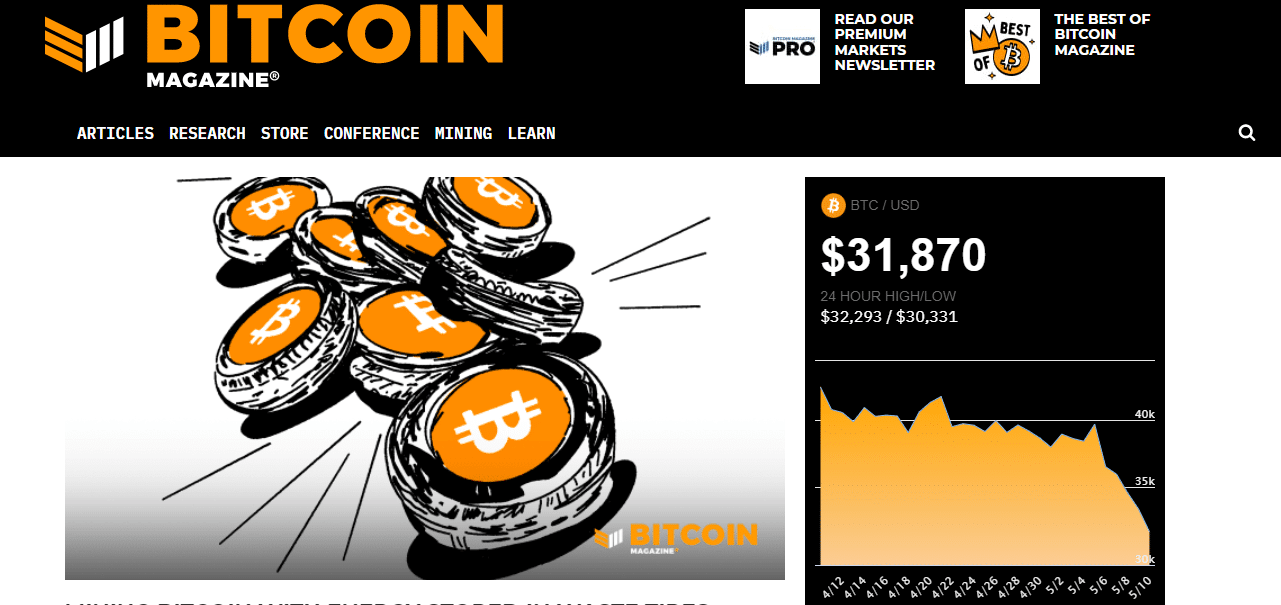 It is an online platform that provides users with Bitcoin and cryptocurrency-related information, news, and commentary. It covers current events in business, technology, politics, law, and society, with a wide range of ideas and opinions from authors and guests to provide news, information, and insights.
The magazine's founder is also the creator of Ethereum, making it another highly regarded news source. The primary focus of Bitcoin Magazine is price analysis, reviews, and research. Whether the readers are new to the field or experienced blockchain developers, investors, or entrepreneurs, their mission is to educate and inform them with high-quality content that meets their strong editorial and journalistic standards, covering both the highs and lows of the Bitcoin business.
CryptoSlate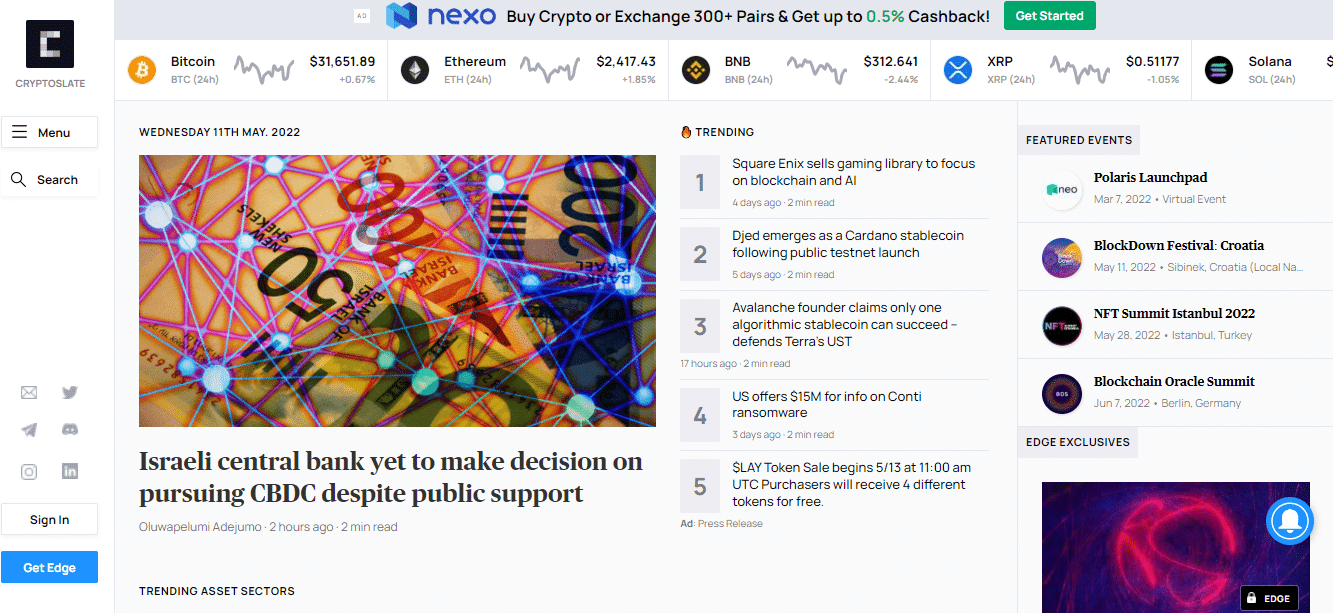 It envisions a more streamlined manner to receive a glimpse of the cryptocurrency universe, including the latest crypto news, blockchain firms, goods, cryptocurrency pricing, and blockchain events.
In addition to crypto articles, it covers a wide range of topics such as ICOs, cryptocurrency rankings, and occurrences. Non-fungible tokens (NFTs) and decentralized exchanges are also covered by the service. Journalists from CryptoSlate conduct interviews and publish the results on the web. Its content is updated on a daily basis to fulfill the needs of readers, and anyone, regardless of their level of skill, can access and consume it.
Summary
Crypto investors spend more time determining where they can get information as the market grows and more content is added to the mix. Finding the most reliable source is also critical. You should consider the factors to getting a reliable one, and we have covered the main ones. The best five crypto news websites are CoinDesk, CoinPricePredict, CoinMarketCap, BitcoinMagazine, and CryptoSlate.