The digital asset industry is a fast-evolving market, with new upgrades, new tokens, and new trends popping up every day. For that reason, participants in this industry must keep abreast of the major developments, lest they find themselves missing out on the next great money-making opportunity. With that in mind, several podcasts have popped up to deal with the crypto topic, but not all of them will be helpful to you as an investor. We have taken time to separate the wheat from the chaff, so to speak, and here are the top podcasts worth listening to.
Unchained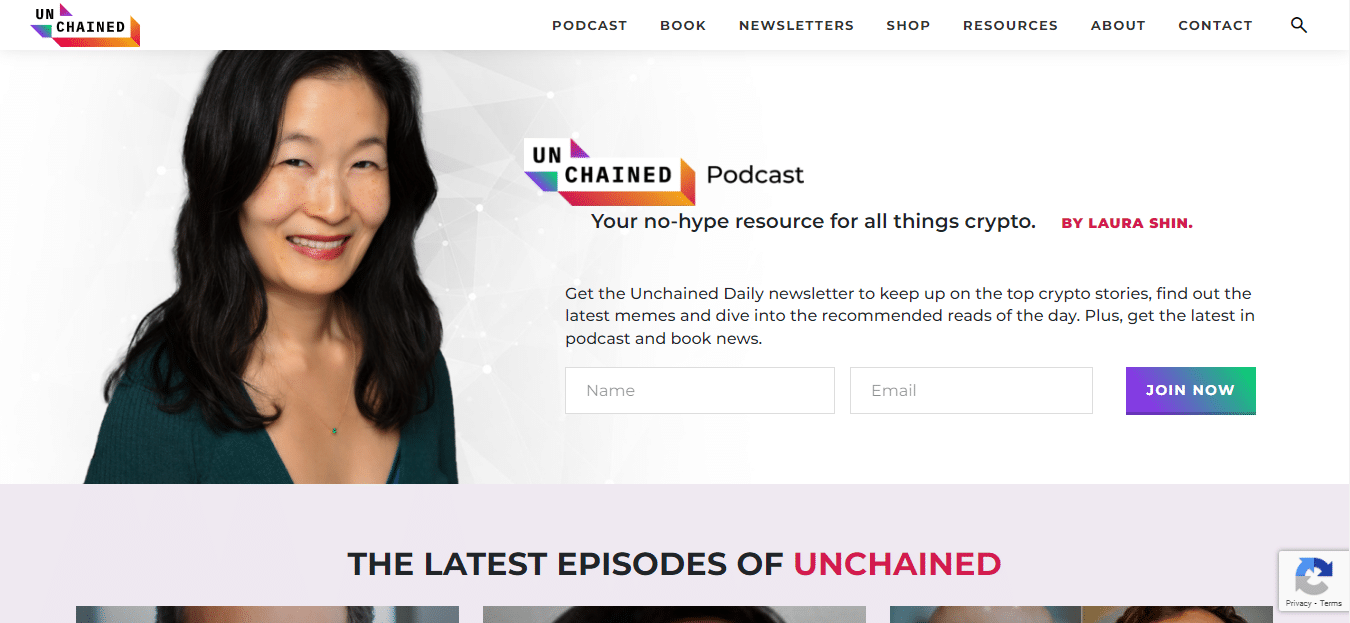 This is an hour-long weekly podcast hosted by Laura Shin. She formerly worked as an editor at Forbes before hanging her boots to exclusively cover the world of crypto. As for her credentials, she holds degrees from Stanford and Columbia, which speaks to her credibility as a crypto news source. 
Laura's podcast tackles several contentious topics in the digital assets space. She interviews industry experts and pioneers of cryptocurrency and blockchain technology. She has also led discussions on NFTs and how they are revolutionizing art and crypto adoption in war-torn regions of the globe. Every week, Laura puts out two episodes of this podcast. 
Unconfirmed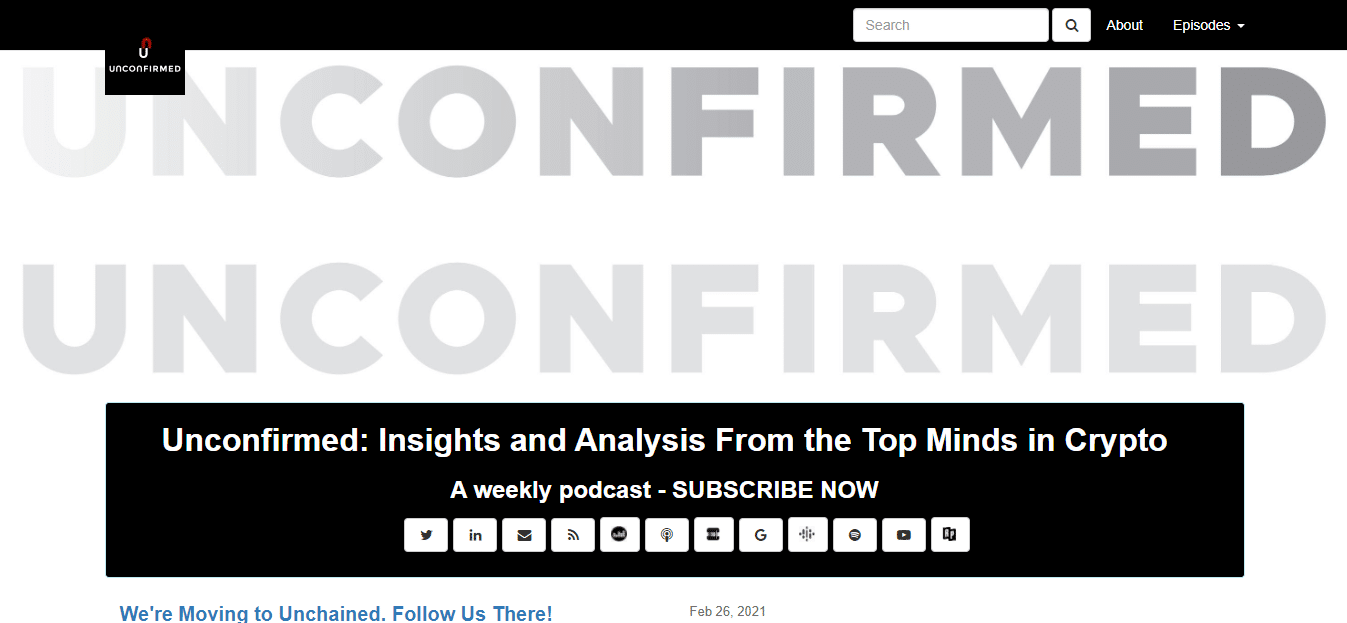 This is another podcast under Laura Shin's belt. However, instead of dissecting 60 minutes worth of content, Unconfirmed episodes are usually only 20 minutes long. In them, she tackles the biggest headlines in the crypto industry, and hot inside takes. She also interviews industry experts to determine what lies in the future regarding digital assets and the underlying blockchain technology. 
Seeing as developments in this field occur quite fast, Laura is able to respond to these changes just as quickly. A notable feature of this podcast is how she breaks down how crypto play-to-earn games are made. There is something for every crypto enthusiast in any of her podcasts with such content.        
Stephan Livera Podcast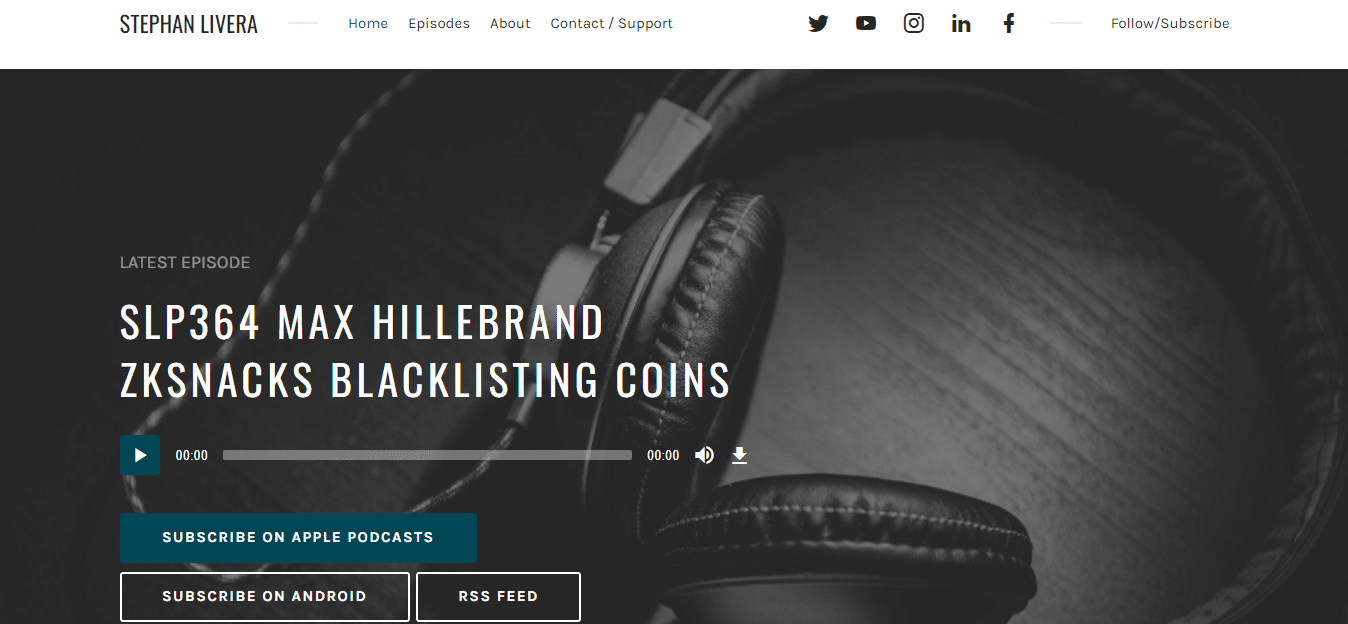 This is a podcast that is exclusively dedicated to Bitcoin. On it, Stephan tackles a variety of topics related to this leading cryptocurrency. These include mining, economic theory, nodes, and much more. This can be helpful to anyone looking to better understand the technology behind Bitcoin. Though this might sound overly technical, especially to beginner traders, Stephan has a way of making technical jargon easily digestible to the layman listener. 
This can be attributed in part to the fact that he's no stranger to the world of finance and accounting. Among his many hats, he is an Australian Chartered Accountant, a founder of an educational institution called Ministry of Nodes, and serves as a partner at Bitcoiner Ventures. 
Coindesk podcasts
CoinDesk is a popular crypto news site that plays host to various podcasts. The Breakdown and Speaking of Bitcoin are two notable ones, commonly known as an SOB. Nathaniel Whittemore hosts the former, and though it mainly tackles Bitcoin, Nathaniel also delves into the political landscape surrounding crypto and major power shifts in the industry. 
On the other hand, SOB features 4 hosts who hold heated discussions every week on Bitcoin and other issues concerning altcoins and the crypto industry at large. It has been in production for 8 years now.    
The Pomp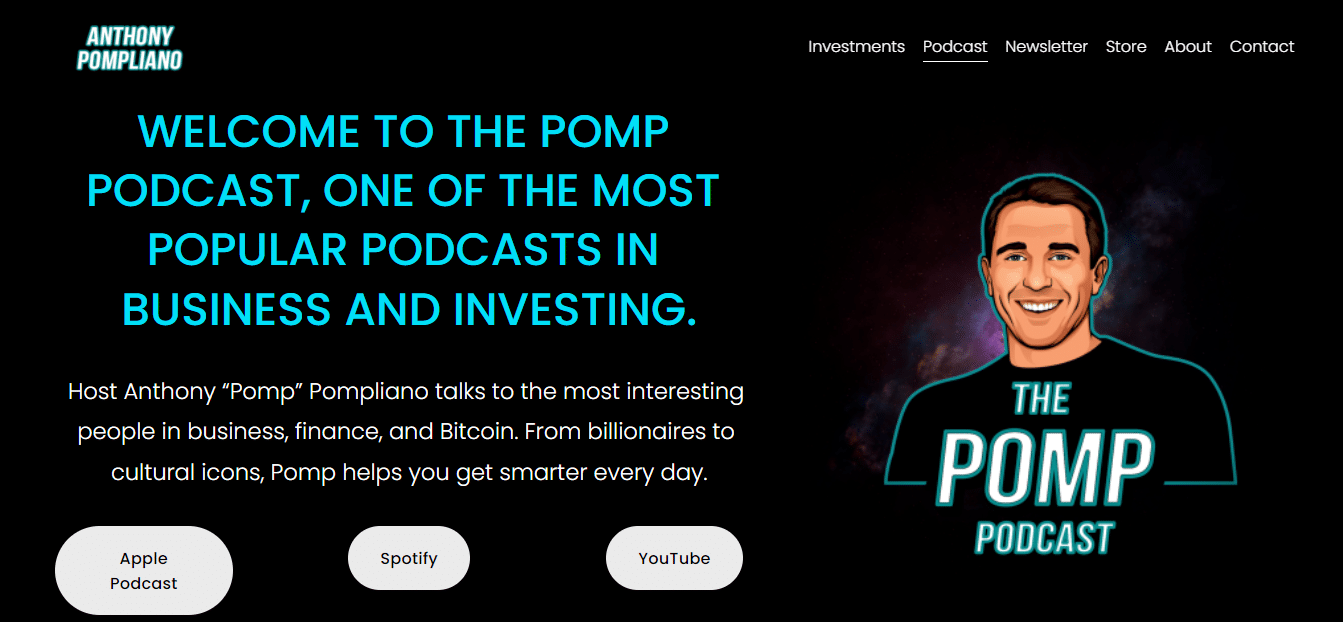 Anthony Pompliano is an entrepreneur commonly known as Pomp. He is invested in various blockchain companies, and his website values his portfolio at the north of half a billion dollars. He also hosts a successful podcast, whose episodes range anywhere from 30 minutes to an hour. In it, he holds discussions with experts in crypto and the financial industry at large and billionaires on the future of investing. In addition to this, he puts out a daily newsletter that has a loyal readership numbering in the hundreds of thousands.    
Crypto 101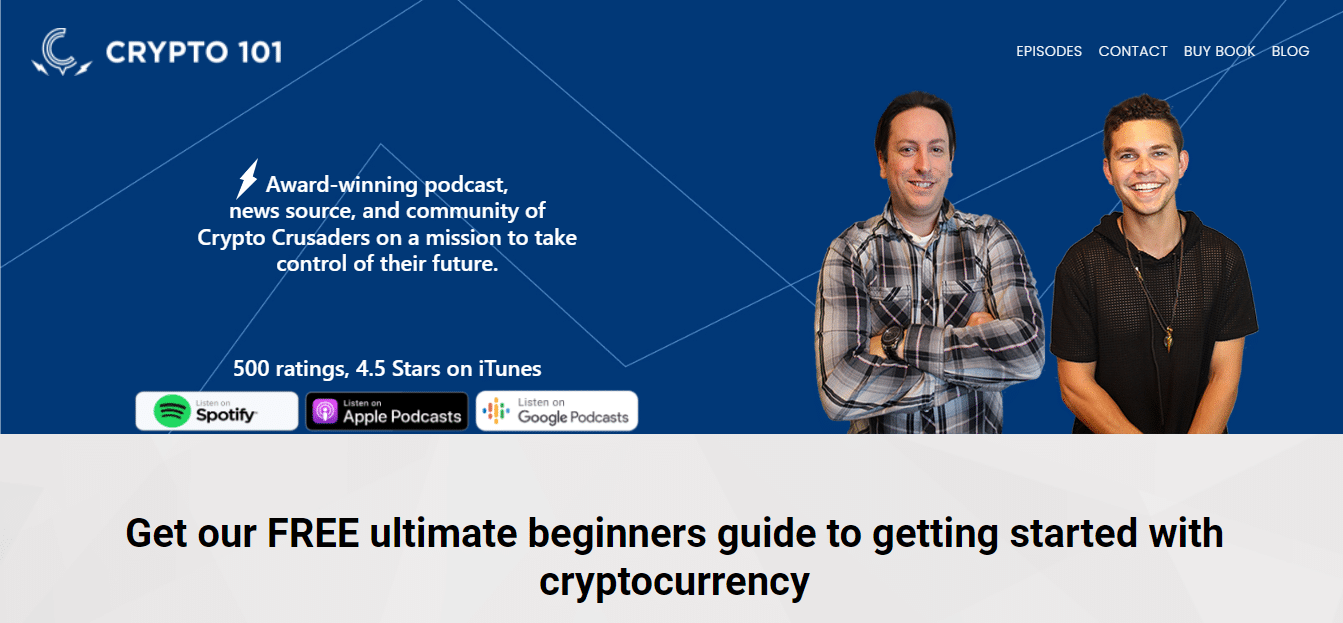 This is a podcast hosted by Bryce Paul, co-founder of Tower 18 Capital, a crypto hedge fund, and Aaron Malone, who has founded several crypto VC funds and mining companies. The two hosts have also co-authored a book titled "Crypto Revolution," making them experts in the field. In this podcast, they help beginners wade through the murky waters of cryptocurrencies and the blockchain technology they're based on. Though it may involve a lot of technical content, they manage to distill it in a consumable way for the average trader. 
The Bad Crypto Podcast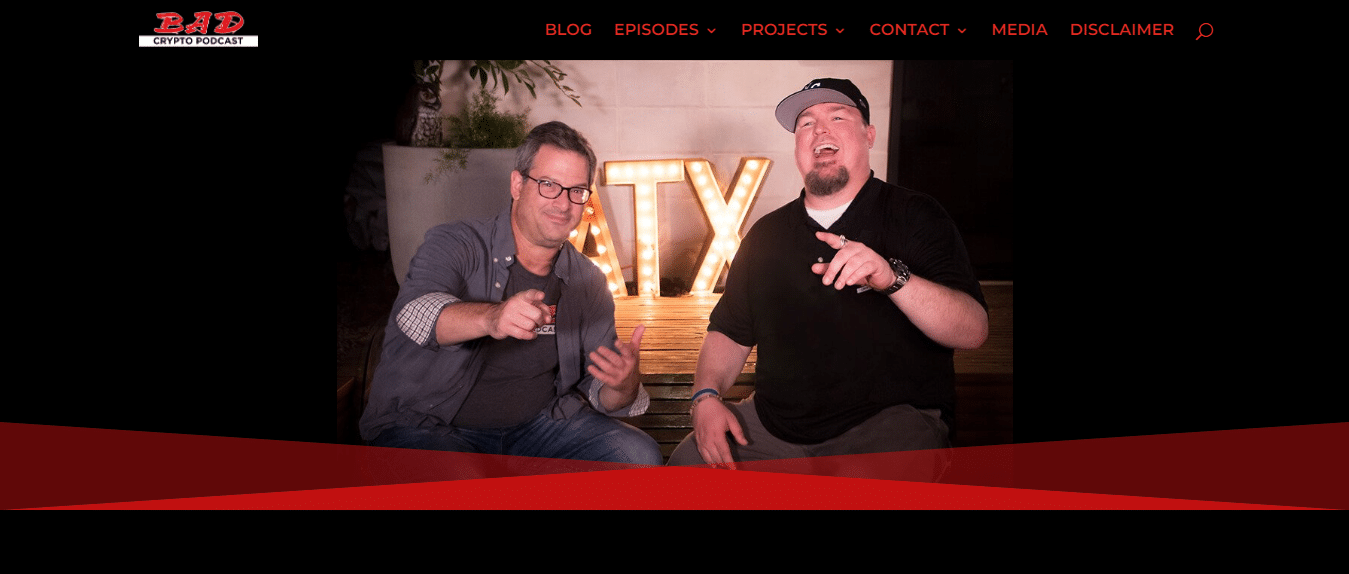 Hosted by Joel Comm and Travis Wright, this is a podcast that demystifies all things crypto for beginners in the space. They release two weekly episodes, each about half an hour long. As is evident from their title, which borders on the ironic, this is a heavily satirical podcast, often a welcome change from other podcasts that tend to be too serious. If you're looking to learn crypto in a light-hearted and humor-filled way, this podcast is the right fit for you.     
What Bitcoin Did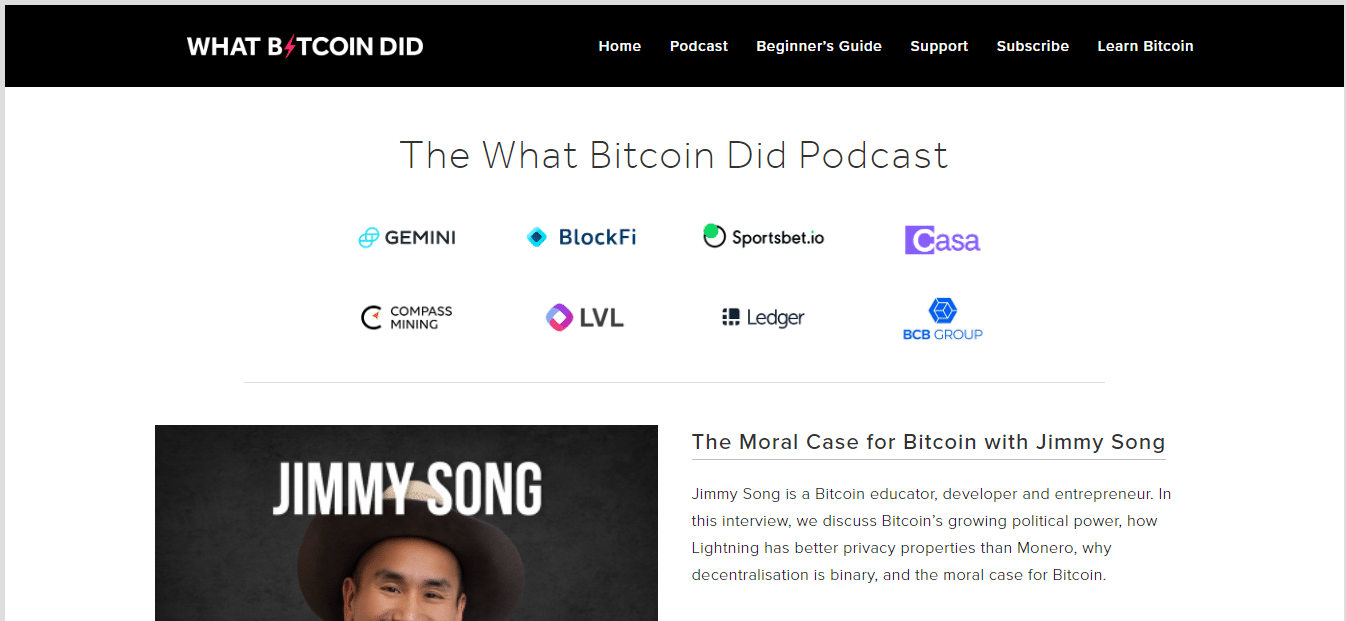 Hosted by Peter McCormack, this is a podcast that tackles Bitcoin development, privacy, adoption, and best investment practices. Its episodes are released three times a week, and in them, Peter interviews renowned industry experts to break down even the most complex of issues to beginners in the trade. Not so long ago, McCormack himself was a beginner, and as you progress through his episodes, you get a sense of evolution as his knowledge of Bitcoin deepens. He is also not afraid to bring Bitcoin critics on air, which invokes a sense of balance in his discussions. 
Conclusion
Podcasts have become a popular entertainment source in recent years, and several crypto experts have taken to them to educate the masses on all things pertaining to the digital asset economy. The podcasts we have discussed herein blend entertainment and education, giving you a wholesome listening experience.