Several Forex traders these days use expert advisors or EAs for placing their trades automatically. Not only does this help them save time, but it also factors out the emotional aspect that often leads to losses. Blueshift is one such intraday Forex EA that operates on the basis of Moving Average (MA) and Williams Percent Range (WPR) indicators.
This Forex EA claims to have a high winning percentage, but this is something that every vendor claims and we just cannot afford to trust a service based on words only. Hence, an in-depth analysis must be conducted for every aspect of the software. After doing so, we can say with confidence whether you can trust this system or not.
Product Offering
Currently, there is no official website for Blueshift. It is a new system that has been launched on 10th January 2021 and we don't think too many people know about this product as of now. The developer behind Blueshift is Marco Solito, and according to his MQL5 profile, he lives in Italy and has programmed Forex EAs like Redshift and Dark Venus in the past.
But, apart from this, not much is revealed about the vendor, and this might act as a deterrent for Forex traders who prefer using only reputable systems. At the moment, it seems the only way you can get in touch with the developer is by messaging them on the MQL5 website or Telegram since no other contact information is provided.
You can purchase the software for a price of $399, but it can also be rented for one month by paying $369. Compared to other Forex EAs, this is not exactly cheap, especially considering it's a relatively unknown system. Still, it seems 861 people have tried out the demo version of Blueshift.
Blueshift
| | |
| --- | --- |
| Type | Fully-automated EA |
| Price | $399 |
| Strategy | Countertrend/trend following |
| Compatible Platforms | MT4 |
| Currency Pairs | XAU/USD, XAG/USD |
| Timeframe | M15 |
| Recommended Min. Deposit | $100 |
| Leverage | 1:10 |
Trading Strategy
Blueshift is a fully automated Forex EA that operates on the recommended timeframe of M15 and specializes in silver and gold trading. It has a recommended deposit of $100 and a leverage of 1:100. The developer reveals the strategy to be the market order in trend following and counter-trend, but no technical details are provided.
Furthermore, the vendor goes on to claim that Blueshift does not use risky strategies like Grid and Martingale. It is mentioned that Blueshift uses Take Profit and Stop Loss for managing risks. But, this is something that is done by most Forex EAs and it tells us very little about the actual trading strategy.
The developer recommends customers to use this system on the ECN broker and a low latency VPS. With Blueshift, you have the option of enabling spread filter, setting the maximum spread, and maximum slippage. Moreover, you can choose the number of lots or enable the money management option, which results in the risk percentage being displayed.
Trading Results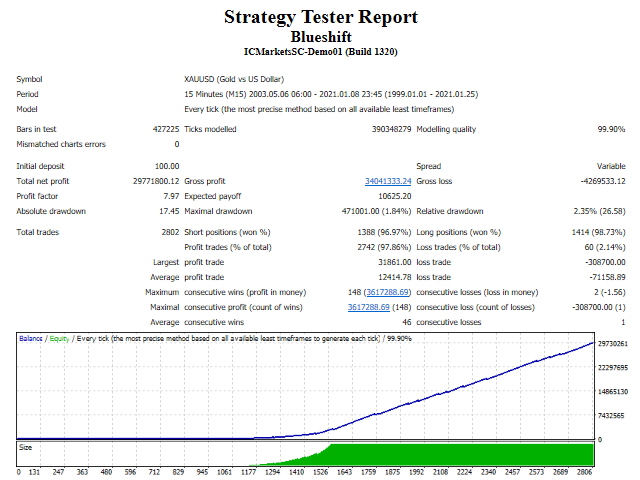 Blueshift provides us with backtesting data and it tells us a few things about the system's performance. The backtest has been conducted on the XAU/USD pair with a modeling quality of 99.9%. We can see that it has generated a total net profit of $29771800.12 with an initial deposit of $100. 
The backtesting data reveals a high profit factor of 7.97 for this system, but it seems unbelievable. Even the best Forex EAs have profit factors lying between 2 and 3, so this is a highly surprising figure. Out of 2802 trades, Blueshift seems to have won 2742, which brings the percentage of profitable trades to 97.86%.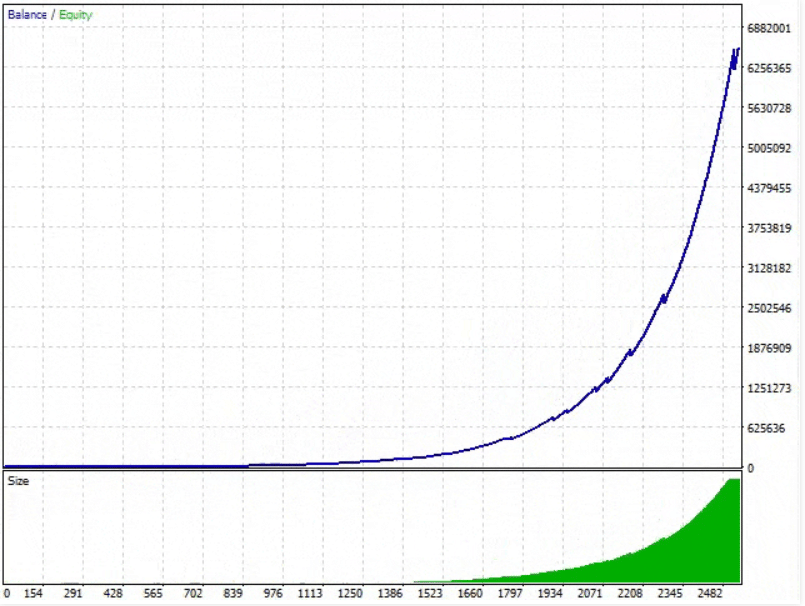 No verified live trading results are provided by the vendor, and while we have a video showing increasing profits over time, even this cannot be verified. The absence of trading results verified by third-party websites is a major disappointment and it would certainly create trust issues among potential buyers.
Customer Reviews
We couldn't find any customer reviews concerning Blueshift on websites like Trustpilot or Forexpeacearmy. While the Blueshift profile on the MQL5 website does have some positive user reviews, this could easily have been manipulated. 
PROS
Backtesting data provided
CONS
Lack of strategy insight
Vendor transparency lacking
No live trading results available
Verdict
In the end, we would like to conclude by saying that this Forex EA is simply not worth investing in. There is simply not enough information available for us to trust this system. The vendor doesn't tell us much about the strategy employed, and there are no live trading results to back up the claims of high profits. Clearly, not enough people have used this system, for there are no user reviews to be found either. Overall, we don't think you should consider purchasing Blueshift.