Botsfolio offers to help you to trade like a pro in the crypto market. The vendor intimates that the bot won't engage in bad trades, thanks to its best risk management intelligence that is integrated into all its bots. So, you are asked to rest easy and let the system earn money for you. 
About Botsfolio
Botsfolio takes charge of your trading whether you are a novice or experienced trader. It offers you ready bots meant to automate your trading. The software simplifies the process of investing in crypto by just connecting your exchange account. It then uses the cryptos available in your exchange to trade hence boosting your portfolio. 
| | |
| --- | --- |
| Payment options: | Ethereum, Bitcoin, BitcoinCash, and Litecoin |
| Price: | $4.75/month, $9.50/month, $14.25/month and $19/month |
| Supported exchanges: | Binance, Coinbase Pro, and FTX |
Botsfolio features
The system is characterized by the following features:
It requires no knowledge to configure it to make profits.

It trades automatically based on inbuilt strategies.

The platform allows you to withdraw all your assets because they are stored in your exchange.

It has a referral program that enables you to earn up to $10 for every successful referral.
How does it work?
Botsfolio automates your crypto trading activities. It scans the market 24/7 with the goal of identifying trading opportunities on your behalf. The devs have incorporated several strategies into the software that help it in making trading decisions. These include hedged and futures trading strategies, value investing strategy, and investing for fixed income where you can earn interest on your savings. 
For the system to begin working, you are required to respond to several questions to enable it to allocate investment in various crypto currency trading approaches. Next, add the amount you desire to invest in your exchange and link it to Botsfolio. It will then trade automatically from your account. You can track how your trades are doing with its intuitive visual dashboard.
Compatible exchanges
The software supports 3 main exchanges; Binance, FTX, and Coinbase Pro. 
How does Botsfolio stand out?
Botsfolio sets itself apart from others by being able to access the market 24/7 while monitoring it to spot price changes. The app also gives its users the opportunity to implement multiple strategies at a go so as to broaden their portfolio to address their unique needs. 
Best for: traders interested in working with a wide range of strategies
The bot automatically diversifies your net investment by blending long and short term approaches depending on your monetary goals and appetite for risk. 
Pricing
To access the features and functions of this bot, you will be charged some fees. To manage a portfolio value worth $1-$3k, the vendor asks that you pay $4.75/month. If your portfolio value is between $3 and $10k, or worth $10k-$50k, then you will be charged higher. As such, the cost for the former pack is $9.50 per month, while the price for the latter plan is $14.25 monthly. 
The last offer, which costs $19/month, is for people who have portfolio values worth between $50k and $100k. In addition to the monthly charge, anyone using the bot will be charged a 15% performance fee quarterly on profits
How safe is Botsfolio?
Botsfolio is essentially secure. The platform doesn't in any way control your deposits and withdrawals since your cryptos are stored in your exchange. The only thing it does is trade on your chosen exchange. Moreover, the bot's API that links to your exchange account is encrypted, which ensures that your account is safe from unauthorized access and consequent attacks. 
Botsfolio reputation
The system has dozens of customer reviews on Trustpilot, and from the looks of it, traders love it. They are saying that the bot is profitable. However, there is a naysayer who believes that the company is on a mission to lure traders into signing up for the service so as to defraud you.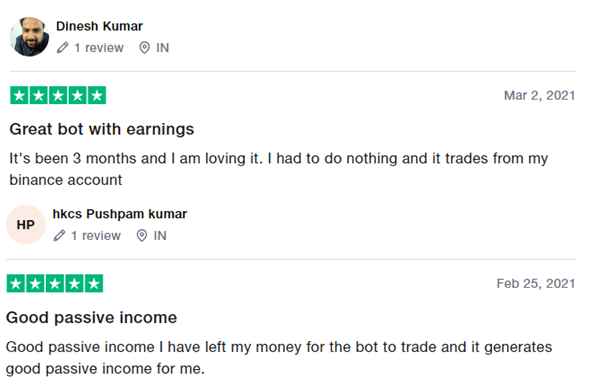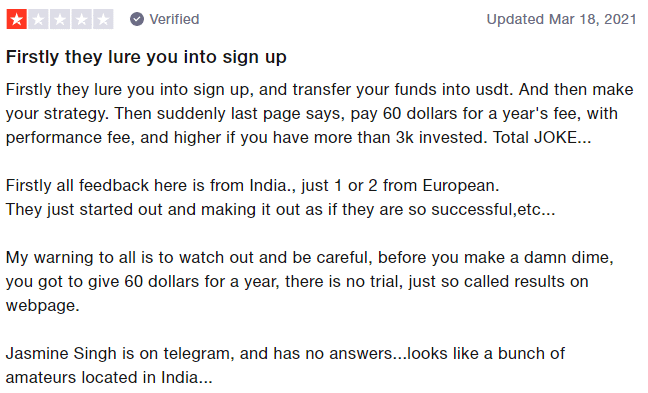 Is it a good choice for beginners?
Definitely. The vendor categorically states that the system requires zero knowledge to start. You don't need to create any algorithm or put together trading bots because everything is designed to work on its own. Moreover, the bots are deployed with already inbuilt strategies professionally designed to manage your portfolio intelligently. 
Pros
User-friendly
Affordable pricing
Offers multiple strategies
Secure
Cons
Doesn't have vital features like paper trading
Only works with 3 exchanges
Verdict
Botsfolio offers a safe platform where you can put your crypto assets to work and earn passive income in the process. The software doesn't require special skills to operate as the vendor has configured it to work for you automatically based on multiple strategies. However, the bot is only limited to 3 exchanges, which means you won't benefit from arbitrage and other features provided by other exchanges.