Coinrule allows backtesting and paper-trading for traders to put their strategies to the test. The platform supports several exchanges, including Binance, Bitfinex, Kraken, coin base pro. It comes with multiple subscription packages and a cost estimation bar to get an idea of your monthly spending. This review will explore specifics about its functionality, features, benefits, drawbacks, etc.
About Coinrule
Coinrule is a beginner-friendly platform that requires no coding skills. Traders can create automated strategies with over 150 templates and receive free trading signals. Users can take advantage of the free demo or buy one of the subscription plans. 
Payment Options:

Credit or Debit Card/

BTC, ETH, LTC, USDC (ERC-20), DAI 

Price:

Free trial/$29.99/$59.99/$449.99/month

Supported Exchanges:

Binance/BitMex/BITFINEX/Coinbase Pro/Kraken/bitpanda pro/OKEX/HitBTC/Bitstamp/Liquid
Coinrule features
The features of this bot include:
The bot allows investors to choose among 150+ template strategies or build one of their own.

It has a user-friendly dashboard with all the tools.

With backtesting, investors can test their algorithms.

Fully automated crypto trading.

There is a cost estimation bar.
How does it work
?
Traders can use Coinrule by choosing a trading strategy from built-in rules or creating their own. The templates include Scalping dips on-trend, rebalance with protection, buying the dips+stop loss/take profit, safe trend following, etc. They can also trade with techniques like RSI, moving averages, contrarian, trend following, accumulation, and risk management.
Compatible exchanges
Coinrule supports over ten cryptocurrency exchanges, including:
Binance

BitMex

BITFINEX

Coinbase Pro

Kraken

bitpanda pro

OKEX

HitBTC

Bitstamp

Liquid

Poloniex
How does Coinrule stand out?
Coinrule comes with 150+ templates that are customizable according to the trader's needs. This algorithm allows its user to perform backtesting on a demo account where they can test their strategies and performance.
Best for: automated trading 
Coinrule is best for fully automated trading of cryptocurrencies. The algorithm builds trading strategies with IFTTT logic and uses If-this-then-that approach. This method means that the order will be executed if anything happens in the market. Traders will select a trading strategy, set the parameters and let the EA do its job.
Pricing
Coinrule offers a free trial and four subscription plans for its users. The prices and tools for each package are listed below:
1. Starte
r
Free/ 2 live & demo rules/ 7 template strategies/$3k monthly trade volume.
2. Lite
$19.99/month/4 rules/ 20 templates/$100k volume/advanced indicators.
3. Hobbyist
$39.99/mo ($359 billed annually)/7 rules/40 templates/$300k trade volume.
4. Trader
$79.99/mo ($719 billed annually)/$3M monthly trade volume/unlimited exchanges/trading view integration.
5. Pro
$449.99/mo ($5,399 billed annually)/Unlimited trade volume and exchanges/ultrafast execution.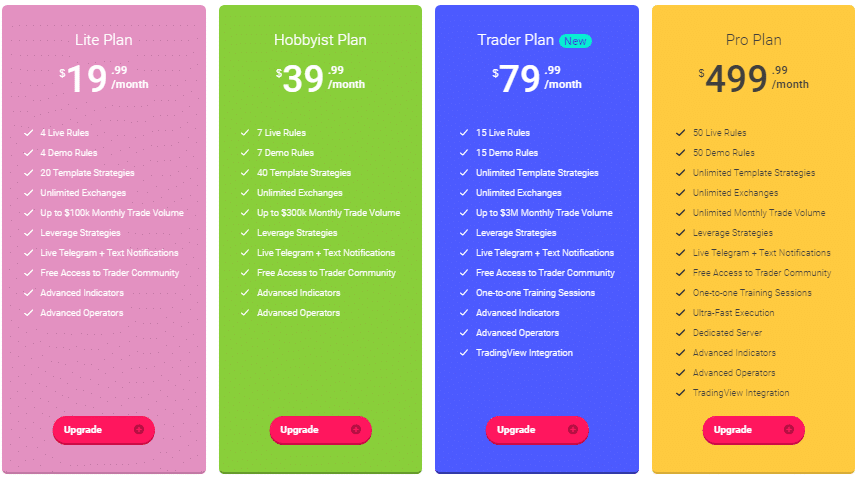 How safe is Coinrule?
Coinrule is safe to use and promises to keep the investor funds secure. The developer claims to have a high level of security with API keys (256-bit encryption). Communication between the app, backend, and cache nodes is encrypted with TLS 1.2. The platform is protected against cyber-attacks and DDoS by using Cloudflare. An additional layer of protection is applied with two-factor authentication. 
Coinrule reputation
Coinrule ltd is located in Clerkenwell, London, England, with a team of crypto enthusiasts. Gabriele Musella is the CEO and co-founder of this company, with Oleg Giberstein, COO and Zdenek Hofler, CIO. 
Is it a good choice for beginners?
The dashboard of Coinrule is simple and easy to understand for beginners. They provide webinar videos and other educational docs about the tools. The bot doesn't require coding skills, and the platform offers several pre-built strategies.
Pros
User-friendly interface
Preset strategies for beginners
Cons
The platform has no mobile application
Pricing plans are costly
The bot is compatible only with centralized exchanges
Verdict
Coinrule is an automated crypto bot with pre-built strategies and works on major exchanges, including Binance, Kraken, Coinbase pro. The platform is only web-based, and there is no mobile application from which traders can monitor the bot.