Divergence is a Forex indicator that searches for all types of divergences in the market with the help of oscillators. As per vendor claims, this indicator has a win rate of around 90%. This is quite a bold claim, and we need to verify it by analyzing the system thoroughly.
Product offering
This system is sold on the PZ Trading and MQL5 websites. On both websites, the vendor has highlighted the main features of the indicator, while also listing some oscillators that this indicator supports. We also have a list of input parameters and several screenshots showing us how it locates entry and exit points. 
The developer behind Divergence is Arturo Lopez Perez, the director of PZ Trading. This person is based in Andorra and he has been developing Forex automated systems for the last decade. We can find several indicators created by this person on the PZ Trading website. These include Keltner Channel, Tick Chart, Multidiagonals, Fibonacci, Quadrant Thesis, Market Profile, etc. We have no idea whether there are other people working alongside this developer. 
Since this indicator has a short trading history on Myfxbook, our expectations from it are not too high. Also, the vendor has not shared the backtesting results, and this means that Divergence has not been exposed to various market scenarios. 
You can purchase this indicator for $299, but there are rent options available as well. The 1-month rent option costs $49, while the 3-months and 6-months options are available at $99 and $199, respectively. Prior to using the indicator for live trading, you can practice with the free demo version. If you wish to get a refund, you will need to apply within 7 days of the product getting delivered. We think this is quite inconvenient since you cannot gauge the indicator's performance in 7 days. 
| | |
| --- | --- |
| Type | Forex indicator |
| Price | $299 |
| Strategy | Divergence |
| Compatible Platforms | MT5 |
| Currency Pairs | All |
| Timeframe | H4 |
| Recommended Min. Deposit | N/A |
| Leverage | 1:20 |
Trading strategy
This is an indicator that seeks out divergences and sends trading signals via breakouts. Using a single chart, it can locate divergences for multiple timeframes and pairs. For each trade, it employs take profits and stop losses. Traders receive the alerts via email. Divergence supports oscillators like RSI, CCI, MACD, OSMA, Stochastic, Momentum, Money Flow Index, and a few others. 
Before sending out the signal, the indicator stands by for a Donchian breakout to occur. It uses different colors to indicate regular and hidden divergences. Since divergences tend to expand, the indicator has to repaint to complete its operation. When you purchase this product, you get an indicator file and a scanner indicator. The vendor also provides free software updates and lifetime support. It is advisable that you use this indicator to trade in H4 or higher timeframes.
You have the option of modifying the input parameters to suit your trading style. These include the periods for the various oscillators, divergence types, breakout period, zig-zag period, minimum and maximum divergence size, as well as drawing settings. 
Trading results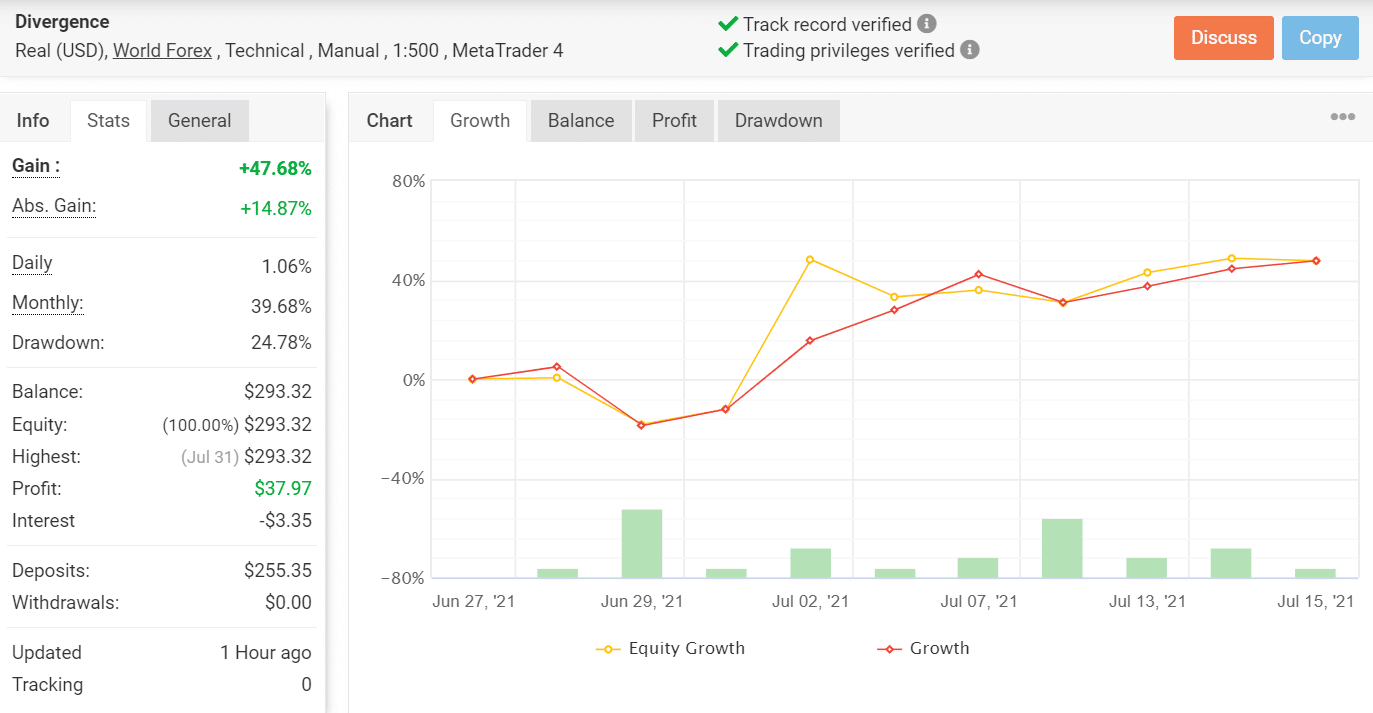 Here we have the live trading results for Divergence on a verified Myfxbook account. Now, this account was launched on June 27, 2021, which means it has a very short trading history. We cannot accurately gauge the system's profitability by analyzing this account. Divergence has placed only 27 trades through this account, winning 19 out of them and generating a small profit of $37.97. Currently, the daily and monthly profits are 1.06% and 39.68%, respectively, while the drawdown is quite high at 24.78%.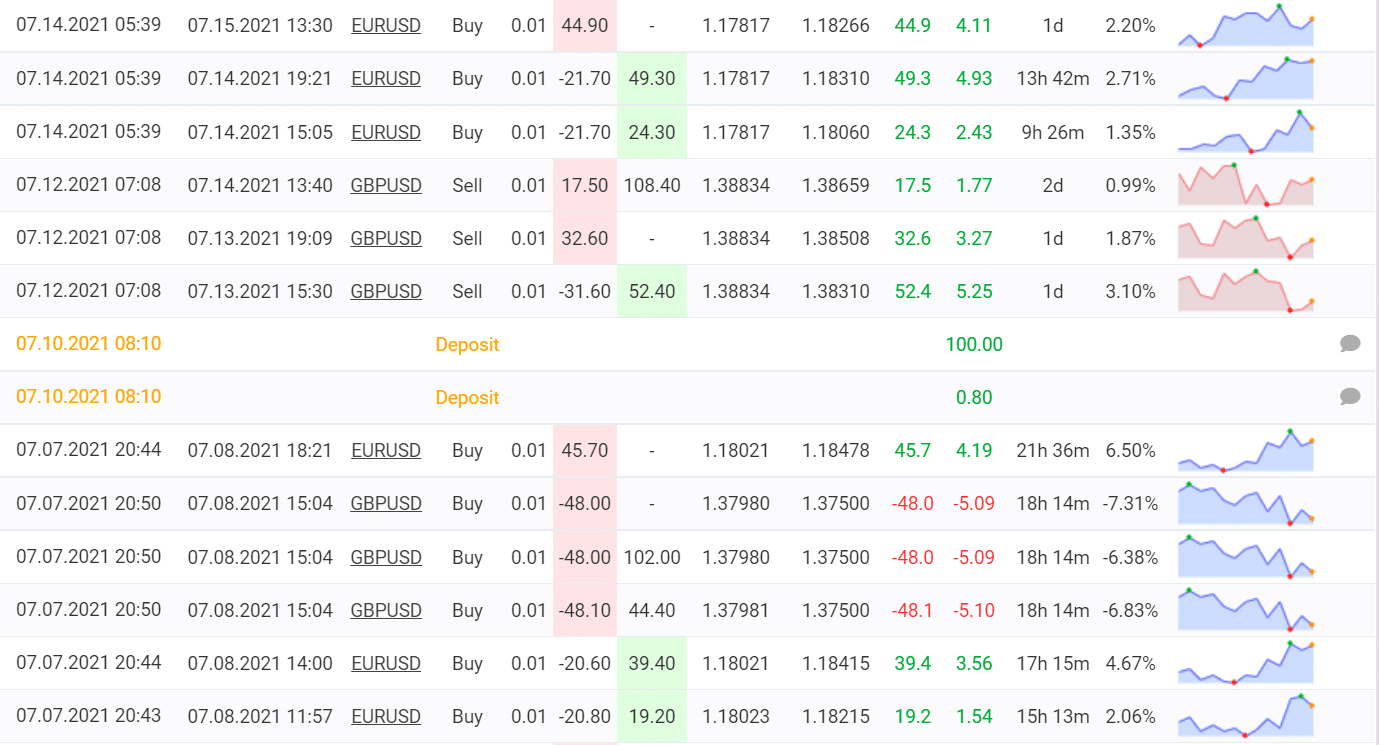 The high drawdown indicates a risky trading strategy, and we can confirm this by looking at the recent trading history. As we can see, some of the trades have led to losses as high as 6-7%, which means the indicator trades with high risk. You can drain a large portion of your account while trading with Divergence. The vendor has not shared the backtesting results for this indicator, which prevents us from judging the historical performance.  
Customer reviews

There are user reviews for Divergence on trusted third-party websites. There is only a single review on MQL5, but of course, this cannot be considered authentic. Clearly, this indicator does not have much of a reputation as of now.
PROS
Verified trading results available
CONS
Backtesting data not available
Short trading history
Overpriced product
Verdict
Divergence is an overpriced indicator that is largely unproven in the live market. It uses a risky trading approach that leads to high drawdown and large losses. Therefore, you should stay away from it at all costs.