As a trader, you have probably come to an idea to automate your trading strategy. If you do not have programming skills and learning to program is something that is not for you, that goal can be achieved by using expert advisor building tools. One of the applications that you should definitively consider is EA Builder. It is a web-based tool that will help you to create custom indicators and expert advisors for MetaTrader 4, MetaTrader 5 and TradeStation platforms in just a few clicks.
Product Offering
The full application costs $97 and there is a free version that is fully functional for creating custom indicators though it does not give you a possibility to create expert advisors. If you decide to sign up for a free version whenever you want you may upgrade your account to full version.
As it is a web-based tool, it does not require any download or installation. All you need is a compatible browser (all major browsers are). After you sign up you can start using the application. Well, you probably think that programming is reserved for IT professionals, using this tool, as a total beginner soon, you will be able to create your first custom indicators and forex robots. Alongside with the application, you will find very good and easy to follow user manual that has a lot of step to step programming examples. A special part of a manual is a video tutorial that will allow you to familiarize yourself with the application and all its features more quickly.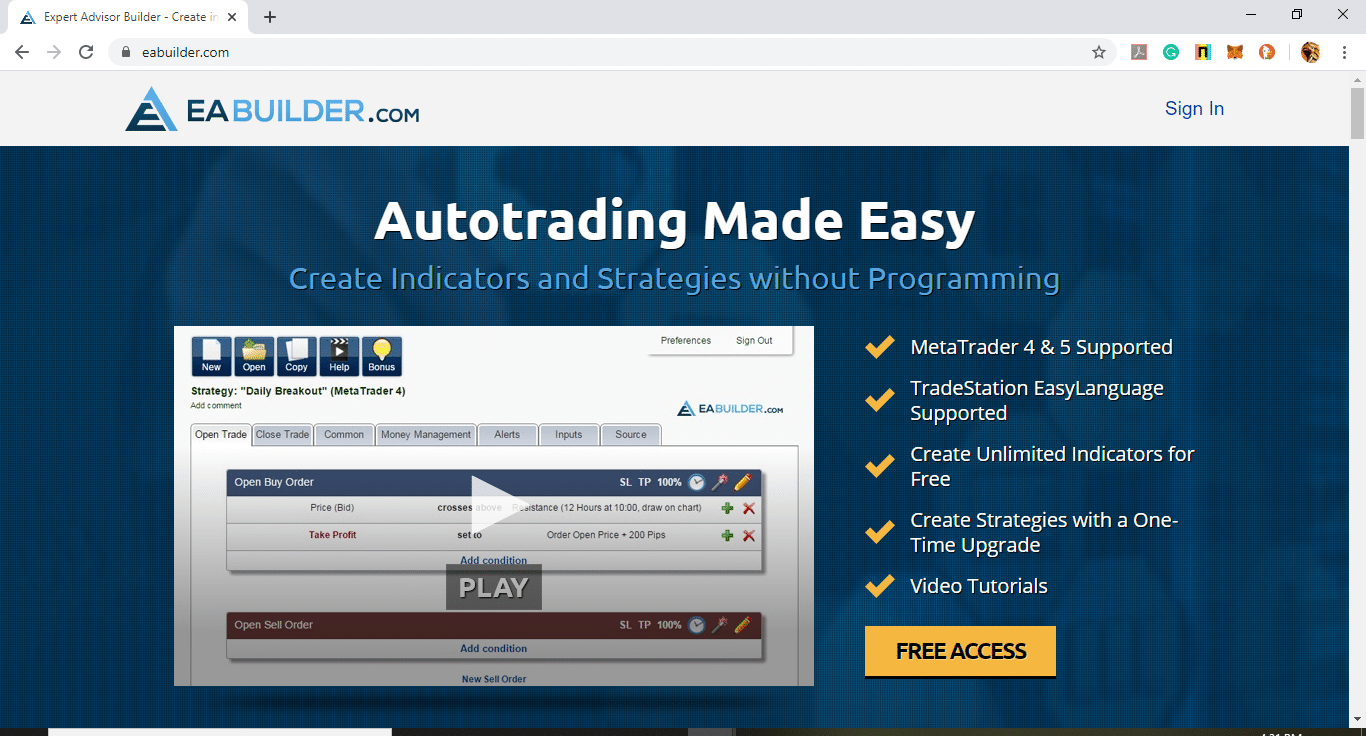 How EA Buider Works
The great thing about this tool is that you can create programs in just a few clicks. So it is not suitable only for persons that do not possess programming skills but also for experienced EA developers because it can be used to speed up the coding process. The output is a human-readable and well-commented source code that can be always improved by classical programming. If a certain feature is not supported you can always enter a custom code fragment. Moreover, well-formatted code can be interesting to non-programmers that want to learn. Since it supports various trading platforms you may check how the same function will be coded for different platforms in different programming languages. Yes, it can be a great resource to learn to program. This skill may even allow you to earn extra money.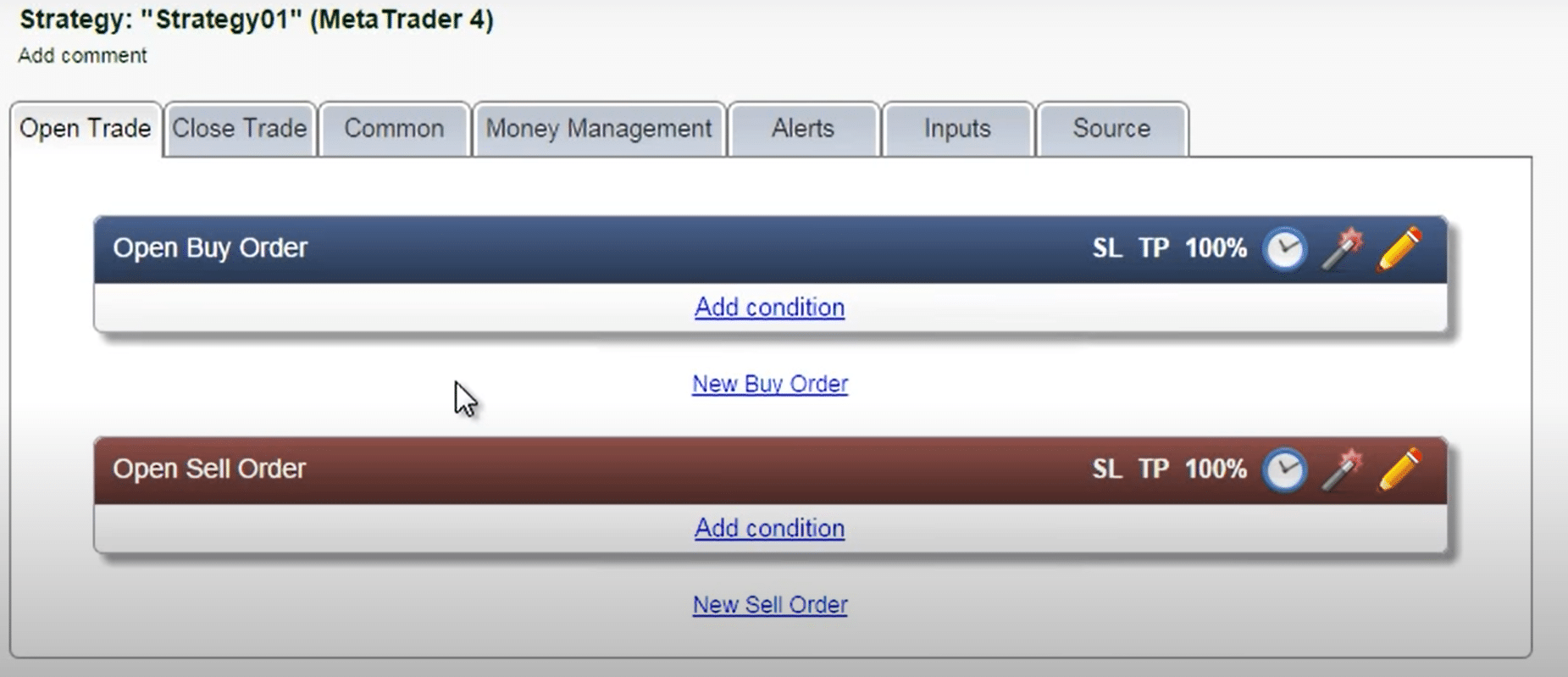 A free version is fully functional for developing custom indicators. You will be able to upload custom made code and include it to your newly created custom indicator. Hand-drawn lines can also be included. You can combine different time-frames for the calculation and you can select how your indicator will be displayed on a chart. You can also include audio alerts or email notification.
A full version will allow you to use standard and upload custom indicators to create complex robots. You can set the rules to enter and exit and rules where you want to place your stop loss and take profit level. You may also include a trail stop function. It has built-in many commonly used functions that control how many trades you can open, at what time you can enter or exit or how many many bars after the exit you can enter a new trade. If some function is not supported you can always upload or enter a custom code. Moreover, an application allows you to create expert advisors for binary options trading.
Money management features will allow you to decide how much resources you want to invest or what percentage of your account you want to risk. Also, there is support for martingale and anti-martingale trading. After you have completed the development you can download the robot for backtesting and optimization in your trading platform.
Conclusion
EA Builder is a web-based application that will allow creating custom indicators and expert advisors without programming. It is intuitively easy to learn and it will allow you to create complex programs in just a few clicks. Free version that is fully functional for creating custom indicators. There is a paid version that can also create complex forex robots. The tool can be useful even to experienced programmers because it can significantly speed up the development process. It can also create robots for binary options trading.
---