Evening Scalper Pro robot is a trading algorithm designed and owned by Valeriia Mishchenko, who has many other Forex products listed in the market. Using a mean-reversion trading strategy, the EA trades on the American trading session at the MetaTrader 4 or MetaTrader 5 platform. To better understand this robot, read our review below where we will discuss all its potential benefits and demerits. 
Product offering
The vendor is not very open about their trading strategy on MQL5 website. Additionally, their backtests are available in a very blurred form as a screenshot making the viewers miss out on essential stats like drawdown value. 
Vendor transparency
As mentioned before, Valeriia Mishchenko is the individual behind Evening Scalper Pro MT5. They are based in Russia, with a 4.7-star rating on MQL5. Their profile shows that they have 6 products, 18 signals, and 232 subscribers in the market. Customers can contact them through the live chat option on MQL5. 
No information like email address, company whereabouts, or a contact number is provided. This reduces the amount of transparency of this seller. 
Price
This bot is sold for an asking price of 799 USD. The version is only supported by the Windows operating system, which questions its cross-device compatibility. Payment methods include PayPal, Visa, MasterCard, Union Pay, and Web Money. 
There is no info about the availability of a money-back guarantee or a user manual.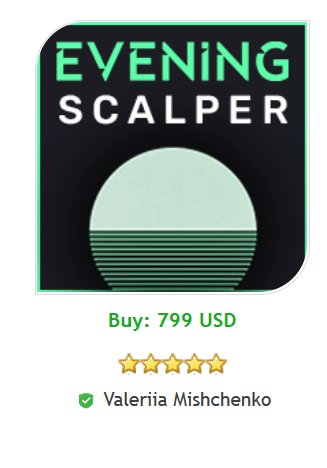 Trading strategy
Evening Scalper trades on EURNZD, EURAUD, AUDNZD, NZDCAD, AUDCAD, EURGBP, GBPAUD, and GBPCAD. It tries to use a scalping approach with the use of averaging strategy. Traders only need to attach it to one chart to trade multiple pairs.
The MQL 5 records show us that the robot trades generally towards the end of the NewYork session. It uses a wide stop loss of around 60 pips with a take profit of 10 pips.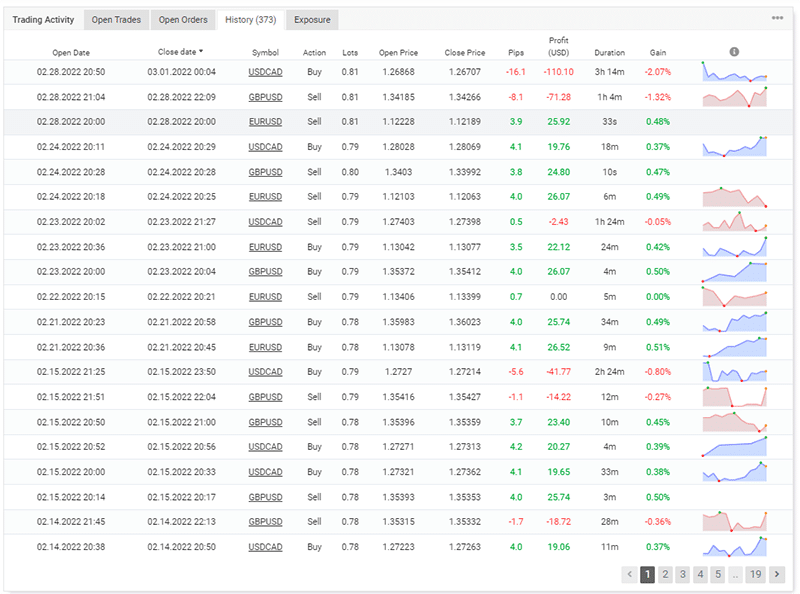 Trading results
Screenshots of backtesting records have been provided that cover the past performance of the bot from 2007 to 2022. These records cover a total of 8 symbols. The initial deposit stood at $300, later converted into a total profit of 24 831 691 906.18. The relative drawdown value (balance) was reported as 13.53%. The profit factor was shown as 3.36, with a recovery factor of 11.12. 
The bot made 3016 trades, out of which 19.69% resulted in a loss. This is relatively unimpressive. Also, it is pretty strange that these screenshots do not indicate the corresponding currency pairs for which past performance was tracked.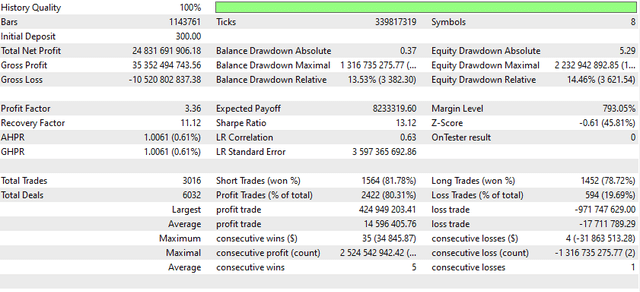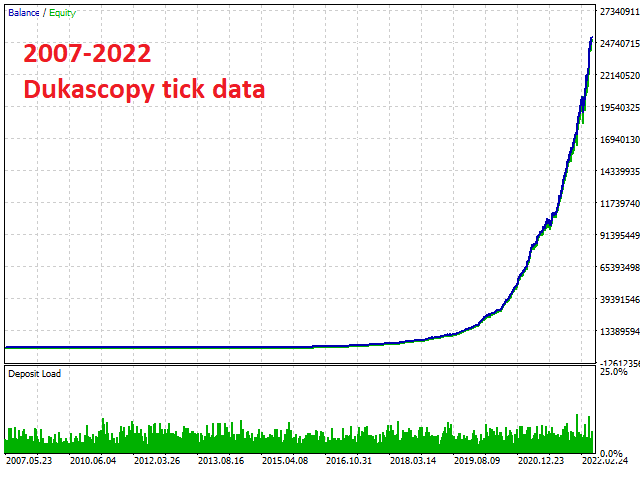 The seller provides live trading results on MQL5 for trades initiated on 2022.03.27. They are in the AUD currency. These stats show that the maximum drawdown value stands at 18.22%, which is average. The bot has a current loss rate of 23.3%. A leverage of 1:500 was utilized, and the growth rate is depicted as 20.36%. Currently, the graph shows that it is following a dangerous downward trend. 
IN a total of 60 executions, the best trade had a value of 2.51 AUD, while the worst trade had a value of -6.72 AUD. This shows that this bot tends to have a much higher loss than wins. The profit factor was reported as 1.26, with an average holding time of 13 hours. 

Customer reviews
We noticed that this bot only has 8 reviews on MQL5, which are not enough to make a solid conviction. It is rather peculiar that all these reviews speak positively about this bot. 
A trader comments that they have purchased this robot and hopes it works well.

Pros
Compatible with FIFO rules
Cons
The seller is not clear on the trading strategy
The growth trend is negative in live results
Verdict
Evening Scalper EA is not transparent about its trading strategy. The seller fails to describe the trading logic theoretically. Also, the bot's pricing is very high compared to the number of benefits that come with each purchase.