Fidelcrest is a renowned firm dedicated to providing premium forex trading services. Standing as one of the leading players in the realm of financial markets, Fidelcrest aims to bridge the gap between aspiring traders and their dreams of successful trading. The firm facilitates a secure, transparent, and engaging platform where individuals can harness their trading skills, navigate through the volatile forex market, and achieve substantial growth. This review examines the key aspects of Fidelcrest's offerings, shedding light on its credibility, advantages, and potential drawbacks.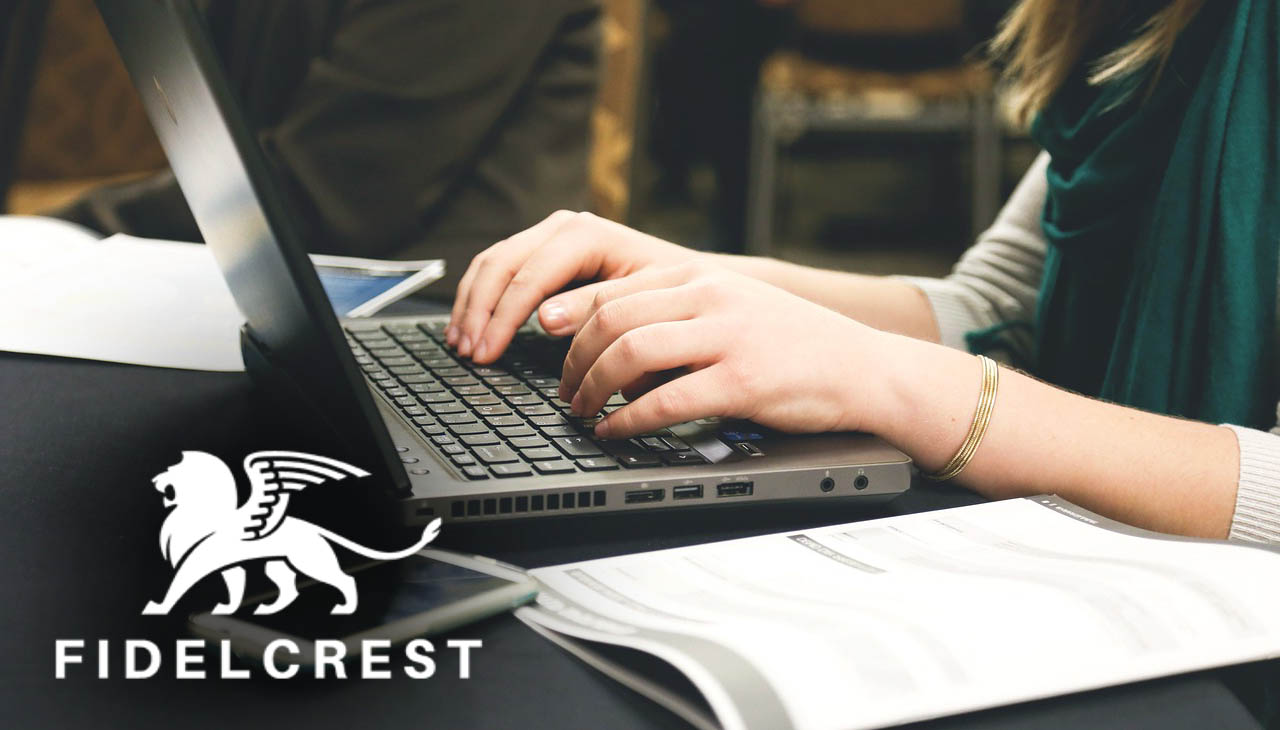 Features
Fidelcrest offers a range of features aimed at providing traders and investors with a comprehensive and rewarding experience. Here are some key features of Fidelcrest:
Trading Challenges: Fidelcrest provides traders with the opportunity to participate in trading challenges and competitions. These challenges allow traders to showcase their skills and compete against other traders for rewards and recognition.

Talent Pool: Fidelcrest maintains a diverse and talented pool of traders and investors from around the world. This allows users to connect and collaborate with like-minded individuals, share insights, and learn from each other's experiences.

Evaluation Process: Fidelcrest employs a transparent and fair evaluation process to assess the performance of traders. This evaluation is based on various factors such as profit/loss ratio, risk management, consistency, and adherence to trading rules. Traders can track their progress and receive valuable feedback to improve their trading skills.

Training and Education: Fidelcrest offers comprehensive training and education programs for traders at all levels of expertise. These programs cover various aspects of trading, including technical analysis, risk management, psychology, and strategy development. Traders can access educational resources, webinars, and mentorship opportunities to enhance their knowledge and skills.

Funding Opportunities: Fidelcrest provides traders with the chance to earn funding for their trading accounts. Successful traders who pass the evaluation process can receive capital to trade with, enabling them to potentially increase their profits and grow their trading career.

Risk Management Tools: Fidelcrest understands the importance of risk management in trading. The platform offers advanced risk management tools and features to help traders minimize potential losses and protect their capital.

Social Trading and Networking: Fidelcrest facilitates social trading and networking among its users. Traders can connect with others, share trading ideas, and learn from successful traders' strategies. This collaborative environment fosters a sense of community and promotes knowledge-sharing.

Analytics and Performance Tracking: Fidelcrest provides traders with detailed analytics and performance tracking tools. Users can analyze their trading history, review their performance metrics, and identify areas for improvement. This data-driven approach helps traders make informed decisions and continuously refine their strategies.

Support and Customer Service: Fidelcrest offers responsive customer support to assist users with any inquiries or issues they may have. The platform aims to provide a seamless user experience and promptly address user concerns.
User Experience
Fidelcrest provides an intuitive, user-friendly interface that is easy to navigate, even for those new to forex trading. The platform's layout is clean and uncluttered, making it easy for users to find the tools and features they need. Charting tools are robust and customizable, allowing traders to tailor their workspace to their preferences. Additionally, the platform is robust and reliable, with minimal downtime or technical issues, ensuring a smooth trading experience.
Users frequently commend Fidelcrest for its responsive, professional, and helpful customer service. The team is available to answer queries and resolve issues quickly, enhancing the overall user experience. The educational resources and training materials provided by Fidelcrest are comprehensive and easy to understand, making them a valuable tool for traders of all experience levels.
There are, however, some aspects of user experience that could be improved. Some users have mentioned that the mobile version of the platform could be more optimized for smaller screens and that real-time notifications for market changes and trade executions could be more consistent. Despite these minor issues, the overall consensus among users is that Fidelcrest provides a positive and enriching trading experience.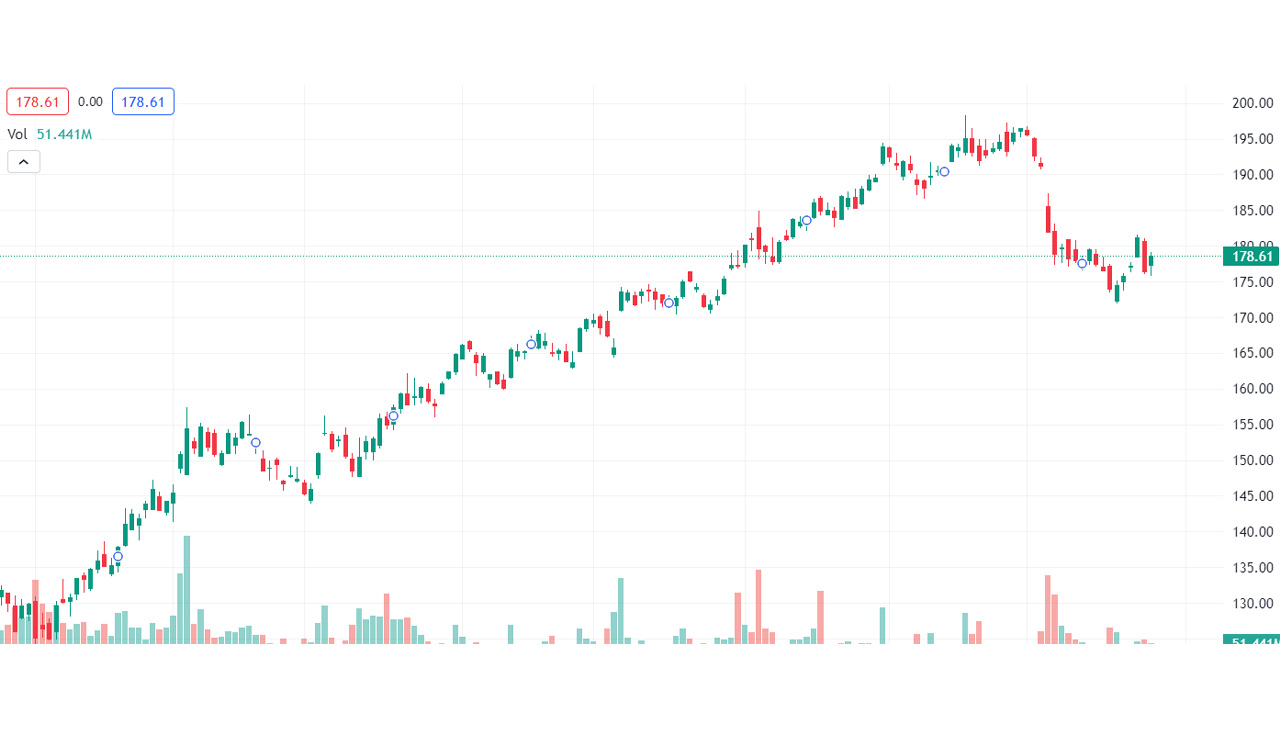 Risk Management Tools
Fidelcrest offers a series of robust risk management tools to assist traders in safeguarding their capital and optimizing their trading strategies. These tools include the following:
Stop Loss and Take Profit Orders: These orders allow traders to set predefined levels to close a trade, thus limiting potential losses and securing profits when the market moves in their favor.

Risk/Reward Ratio Calculator: This tool helps traders identify the potential risk and reward for every trade, enabling them to make informed decisions and maintain a balanced trading profile.

Margin Calculator: The margin calculator provides traders with insights into the potential margin requirements for their open positions, thus helping them manage their account balance effectively.

Trading Alerts: Fidelcrest provides real-time alerts and notifications on market events and significant price movements, which can be crucial in risk management.

Leverage Management: The platform allows traders to manage their leverage effectively, thereby controlling the risk associated with high-leverage trading.

Diversification Tools: Fidelcrest encourages portfolio diversification as a risk management strategy. The platform provides tools and resources to help traders diversify their trading across different assets and markets.
By integrating these risk management tools into their trading strategy, traders can better navigate the volatile forex markets, protect their capital, and enhance their trading performance.
Support and Customer Service
Fidelcrest is highly committed to providing top-notch support and customer service to ensure a seamless trading experience for its users. The customer support team is professional, attentive, and prompt in addressing any queries or issues that may arise. The team can be reached via various channels including email, live chat, and phone support, ensuring a timely response to all concerns.
Moreover, Fidelcrest maintains a comprehensive FAQ section on its website, providing immediate answers to common questions about account setup, trading operations, and platform features. In addition to this, the platform offers personalized support through one-on-one consultations for more complex queries, demonstrating the firm's dedication to customer satisfaction.
Despite the high level of service, some users have highlighted areas for improvement such as extending support hours and offering multi-language support. Fidelcrest appreciates this feedback and is continuously working to enhance its support services and meet the evolving needs of its global user base. Overall, Fidelcrest's support and customer service are integral to its commitment to offering a comprehensive and user-friendly trading experience.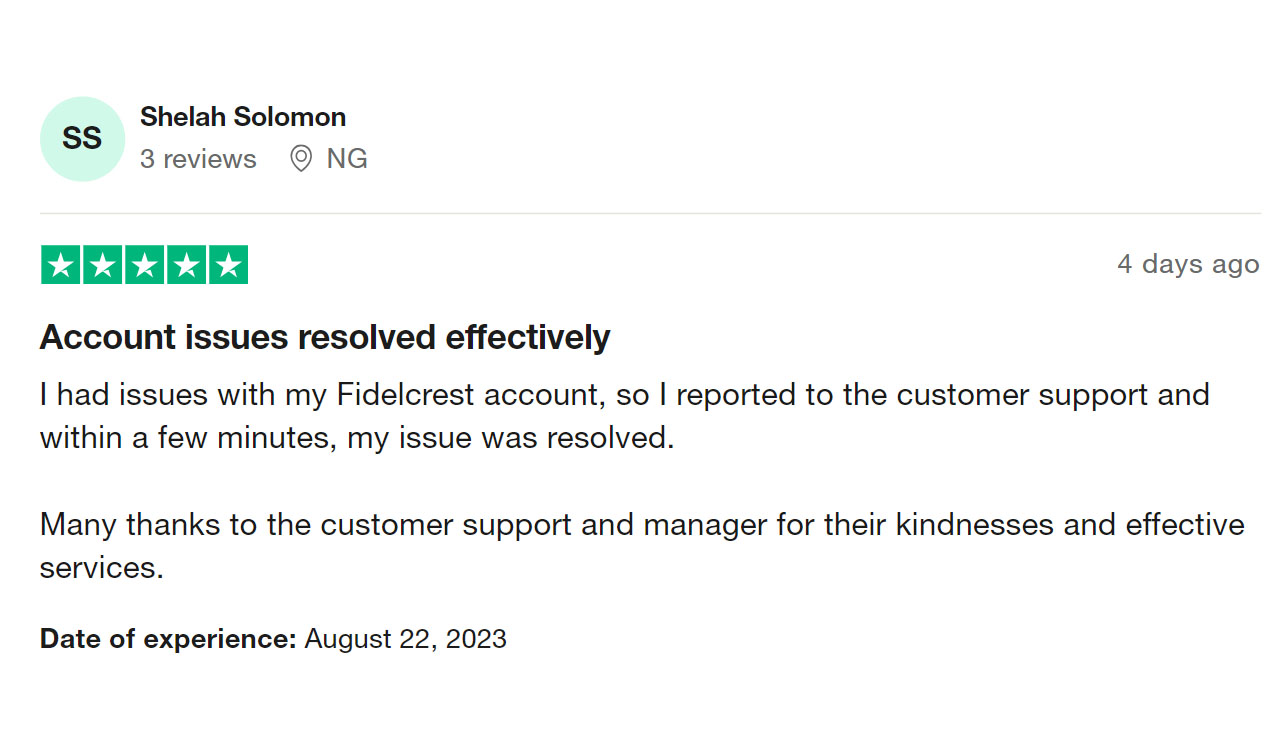 Success Stories and Testimonials
Fidelcrest has been instrumental in the success of many traders, with numerous testimonials attesting to its effective platform and supportive community. One user, John, shares his experience stating, "As a novice trader, I found Fidelcrest's user-friendly platform and educational resources extremely beneficial. I've seen steady progress in my trading performance ever since I joined."
Similarly, an experienced trader, Lisa, appreciates the platform for its advanced features and robust risk management tools, "Fidelcrest offers a wide range of tools which have allowed me to develop a sound trading strategy. The risk management tools, in particular, have helped me protect my capital during volatile market conditions."
Another user, Carlos, is full of praise for the customer service he received, "The prompt and professional customer support is what sets Fidelcrest apart. I had a couple of technical queries and they were resolved efficiently. It's reassuring to know that I can rely on them whenever I need assistance."
These testimonials highlight the positive impact Fidelcrest has had on its users, helping them improve their trading skills, make informed decisions, and achieve their trading goals.
Customer Service/Support
6
Trading Performance Results
9
Intuitive User Interface
Comprehensive Educational Materials
Powerful Risk Management Tools
Professional Customer Support & Service
Numerous Success Stories & Testimonials
Limited Support Hours (in some regions)
Lack of Multi-language Support (in some regions)
Summary
In summary, Fidelcrest is a reliable and secure trading platform that offers an array of features and resources to traders of all experience levels. Its intuitive UI makes it easy to navigate, while its comprehensive educational materials help users deepen their understanding of the markets. Additionally, the platform provides powerful risk management tools that enable traders to protect their capital and optimize their strategies. Moreover, the firm is committed to providing top-notch customer service and support, ensuring that all users have a seamless trading experience. Finally, countless success stories and testimonials speak volumes about the platform's effectiveness in helping traders hone their skills and reach their goals. All in all, Fidelcrest is an invaluable resource for any trader looking to maximize their potential in the forex markets.