The devs of Forex Diamond EA represent their expert advisor as a 'brilliant and profitable as a diamond' trading tool. It is characterized by an 'amazing + 40 recovery factor' that can take out trading 'to the next level'. It goes on to state that they have come up with the most advanced and dynamic auto trader compatible with both MT4 and MT5 platforms. In a heavily worded promotional website, the devs claim their system has blended a mix of innovative technologies, effective strategies, and experience to come up with a smart, fast, and easy-to-use ATS. 
But in an industry infested by unreliable trading robots, which dwell more on promotion than in actual performance, how reliable is Forex Diamond? We set out to test its legitimacy, reliability, and profitability. 
Product Offering
The landing page and the claims the devs share out Forex Diamond EA are indeed attractive. However, with so many EAs available on the market today, is Forex Diamon a reliable robot to trade on the real account? Does it deliver profits? Is it a risky advisor? Let's dive into the Forex Diamond EA review in full.
FX Automater group is the company that stands behind this EA development. The other products in their portfolio are WALLSTREET ROBOT, BF SCALPER PRO, GRID MASTER PRO, GOLD SCALPER PRO, SMART SCALPER PRO, and many others. Although the company is well-known among Forex traders, there is no name of their core team members provided. Moreover, there is no info on their headquarters location provided.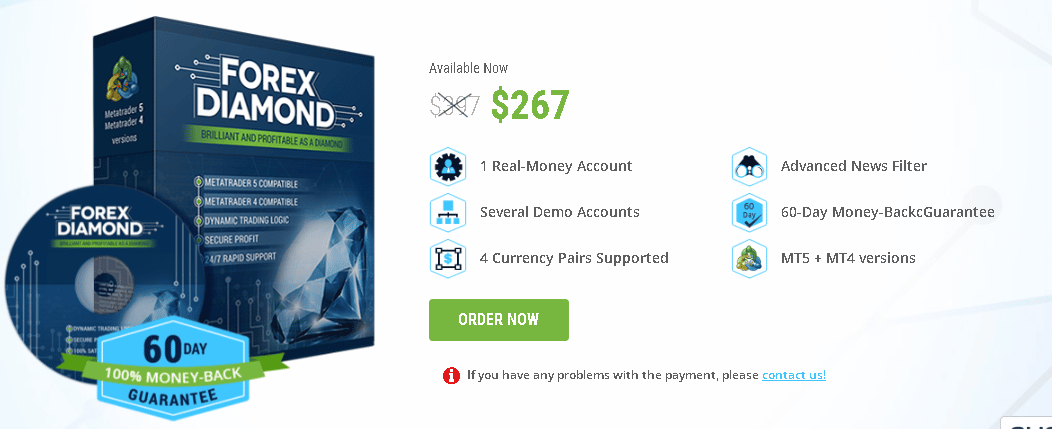 The system is sold for $267 instead of $397 on the official website of developers. The package gives you access to a real account, several demo accounts, an advanced news filter, 4 currency pairs to trade, MT4 and MT5 versions of the system, and a 2 monthly refund policy. This gives you a chance to test the EA thoroughly before deciding if you want to continue paying for the product. 
For your comfort, we have grouped all the strengths and weaknesses of this ATS below:
60-day money back guarantee
The system comes with a 60 day money back guarantee. The elongated time covers for the suspicious backtest and demo trading results as it gives you ample time to try it on a demo account and a risk-managed live account before deciding on whether to keep it or not.
Misrepresentation of information
The fact that the trading system developers can't be trusted with the simple objective of creating a real account and regularly uploading its trading history on Myfxbook defeats its legitimacy. With such a "profitable" system that uses not one but three trading strategies, why would its developers go for a demo account? Did it perform so dismally, just like its demo, that it would discourage investments?
Lack of PAMM accounts
Programming and Forex trading experts with the ability to create such a powerful trading system they can choose from a list of monetization options. Licensing it for a lifetime for just a few bucks isn't the wisest. The most profitable and popular within Wall Street involves creating VIP PAMM Accounts where they manage investor's funds at a commission.
PAMM accounts management is less stressful and lets them keep maintain their proprietary rights intact. It is therefore suspicious that Forex Diamond developers would prefer to sell their "innovative technology" for a few dollars at the expense of creating an undying stream of wealth from it.
Lack of corporate headquarters
Even with so many red flags, one would still want to hold onto a shred of hope that the system might be legit. You, therefore, turn to the website for information about these developers. Lack of official address or information about these "experienced developers" drives the last nail on the decision to stay away from the automated trader.
Trading Strategy
Apparently, Forex Diamond doesn't use one but a combination of three "proven trading strategies." It employs the signal, countertrend, and scalping strategies. These, according to the website, were infused together with the aim of guaranteeing "speed, precision and reliable performance" for the traders. More importantly, these are designed to help "unlock profits" and work towards market domination.
Harnessing the power of all the three trading strategies and channeling it to a "high-performance trading system," didn't come easy. The website attributes the success of Forex Diamond to the "THOUSANDS OF HOURS" its developers devoted to its design and testing.
However, while all these explanations may be interesting and just what every novice or experienced trader wants to hear about an auto trader, it is still doesn't answer our legitimacy question. Testing its reliability and profitability and ultimately determining its legitimacy takes the close evaluation of its backtesting results and actual trading history on Myfxbook.
Trading Results
Forex Diamond website claims to have backtested their system on trading data collected over the past 19 years. They used fairly similar trade settings for most of the currency pairs backtests with risk levels ranging between 5% and 1% while every tick data stood at 90% modeling quality. And even in what the website refers to 17 years of "financial nightmare" their system was able to report stellar results with a 77%+ win rate.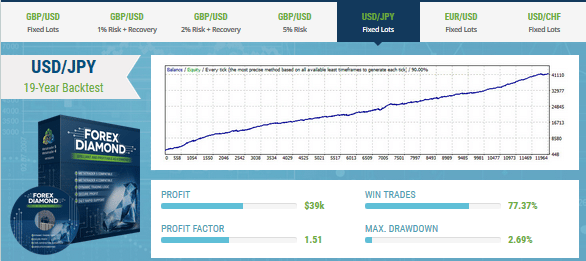 The first cracks within this rather impressive automated trading dome start emerging here. If you are keen enough, you will notice how the developers have been thorough in pointing every detail of their strategy and system expectations. They are however sketchy about the settings used to achieve these results. For instance, they are vague about the stop loss and risk levels.
With such a sophisticated system, it's unclear why the devs couldn't use the more accurate 99.9% modeling quality data. Are these backtest results subjected to such factors slippage and commissions?
On the official Forex Diamond EA website, the developers provide live trading results for a Demo USD account. It trades under the Alpari RU brokerage with 1:500 leverage on MT4. It trades automatically using the technical indicators. Since its inception in February 2018, the total gain has grown to 32,43% which equals $324 of profit. Although the drawdown is low (10,15%), the system is not a good trader, as it has a low-profit factor of 1.14.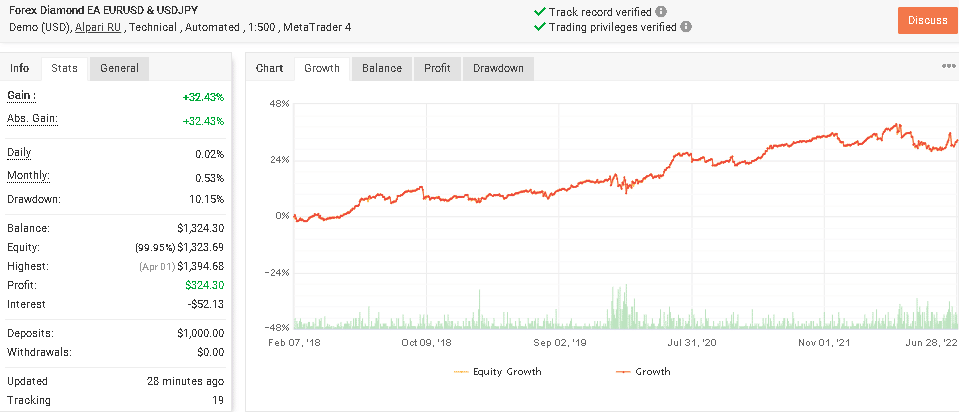 Its risk/reward ratio is 1:2 and an average trade length is 6 hours and a half. Out of 1,817 trades performed, Forex Diamond EA could close 1,302 with profit, which represents a win rate of 72%.

The robot trades EURUSD and USDJPY. Most of the orders were closed with the last one–1,272. A win rate for both pairs is mostly the same: 73% and 71% for EURUSD and USDJPY, respectively.

The EA uses a scalping approach to buy or sell currency pairs and then hold them for a short period in an attempt to make a profit. Frankly, the profits it gains are not impressive and range between 1-7 USD, wherein losses may reach 24 USD: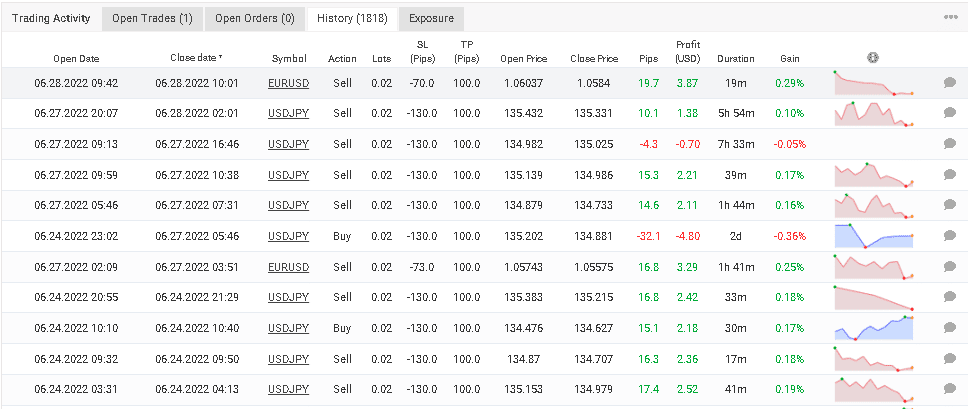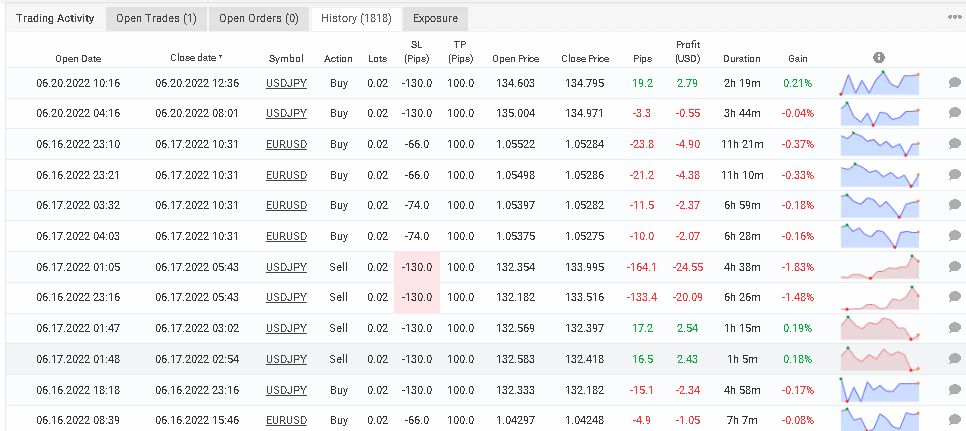 No sign shows us that the system generates a large percentage of gains. Summing up its returns, the EA has earned 1,67% from January till June 2022.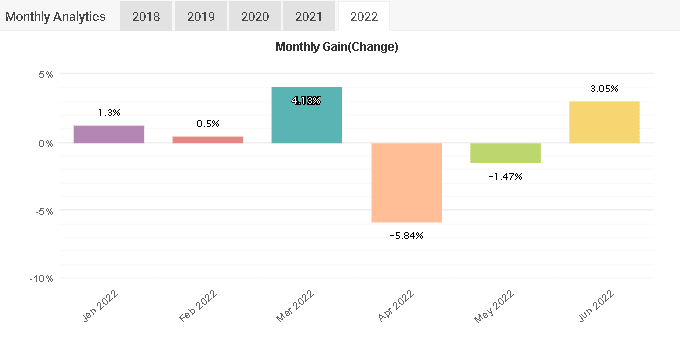 Customer Reviews
Unfortunately, there are no customer reviews for this system on Forex Peace Army. It looks like the EA is not popular among FX traders.

Pros
Friendly pricing
60-day money-back guarantee
Cons
Lack of vendor transparency
Poor trading results
No customer reviews
Verdict
The effectiveness of Forex Diamond EA is just theoretical with no tangible evidence to prove its reliability or profitability. This is a trading tool to pick up some pips from time to time, but not something you can rely on to pick up good gains.