FXAutopips is a brand-new automated forex trading system that is designed for intraday trading on the MetaTrader 4 platform. The software works on USDCAD pair only and is compatible with any brokers. FXAutopips is advertised as a great option for those looking for an additional EA to improve their automated trading experience. However, it can be used as your main EA. Let's find out whether FXAutopPips can be one of the best forex robots, or it's just another mid-range EA that is not worth trying.
Product Offering
| TYPE | Forex Robot |
| --- | --- |
| COMPATIBLE TRADING PLATFORMS | MetaTrader 4 |
| CURRENCY PAIRS AVAILABLE | USDCAD |
| TIMEFRAME | M30 |
| MINIMUM DEPOSIT | $26 |
| PRICE | $255 |
| MONEY BACK GUARANTEE | Yes (30 days, full refund) |
FXAutopips package costs $255. It's an average price on the market, maybe a little bit high if we're considering this system as an additional option. What will you get for the price:
A lifetime license to use the software on one live trading account;
Free updates;
Installation and settings instructions manual;
24/7 customer support.
The vendor provides a full money-back guarantee in case if drawdown percentage on the trader's account exceeded 35% or if EA couldn't manage to make profits till the end of 30 days period.
Trading Strategy
The presentation highlights a few features of FXAutopips that make this EA different from other systems on the market:
FXAutopips doesn't use martingale or scalping (despite the fact that its developers was inspired by scalpers);
The software makes 1-2 trades a day, focusing on potentially the most profitable deals (up to 14 pips from a single trade);
It trades during the night time;
It has a loss recovery mode, the strategy of which remains undisclosed.
The backtest of this strategy on USDCAD pair with a lite risk mode you can see on the screenshot below. During the 2013-2020 trading period, FXAutopips has made 605 trades. The win rate was about 71% for shorts and 78% for longs. The profit factor was 2.75. The maximal DD was about 25%, which is relatively not high. Also, it's worth mentioning that all the backtests were conducted with 90% modeling quality not using real tick data, so they cannot be trusted fully.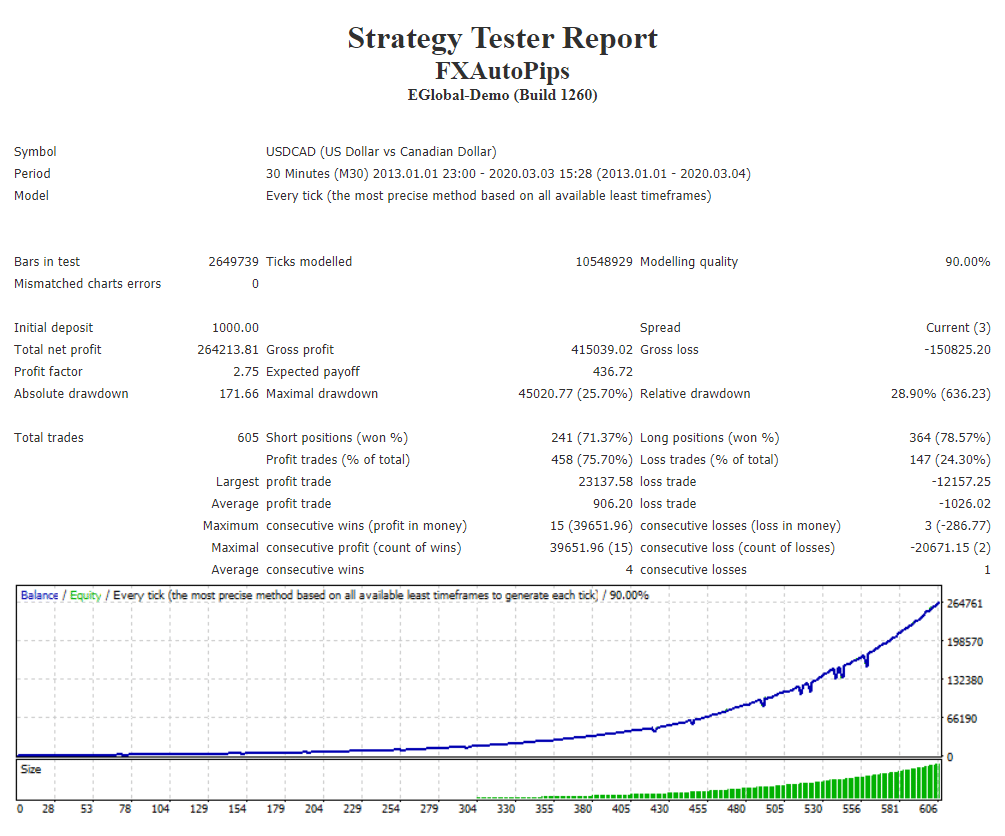 Trading Results
Let's take a look at the real data. The robot has been applied to the real USD account with the $600 deposit, FXOpen as a brokerage company trading on the MetaTrader 4 platform. The developers launched this account in June 2018. As of April 2020, FXAutopips could manage to grow the balance up to $2238.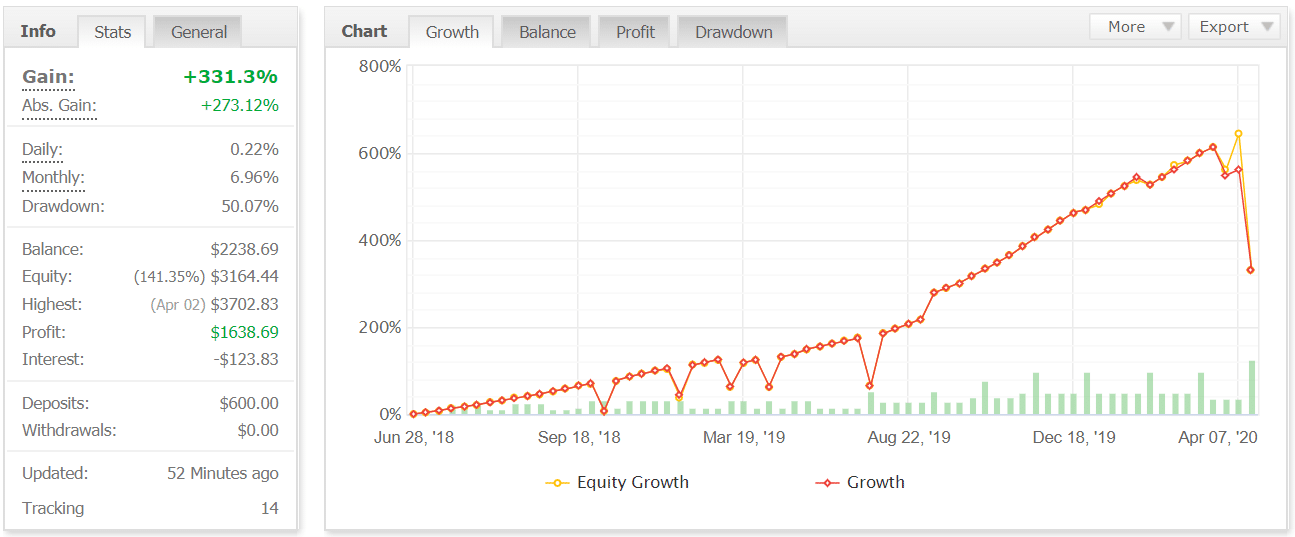 The robot has closed 92 deals with 678 pips. The average win-rate across the trades is 68%. The average trade length is 1 day. The profit factor equals 1.44, which is a low-mid number compared to other automated forex trading systems.
In terms of profitability, the robot shows inconsistent results from month to month, with an average gain of 6%. Recently, the system has drained the account by 50%, as a result of market changes during the pandemic. So, now we want to see how its loss recovery mode works. We can't recommend the EA that makes so huge losing trades, but we hope that it could manage to recover.
Pros
Verified live trading results
Potentially profitable system
Free updates
Cons
Inconsistent performance
Huge drawdowns
Lack of strategy explanations
Lack of customer feedback
Verdict
FXAutopips is a forex robot that we could recommend to try without a doubt if it would be reliable in unstable market conditions. There's a lot of important details about the robot that is missing in the presentation. Also, we're looking for some feedback from customers that can help us to make our final decision.