The FxDiverse website refers to the trading system as "super flexible EA." It rides on the promise of introducing a "new approach to trade" through its revolutionary customization features. The website claims that the automated trader allows its clients to decide on the different aspects of a trade like setting profitability, the currency pairs to trade and the tolerable risk level.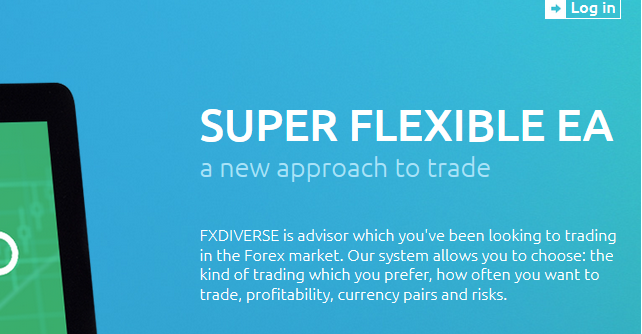 This system promises everything a trader wants to hear; a fully customizable set that allows you to set the profit you want to make on a particular trade while managing exposure to risk. But how truthful and reliable are these developers and the trading system? We review these claims starting with analyzing their strategy.
What is the FxDiverse EA trading strategy?
The FxDiverse website makes no mention of a specific trading strategy employed by their automated trader. The closest these developers come to talking about a trading strategy is when they mention that they have devised "intuitive and logical" settings that can be used to trade between three and 28 currency pairs at a go.

They further state you are at liberty to "choose and load settings that you like more" without making reference to the trading approach employed by one or all these settings. At the bare minimum, a trader would expect any automated trading system developer to highlight such issues as whether their robot trader employs indicators in trade analyses as well as whether its money management strategy involves settings setting a stop loss limit.
According to the site, you don't need forex knowledge or trading experience to profit from this market as their system has "settings for both beginners and professional" traders. This is evidence that instead of answering the critical questions that aid in decision making, the website focuses on selling the product.
Backtesting and free trial period
Backtesting forms an integral part of forex trading system development especially in the absence of the free trial period. It gives a glimpse of the system's performance in an ideal market and in effect helps a trader make a wise investment decision. But FxDiverse EA demands that you take their word on the system's reliability and profitability as they neither offer the automated trader's backtesting results nor the free trial period.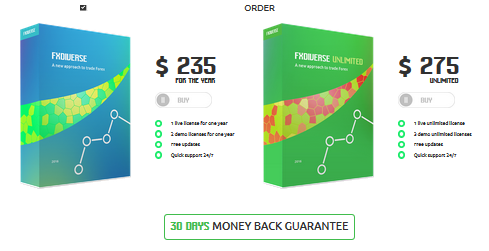 The FxDiverse website avails its trading system in one package available for $235 annual license and $275 for the lifetime license. It is also laden with assertions. For instance, they mention that the automated trader isn't susceptible to "requotes, spreads, and swaps." But there is no independently verifiable proof, backtesting results or otherwise, that affirms these promises and claims.
Real trading results
Despite the fact that the automated trading system developers don't have backtesting results to back their claims, one has to appreciate their transparency in maintaining Myfxbook trading history. Created in February 2015, the $10,000 account has reported an absolute gain of 754.46% in the five years it has remained active, with a maximal drawdown of 30.16%.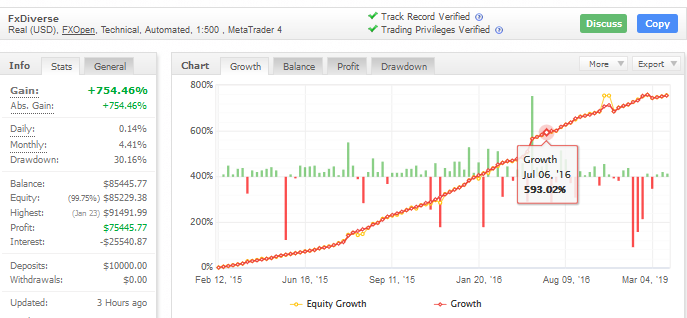 The independent trading history record keeper places the trading system's average daily and monthly gain at 0.14% and 4.41% respectively. This falls short of the 'stable profits' claim by the trader's website. Additionally, the big drawdown sticks a huge dent on the managed and minimal risk claim by the automated trading system developers.
More reasons to be cautious when dealing with FxDiverse
Dwindling performance and months closing in the red
Going through this robot's trading history uploaded on Myfxbook, you find that it had its best month in August 2015 when it gained 38.23%. Going into 2016 and beyond, the automated trader has been on a free flow with its performance dwindling every day. It has even closed in the red twice, in September 2017 (-3.27%) and March 2019 (-0.45%) with most other months struggling to pierce the 2% gains veil.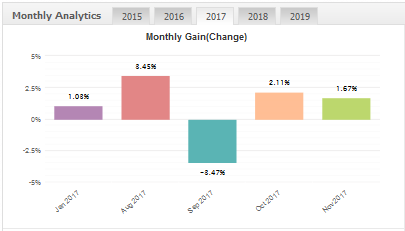 There is also a lot of inconsistency in posting the trading history with huge chunks of data missing n Myfxbook records. This can only be as a result of two reasons: either the developer withdrew the system from the market, which is highly improbable, or it posted negative monthly gains that the developer refused to upload on Myfxbook.
Several open trades without stop-loss expose traders to massive drawdown
One of FxDiverse EA's biggest selling point is its ability to use different settings in opening multiple trades. However, the fact that they don't mention the trading strategy in use or detail their money management approach, we can safely assume they have little regard for the stop loss. In such a case, these trades only serve to expose the trader to huge and undesirable drawdowns that blow up an account or render it unprofitable.
---
---
No customer reviews on site and elsewhere
FxDiverse has been actively involved in the forex trading industry for over three years now. It is, therefore, suspicious that they don't have customer reviews, a few success stories, they can quote or highlight in their website. You also won't find any mention their trading software anywhere on the popular forex trading client forums online.
Misrepresentation of information
There is also a lot of information misrepresentation on the FxDiverse website. The claim that their trader is insensitive to requotes and spreads, making it adaptive welcoming to any broker particularly stands out. Any experienced trader understands the impact requotes and spreads have on their trades and profits and would, therefore, welcome FxDiverse EA's workaround against either.
Verdict
The last thing you need is spending over $235 annually on a trading system that makes you peanuts or even losses when you can get similar results when trading manually. There are several credible and free forex robots out there that will outperform FxDiverse in forex trade. The inconsistency in uploading Myfxbook trading history, lack of a clear trading strategy, and misinformation on the company website don't help the situation either. Bottom line, you are better off with any other trader and this informs our decision to award it a score of 4.4 of the possible 10.