The vendor of Gold Million wants us to believe that this tool is lucrative and can earn users a lot of money while trading gold. He claims he earned his first million by trading options on gold. So, he has studied this system thoroughly and found many patterns, which he incorporated into it. 
Product offering
Gold Million mainly trades on the XAUUSD currency pair using the H1 chart. The developer recommends that you use a leverage of 1:100 or higher and a hedge account. The EA is compatible with the MT4 and MT5 terminal and shows the best results with IC Markets.  
The vendor is offering a big sale after reducing the cost of the tool by 70%. For this reason, the current price for a lifetime license is $900. Even so, this pricing is still high. Two renting options are present, and to use the system for half a year, then you need to pay $500. The yearly plan is $700. Unfortunately, a money-back guarantee is missing.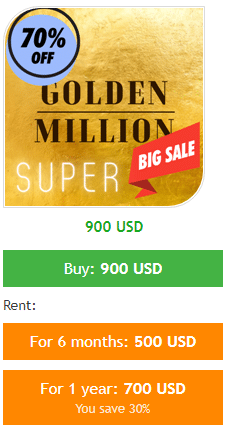 This EA is the invention of a professional algorithm developer called Aleksei Bordak. He has created two other products, namely NewMillion and Index Premium Scalper. Aleksei claims to have more than 15 years of working experience in finance and programming.  
Trading strategy
The vendor doesn't explain to us what trading method the EA uses despite confirming that he has done a lot of groundwork on the system. He must know how it searches for trades, but his reluctance to provide this info is beyond comprehension.  
Trading results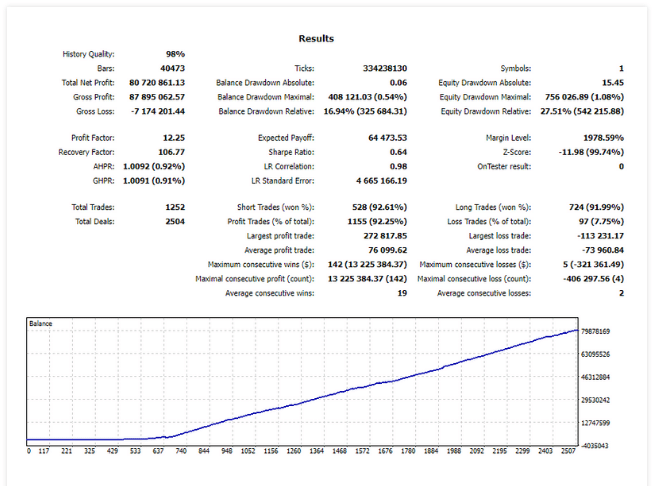 According to these backtest results, the EA made a total net profit of $80720861.13 from 1252 trades. Impressive win rates for short (92.61%) and long (91.99%) were attained. The relative drawdown of 27.51% indicates that Gold Million traded with medium risks to the balance. There was a profit factor of 12.25, which portrayed the system as very lucrative. The average consecutive wins were 19, while the average consecutive losses were 2. 
There are no live trading results for this robot. We don't know why the vendor has decided to keep us in the dark despite reiterating that the robot generates outstanding performance. He needs to provide tangible proof to back up his claims.  
Customer reviews
Gold Million has a 2.45 customer rating on mql5 from 15 reviews. As we assessed the testimonials, it became apparent that most clients are not satisfied with the product. Some of the traders complain about the EA's expensive pricing, high losing streak, and low profitability. However, we came across a trader who indicated he opened 4 trades, all of which closed with excellent profit.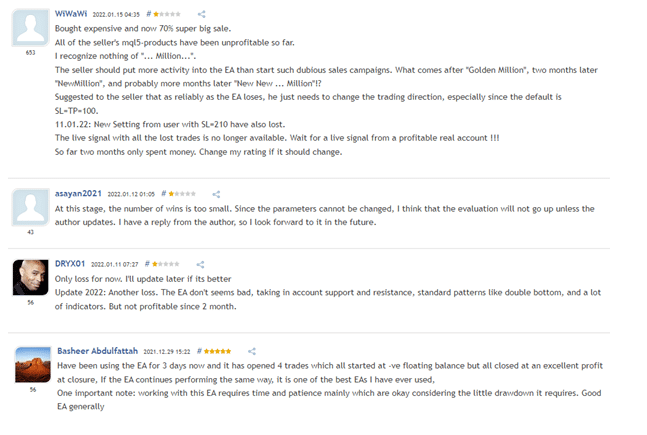 PROS
Backtest results are available
CONS
Low customer rating
Lack of live trading stats
Trading strategy is unknown
Expensive
Verdict
The vendor posts stats that showcase the robot's potential performance over a prolonged period. However, traders who have run the system on a live account state that it loses more than it wins. Clearly, the EA behaves differently in the real market compared to the backtest period. In any case, we need to see live trading data to gauge if the product is worth the expensive pricing.