Good Morning EA is a 100% fully automated algorithm developed and owned by Wei Tu, an MQL5 seller with many forex products listed for sale. The vendor claims that this bot does not use grid or martingale, but rather a rule-based tactic that makes one trade at a time using stop losses. To better understand this robot, we will give you a detailed review of multiple aspects such as live records, backtesting results, customer feedback, etc.
Product offering
This software is listed on the MQL5 website. The seller provides details about the essential features and performance data like live trading results, screenshots of backtests, and recommended settings. 
Vendor transparency
Wei Tu, a China-based seller, is the individual behind Good Morning EA. With a 4.9-star rating, 2 products, and 9 signals to their name, this vendor specializes in intraday trading, as stated on their profile. They have zero years of experience, have held no jobs in the past, and have accumulated zero subscribers until now. No contact information like a company or personal email, telephone number, or address is provided. This points toward a lack of professionalism by this person. 
Price
This bot is sold for $699. This lifetime access comes at an over-the-top quote, which is high compared to similar products. However, reluctant customers may also purchase this EA monthly for $99. Payment methods include PayPal, Visa, MasterCard, Union Pay, and Web Money. There are no details about a 24/7 customer service or money-back guarantee provided.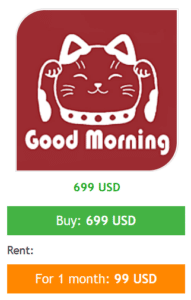 Trading strategy
The developer states that the robot does not use any martingale or grid strategies. It opens a single trade at any given time and has a fixed stop loss for each position.
From the history at MQL 5 records, we can observe that the EA uses limit orders to enter the market at the end of the New York session. It can trade on multiple currencies at any given time.

Trading results
Backtesting records have been provided for 2016-2022, with a fixed lot size of 0.01. These are available as screenshots, which is highly unprofessional. It is claimed that no grid or martingale was used in these stats, and a one chart setup was utilized. 
Further inspection revealed that an initial deposit of 100 USD was converted into a total profit of 2983 USD. However, the cover image of these results describes this number as 2800 USD. The annual maximum DD value was written as 11.86%, with a sharpe ratio of 0.22. The profit factor stood at 5.02 with an SQN score of 118.22. The system executed 11188 trades during this duration, with an average traded value of 0.4 USD, which is microscopic.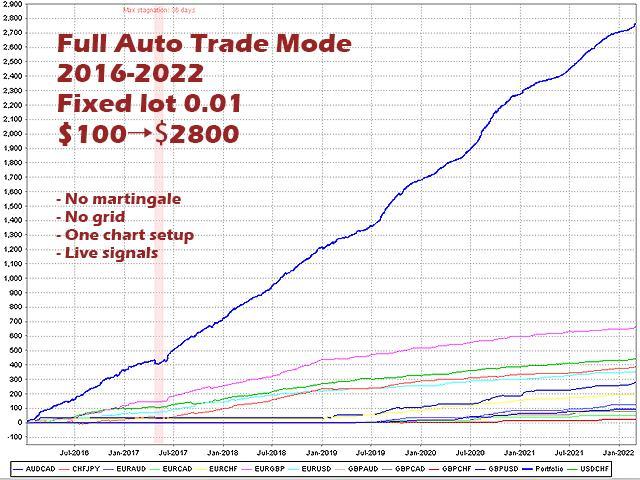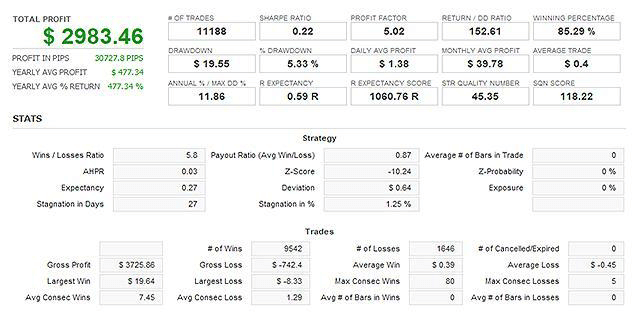 Live trading results have been provided for this robot as links on the MQL5 webpage. These are in the USD currency for trades that started from 2022.02.25, with a 1:500 leverage. From there, it can be seen that the growth rate stands at 169.94%, with a drawdown value of 15.9%. Max deposit load is 54.7%, depicting that the robot can use a high margin while trading. 
An initial deposit of 50 USD was converted into a profit of 81.16 USD. The initial balance curve is quite high, whereas later on, it becomes flat. For this time, the bot made 142 trades, out of which 34.50% resulted in a loss. The profit factor is 2.42, with an average holding time of 6 hours. 

Customer reviews
This robot does not have any reviews on trusted third-party sites like Trust Pilot or Forex Peace Army. However, four reviews are present about this EA on the MQL5 website. These are neither very comprehensive nor explanatory to qualify as good customer feedback. A trader comments that the algorithm is not bad for trading.

Pros
Provides live trading results
Cons
No clear information on the strategy
It is expensive
Lack of transparency about vendor
Verdict
Good Morning EA is not very transparent about its operational strategy. Also, the seller keeps us in the dark about their credentials, such as market experience, which reduces their trustworthiness. The lack of verified backtests and unbiased customer feedback clouds the rationale for purchasing this item.