Happy Market Hours is a trading algorithm developed and owned by Happy Forex, a company with many EAs listed on the market. Using a trend and scalping strategy, the robot trades capitalize on small price changes by consistent selling/reselling cycles. It is operational on the MT4 platform. To better understand this robot, we will give you a detailed review of its crucial aspects.  
Product offering
The vendor is very transparent about their trading strategies on their website. Furthermore, the links to their backtests have been shared along with live trade results, pointing towards good practice and transparency. 
Vendor transparency
Happy Forex is the parent company behind Happy Market Hours EA. They provide access to their customers through various touch points like a query form on their website or Facebook page. Also, the company has been mentioned on websites like Forex Peace Army and TrustPilot, which contain positive feedback.  
Price
Traders can get the robot, currently at a 30% discount for 299 Euros which provides access to 2 real accounts, or they can pay 499 Euros to get access to 5 real accounts. Both packages come with unlimited demo accounts trials, 24/7 customer care, a detailed user manual, and have the right to claim their money back through a guarantee within 30 days. Payment methods include PayPal, Visa, Maestro, MasterCard, & American Express.
Trading strategy
The developer states that the robot uses trend and scalping strategy while using technical indicators. It can work best on standard and ECN accounts while trading multiple currencies on the M15 chart. 
From Myfxbook records we can observe that the algorithm has a day trading approach with an average holding duration of 1 hour and 13 minutes. It uses a high reward:risk ratio and has a fixed exit point for each trade.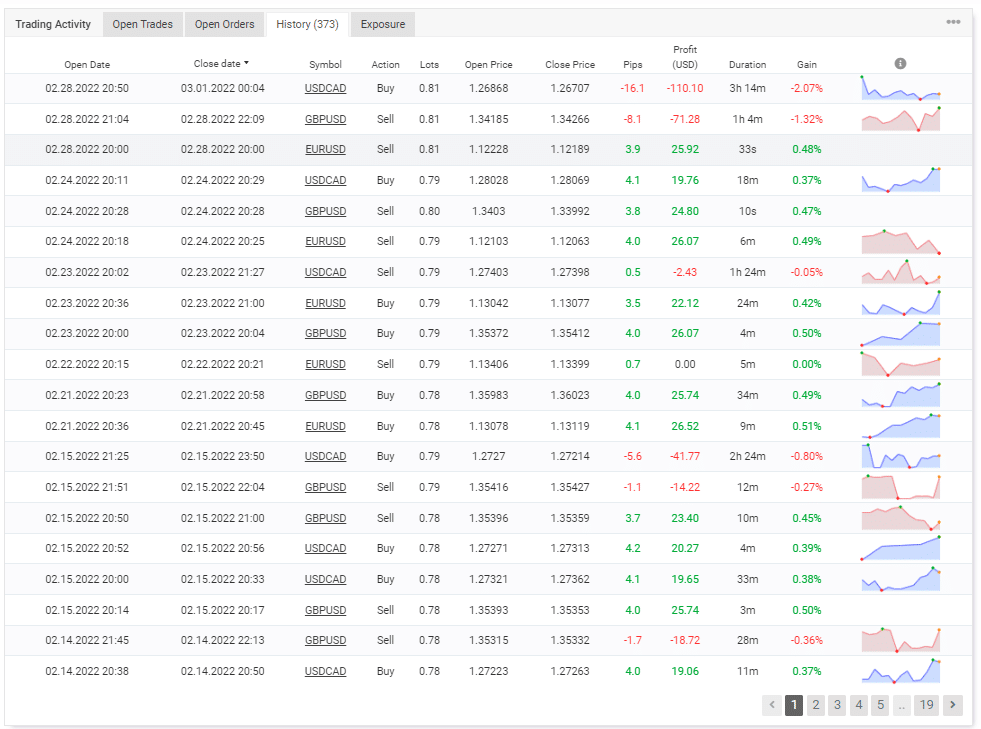 Trading results
Backtesting results for the EURUSD currency pair have been provided on the website for the period: (2005.01.03 – 2017.03.27) using a tick-model quality of 90 %, which is fair enough. The results show an initial deposit of 1000 was turned into 28511188.59 over this course. The maximal drawdown experienced during this time frame was only 11.32 % which is relatively low. The largest profit trade was 600000.00 while the largest loss trade was -407840.00. The robot achieved a profit factor of 1.61 during this time. It participated in a total of 1775 trades.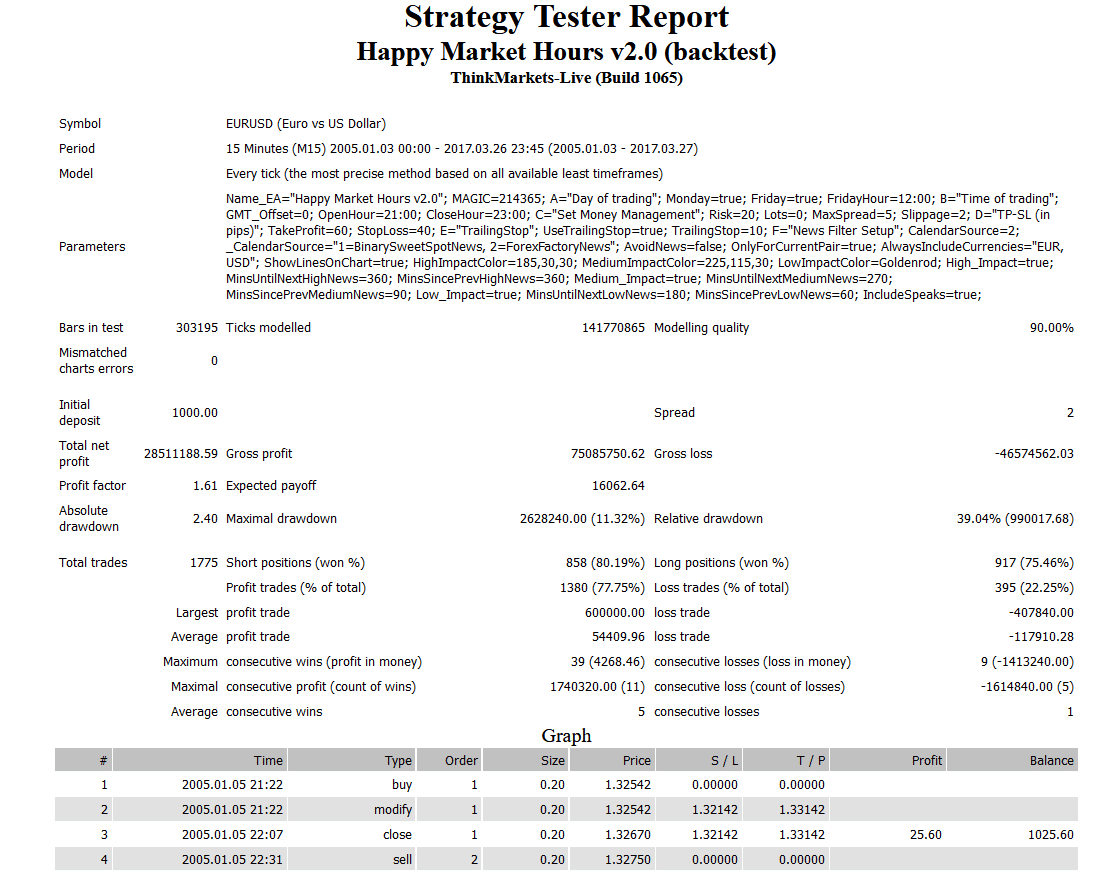 We can check the trading records using the Myfxbook links on their website. The performance of each month is available.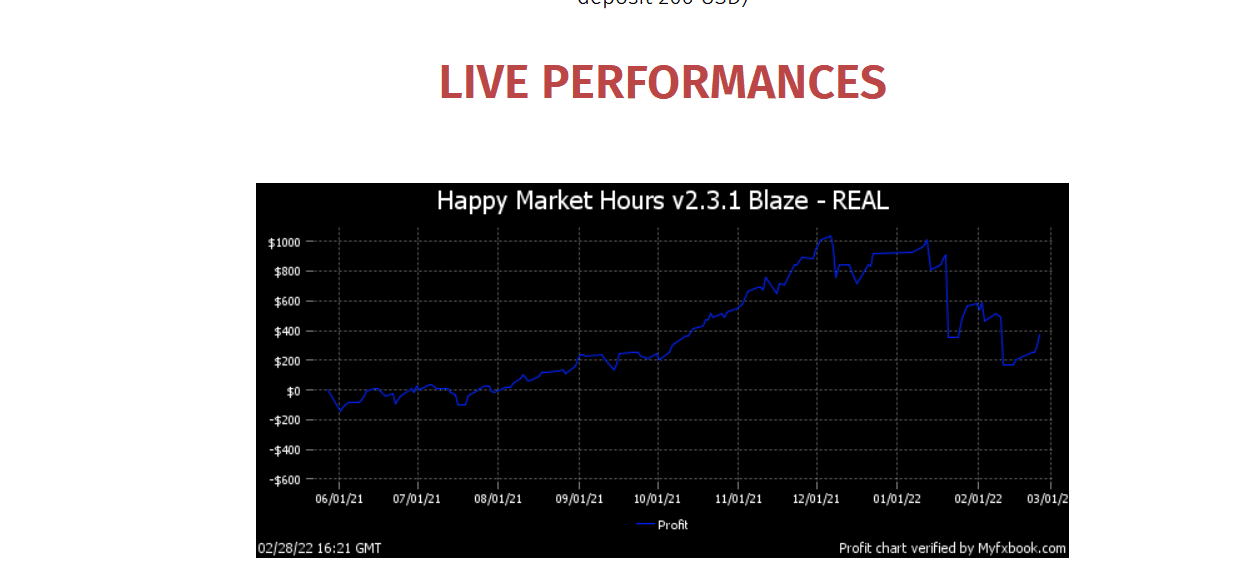 February 2022 shows that the robot has a monthly drawdown of 0.78%. The absolute gain made by the robot is 7.38%. Profit is valued at $368.88. Deposits are shown as 5000 USD.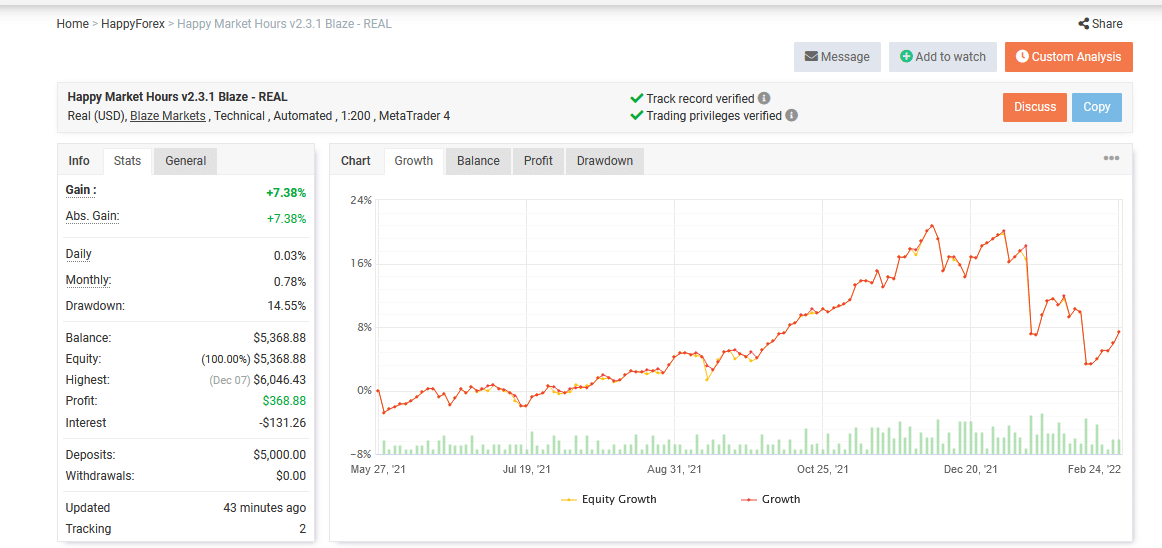 Live trading results indicate that the bot participated in 369 trades where it won 62% longs. The average trading length of the bot is 57 minutes which falls in line with the trend-scalping strategy, as mentioned by the developer.  The robot has a profit factor of 1.09, which is quite good. 

Customer reviews
Happy Market Hours robot has a rating of 4/5 on third-party sites like Forex Peace Army, which is very good. On TrustPilot, the parent company shows a spectacular 4.5-star rating with 100% positive customer reviews. Customers praise the Happy Forex family's robots (Happy Market Hours is included) for their stability and profitability.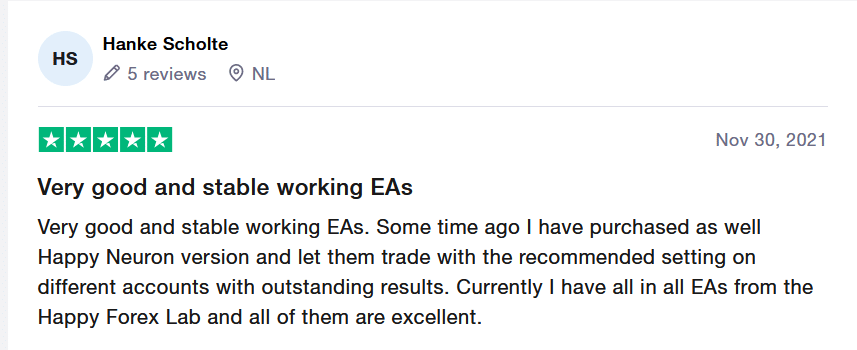 Pros
Detailed information on the trading strategy
Backtesting records provided
Verified live results available
Cons
It does not work on MT5
Verdict
Happy Market Hours robot is very transparent about its trading strategies. To prove this, the developers provide back-testing records across multiple currencies. Also, the 24/7 customer support and user tutorials make trading more convenient for traders. Therefore, this EA is stable with good customer reviews which makes it worth considering.