Happy Way is a trading system that is a part of the well-known company–Happy Forex. The presentation includes various explanations and features about how the system will make profits on the market. The devs share info about its cross pairs, key features, deposit requirements, and so on. We have decided to check it out to know whether it is a good investment solution.
Product offering
The presentation includes details about what the system has on the board. For your comfort, we have systemized the most important claims in the list below. 
Happy Way is a trading solution that can provide us with a completely automated trading experience. 

The system trades the market direction only. 

It manages strategies like trend and price action. 

It's possible to work with USDCAD, AUDUSD, AUDCAD, CADCHF, and AUDCHF.

The additional strategies are Grid and Martingale to utilize the market moves. 

So, the system requires much Margin to work well. 

We can work with an account size from $100 to over $1000.

It's possible to use a lot multiplier to work well. 

It follows FCA and FCS rules. 

The leverage should be 1:500. 

It trades with high frequency on the market. 

The account balance can be $15.

There are ten extra advisors added to the package. 

We can work on Windows 7, 8, 10, Mac OS, and Linux.

It uses an MT4 platform to trade. 

The account balance should be $1000 or more for stable performance. 

It works on the market 24/7, looking for trading conditions. 

We should use it only on ECN accounts. 
A copy of the system for working on two accounts costs 299 EUR. If we need to trade on five accounts, we have to pay 499 EUR. The package includes support updates and upgrades, 10 robots in addition, and a 30-day refund policy.
Trading strategy
The system works with Trend, Price Action, Grid and Martingale strategies. 

We can work on all time frames. 
Trading results
The presentation doesn't include a backtest report to convince us that the system was tested properly and we can be secured using it.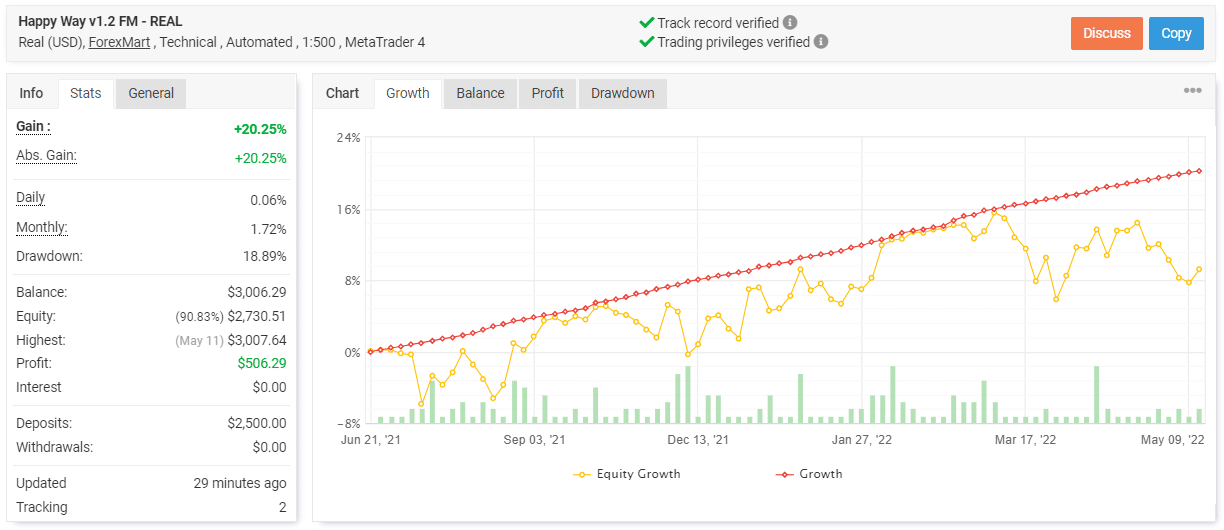 Happy Way is a robot that works on a real USD account on ForexMart. It trades automatically using the data from technical indicators, received from MetaTrader 4. The leverage is 1:500. The account has a verified track record. It was created on June 21, 2021, and deposited at $2,500. Since then, the total gain has became 20.25%. An average monthly gain is 1.72%. The maximal drawdown is 18.89%. It's acceptable. 

There were 189 orders performed. The system could manage to obtain 5777.7 pips. An average win is 82.61 pips when an average loss is -84.10 pips. The accuracy is 68-69% in both directions. An average trade length is 17 days. The profit factor is 2.12. 

The system trades on five mentioned pairs. USDCAD is ahead in trading activities with 79 deals closed and $224.47 profits obtained. 

The most active trading hours are the openings of European and American sessions. 

Monday is the less traded day with 25 deals.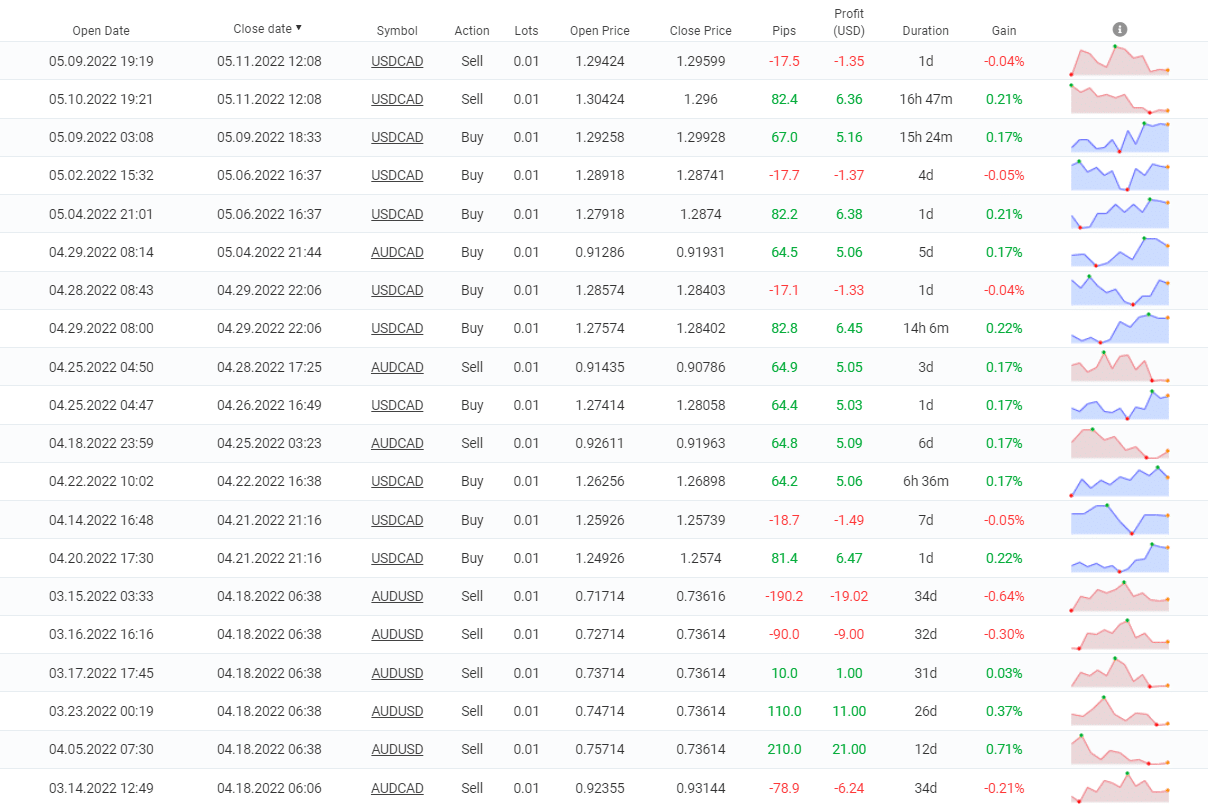 It waits for the best market conditions, placing orders in Grids.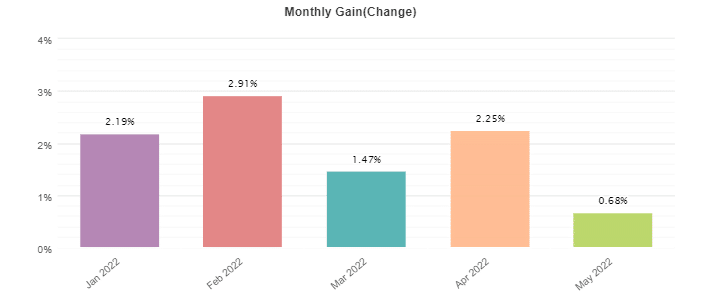 The robot managed to be profitable this year so far. 
Customer reviews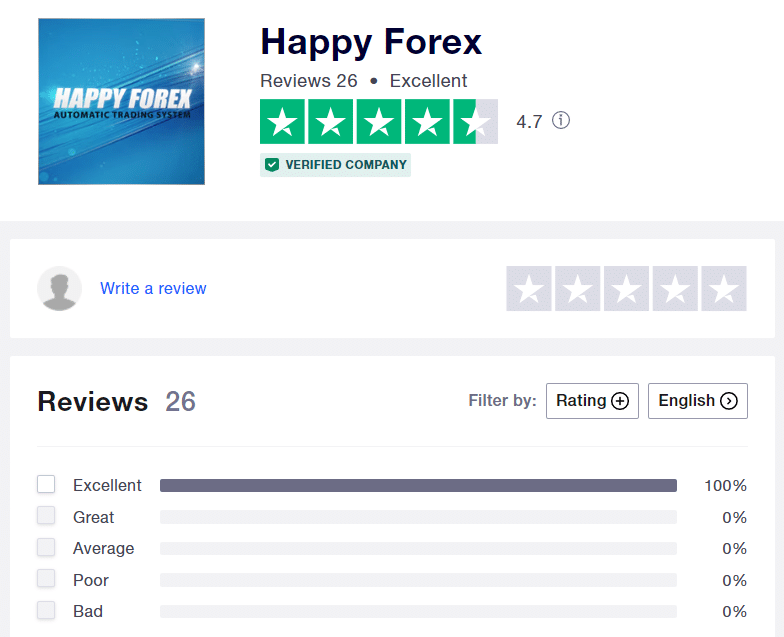 The developers created a page on Trustpilot. There are 26 reviews written from current and former clients.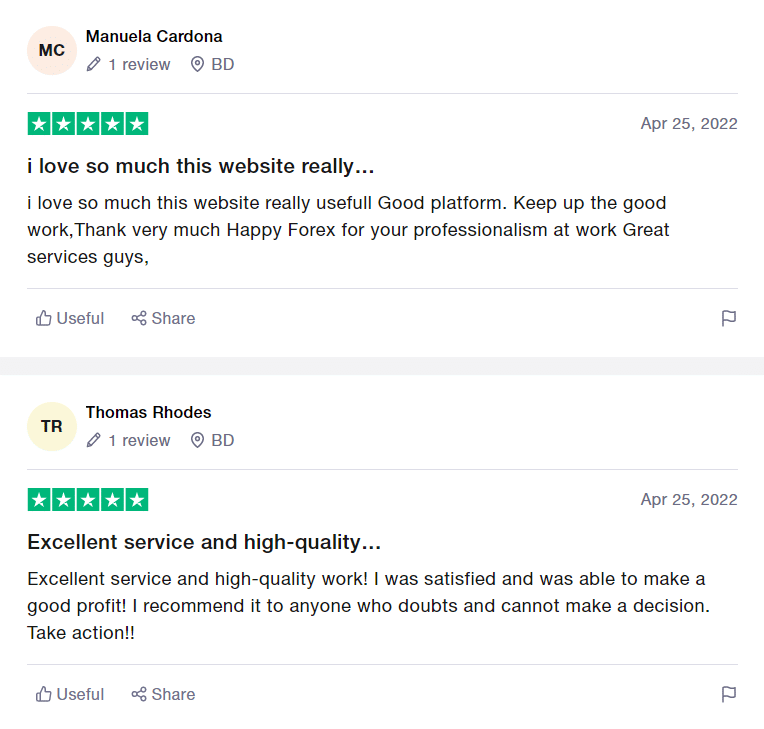 So, the clients insisted that the services the company offers are good and that the company is trustworthy. 
Pros
A well-known developing company
Backtest reports provided
Trading results shown
Positive reviews written
Cons
No team revealed
No risk advice given
The robot works with a Grid with Martingale combo
No settings list provided
Verdict
Happy Way is a trading solution that works on a real account making profits consistently. The developers provide us with a presentation that includes many details about how the system performs. In addition, we can try on welcome support and a 30-day refund policy.