Huckster is described as a fully automated, multi-timeframe, and multi-currency EA that has a great risk/reward ratio. The robot is easy to use. You just need to run it on a single chart, EURUSD H1, and it will take care of everything else for you. 
Product offering 
Check here the main features of the robot:
It is not sensitive to brokers, so it can work with any of them

No risky strategies like grid or martingale are used

Is suitable for prop firms, such as MFF, FTMO, etc.

It uses custom-made trend and volume indicators as additional tools

Trades are conducted on EURUSD and EUR minor pairs like EURAUD, EURGBP, EURCAD, EURJPY, EURCHF,  EURCAD, and EURNZD

Trades on both the MT4 and MT5 terminals
Jakub Norbert Bogusz is the creator this trading tool. He is based in Warsaw, Poland, and has been developing MT4/MT5 Expert Advisors and indicators for eight years now. Gold Baum Pro, Arbor, and Gold Baum tool Kit are the other systems present in Jakub's portfolio.   
Huckster is available at $499, but the price will soon increase to $999. So, you are advised to take advantage of the discount while it lasts. There are no rental options or a money-back guarantee offer.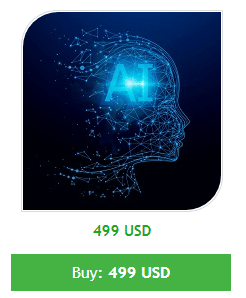 Trading strategy
The system is based on artificial intelligence. It essentially assesses the market carefully on three distinct timeframes (H1, H4, and daily) to find trading opportunities. To secure the user's capital, the bot implements a smart news filter. 
Trading results
The presentation includes the backtest results for this EA. The test was conducted on the H1 chart using the EURUSD currency pair.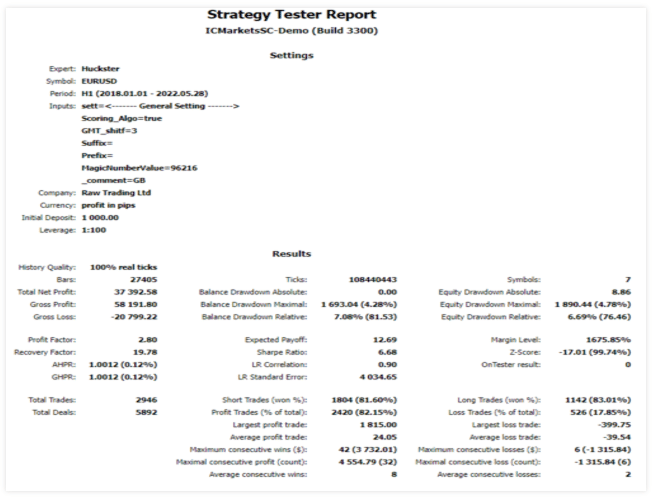 Between January 2018 and May 2022, the robot managed to place 2946 orders using a capital of $1000. About 81% of the short trades and 83% of the long trades were successful. Put together, they led to a total net profit of $37,392.58. The resulting profit factor was 2.80, whereas the drawdown was small at 7.08%, indicating low-risk trading. 
Huckster's live trading signal is also featured on MQL5, and as you can see in the screenshot below, the results were generated while using a high-risk setting.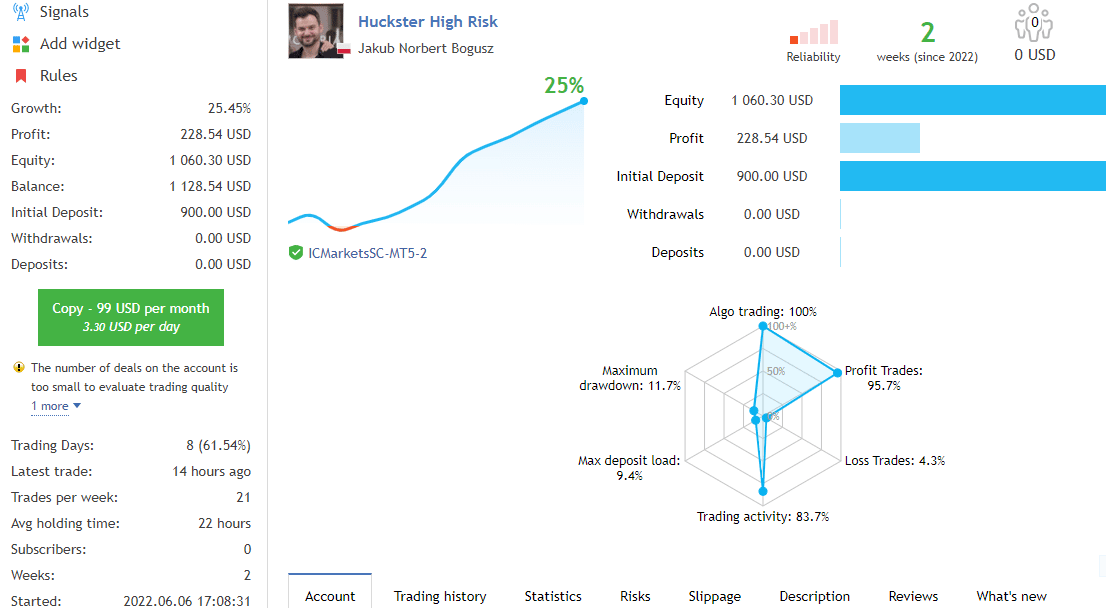 The account has experienced a 25.45% growth since it was opened two weeks ago. From a deposit of $900, a profit amount of $228.54 has been realized. The account balance is now $1,128.54, while the maximum drawdown is 11.7%. Typically, a position is held for 22 hours.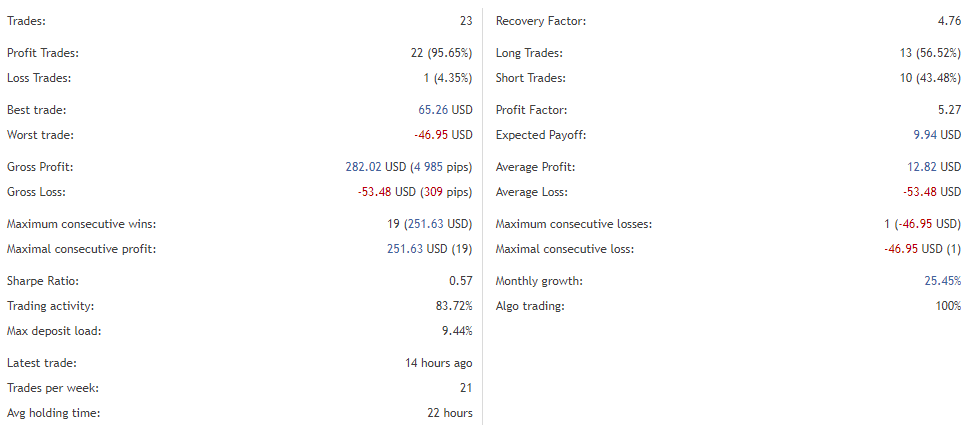 Out of the 23 trades completed, only one was unsuccessful. This puts the EA's profitability rate at 95.65%. The best trade has generated an income of $65.26 for the user, but the worst order deducted -$46.95 from the account. So far, the profit factor is 5.27. This means that the EA's trading activities have been very productive.  
Customer reviews
Huckster has already been reviewed by 14 customers on the MQL5 site, and many of them have heaped it with praise. They claim that it generates more wins than losses. Even one of them reveals that the bot doubled his demo account with just a single trade.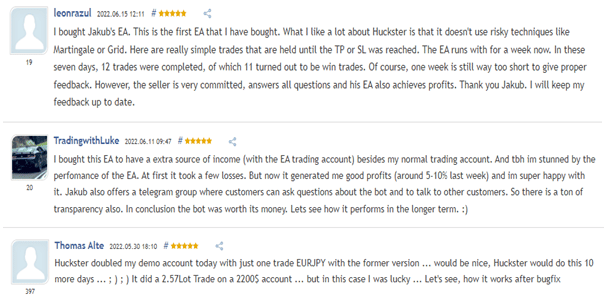 However, the developer's account with MQL is the only source of feedback as the software has not been in any way verified. The reputable third parties, like Myfxbook, TrustPilot, or Forex Peace Army, have no information on it.
Pros
Backtest results are present
Multiple currency support
No risky strategies are executed
Cons
Lack of verified live trading data
No refund policy
Inadequate strategy explanation
High cost of the software
Verdict
Huckster's backtest data and live trading stats on the MQL5 site confirm that it doesn't trade dangerously. In both cases, it has generated drawdowns below the 15% mark. However, results from a trusted account like Myfxbook are needed to confirm that the EA is indeed a safe trader. You also need to remember that the bot is costly and lacks a money-back guarantee.