Hummingbot is open-source software where traders can create market making and arbitrage bots that are compatible with centralized and decentralized exchanges, including Binance, Coinbase Pro, Kraken, Uniswap, etc. The bots use Python and Cython as coding languages. The community of traders and developers is available on Discord, Twitter, Reddit. In this Hummingbot review,  we will describe the features, vendor info, and safety of this  crypto trading software. 
About Hummingbot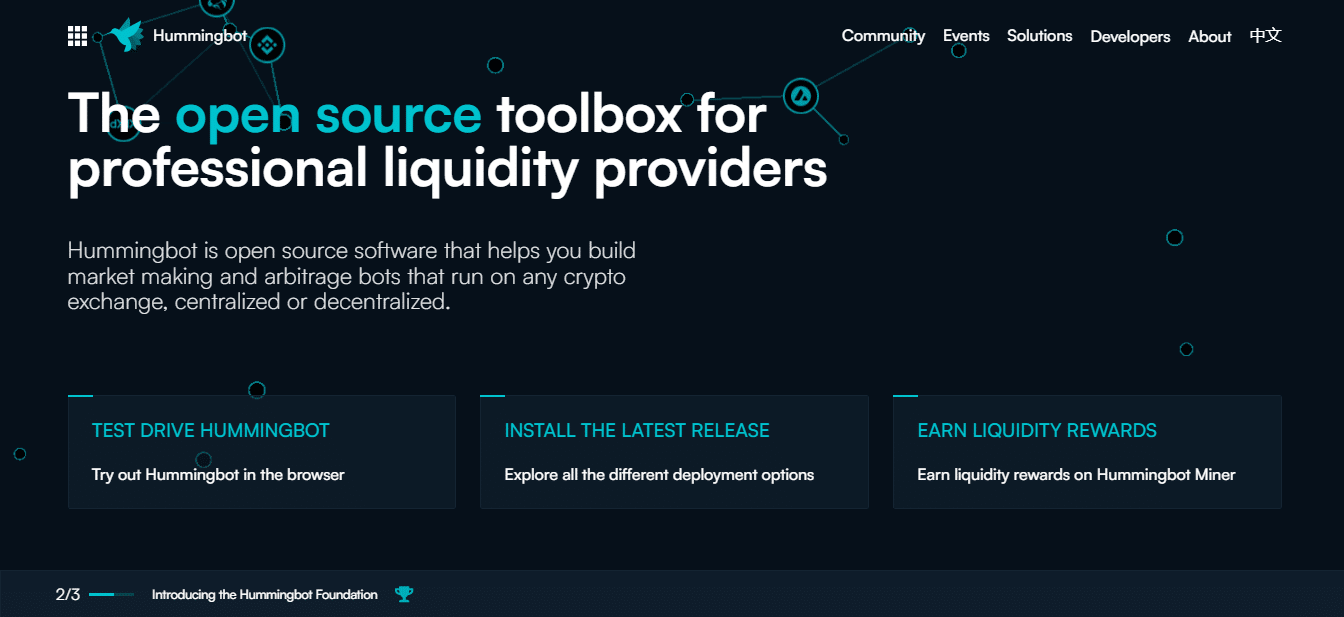 The Hummingbot foundation is a non-profit organization based in the Cayman Islands. The Foundation's goal is to create high-frequency automated crypto trading bots, with the most common algorithms being market-making and arbitrage bots.
The miner provided by the platform allows traders to earn token rewards, and the developer claims it has facilitated the filling of $2.4 billion in trading volume for 72+ token issuers and exchanges by over 3,200 independent market makers. 
| | |
| --- | --- |
| Payment Options: | N/A |
| Price: | Free to use |
| Supported Exchanges: | Binance/Crypto.com/HitBTC/Huobi Golbal/Kraken/loopring (DEX)/Balancer, Uniswap (protocol exchanges) +20 |
Hummingbot features
Hummingbot includes the following features:
It supports 30+ centralized and decentralized cryptocurrency exchanges. 

The software is open-source installed from Github.

Hummingbot is free to use.

Traders can build custom strategies written in Python and Cython. 

Designed for professional traders and liquidity providers.
How does it work?
Hummingbot allows traders to create automated market-making and arbitrage robots. The first one provides liquidity to a trading pair on an exchange, while the latter exploits the price difference between trading pairs. Typically, users install the Docker image version on AWS or another cloud provider. They can then add their API key or private keys, allowing them to customize and run one of Hummingbot's pre-built strategies on various exchanges.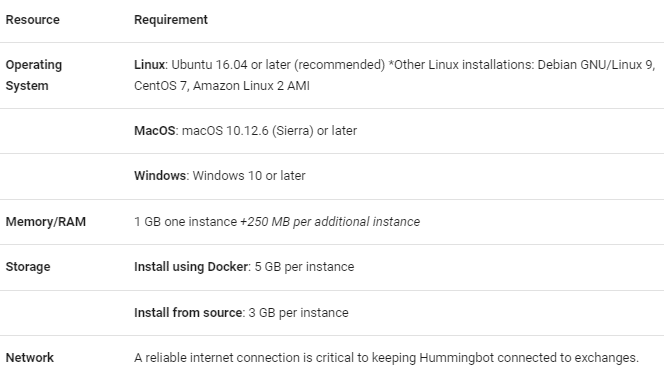 Compatible exchanges
Hummingbot supports more than 30 centralized (requires users to enter API keys) and DEX (traders connect their wallets) cryptocurrency exchanges. The bot can connect to the following platforms:
How does Hummingbot stand out?
The platform is free, open-source software which is publicly auditable on Github. The developers can build components in Cython, which runs code as low-level C, and they can also use Python. 
The platform is optimized for liquidity providers and claims to be the only trading robot designed for professional market makers.  
Best for: expert traders
Hummingbot is best for professionals who are familiar with the cryptocurrency market. The strategies can be hard to code for beginners, and only users with good coding skills can take full benefit from them. The customization of robots requires knowledge of Python, Cython, and other programming languages. It is risky to use the codes without expertise. 
Pricing
As mentioned before, Hummingbot is free software. Users can install, download and run it without paying any money. There is no minimum deposit requirement, and the Hummingbot deducts no fees. 
How safe is Hummingbot?
Hummingbot as a software is a safe and secure platform. It saves the API keys and private keys in an encrypted form. 
Hummingbot reputation
Hummingbot was initially developed by CoinAlpha Inc, a startup located in Mountain View, California, USA. The product was launched in 2019, and the current board members include Micheal Feng, CEO CoinAlpha, and Gene Chaon, CFO Hummingbot foundation. 
Is it a good choice for beginners?
Hummingbot is designed for professional market makers. It is not a good choice for a beginner to put their investments at stake by not knowing the crypto world.
Pros
It is compatible with centralized and decentralized exchanges
Free to download and install
Cons
The software is not beginner-friendly
Working issues with supported exchanges
Client reviews are not available on TrustPilot
Hummingbot: the bottom line
Hummingbot requires basic knowledge of programming language, making it hard for beginners to understand their technical trading strategies. There are no client reviews present on TrustPilot from which we can know the general viewpoint of traders. The profit from these algorithms is not guaranteed.