Market Crusher Pro has multiple inbuilt settings that can help traders set up a custom risk management approach for trading. This expert analyzer can work on all symbols supported in MT5, for example, Crypto Currencies, Indices, Forex, Gold, or Silver. To better understand this robot, we will give you a detailed review of its crucial aspects such as drawdown, win rate, vendor transparency, etc.  
Product offering
The vendor is not transparent about their trading strategies on the MQL 5 website. We noticed that the backtests provided for this bot were not verified and were provided in the form of screenshots instead of formal reports. Live results have been provided in the published signals section for this algorithm. 
Vendor transparency
Scott Fredeman is the developer behind Market Crusher Pro. They are based in the USA, with a 4.8-star rating on the platform. This seller has 11 products and 8 signals listed on the market, with a total of 8 subscribers only. 
The author says that they have an experience of more than five years, but they don't provide any credentials to prove this. This raises some concerns about the claims made by this person. Furthermore, no contact details have been provided like an email address, telephone number, company whereabouts, etc. 
Price
Three pricing options are available for this robot. The seller charges 299 USD to acquire the bot for lifetime usage. Customers may also purchase this system for 3 months by paying 99 USD. Lastly, a yearly subscription comes at 225 USD. 
The sold version of this service only works on MT5 and the Windows operating systems reducing the cross-device compatibility. Payments are accepted through PayPal, Union Pay, Master Card, Visa, and Web Money. There is no information provided about the availability of a money-back guarantee. The absence of a company email address also obligates the users to make contact only through the live chat feature on MQL5.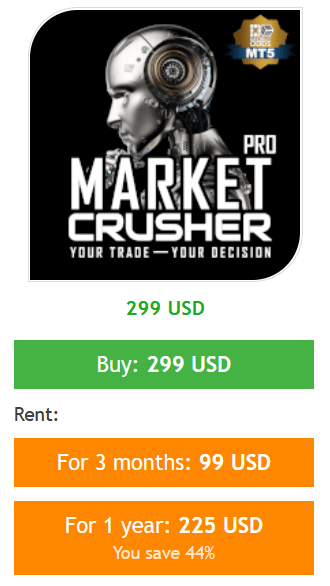 Trading strategy
The developer states that the robot can trade up to 28 currency pairs and allows traders to control the number of trades and the stop loss/take profit for each execution.
There are only four trades present in the history of the MQL 5 marketplace, which is not enough to conclude the true performance of the EA.

Trading results
Backtesting records have been provided on the website for 2021 to 2022. It is hard to identify the precise dates as they have been given in screenshots, which is not very convenient for analysis. From there, it can be inferred that the bot made a profit of 1133.22 USD from an unknown initial deposit. The maximum drawdown value stood at 7.14%, which seems unrealistic.
The profit factor stood at 3.4, whereas the sharpe ratio was reported as 0.46. During this time, the bot participated in 211 trades, of which 77.25% were profitable.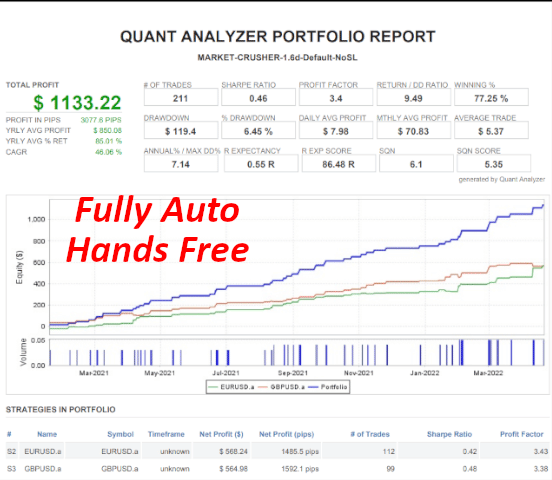 Live trading results are available in the USD currency. These correspond to leverage of 1:500 from 2022.05.19 till the current date. The maximum DD value is 9.6%, with a max deposit load of 7.4%. A profit of -4.12 has been accumulated from an initial deposit of 500 USD.  

The EA made 11 trades at an average holding time of 4 hours. As mentioned before, the short duration of live records is not suitable for calculating the system's actual performance.
Customer reviews
A total of five customer reviews can be found on the MQL5 website. These appear to be positive but lack context and applicability to the long-term prospects for this EA. Upon analyzing one of the comments, we found that the past customer praises the robot's strategy. 

Pros
Live results provided
Cons
No detailed backtesting statement
Lack of contact information
Little information on the strategy
Verdict
Market Crusher Pro is not very clear about its trading logic and strategy. The short duration of live records is not enough to make a convincing statement, and the quality of backtests is subpar. There are few customer reviews present on the MQL 5 marketplace.