TradingView and MT4 are two of the most popular charting platforms for anyone looking to access the financial markets and trade. While both offer almost the same tools, they are different, given their design patterns and goals.
One of the biggest advantages of MT4 is that it offers direct access to the market. It makes it easy to place trades on various financial instruments, including forex, stocks, commodities, and even cryptocurrencies.
TradingView, on the other hand, is simply a charting platform that allows people to carry out technical analysis of various financial instruments. While it does not have the provision for placing trades, it is well suited for anyone plotting technical analysis leveraging a wide array of indicators.
Account registration with a broker is a must for anyone looking to access the market with the MT4. In contrast, TradingView is readily available online and does not require registration with a broker. In addition, one does not need to download the platform to access the charting tools.
MT4 only gives you nine time-frames which might not be enough for someone looking to get insights on how a currency pair or instrument reacted at different time frames. TradingView, on the other hand, is more flexible as it offers a big selection of time frames that one can choose while charting.
Amid the disparity between the two, it is still possible to use both to supplement a trading strategy. For instance, most people use TradingView for market analysis and then turn to the MT4 to execute trades.
Additionally, MT4 is available for free upon signing up with a broker. Consequently, it does not have any customer support in case one encounters a problem while trading. On the contrary, TradingView has a help section that can provide guidance and answers to any queries one might have while carrying out an analysis.
Why trade using MT4
For anyone looking to have a direct feel of the market and place trades, then MT4 should be the platform of choice. It comes with a user-friendly interface that makes it easy to place various market orders while entering long or short positions.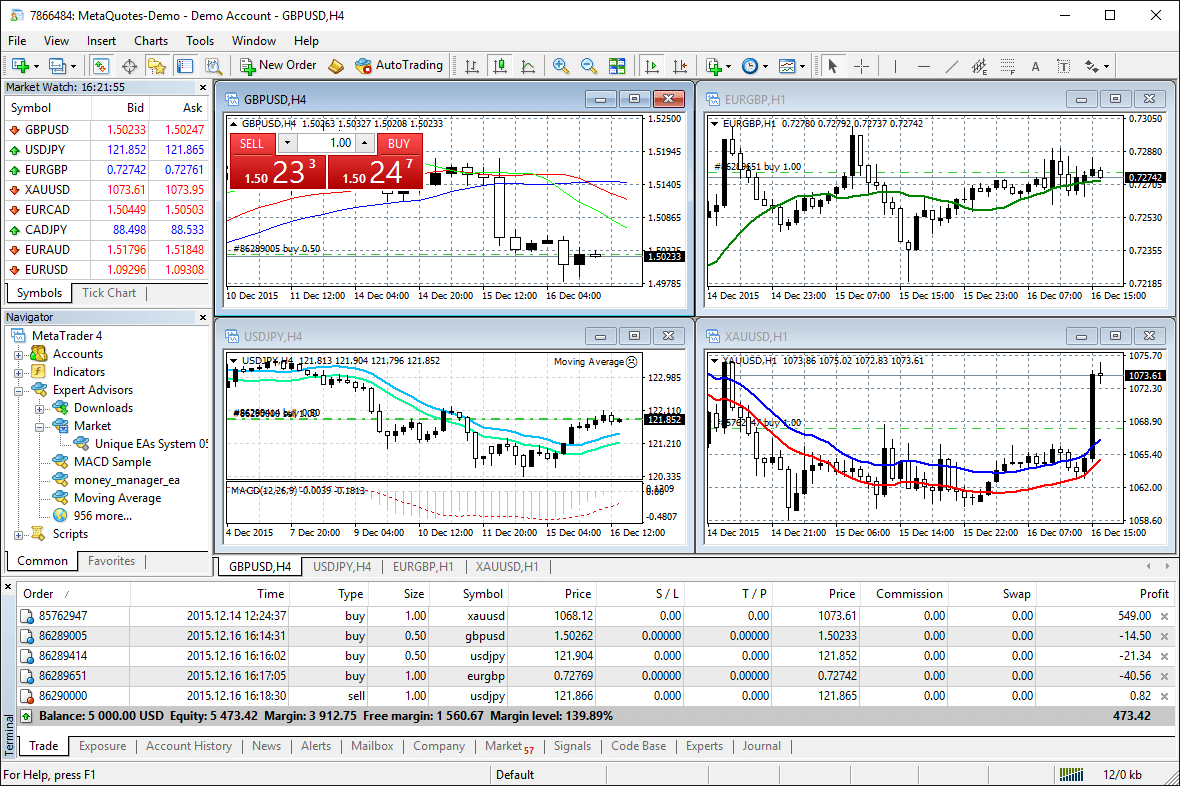 It also guarantees amazing performance regardless of the analysis one wishes to carry out, let alone the instrument to trade. Having been in operation since 2005, it has undergone upgrades that have only made it more suitable for trading.
The downsides
One of its biggest drawbacks is its lack of sufficient indicators highly needed for technical analysis. It offers about 40 indicators as compared to more than 100 at TradingView. For this reason, most people carry out analysis on TradingView and only use MT4 to execute trades.
The limited financial instruments that one can access is another big downside to using them to trade markets. The broker determines the assets customers can trade. For instance, some don't offer support for cryptocurrency trading, while others do.
In contrast, TradingView has no limitations on instruments that people can access. One can access any security from stocks to commodities to currency pairs and cryptocurrencies, as it is independent of any broker.
Time frame limitations are another big downside to using the MT4. It has only nine time-frames that are pretty close to each other. In contrast, TradingView offers a wide selection of chart time frames that one can access, perfect for anyone looking to carry out in-depth analysis.
Why market analysis with TradingView
TradingView stands out given the size of the community that backs it. It is often referred to as social media for traders, given the sheer number of people who use it to analyze. The fact that traders can interact with one another and share ideas also takes its use case to another level.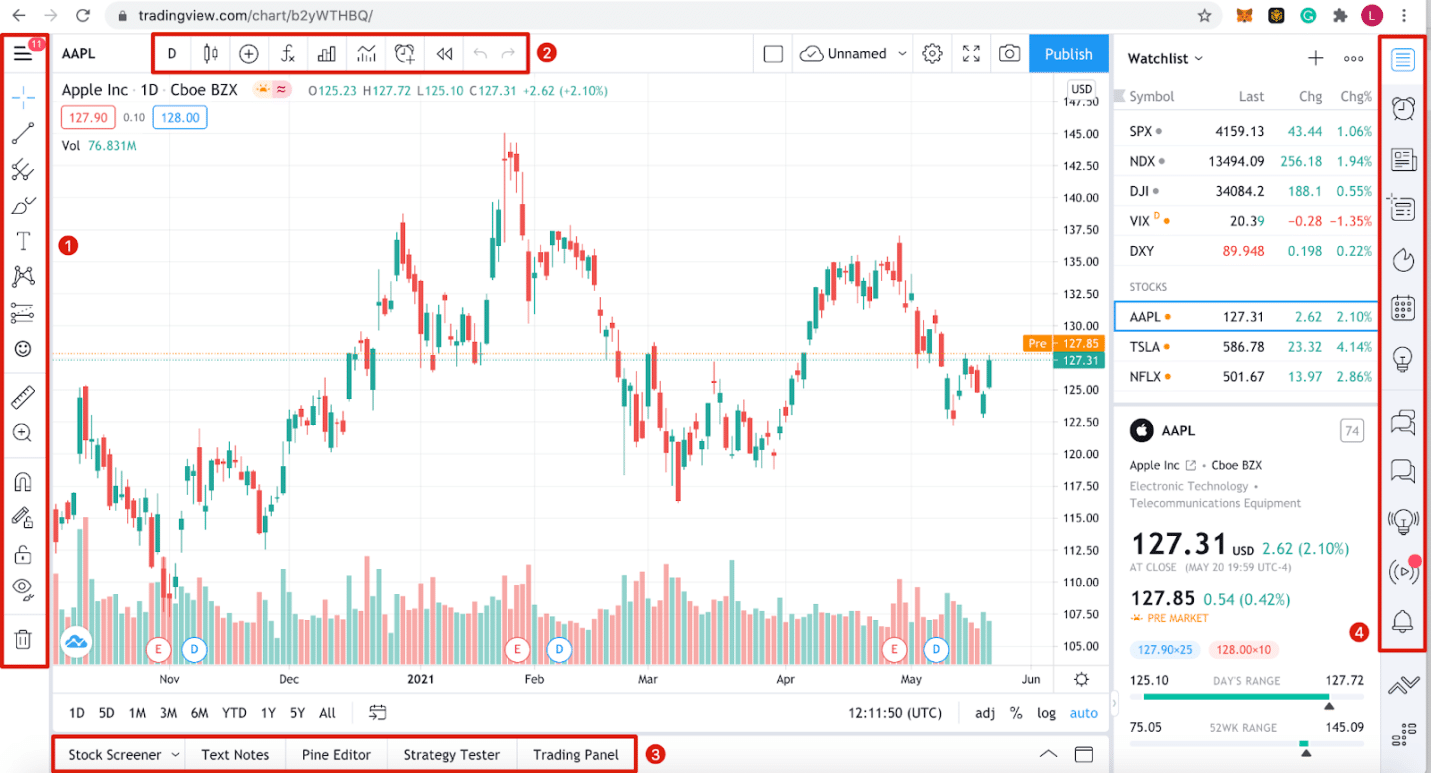 The platform is especially ideal for novice traders looking to learn the ropes. Experienced traders sometimes make guideposts and showcase how they carried out research and analyzed various instruments. The trading ideas segment is one of the most visited portals whereby traders get ideas on the kind of opportunities or trades to place on the various securities.
With TradingView, one does not need to register to access various charting tools. Registration is only necessary when one wants to unlock additional indicators, charts types, and time frames. In addition, it allows one to make posts about trades and post them to the community.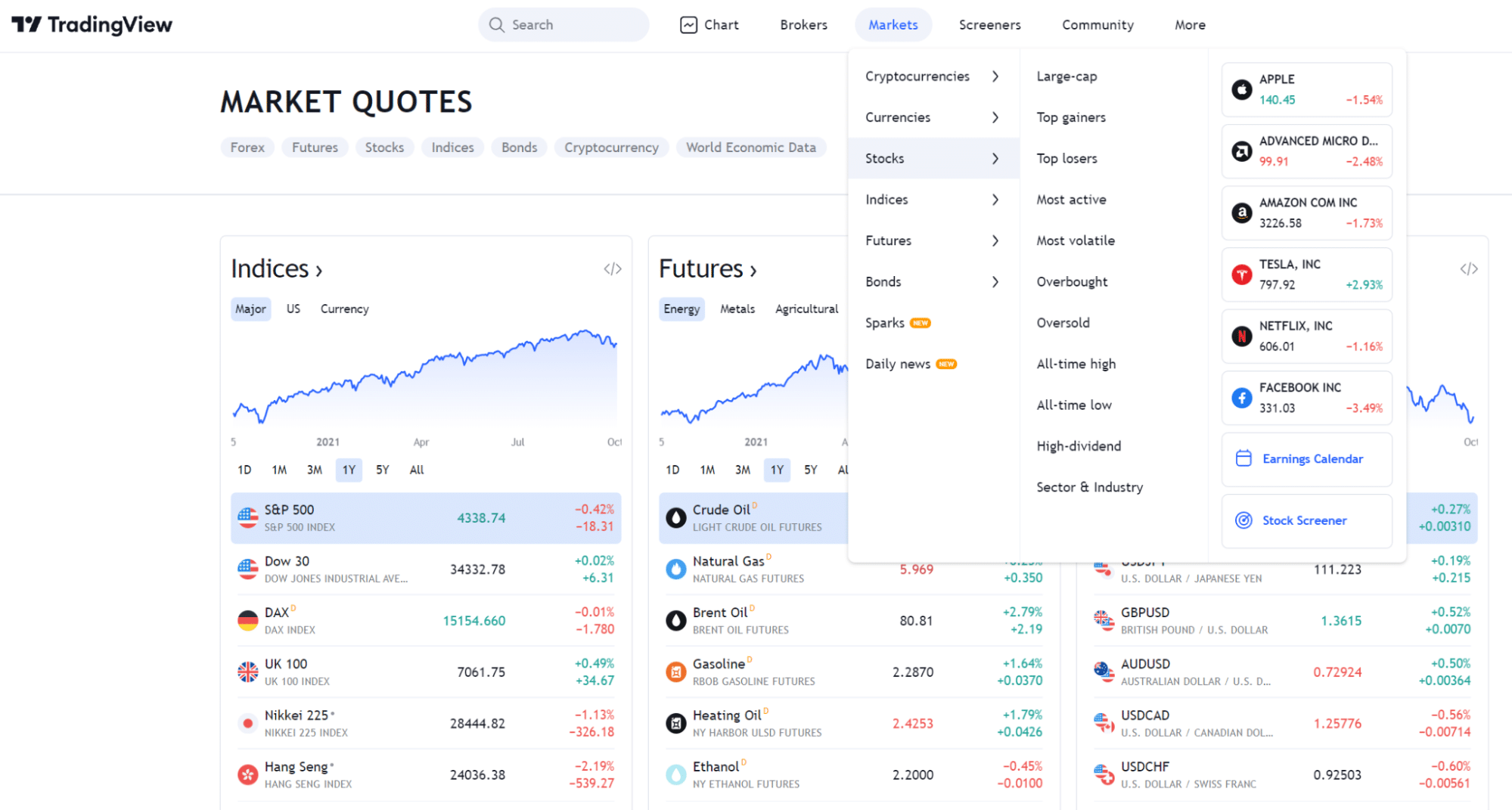 The lack of association to any broker means it can offer access to virtually any tradable instrument.
The downsides
The lack of a market means it cannot be used for trading. It is not possible to place buy and sell orders without linking your account to a limited set of brokers. It is mainly suited for market analysis.
Bottom line
MT4 is one of the oldest and most stable for accessing the market and placing trades. It is easy to use given its user-friendly interface and offers the ability to customize to taste. Direct access to the market means it is perfect for placing long and short positions on various instruments.
On the other hand, TradingView is a modern charting platform well suited for anyone planning market analysis. It offers hundreds of indicators and chart patterns that one can use to enhance technical analysis. In addition, it has no limitation on securities one can access to analyze, let alone the time frames.
MT4 is more popular when compared to TradingView partly because it supports the placing of trades. It is a preferred platform for almost every single forex broker. However, when carrying out in-depth market analysis, TradingView stands out and is the most used, especially among experienced traders who then resort to placing trades on MT4.