Company and Website Overview
According to the official website, Forex Growth Bot advertises itself as downloadable trading software, which connects the trader with the foreign exchange market, calculating entry and exit points of different currency pairs. They promise that the robot trades on behalf of the trader for an average of six times a week. This, of course, depends on the market conditions prevalent at the time, which then varies between 3 to 10 times a week.
The website looks amateurish, although it provides us with some basic but important information regarding the product. Eugene Lipinski is listed as the main developer, who is a Russian mathematician claiming to have profited heavily by using his Forex Growth Bot software. He offers proof of profiting at 556% in only three month.
Product Offering
| COMPATIBLE TRADING PLATFORMS | Metatrader |
| --- | --- |
| TIMEFRAME | M15 |
| CURRENCY PAIRS AVAILABLE | EUR/USD |
| DURATION | 24 Hours |
| PRICE | $129 |
---
There are three versions of Forex Growth Bot available: Basic, Advanced and Power.
Forex Growth Bot Trading Strategy
Forex Growth Bot seems like it is based on a Wave Stop strategy, suggested by the fact that the stop level constantly changes. When there is a movement towards an open position, the application opens even more positions, following a trend and thereby raising the potential profit.
A detailed explanation for the trading strategy is not given in the website anywhere, which can be a cause for concern when it comes to customer confidence in the product.
Trading/Back-Testing Results
When it comes to trading results, vendors should provide accounts for testing in Authoritative sites such as myfxbook or fxblue. The developer behind Forex Growth Bot provides a screenshot of a real account on MyFXBook, which is verified. The account provided shows a gain of more than 1117.4% with a drawdown of 22.61%.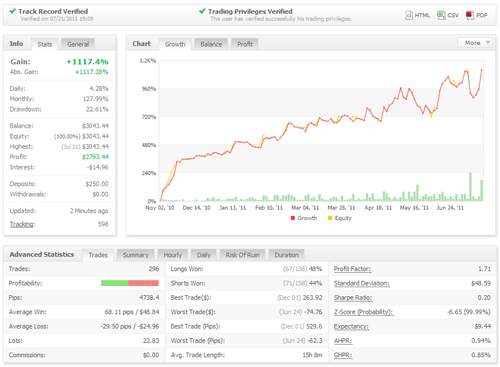 However, a surprising aspect is the section provided below the screenshot in the website. The developer has included a section where his real account balance is reflected. As of 10/05/2019, this section remains blank, which arouses suspicion and raises some questions when it comes to legitimacy.
There are also some additional 3 years and 5 years back-testing figures included:
Notable Trading Features:
Real Capital Management:
Stop Loss and Take Profit information are kept hidden from the broker
Capital can be reinvested
It has advanced Stop-loss technology. The stops are hence very tight and wave within a small time frame for profitability
Lot sizes are always proportional to the account size
Entries and Exits:
Aims for Specific market conditions
Trades are promptly closed if the specific market conditions subside to prevent losses
Works in any market conditions and even during bad news
Advantages and Disadvantages of Forex Growth Bot:
| Advantages | Disadvantages |
| --- | --- |
| User Friendly with Easy Installation Procedure | Negative Reviews from recent clients |
| Users Get a Free Forex Growth Bot income Accelerator Indicator Along with Each Purchase | Does not Operate Through High Risk Trades prefer by many traders |
| Comparatively Cheap | Lacks Transparency |
| | |
| | |
| | |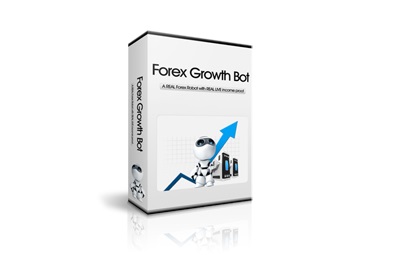 Verdict
Forex Growth Bot appears to be a good trading robot for a specific type of trader. For instance, traders who prefer micro managing their trades would not find this software helpful. Additionally, since Forex Growth is not like long-term hold trading, traders who prefer trading with long horizons would not find this useful as well. However, for traders still interested, it is advised to conduct some independent research before approaching this application.