ProHT TREND EA is a trading solution that has a one-page presentation. From the name, we can note that the robot works with a trend strategy. Also, there should be an indicator provided in addition. 
Product offering
Let's talk about features, settings, and other explanations about the system. 
The core strategy is trend trading. This means that it can handle high-volatile market conditions. 

It also uses a channel between a support and resistance level. 

The robot works on the MT4 platform only. 

There's a fake break out filter applied. 

The system cannot be backtested. 

We can customize various settings to fit our trading style. 

We can work with the following pairs: EURUSD, AUDUSD, CADCHF, EURCAD, GBPUSD, USDCAD, and USDCHF.

The core time frames to work with are H1 and H4. 

It works with various leverages from 1:30 to 1:2000. 

We should work on the fast execution broker. 

The system places Stop Loss and Take Profit levels. 

It works well on any type of account: Standard, Cent, Micro, Mini, and ECN. 

We have to run it on a VPS service. 

The robot works the whole time on the market. 

The developers provide us with welcome support 24/7. 

We can rely on free updates. 
The original offer was $400 for a copy. We have a current price of $99 for a copy. So, the developers don't support us with a refund policy to get our money back if we don't like the system's performance. We don't know if the package includes demo accounts to give the system a safe try. 
Trading strategy
It works with a trend strategy. 

The advisor is going to work on EURUSD, AUDUSD, CADCHF, EURCAD, GBPUSD, USDCAD, and USDCHF.

It runs charts on the H1 and H4 time frames. 
Trading results
The developers don't provide us with relevant backtest reports to convince us that the system was properly designed and it's ready to be downloaded and set on a real account. 
The same picture we have when we talk about trading results. The developers avoided providing us with trading results that would be checked by Myfxbook, Fxblue, FXStat, or MQL5 verificatots. So, without this data we can form the whole picture of what's going on with the system.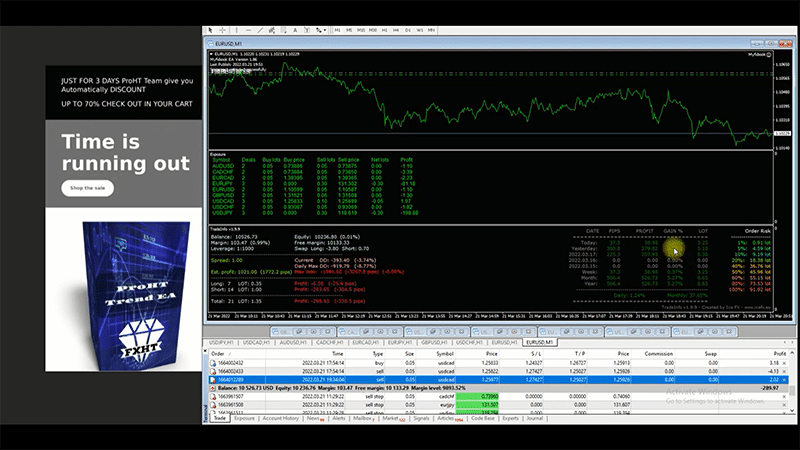 We have this video with some orders running on the chart. Most likely, it's a demo account because of a huge deposit.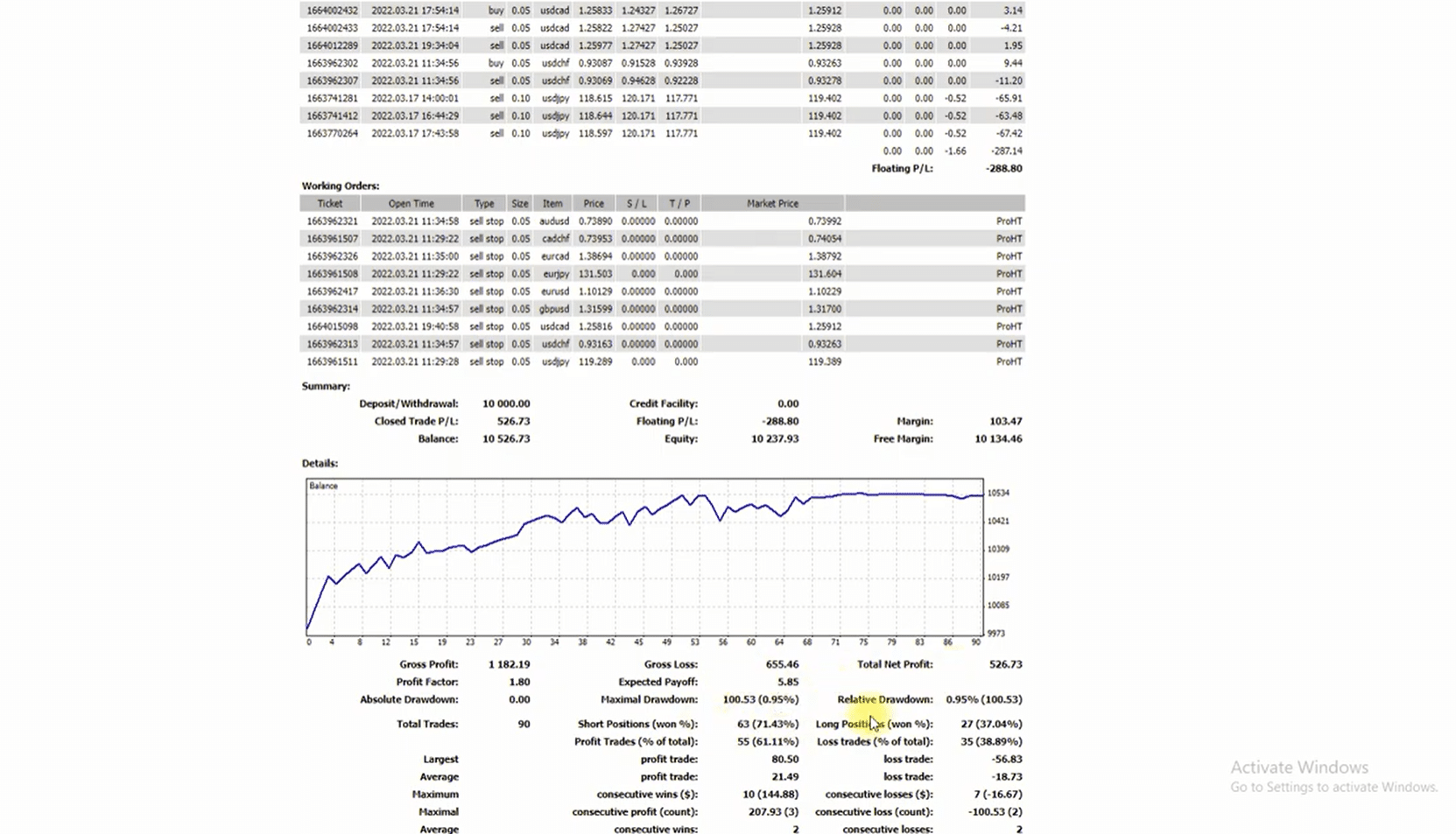 The growth chart looks completely unpredictable. The profit factor is 1.80. The maximal drawdown is low–0.95%. ProHT TREND EA performed 90 orders with 71% win rate for short and insanely low win rate of 37% for long trading positions. 
Customer reviews
The presentation doesn't include testimonials that would help us to understand if the robot can work that well for us either.
Cons
No team revealed
No settings explanations provided
No risk advice given
No backtest reports provided
No refund policy applied
No verified testimonials published
Verdict
ProHT TREND EA is a trading solution that has to make profits on a trending market. Alas, the presentation doesn't include backtest reports or verified trading results that would prove that the robot is profitable on the current market. Also, we have no refund and no people's testimonials.