Red Fox EA generally looks like a scam. The promo boldly claims that the system can generate great profits for the trader and keep the drawdown for all currency pairs below 38%, especially for aggressive settings. We have established that these allegations are untrue. 
Product offering
The EA's presentation does not give a great first impression. It looks disorganized and fails to provide comprehensive information on things that matter most, i.e., strategy, vendor identity, and backtest results. 
Sinry Advice is the creator of this expert advisor. The company is situated in Malaysia, but the developers and professionals working behind the scenes have not been disclosed. Their reputation in Forex is not that good as some traders have called out their other EAs for being ineffective. 
This EA is $266. At this cost, you will get 1 demo, 1 live license key, and a 14-day refund policy.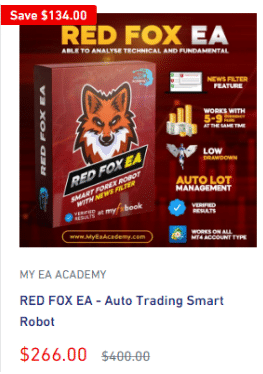 Trading strategy
When it comes to the features of this system we have:
A full set up guide.

News filter.

Auto lot management based on the money on the account.

Smart inner indicators.

No martingale strategy.

Spread control.

Low Drawdown pairs, which are: EURCAD, EURUSD, GBPUSD, GBPCAD, USDCAD.

Aggressive pairs, which are: AUDUSD, EURAUD, EURNZD, EURUSD, GBPAUD, GBPCAD, GBPNZD, GBPUSD, USDCAD.

A minimum deposit of $1000 to start trading.

A suggested leverage of 1:500.
Red Fox focuses on the market reverse price and utilizes internal custom indicators for market analysis purposes. However, the vendor doesn't do much to explain this logic. Therefore, we are left hanging. We have no knowledge regarding the market reversals it targets. Is it intraday, daily or weekly? Furthermore, we are clueless about the aspects of trades it takes into consideration. Grid is also present, but we are not informed about this. 
A backtest is also missing. This is a bad practice we have noticed this vendor engages in. They usually leave out this information in many of their presentations. It is possible that they do not backtest their products prior to releasing them to the public. 
Trading results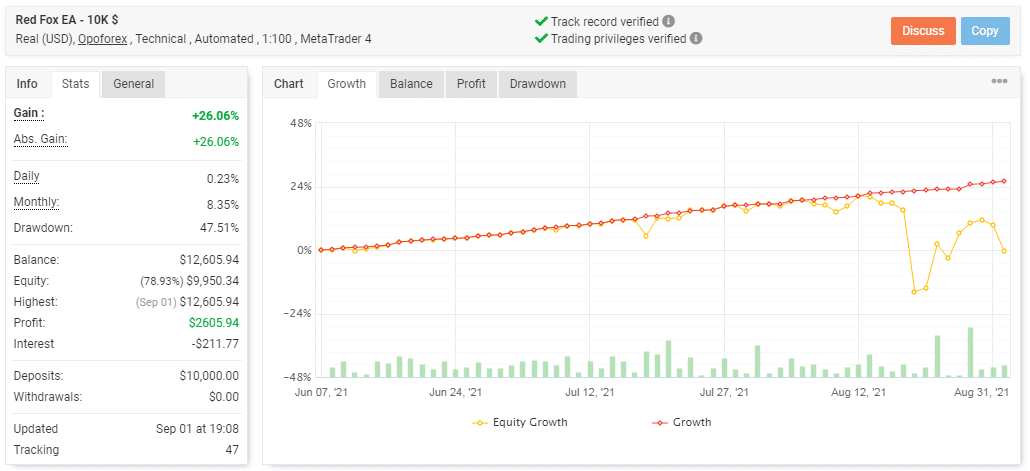 This is a real USD account whose operations were halted on September 1, 2021, after operating for almost 3 months. The high drawdown of 47.51% could be the reason behind this inactivity. It is clear that the expert advisor decimated the deposit —$10,000 by almost half. Worse still, it didn't bring in considerable profits as it only managed to make 8.35% monthly.

The trades done were 467, and the profit factor was 1.92. We see that the system was making more bad trades than good ones. This is exhibited by the average loss of -25.07 pips, which is higher than the average win of 16.17 pips. The accuracy rate of long positions was 76% and 77% for short ones. These kinds of winnings were not enough to recover the many losses made. 

All the currency pairs traded were profitable. It should be noted that the EA used the USDCAD pair often while trading. However, it wasn't the most lucrative. GBPCAD brought in the most profits ($787.52).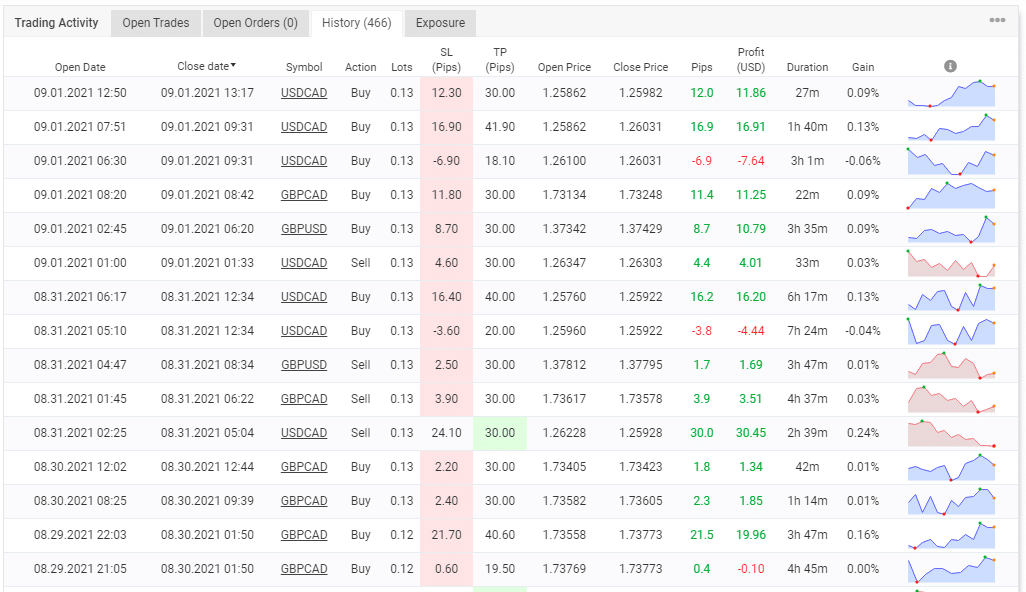 A trailing feature was used to make profits. The grid element in play was very evident.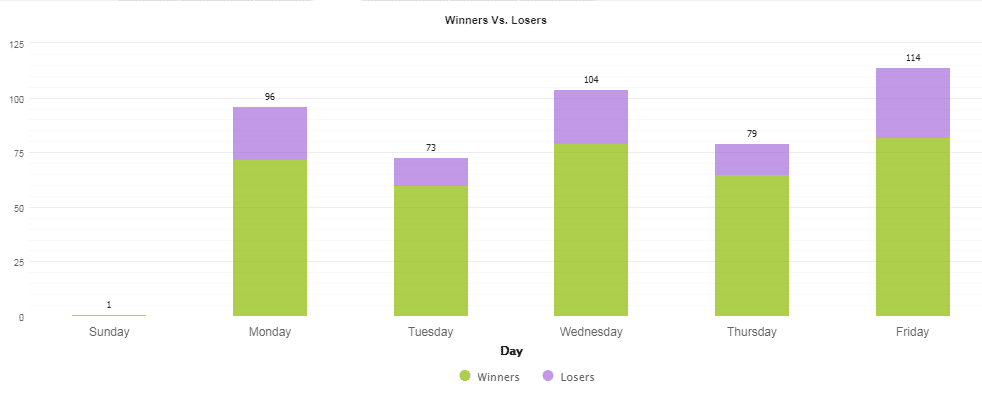 We established from these stats that the system preferred to open trades on Friday. As a result, it ended up executing 114 deals. 
Customer reviews
User testimonials on the official site seem fake since they have not been verified by a third-party. There is a page created for My Ea Academy.com on FPA. Although the feedback does not directly focus on Red Fox EA, it gives us a hint about the kind of vendor we are dealing with. 
In this case, the customer labels the company a scam and warns traders against buying their EAs. Apparently, when the firm's system made a high drawdown, the trader was asked to close his trades. This sounds familiar. From our findings, we have clearly seen how the robot trades dangerously, generating a high drawdown. 

CONS
Backtest data is not present
Low profitability rate
Vendor transparency is non-existent
Grid is used
Verdict
Red Fox EA is not a wise investment option. The system will only play around with your investment, and leave you with a trail of losses. The lack of vendor transparency is also a big red flag that should not be overlooked. It is highly likely the developers are unqualified and incompetent, and therefore, they will not grow your investment.