RevenueBot  is developed for automated crypto trading on several exchanges(Binance, Kucoin, BitFinex, etc.) using an API interface. Traders can utilize several bots simultaneously and trade multiple currency pairs. This review will investigate the functions, working, drawbacks, and advantages of the platform. 
About RevenueBot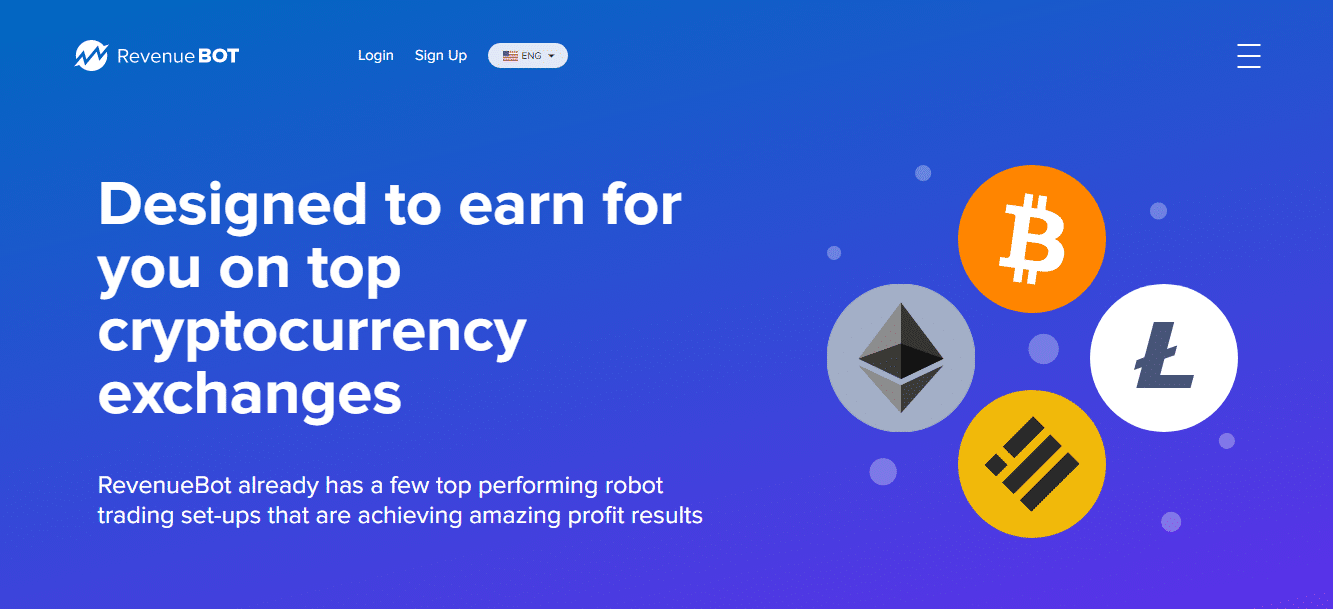 RevenueBot s uses a martingale betting method to trade in the market. Traders can customize their algorithms or use predefined parameters for their systems. The dashboard includes recent transaction results and the performance of the system. 
| | |
| --- | --- |
| Payment Options: | N/A |
| Price: | No subscription plan/20% commission  |
| Supported Exchanges: | Binance, Bitfinex, Bittrex, Poloniex, Exmo, FTX, Cex.io, HitBTC, OKEx, Kraken, Kucoin, Binance Future USDS-M & COIN-M |
RevenueBot features
Some of the most notable characteristics of RevenueBot  include:
The bot is cloud-based, and no installation of software is required. 

The platform marketplace lets users buy or sell preset bot settings or mentoring services.

With flexible bot settings, traders can configure their algorithms according to their liking.

A 60 day backtest records are available to check bots' performance on different currency pairs. 
How does it work?
RevenueBot  works on a martingale betting system which can be risky and lead to significant losses. The platform uses available funds in the trader account to sell/buy according to the trading strategy. Currently, the system works on two types of algorithms, i.e., "Long and Short". Traders can start trading by following these steps:
Register on the platform

Select the exchange and currency pair

Create an API key and connect it to RevenueBot

Specify the deposit and run the bot.
Compatible exchanges
RevenueBot is compatible with 11 exchanges where traders can trade all the available cryptocurrencies. The supported exchanges include:
Binance

Bitfinex

Bittrex 

Poloniex 

Exmo

FTX

Cex.io

HitBTC

OKEx

Kraken

Kucoin
How does RevenueBot  stand out?
The platform supports multiple exchanges and trading over the cloud, which does not require traders to run their PCs. The recommended deposit is $200-$300, which is within reach of a normal investor.
Best for: long-term investors
RevenueBot is suitable for long-term investors who can take risks with their investments. The martingale method best works for an extended trading period and may lead to almost 50% gain in a short period. The bot can be configured according to the desired settings, and beginners can access the pre-built strategies.  
Pricing
The platform is free to use and does not charge monthly subscription packages. RevenueBot deducts 20% commission on profits made by the bots. The maximum fee is $50/month on profits and does not exceed this amount.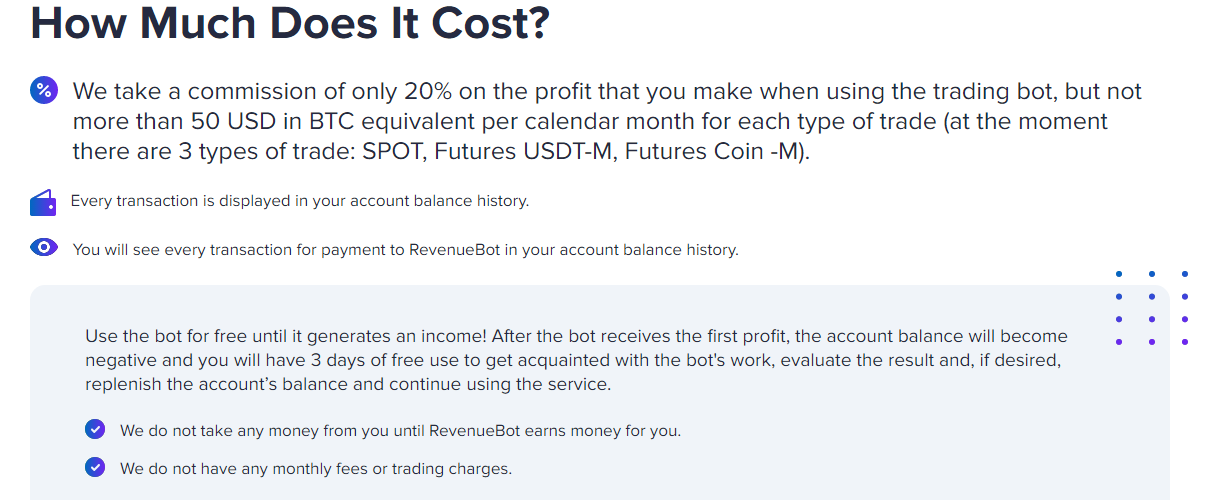 How safe is RevenueBot ?
RevenueBot uses API keys for the safety of the funds and claims to have no withdrawal rights. The platform does not accept cryptocurrency deposits; everything is stored on the investor's exchange. Bots use a risk hedging mechanism that works by flipping algorithms automatically according to the market conditions and reduces the risk of losing capital. 
RevenueBot reputation
RevenueBot lacks basic information about the developers and team of experts. It is designed by UAE based free zone company RB MEDIA FZC LLC which was founded in 2021. The lack of vendor transparency raises doubts about the legitimacy of the platform. A total of 113 reviews are present on the TrustPilot website, where a user expressed his disappointment with customer support.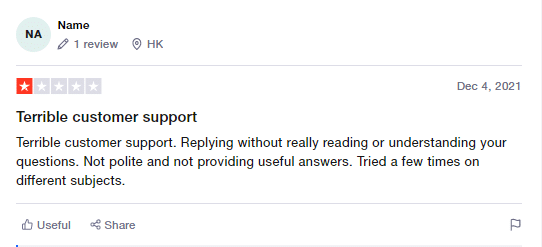 Is it a good choice for beginners?
RevenueBot has preset settings available for its algorithms which newbies can use. Traders can subscribe to mentoring services, and a quick start menu provides step-by-step creation tools for bots.
Pros
It provides ready-made bot configurations with complete statistics for beginners
Traders can get notifications through email, SMS, or telegram
Cons
Lack of vendor transparency
The bot stops working within three days of a negative balance
20% commission on profits is very high
Verdict
ReveueBot is developed by a company based in UAE, but there is no information about the team of developers. The lack of vendor transparency raises red flags about its functions and profitability. The bot charges a 20% commission on every profit, which is high.