RoboFi is a DeFi platform that was introduced to the market in 2021. It is said to be the most reliable marketplace for sourcing crypto trading bots. So, you can choose the bots you like from here and use them to engage in a wide range of trading activities, including staking, farming, providing liquidity, governance, etc. As a developer, you are invited to list your bots and raise trading funds. 
About RoboFi
As per the vendor, RoboFi is a decentralized and independent DeFi platform that is powered by the DAO bots community created in a public ledger system. It aims at bringing bot creators and users together through its ecosystem to help them innovate and attain financial growth. 
| | |
| --- | --- |
| Payment options: | N/A |
| Price: | N/A |
| Supported exchanges: | KuCoin, Binance, PancakeSwap, and UniSwap |
RoboFi features
RoboFi offers a broad range of features, which we have listed below:
The system allows users to deposit crypto assets and receive a copy of these coins in the form of tokens.

It provides a liquidity pool where traders can stake and earn VICS tokens.

It includes a decentralized lending platform to enable users to join their preferred DABots community even if they lack the necessary assets.

It incorporates the RoboFi Earn, a feature that allows customers to deposit their coins and get stable interest despite market volatility.

The RoboFiStore gives you access to a collection of decentralized and autonomous bots.

It is possible to take part in the decentralized lucky draw games and win some money.

It offers users a chance to engage in staking or becoming a governance shareholder of autonomous and decentralized bots via Initial Bot Offering (IBO)
How does it work?
RoboFi provides a marketplace where both developers and users can earn income. The platform enables the former group to share their creations easily with potential users, sell, and raise funds as a result. Users have a chance of storing their bot tokens on its non-custodial wallet as well as harvest their bot tokens to enjoy the yield the bots have earned.
Compatible exchanges
You can integrate RoboFi flawlessly with any one of these exchanges:
KuCoin

Binance

PancakeSwap

UniSwap

Hotbit
How does RoboFi stand out?
What makes Robofi unique from others is that it is the first decentralized finance platform to incorporate automated bots that adhere to the DAO principle. It also supports all bots that pass the IBO stage and gives you the chance to produce bot tokens. Furthermore, bot token holders can generate yield as they hold on to their tokens. 
Best for: traders who are also developers 
RoboFi is a great platform for developer traders who are also looking for a place to sell their creations. They can apply for listing their bots on the marketplace, and once accepted, they can begin earning capital or funds through IBO. The more the creators gain and invest, the more the rewards they will reap from the bots' trading activities. 
Pricing
You can join RoboFi as a user or bot creator for free. Being a marketplace, the platform allows developers to list their bots and users to select the ones they want to work with and earn money through crypto trading.  
How safe is RoboFi?
The vendor doesn't provide any specific details about the measures they have taken to ensure your funds are safe. However, there's a privacy and cookie policy that stipulates how the company will use and protect your personal data. 
RoboFi reputation
We could not find any useful information about the background of the vendor on its official website. So, we researched the internet and found its profile on LinkedIn. Apparently, RoboFi is in the Internet Publishing industry and comprises 201-500 employees. It is headquartered in the British Virgin Islands and focuses on bridging the gap between financial technology and the people by offering DAO bots at their convenience.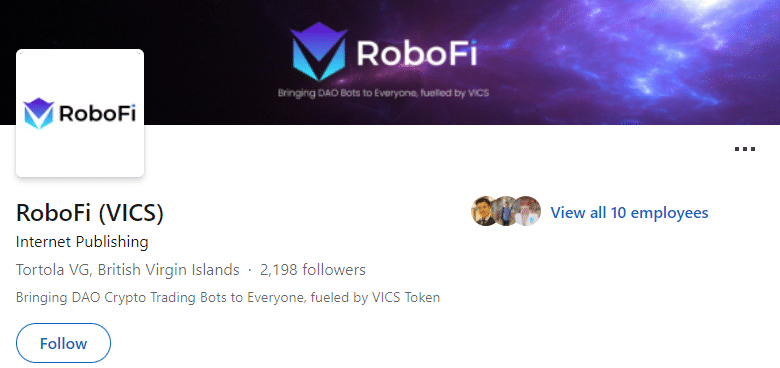 Is it a good choice for beginners?
Yes, RoboFi is a good choice for beginners. The platform is easy to use, and information about the products and services is straightforward and understandable. What's more, if you are not experienced in developing trading bots, you can as well purchase some from other professional traders.
Pros
Many income opportunities
Supports decentralized exchanges
Is user-friendly
Cons
Limited number of supported CEXs
Verdict
RoboFi is a very interesting and unique platform that provides amazing ways to diversify your investments. The available bots let you trade on centralized and decentralized exchanges, earn yield farming income by providing liquidity, and stake tokens to earn rewards. There's also a fun way to earn money by participating in lucky draw games.