Foreign Exchange trading, or Forex for short, is one of the most lucrative trading instruments available, with the potential to earn big in a matter of moments. Experienced traders can use their experience and skills to make instant decisions to make a profit. However, not every trader is gifted with this talent and that is where applications such as Forex trading EAs come into play.
The Role of Forex EAs and What We Should Expect?
In layman's terms, Forex Expert Advisor applications refer to software used normally with a MetaTrader currency trading platform. Its main purpose is to generate trading signals on behalf of the forex trader. Some of these applications also have provisions to automate certain trades under pre-prescribed conditions. Some of them might also include trailing stops, for currency traders to maximise on and not lose out on any profit earning opportunities.
Almost all developers make some solid claims for their developed EA applications. A good Forex EA should provide the user with the correct signals, without using any back handed tactics of data mining bias.
The past couple of years have seen an influx of Forex robots and Forex EAs on the market, with Strike FX EA.
Strike FX Overview
Strike FX by ArgoLab, describes itself as a multicurrency martingale Expert Advisor. The team behind Strike FX aims to create a trading environment for a conservative martingale trader. In the website, they have prepared a list of questions and answers based on very basic trading questions related to martingale based strategies. They have also included a list of basic principles for this platform, which are as follows,
Trade many Instruments
Control the simultaneously traded instruments, in order to minimize the risk of correlated drawdown
Do not be greedy, take what market gives you
If one pair runs out of control, fixate the losses early and continue trading.
The team behind Strike FX, ArgoLabs is a very well-known development team, which is behind another reputed application, FXSplitter EA.
The website looks to be designed professionally, with the service page detailing the pricing packages for the application, along with a series of back-testing results. It also contains a list of recommended platforms that the application uses, including fxopen, MQL5, InstaForex and many others.
Product Offering
| | |
| --- | --- |
| Type | Martingale |
| Leverage | 1:400 or higher |
| Time frame | Any |
| Lot size | Variable |
| Stop loss | No |
| Trailing stop | No |
| Min account size | $2000 |
| Indicators | Yes |
| Currency pairs | EUR/USD, AUD/USD, NZD/USD, EUR/GBP, EUR/AUD, GBP/CAD, GBP/CHF and AUD/NZD |
| Demo testing | No |
| Projected annual profit | 100% |
| Projected max DD | 35% |
There are three packages with different options and benefits, priced at $179.  Two of them can be purchased from Oplata.info and Avangate.com. The third one comes with PayPal and Skrill Contact Support.

Features and Trading Strategy of Strike FX
From our initial inspection, the platform appears to analyse and determine the price direction. It allows traders to trade with specified risks and profitability, allowing for a highly profitable trading experience.
When it comes to the application's strategy, it is observed that the Strike FX EA relies on the known fact that the market stays in the flat phase for about 80% of the time. The results are that the price does not show any significant movement in either long or short positions, with the price only moving between the upper and lower boundaries of the trading channel.
To sum it up, it appears as if Strike FX EA places its first trade against the last movement of the price after assuming that the price will return to an average level. If the price leaves the trading channel, the EA adds new trades to increase the overall position. On the other hand, in the case of a pull-back of the price, the EA closes either an individual order or all the orders, depending on the trader's settings and the market situation at that point. The trading strategy appears to be like a lot of other martingale EAs on the market.
Trading / Backtesting Results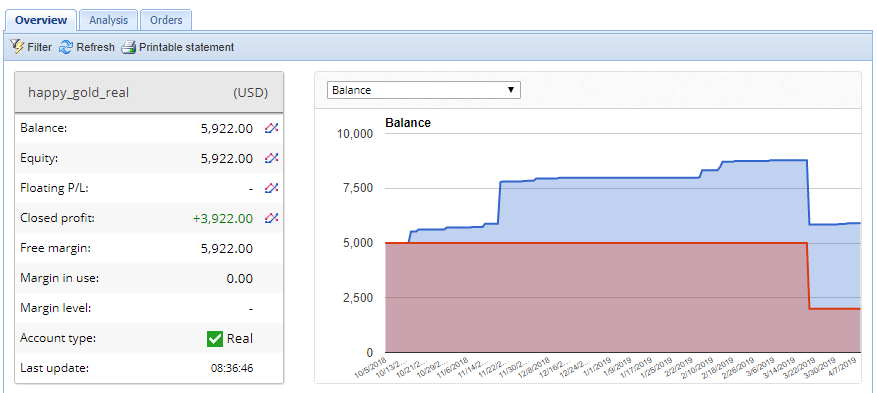 There is a singular account provided by them on fxblue.com, from a period beginning from 10/05/2018 to 04/07/2019. There is a steep rise of almost $2000 experienced between 11/18/2018 and 11/19/2018. The closed profit of $3922 indicates a total return of 79.9%. However, the peak drawdown % is not given.
Strike FX Pros & Cons
| | |
| --- | --- |
| Advantages | Disadvantages |
| 1.       Trades at fixed intervals of time | No Reliable User Reviews |
| 2.       In-Built Proprietary Algorithm | |
| 3.       Reputed and Tested Developers | |
| 4.       Refund Policy | |
|   | |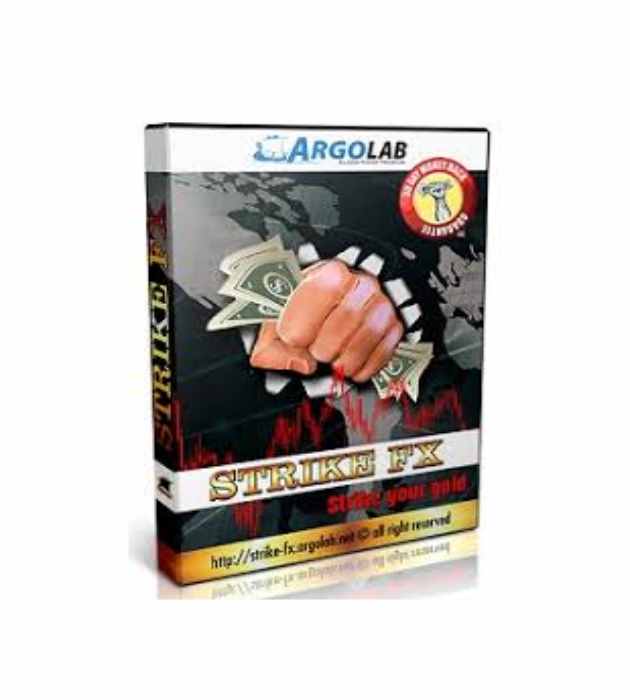 Verdict
Overall Strike FX seems to be a good option for a forex EA, with an affordable pricing package and a known team of developers behind it. Their refund policy is a rarity in this market, as not many Forex trading bots or EAs offer refunds to their users. Thus, Strike FX is a promising project to look forward to and one of the more impressive applications in the market.