T3 Trading Group is a trading prop shop offering their traders to focus on technical analysis and to deploy their own trading strategies. They are looking for the most successful and talented traders to share their capital. T3 Traders use both manual and automated trading. Participating in T3 Trading requires you to make a capital investment. Prop trading is not for everyone so read our review very mindfully first.
T3 Trading: How Legit Is This Prop Trader?
According to the T3 Trading Group website the company is specially designed to offer trading, training and technology access to interested forex and money market traders.  It goes on to describe their outfit as an SEC-registered broker -trader and a member of NASDAQ and PHLX exchanges.
In the disclosure section, the website mentions that T3 trading group, LLC is a unit of T3 Companies with the others being T3 live and T3 securities.  Unlike the others however T3 trading Group is specially designed to offer "competitive cost structures and low-latency trading technologies" to its pool of prop Traders and clients.
How does T3 Trading Group work?
T3 is a proprietary trading company established with the sole purpose of helping it's traders maximize the profits and revenues earned from the forex and securities market.  The group has however evolved into training and technology company that advances trading skills to professional and talented traders. These are then equipped with the company's proprietary technologies that help them get the most out of the money markets.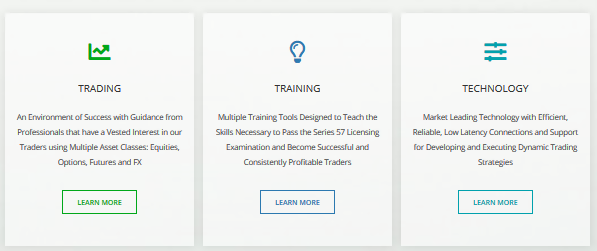 T3 trading group has also come up with a capital sharing program where they fund all the trading accounts operated by their in-house trained forex traders. Both the trader and the technology company then get to share proceeds of these trading accounts.
The information here merely furthers the company's claim of being a classic prop trading company. We, therefore, set out to vet their trading strategies and their effectiveness of the training and forex trading Technologies.
What are the trading strategies employed by T3 Trading Group?
A majority of T3 trading group operations are shrouded in mystery as the company refers to them as proprietary material. The closest T3 trading Group website administrators come to mentioning the trading strategies employed by the broker is when they argue that they specialize in coming up with technical analysis that they then use to build effective trading strategies.
It also mentions that they use multiple time frames and only focus on position, intraday, and swing trading styles. And while they mention that their "efficient, reliable, and low latency" technologies help develop highly effective and "Dynamic trading strategies," it doesn't explain risk management policy put in place such as whether they use the stop-loss or guaranteed stop loss options.
About T3 training program
Traders hoping to join T3 trading group and have their accounts funded by the prop-trader must first go through the group's two-tier training program. The first step here involves helping the trader get the series 57 license from SEC that can only be acquired after passing the Securities Industry Essentials (SIE) exam.  T3 group promises to sponsor interested traders into acquiring the license and also provide them with study manuals as well as live and virtual classes.

After learning the basics, students are then ushered into the technical training part that involves introducing them to the company's proprietary trading technology.  Training at this level is however not exclusive to T3 trading group trainees but is open to novice, seasoned, and other professional traders seeking refresher courses. It is offered live at the company's trading floor in NYC or virtually through T3 Live platforms and Twitter by the group's chief strategic officer, Scott Redler.
What the T3 Trading doesn't tell you about their prop trading program
T3 trading group promises to fulfill the dream of every enthusiastic money market trader.  This includes fully sponsored training, fast-tracked registration with the SEC, free access to proprietary trading technology, and enough funds in their trading accounts to help them kick off a career in the forex market.
A quick analysis of their training and trading model reveals pockets of crucial information that they keep from interested traders.  For instance, it mentions albeit in passing, that joining their pool of prop traders require a "loss capital contribution" without specifying the amount.  They are also quick to bury this with the promise of fully funding the trading accounts of professional traders with a proven history of a successful trade.

The website, however, doesn't mention that they charge up to $2,500 for training. Neither does it reveal that the loss capital contribution will set you back $5,000. Even more interesting is the fact that they don't share the criteria used to determine the success level required for the broker to fund the trader's account fully.
---
Everything else you need to know about T3 Trading Group
Strengths:
Solid reputation and known address
Established in 2003, T3 Trading Group has maintained an untainted reputation in its operations.  The trading group has also maintained an unmatched level of transparency with its governance and physical addresses.  Unlike most phony forex brokers who hide the identity of their trading system developer as well as their company address under the veil of proprietorship, T3 trading group lists the addresses of all their offices across the country on its website.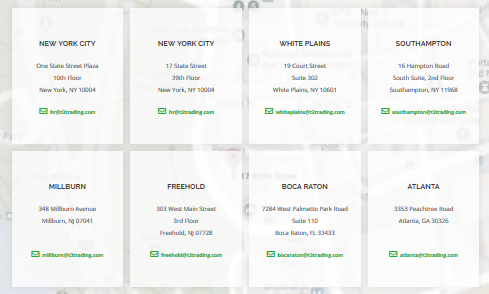 Generous profit split
Ideally, profit sharing with T3 trading group starts at 70/30.  Additionally, as you progress and master your trade, the prop Trader adjusts its revenue sharing rationale upwards to reach a maximum 95/5.
T3 live trading room helps master trading strategy
One of the most unique features about the T3 trading group is that their all-access T3 Live trading room.  Here, you have a chance to witness the group's experts in action.  You get to interact with them in real-time are they analyze the market and also play witness as they choose the trade to enter and exit.  This is considered part of technical analysis training and goes a long way in helping beginners understand and master the different reading strategies.
Unlimited earning potential
You can earn as much or as little as your trade allow while using the T3 trading group technology.  With the funds they allocate to your trading account you are free to execute the trades you deem most profitable thereby opening to unlimited earning potential.
Demerits of prop trading with T3 Trading Group:
Expensive work with no guaranteed income
The biggest downside two interacting with T3 Trading Group is the apparent lack of transparency in disclosing the chargers imposed on traders as well as the secrecy surrounding the criterion used to determine who gets full funding and who parts away up the lost control deposit.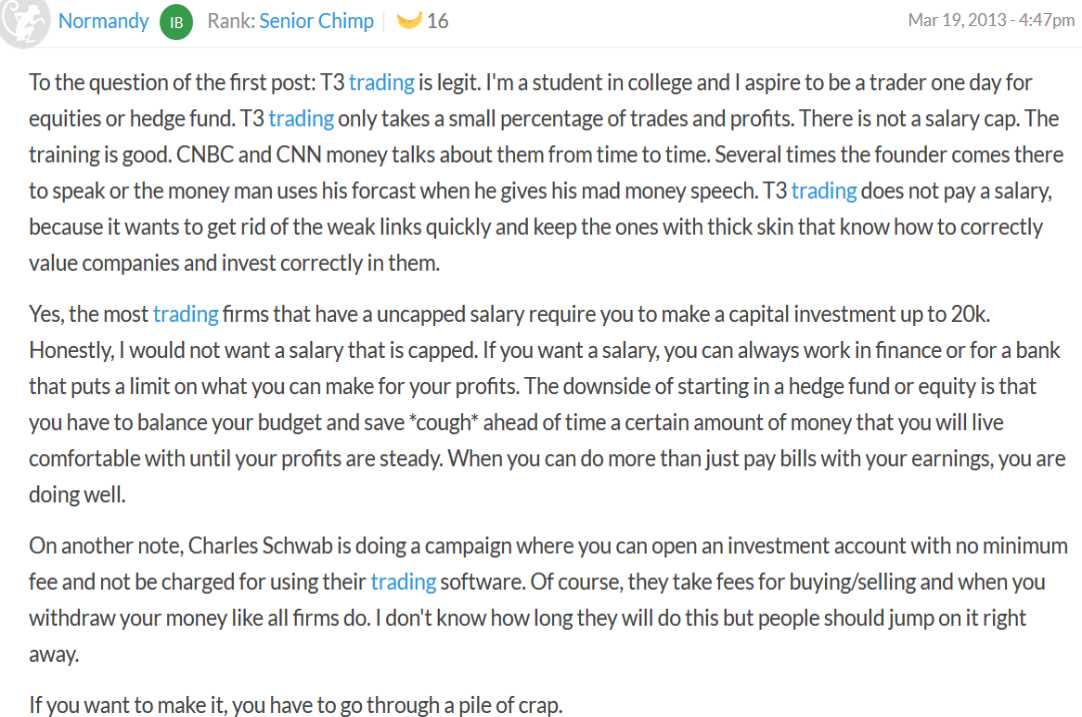 You risk your own money
The fact that T3 Trading group requires their traders too fast fund the trading account will I lose capital contribution deposit defeats the meaning of prop trading.  This implies that the broker is not taking any financial risk on the traders given that losing the deposit results in the termination of their trading account.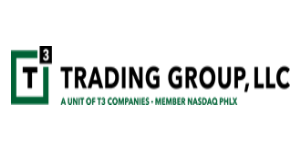 Verdict
T3 trading group has all the features of an ideal proprietary Trading company safe for the initial deposit in the name of loss capital contribution that they demand from their enthusiastic Traders.  We were particularly impressed by their transparency in most of the operation.  We are therefore inclined to believe that T3 trading group is a legit forex broker and this informs our decision to award it a score of 7/10.