Cardano is a leading blockchain project whose goal is to become the go-to platform for developers seeking to build Web 3.0 and other decentralized applications (dApps). The network was started by Charles Hoskinson, one of the leading cryptography developers globally.
For a long time, Cardano did not have features that enabled developers to build on top of its ecosystem, which explains why its ecosystem is significantly smaller than that of Ethereum, BNB Chain, and Solana.
It launched its Alonzo hard fork in the third quarter of 2021, which introduced smart contract features. Since then, several developers have embraced the network and are actively building its ecosystem. In DeFi, its total value locked has grown to about $150 million, making it a relatively small player. 
Ada, its native token, has seen its market cap crash from an all-time high of over $90 billion to about $25 billion. The large drop is mostly because of concerns about its ecosystem growth.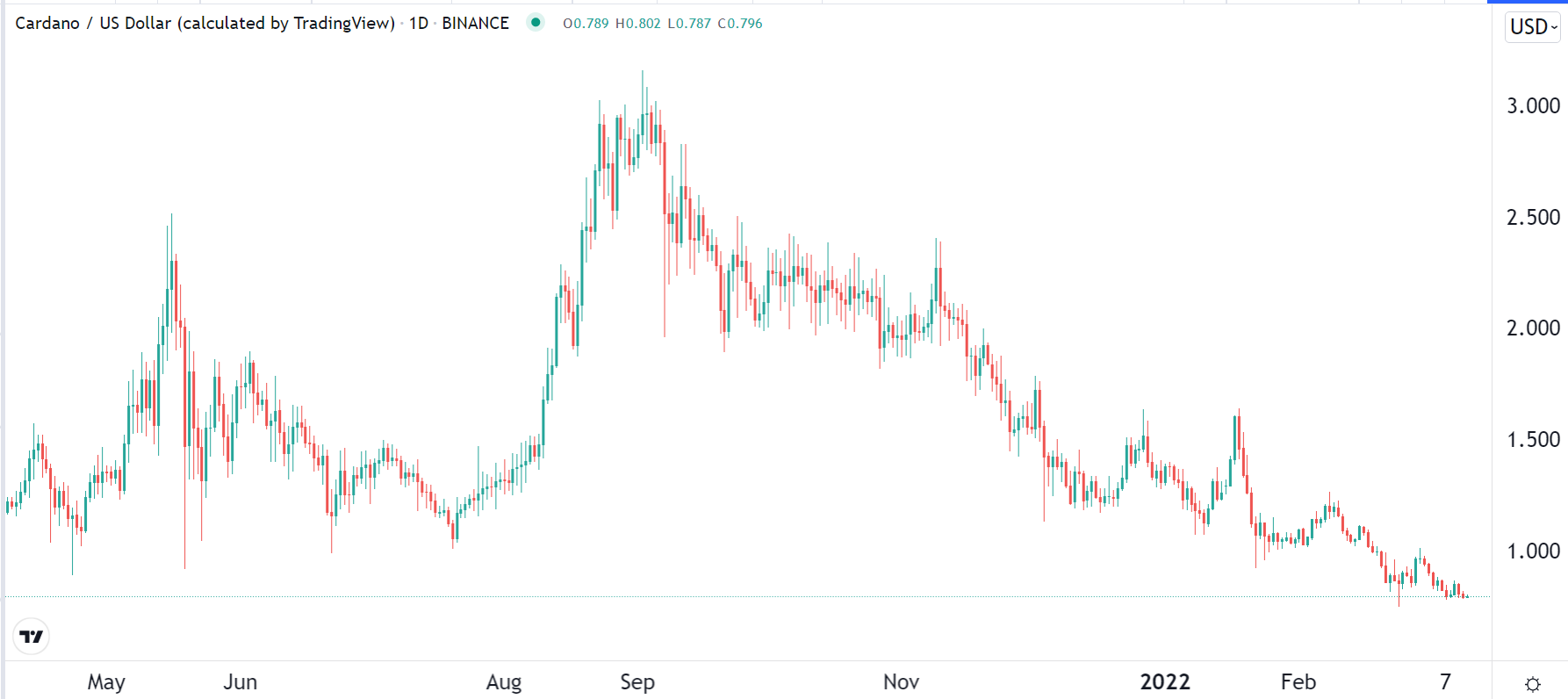 Next, let's look at some of the leading apps in Cardano's ecosystem.
SundaeSwap
Decentralized Finance (DeFi) has become the leading use case for the blockchain industry. For example, the total amount of money locked in the ecosystem has grown to over $200 billion, which is a remarkable number since the industry was barely in existence back then. 
Decentralized Exchanges (DEX) have formed a pivotal part of the industry because they allow people to bypass centralized exchanges. For example, platforms like Uniswap and PancakeSwap have become significantly bigger than many exchanges.
SundaeSwap is the biggest platform built in Cardano's ecosystem. It is a DEX that allows people to buy and exchange their tokens in an easy and cheap way. Instead of profits going to a small group of people, they are distributed to the network's token holders. Its profits also flow to providers of liquidity.

According to DeFi Llama, Sundaeswap has a total value locked (TVL) of over $114 million. As such, while it is a growing platform, it is still significantly smaller than other competitors like Uniswap and PancakeSwap.
Cardania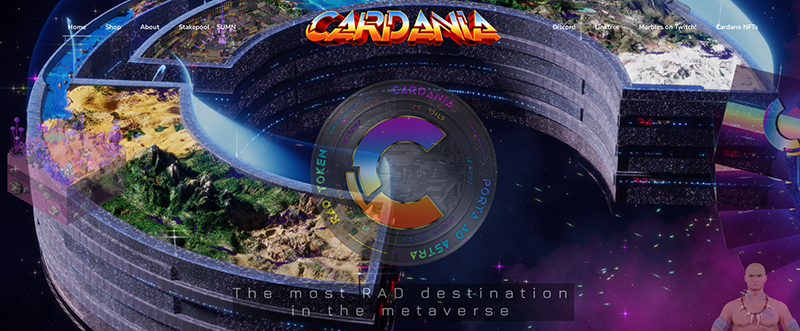 Cardania is a relatively small and fast-growing platform built on Cardano. It is an ecosystem that seeks to bring the key parts of blockchain technology together. For example, it is at the intersection of key technologies like decentralized finance (DeFi), non-fungible tokens (NFT), and gaming. 
The key platform will be gaming, where people will participate via their computers and smartphones. Their ultimate goal will be to win rewards in the form of RAD tokens. Cardania has a maximum limit of 90 billion RADs, most of which will be used to reward its users.
Cardania users will also be able to buy merchandise in the ecosystem. Still, investors should be wary about the coin because the network has not yet launched.
Ada Warriors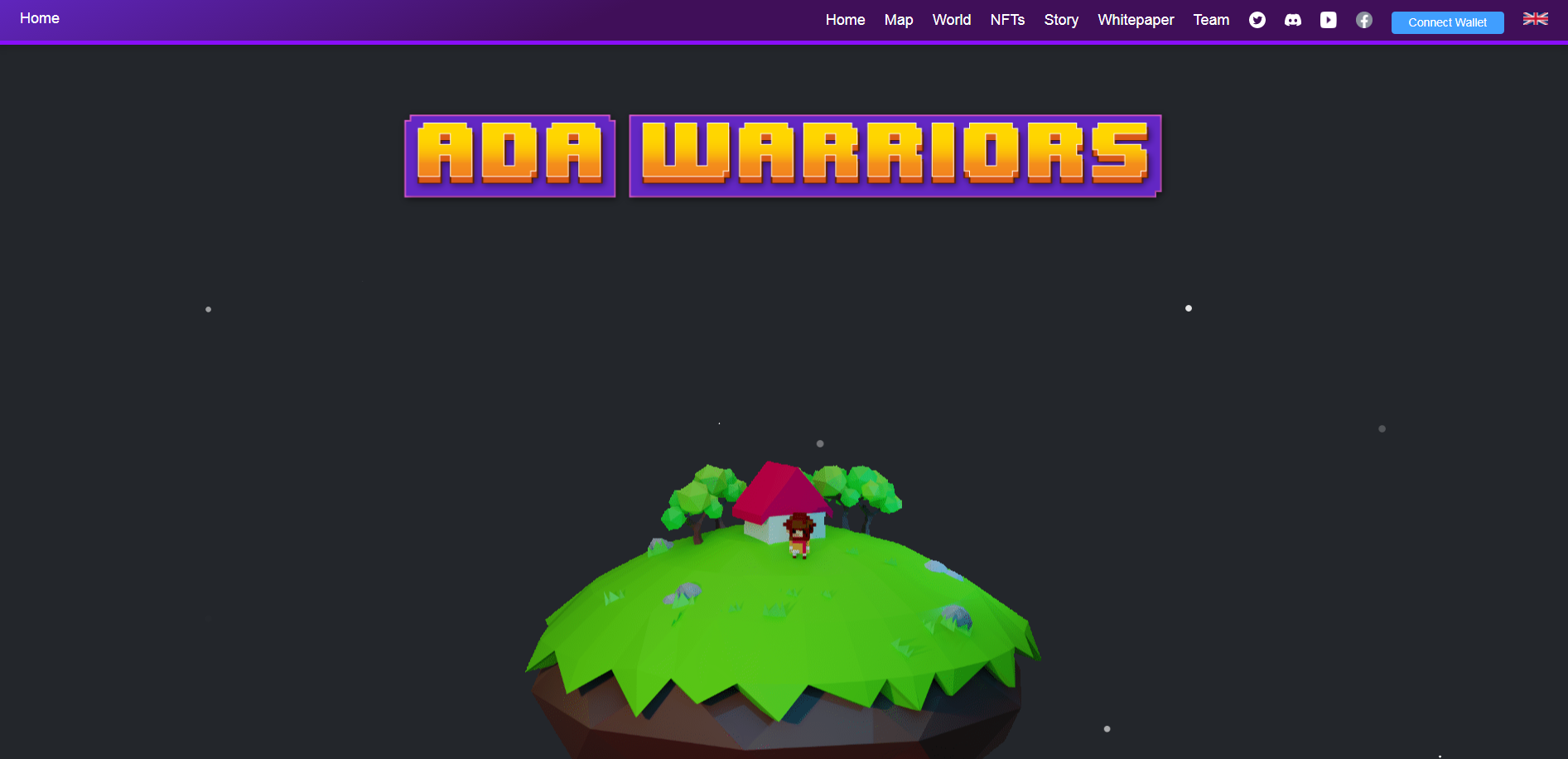 The metaverse has become one of the leading areas in the blockchain industry. It is also expected to change centralized industries like gaming and communication. This explains why companies like Facebook, Nvidia, and Microsoft are investing billions of dollars in the industry. Recently, we have seen the success of blockchain-enabled decentralized metaverse platforms like Sandbox and Decentraland.
Ada Warriors is a massive multiplayer role-playing game (MMORPG) game that can be played on computers and smartphones. To play the game, users need to have a castle or a home, which they can acquire cheaply using the platform's coin. 
There are multiple ways of playing the game. For example, a player can decide to take the role of a hero, merchant, adventurer, or mage in the universe. These players must then battle in a bid to save their homes as they earn experience and points. 
Like many similar games, it has concepts of NFTs, which people can use to buy and sell. In the end, people are rewarded using the WARRIORS Token.
Adax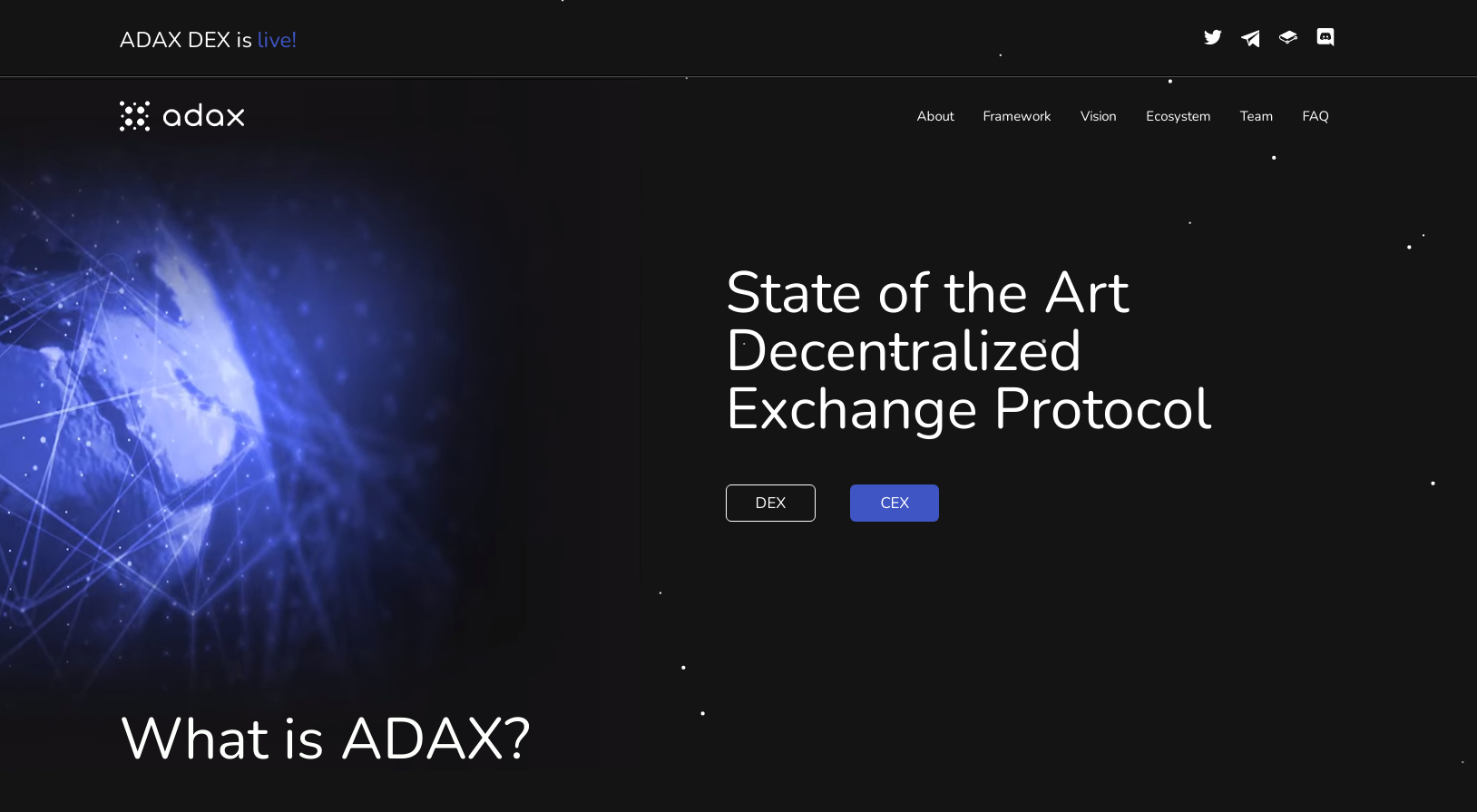 An automated market maker (AMM) is an important part of decentralized finance in that it helps to ensure that other projects run smoothly. It provides liquidity to these platforms and helps to ensure that costs are a bit mitigated. 
ADAX hopes to become the biggest AMM in the Cardano ecosystem. It is different from other platforms in that it does not have an order book, meaning that it can exclude all intermediaries. As a result, buyers can take control of their tokens. 
Another feature is that it has an ERC converter that enables users to migrate their ERC token to Cardano's ecosystem. ADAX also runs a decentralized and centralized exchange. Still, Adax is a relatively small platform with a TVL of less than $15,000.
Doex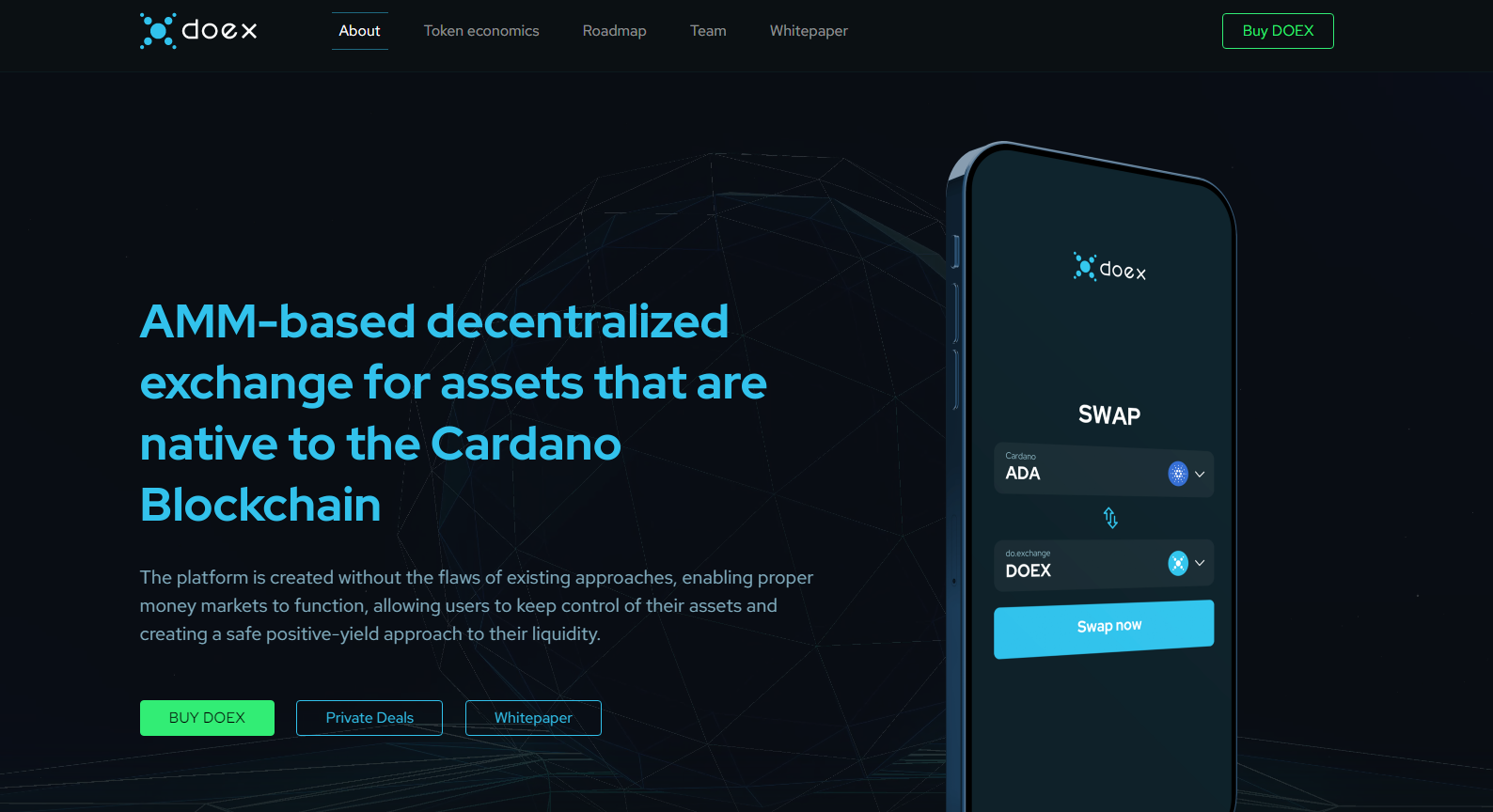 Doex is a blockchain that is similar to Adax. It is an AMM-based decentralized exchange for assets built in Cardano's ecosystem. Some of its key features are a single liquidity pool, automated babel fees redemption for Stake Pool Operations (SPOs), and trade routing. 
Another feature the network has is the ADA-ERC-20 token bridge, which allows investors to move their tokens to Cardano's ecosystem. This is an important feature because of the significant market share among ERC tokens. 
Doex has a native cryptocurrency known as $DOEX, which will be used to power the ecosystem. Its total supply will be capped at 140 million. According to CoinGecko, it is a small platform that has a market cap of over $3.5 million.
Summary
Cardano is one of the biggest cryptocurrency projects in the world. In this article, we have looked at some of the top projects built on the platform. What we can conclude is that Cardano has a long way to go since most of its projects are quite small and in their development phase. 
The projects like Sundaeswap that have been launched are smaller than their peers in Ethereum and other platforms. Also, unlike Avalanche and Fantom, Cardano has not launched a fund to incentivize developers to build on its ecosystem. This means that the possibility of growth for the ecosystem will be limited.