Investing in cryptocurrencies has become an excellent way for people to make money. Today, there are millions of crypto investors, which explains why companies like FTX, Binance, and Coinbase have become multi-billion dollar companies. 
Bitcoin, the first cryptocurrency to ever exist, is the most well-known coin in the world. At its peak, it was worth over $1.1 trillion. While BTC is a good coin, it is highly expensive, with a single coin going for more than $40,000.
Therefore, for most retail traders, investing in such a coin is almost impossible since they don't have the full $40,000. Instead, they either buy fractional BTC or opt for other cheap coins. In this article, we will look at the best cryptos under 1 cent, which is a good option for long-term investors.
Why invest in cheap cryptocurrencies
The main reason why it makes sense to invest in cheap cryptocurrencies is because of correlations. The concept simply means that most altcoins have a close correlation with Bitcoin. As a result, their prices rise when Bitcoin rises and vice versa.
Therefore, if the correlation holds in the future, investing in a cheap coin will generate better results than buying BTC itself.
Another reason why many investors opt to invest in cryptos under a dollar or cent is that they tend to do well over time. While Bitcoin prices have been in an upward trend over the years, other smaller altcoins like Cardano, Terra, and NEAR formed more powerful moves. So, let us look at some of the cheap coins to invest in.
Shiba Inu (SHIB)
SHIB is a cryptocurrency that is classified as a meme coin. It was launched in May 2021 as the developers sought to create a viable alternative to Dogecoin. Shortly afterward, the coin's price surged and then dropped to an all-time low of $0.0000050. 
Shiba Inu's price then started rebounding in September 2021, pushing its price to a record high of $0.000088. At the time of writing, it has retreated and is about 74% below its all-time high.
SHIB is a controversial coin because it does not have any intrinsic value like other coins like ETH and XRP. Instead, people buy it because of how cheap it is and the expectation that its price will keep rising in the future. Also, they have been inspired by the sharp rally and resilience of Dogecoin.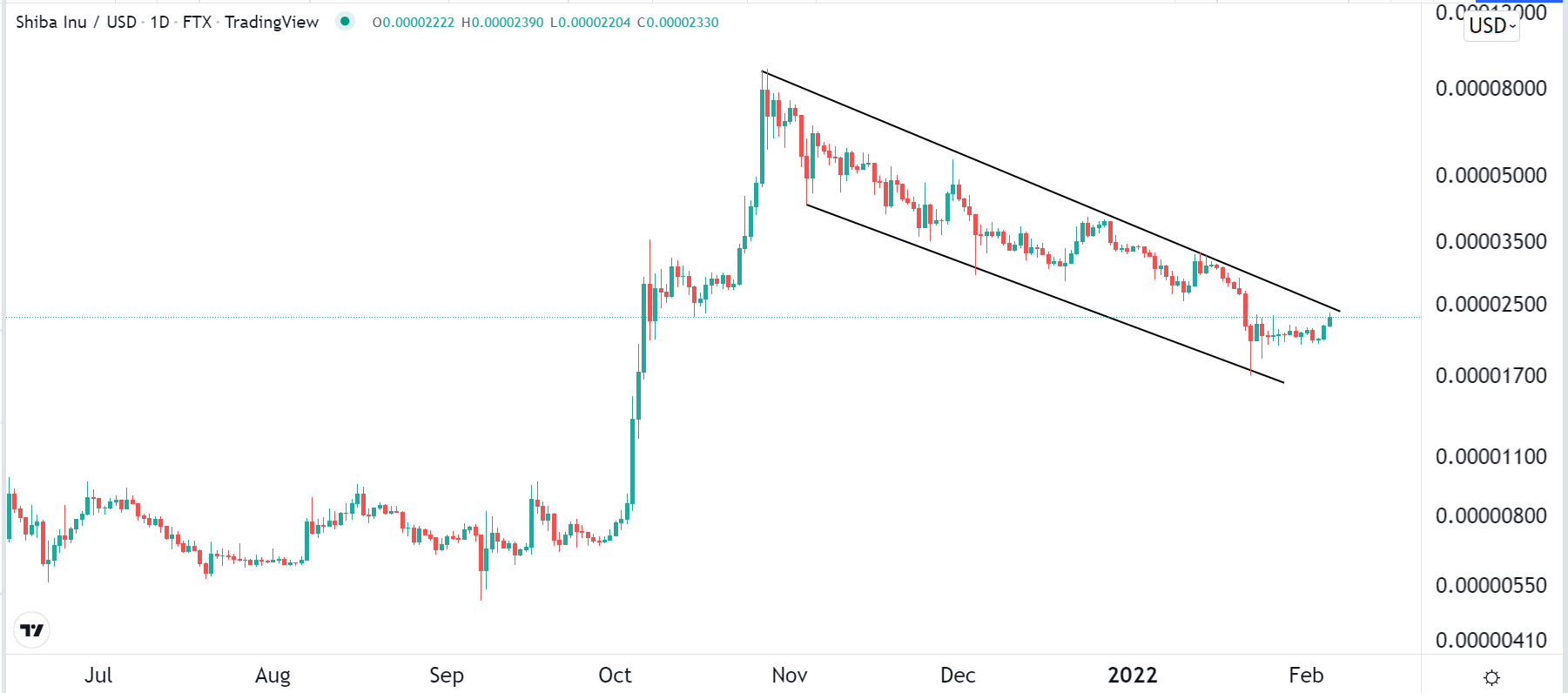 Another reason why SHIB is an attractive coin is based on its chart pattern. As shown below, it has formed a descending channel, which is often a bullish sign if the breakout upwards occurs.
BitTorrent (BTT)
BitTorrent is a software platform that has been around for years. Its platform is used to download media and other files from torrent websites like PirateBay.
Justin Sun, the founder of Tron, acquired the software in 2018 for $180 million and helped to transition it to a blockchain powerhouse. He achieved that by building BTT, a cryptocurrency that customers can use. Holders of the coin receive faster speeds and the ability to vote on key issues. 
BTT is trading at $0.0022, bringing its total market capitalization to over $2 billion. It is a good coin to buy because of the plans laid by Sun. Its developers are building its smart contracts platform that will help other developers build decentralized apps. Also, unlike other coins, it has utility value in that it is widely used in BitTorrent's ecosystem.
eCash (XEC)
One goal for cryptocurrency developers has been to build coins that promote personal privacy. However, a coin like Bitcoin is not all that private since transactions can be tracked. For example, in 2021, the FBI managed to track funds that Colonial Pipeline paid to hackers.
There are some coins that ensure the privacy of transactions, like Monero and Dash. eCash, formerly known as Bitcoin ABC, is another one. It is a privacy-focused coin that enables people to send money with each other anonymously. Its transactions cannot be tracked because of the complex encryption that has been used to build it.
The eCash coin is trading at $0.00008 and is approaching its all-time low. Analysts cite its performance to the fact that most privacy coins have underperformed in the public market. Still, if the correlation between BTC and other coins remains, there is a possibility that its price will rally.
Safemoon (SFM)
Safemoon is another popular digital asset. In 2021, it moved from obscurity and became one of the top 100 in cryptocurrency ranking. It is an under 1 cent coin that is trading at $0.01, giving it a market cap of more than $982 million.
Safemoon is a cryptocurrency project built on the Binance Smart Chain network. It is a DEFI protocol known for its high fees. Transactions are charged at 10%, with 4% of these going to existing holders. 3% of the cost is added to liquidity, while 2% is burned. The final 1% is added to the ecosystem fund. 
While Safemoon is considered a high-risk asset, it makes a good investment to buy, especially if its ecosystem continues to expand.
Holo (HOT)
Holo is a blockchain project run on Holochain protocol. Holochain is a platform that is used to create peer-to-peer applications in various industries like communication, local economies, energy, and payments. Some of the projects built on Holo are Health Commons Connect, Red Grid, and Junto. The price of the Holo token is $0.004, giving it a market cap of  $895 million. That makes it the 108th biggest coin in the world.
Summary
According to CoinGecko, there are more than 12,300 cryptocurrencies in the world. While the top coins like Bitcoin and Ethereum get all the attention, there are other smaller ones beneath the surface. In this article, we have looked at some of those coins that are trading below 1 cent. Because of the associated risks, we recommend that you only invest a small portion of your funds in these coins.