As humans, we are naturally social beings, which means we have an inherent need to belong. Brands and clubs have always tried to tap into this need in order to engage their fan base. In the days of old, one would have a membership card that they would physically carry around in their wallet. These clubs have embraced a digital version of this membership card, the fan token in this digital age.
About the fan token
A fan token is a cryptocurrency that grants the holder membership privileges to their favorite football club, racing team, or even music club. Holders of fan tokens can get to participate in their club's governance by voting on some club decisions. They may also receive some branded merchandise from the club, rewards, and experiences. Since they are essentially cryptocurrencies, these tokens often rise in value when the club posts exemplary performance. Therefore, one can stand to make a profit if they resell them on exchanges. 
Most fan tokens can be found on a platform called Socios, which is powered by its native Chiliz coin. The platform hosts several fan tokens of reputable football teams such as Manchester City, AC Milan, Juventus, etc. To purchase one, you would first have to buy CHZ tokens, which you can then exchange for your desired fan token on the Socios app. Some fan tokens are listed on major exchanges, but the smaller ones are more likely to be found on decentralized exchanges like PancakeSwap.   
How it works
Essentially, the fan token works just like any regular crypto coin. It is launched through a fan token offering, likely on the Socios platform. At this point, it is sold at a fixed price set by the selling club or organization. It is later listed on exchange platforms, where its price becomes subject to market forces like demand and supply. 
Fans who buy these tokens get to enjoy a variety of privileges. They could vote on the club's merchandise design, the design on their tour bus, locations of matches or concerts, celebration music, and so on. The more tokens a fan holds, the more perks they enjoy. Some even have VIP privileges like special stadium seats or access to the stadium grounds.
Most popular fan tokens in 2022
Manchester City fan token (CITY)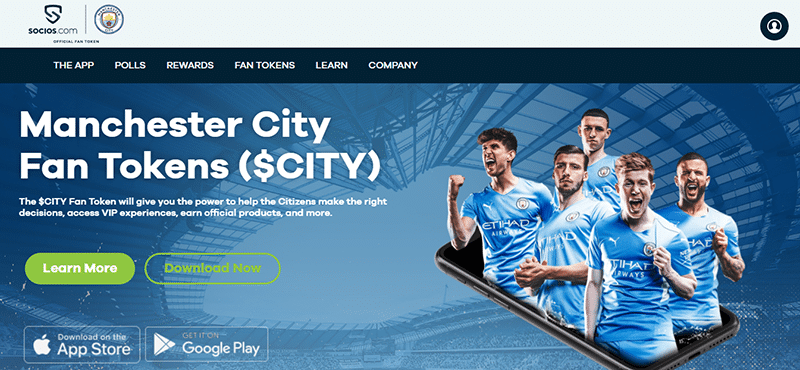 In 2021, this token was created to mimic the club's success on and off the pitch. For instance, at the beginning of the season, it was rumored that the football legend Christiano Ronaldo was joining the club. This caused a significant spike in their fan token's price, which soon retraced after he joined their rivals instead, Manchester united. 
Nevertheless, the club regularly posts exemplary performance, as evidenced by their four Premier League titles. They are also in the running to win this year's title as well as the Champions League. Holders of this token can vote on the message on the captain's armband, watch matches from the VIP section, visit the player area of the stadium, and get discounts on the club's merch.     
Paris Saint Germain fan token (PSG)

Launched on Socios in 2020, this is a fan token of the famous Paris Saint Germain (PSG) football club. This coin holder receives the club's NFT badges and VIP tickets to their matches. They also vote on the message on their captain's armband, goals of the year, and other in-club awards. They can also stake the coin for NFT rewards. In the future, holders of this coin will be able to redeem the token for PSG merchandise.
Notably, this token posted exemplary performance in the months leading up to August 2021. This was after a rumor that Lionel Messi was joining the club, which saw the token's price hit highs of $55.31.
Inter Milan fan token (INTER)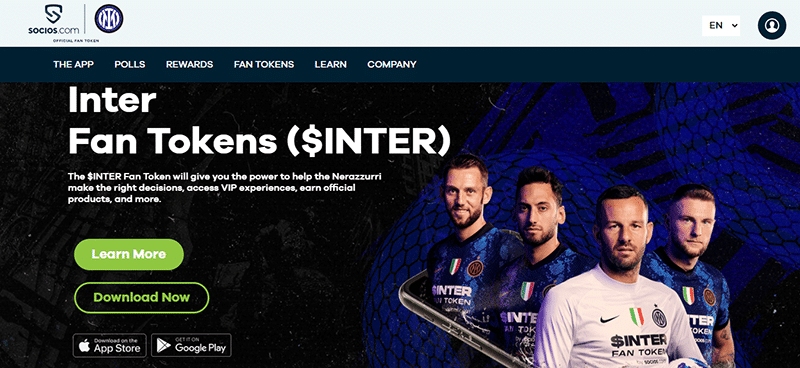 This is a fan token of the famous Italian football club, Inter Milan. It is hosted on Socios but can also be bought on exchanges such as FTX, Paribu, and Chiliz. Holders of this coin get to influence some of their club's decisions, such as choosing the song to play each time they score a goal. They are also awarded experiences such as meet and greets with the players, VIP seats, and stadium grounds access, just to mention a few. At press time, this token is trading at $8.37.  
FC Barcelona fan token (BAR)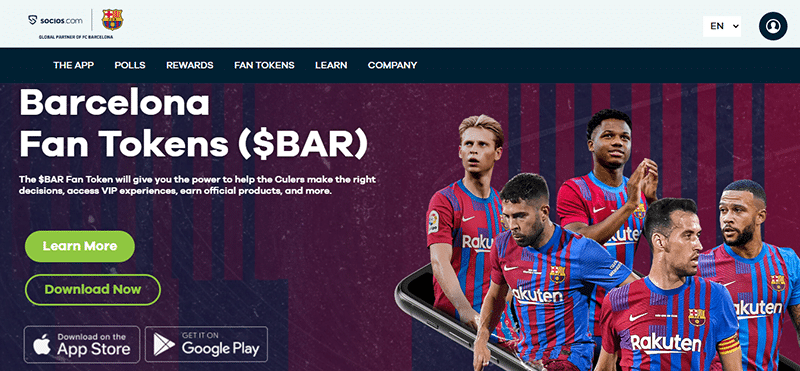 Launched in 2020, this token originally sold for 2 euros at its launch. A few hours later, all 600,000 coins had sold out, grossing $1.4 million in sales revenue. At the time of writing, it is trading at 6.84 euros. Holders of this coin get to vote on several interesting club decisions, such as the design of a new mural painted in the team's locker room, the message on their captain's armband, etc. 
Holders who engage with the Socios app also get rewarded for their every activity on the app. The points they earn can be used to buy exclusive club merchandise or access rare events. Recently, 22 lucky holders of the coin were chosen to play a match at the club's Camp Nou stadium. 
S.S. Lazio fan token (LAZIO)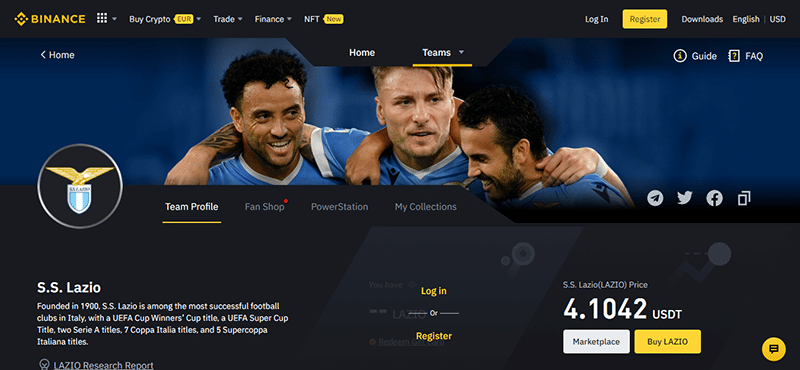 Launched on the Socios platform, this is a fan token of Lazio football club, a popular Italian soccer club known for its rich history. Token holders get to participate in decisions such as the message on their captain's armband, matchday playlists, etc. They also stand to win VIP tickets to matches, discounts on club merch, access to the player area, and much more. Notably, this token is also listed on Binance, the biggest crypto exchange.    
Conclusion
Fan tokens are cryptocurrencies created to grant membership rights to fans of a sports club, music club, or any other fan-based organization. Holders get to vote on some club decisions and access to once-in-a-lifetime experiences. These tokens can also afford them discounts on club merchandise. They tend to rise in value with the club's exemplary performance and hence can be resold for profit.