The foreign exchange or forex as it is called, is arguably one of the of most popular and largest financial market systems in the world and is also a lucrative sector to a sizeable minority of traders in the world. Because the exchange rates fluctuate so rapidly in this market, the volatility allows traders to amass huge fortunes through profitable trades. Being successful in this trading market requires an ample amount of experience, knowledge and skill, which does not come naturally to most of the traders in the world.
To fill up that void, software such as Forex EAs have been developed to help novice or inexperienced traders to trade successfully. Thus, a good Forex EA application would exploit the market in a balanced way, eliminating the influence of human emotions and judgment while making a trading decision. There are various similar applications in the market, with one of them being Volatility Factor 2.0 PRO.
Company and Website Overview
Volatility Factor 2.0 is a Forex EA with a proven track record of industry leading performances. A major accolade that makes it stand out from the rest of the competition is its 75% win rate, a figure it achieved after seventeen years of real world- testing.
The website looks professionally designed and managed and is one of the best organized websites in this industry. The team provides a lot of information related to their pricing, past accolades and a list of benefits and advantages that they provide. These include
Improved Profit Protection System
Increased trading Frequency
High Impact News Filter
Unique Broker Spy Module
Advanced Time Management System
and a host of other benefits.
There is also a separate blog section which can act as an educational resource for newcomers. However, apart from this, very little information is given about the company's background or the team behind it, which is not uncommon. There is a detailed FAQ page and a Contact Us page with their email mentioned.
Trading Features
There are some unique features present in Volatility Factor 2.0 that make it a cut above the rest. A lot of it has to do with its proprietary algorithm.
Trading Algorithm: Volatility Factor 2's algorithm can be described as a combination of three major profit points: the prevailing level, the controlled drawdown and raw computational power.
The first point deals with the prevailing level, as currency price levels tend to move within a predictable range, generating a stable set of variables that are easy to model.
To make the model correct, the platform can automatically detect the volatility range and its prevailing level. The second point is the controlled drawdown, in the situation that the market breaks out of its normal range of volatility. Volatility Factor 2's money management logic watches the trades carefully and can then systematically close each one of them with a minimum drawdown.
The last point is raw computational power which allows the trading algorithm to work at a much faster level. This allows it to quickly model the market, delivering three to four trades per session which can add up to approximately 1000 per year.
Broker Spy Module: The Broker Spy Module is also mentioned as one of the benefits of using these applications. It is a game changing tool for protecting the user and their capital from unethical brokers. It provides the user with comprehensive order statistics that can alert the user if a broker is trying any under handed tactics.
Other Tools: There are a host of other tools provided, each aimed at providing users with either security or convenience. These include a spread protection system, slippage protection system, time management system, a high impact news filter, high trading frequency, and a highly efficient money management tool.
Trading Strategy
The website has mentioned that the platform delivers a truly balanced strategy, the details of which are not provided clearly. It is an expert strategy that generates 10 to 15+ pips a trade, only using proven trading strategies.
Backtesting/Trading Results
The vendor has provided details of a demo account on myfxbook, from a period ranging from April 8th, 2015 to April 5th, 2019. The graph shows an almost ascending staircase like pattern, with the level stabilizing from April-May 2017.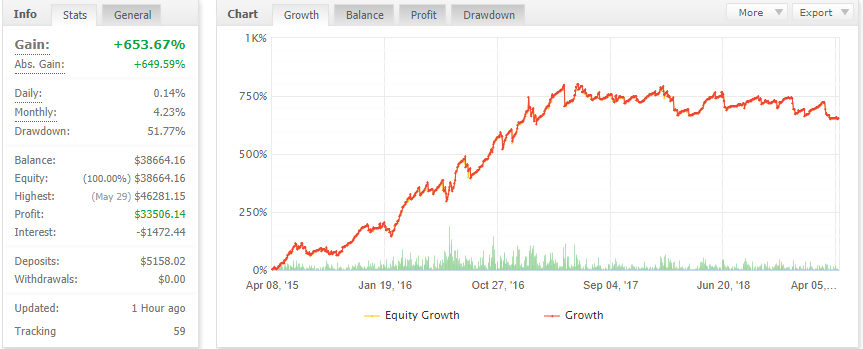 The Account shows gains of 653.67% which amounts to $33506.14 USD in profits. The monthly drawdown is indicated to be 51%.
Advantages of Using this Platform:
After looking over the various features of this platform, there are some benefits to using this platform over the others. These are excluding the ones highlighted by the company itself.
Minimal Computer Hardware requirement
Can be used with any NFA regulated broker
Micro, Mini and Standard Accounts Available
Fully compliant With NFA and FIFO regulations
Disadvantages of This Platform:
Limited to only 4 currency pairs: GBP/USD, EUR/USD, USD/JPY and USD/CHF
Cannot run without MetaTrader 4
Stable Internet Connection Required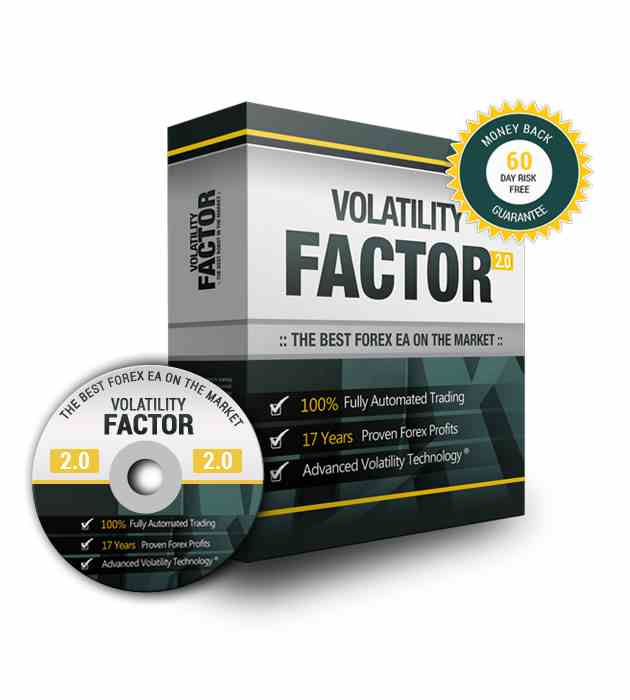 Verdict
Overall Volatility Factor 2 with its myriad of benefits and features seem to be a good choice for traders wanting to make it big in the Forex. The powerful technology and professional grade tools to cater mostly to experienced traders. Its simple design, user friendly interface and easy to install process make it usable for novice traders too.