Waiting Night is a fully automated expert advisor sold on the MQL5 website by Marat Baiburin. It uses a scalping strategy that utilizes price actions, various indicators, and tracking of positions. The seller claims that this approach makes this system flexible and open to configuration. To better understand this EA, we will give you a detailed review of its essential aspects.  
Product offering
The vendor is not very transparent about their trading technique and only provides the readers with a general overview. Moreover, they fail to share proper backtesting results, which indicates a lack of good practices. 
Vendor transparency
Waiting Night is owned by an individual named Marat Baiburin. Their MQL5 profile suggests that they are based in Russia. The author has a rating of 4.7. They provide us with no credentials like company address or telephone number. Customers can only reach them through their Skype account or Yandex email.
Price
Traders can get the robot, currently at a 50% discount for 199 USD for lifetime usage, or they can opt to try a free demo first. Payments are accepted through PayPal, UnionPay, Visa, MasterCard, and Web Money. The sold version only works with Windows operating systems which reduces cross-device compatibility. 
Vendors provide no information about the availability of 24/7 customer care, a detailed user manual, or a money-back guarantee, all of which are essential. This raises some concerns about this bot.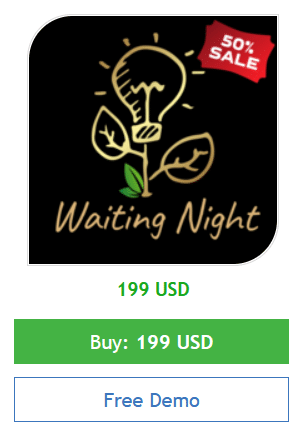 Trading strategy
The developer states that the robot trades on 12 currency pairs including USDCAD, USDCHF, USDJPY, EURCAD, EURCHF, EURUSD, EURGBP, EURAUD, GBPUSD, CHFJPY, AUDCAD, and AUDUSD. It uses pending orders to reduce slippage on trades and requires a minimum of $100 to trade. All the positions are closed within 3-5 hours from inception.
The live records show us that the system trades after the New York close towards the beginning of the Asia session. It uses currency correlation and averaging techniques.

Trading results
Backtesting results for the GBPUSD currency pair have been provided: (2003.01.01-2022.03.19), using a tick-quality of 99.90%. The results depict that an initial deposit of 10000.00 was turned into a total net profit of 10836.30. Gross loss was reported as -6298.40, which is relatively high. 
The maximal drawdown experienced during this time frame was 0.81%, which is unrealistic. The profit factor stood at 2.72. The largest profit trade was 59.70, while the largest loss trade was -101.20, much higher than the former. The system participated in a total of 3862 trades.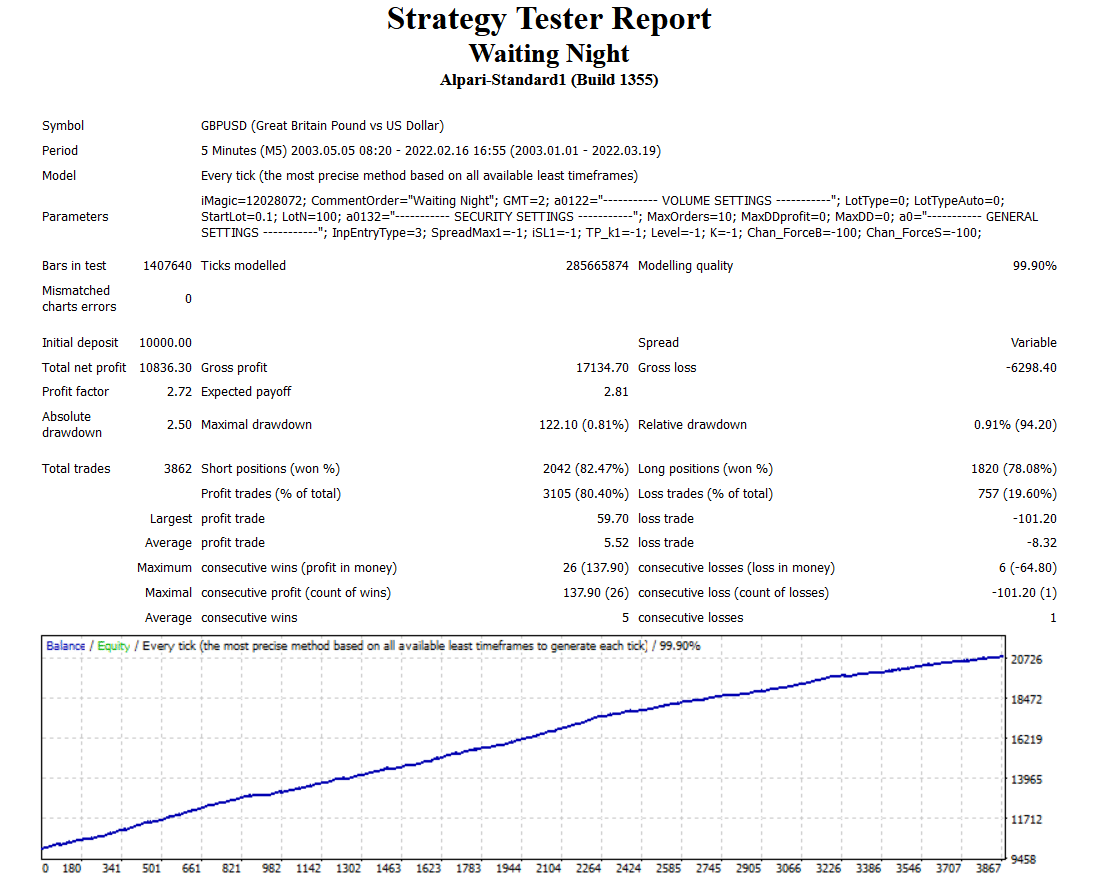 Verified trading records are available on MQL5 that show performance from January 12, 2022, till the current date. The system made an average monthly gain of 6% for the period, with a drawdown of 3.4%.
The winning rate stood at 75%, with a profit factor of 2.39. There were a total of 160 trades where the system has a sharpe ratio of 0.33. 

Customer reviews
We could not find any reviews about this system on trusted third-party sites like Forex Peace Army and Trust Pilot. However, one of the reviews on the MQL5 marketplace suggests that this bot has some serious issues with broker compatibility, which can become a cripple. This is concerning. 

Pros
Backtesting records provided
Cons
Live trading results are not provided
No detailed information about the working strategy
Verdict
Waiting Night is not very transparent about its working strategy. Also, the vendor fails to provide proper contact credentials. Additionally, the use of averaging techniques can increase the drawdown if the market moves in one direction with momentum.