Waka Waka is an MT5 trading tool that uses an advanced grid method for making successful returns. As per the developer, this system was created to capitalize on the market inefficiencies. It employs real market mechanics for better profits. This FX EA works on the NZDCAD, AUDCAD, and AUDNZD pairs. 
Product offering

Valeriia Mishchenko is the developer of this FX robot. As per the info on the MQL5 site, she has developed 4 products and 15 signals. Night Hunter Pro is one of her other products. The developer is based in Russia. We could not find contact info like a location address or phone number.  On the official site, the developer provides info concerning the pricing, features, installation tips, requirements, and more. 
Important features of this ATS include a single chart set up for all currency pairs and easy-to-use software. The developer claims that the EA has a solid performance in real trading and backtests. It is not necessary to adjust GMT when using this expert advisor.
Waka Waka
| | |
| --- | --- |
| Type | Fully-automated EA |
| Price | $599 |
| Strategy | Grid |
| Compatible Platforms | MT5 |
| Currency Pairs | AUDCAD, AUDNZD, NZDCAD |
| Timeframe | M15 |
| Recommended Min. Deposit | $1000 |
| Recommended Deposit | $5000 |
| Leverage | from 1:100 |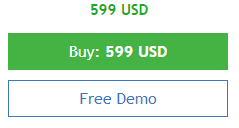 This ATS is available for $599. As per the developer, only one copy is left at this price and further copies will cost $699. A free demo offer is present. There is no other info present about the features available with the package. No money-back offer is present for this FX EA. This raises suspicion on the reliability of this MT5 tool. When compared to similar expert advisors in the market, the cost of this FX robot is exorbitant. Considering the system uses a high-risk approach like the grid we find it is not worth the money. 
Trading strategy

As per the developer, this EA uses an advanced form of Grid method which has produced good results on real accounts. This system capitalizes on real market conditions to reap high profits.  The explanation provided is vague and insufficient to understand the approach. 
This system is not affected by slippage and spread but the developer recommends using a good ECN broker for best results. For leverage of 1:100, the developer suggests using a $1000 account with a significant risk setting but for the leverage of 1:30, a low-risk setting is recommended for accounts using a minimum of $6000. 
Trading results
A few backtesting reports are present on the MQL5 site. Here is a strategy tester report conducted on the AUDCAD pair from 2006 up to 2021.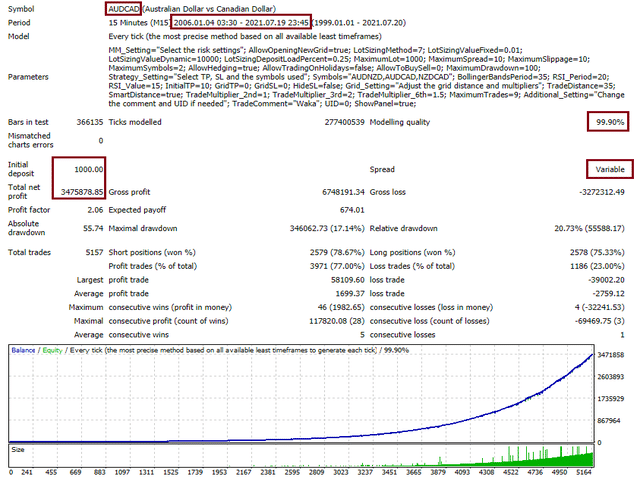 From the above report, we can see that the EA had generated a total return of 3475878.85 for an initial deposit of $1000. A total of 5157 trades were executed during the test with a maximum drawdown of 17.14%. A profitability of 77% was present for the account with a profit factor value of 2.06. From the stats, we can see that the FX robot had generated a decent profit with a drawdown that is not too high. But since the test was based on historical data, we cannot predict a similar result in real trading. 
The developer provides real trading results for this FX EA. Here is a real USD account using the ICE-FX broker and the leverage of 1:300 on the MT4 platform.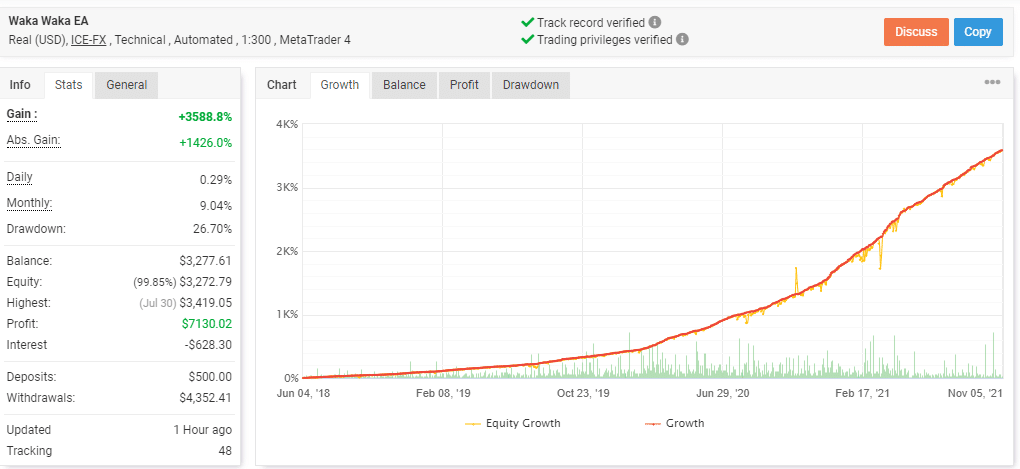 From the trading stats, a total profit of 3588.8% and an absolute profit of 1426.0% are present for the account that started in June 2018 has completed 2402 trades with 74% profitability. The profit factor value is 1.73. A drawdown of 26.70% is present which is high and indicates the risky approach used. 
The daily and monthly profits for the account are 0.29% and 9.04% respectively. Comparing the backtesting and live trading results, we find that the profitability is low while the drawdown is higher than the one of the backtesting stats.  
Customer reviews
We found 12 reviews for this FX robot on the MQL5 site. Here are a few of them:


From the feedback, it is clear that the use of the Grid method is risky. The reviews show users have blown up their accounts or suffered big losses. This corroborates our analysis that this system is not safe and reliable.
PROS
Fully automated software
Verified trading result
CONS
Uses high-risk Grid method
Real trading shows a high drawdown
Cost is expensive
Verdict
Waka Waka assures stable trading with low drawdown. But our assessment of the various aspects of this FX EA reveals it uses a high-risk approach that can easily blow your account. The high drawdown in real trading, negative user reviews, vague strategy explanation, and exorbitant cost of the EA are downsides that make this an unreliable trading tool.