Traditionally, forex trading has been a very male-dominant industry. Before the information era, the forex market only catered to a narrow segment of society, such as professional traders, brokers, and retail banks. However, the rise of online trading platforms over the last ten years has left a democratizing effect on forex. As a result, the financial markets are experiencing a better influx of women than ever before. Although they are comparatively below in numbers, yet women make brilliant forex traders. They can show a vast range of skills and temperaments that lend very well to forex trading. 
Why Women Are Better Forex Traders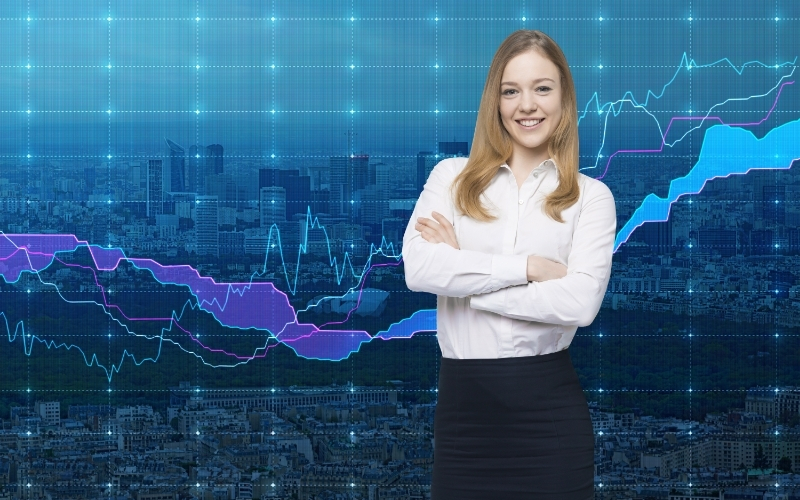 There are many reasons why women can be better forex traders than men. Some of the many reasons are discussed in brief below.
Women are usually more risk-averse
Although many would consider it a potential drawback, risk-aversion is crucial in forex trading. The entire field of risk management revolves around minimizing and managing risks. Psychologically, women appear to be more risk-averse. It means that they preserve their accounts and trade conservatively. A low-risk approach may be a slow approach in trading and will not earn you a fortune overnight, but it helps you to be a better and more consistent trader with time. 
Women are great at multitasking
During forex trading, the trader often needs to do multitasking like managing multiple positions, analyzing charts, tracking economic data, and monitoring other markets. Women prosper in this multi-tasking environment. Moreover, according to several studies, women are more collaborative than men. It makes them more suitable for trading the multi-faceted forex market.
Women stick to their strategies 
Sometimes, the best thing to do in trading is not making the trade, regardless of what your peers are suggesting to you. Women generally remain composed in critical situations easily, and they can say "no" to their peers more easily than men. It means that they are more likely to stick to their strategy instead of jumping into a trade they know nothing about. 
Women are detail-oriented
It is a common trait among women to pay attention to detail. Regardless of the type of task or situation in hand, they never fail to do this. Attention to detail is essential in forex trading for obvious reasons. While analyzing a currency pair or other financial instrument, women can avoid the self-imposed guidelines easily. Women also tend to make checklists, follow instructions, and ask for help when required. Due to these reasons, they can make informed trades. 
Women think long-term
There is a reason why the number of women day traders is low. The act to buy and sell an asset in a matter of seconds or hours involves uncertainty and an overwhelming set of risks that most women do not want to take. The idea of beating the market is probably not that appealing to female traders. Instead, they prefer to make balanced trades by using their skills and traits and create a long-term plan for accumulating wealth. 
Top Female Forex Traders
In the history of forex trading, a number of great women have shown the world how to be an outstanding trader. You can learn a lot from the experience of these best female forex traders.
Kathy Lien
Kathy Lien is the first name that comes up when we are talking about top female forex traders. After completing her studies at the NY University Stern School of Business, Kathy started working at Wall Street at only the age of eighteen. During her career, she worked very hard for thirteen years in the financial markets. Her main focus was on the G20 currencies. Kathy played an important role in creating multiple popular trading platforms, and gradually she became a very famous name in the forex world. She has also published many books during her highly successful career. 
Raghee Horner
Raghee Horner is one of the most valued contributors in the world of forex. She mainly focuses on forex, futures, and currency ETFs. Raghee started trading at a very early age. She was still in high school at that time. With her amazing skills, she would draw charts by hand and calculate all indicators on her own. 
Linda Raschke
Linda Raschke has been in the field of professional trading for many years. She started trading in the early 1980s. With her long history in the market, Linda has worked in stock options every actively for many years. She was very active as an employee of the Pacific Coast Stock Exchange and the Philadelphia Stock Exchange. After working under these two exchanges for a total of six years, she started trading independently as a day trader. Since then, Linda has founded many companies and also greatly influenced forex trading development. She is considered one of the best traders of all time. Linda has written several books about her personal life, experience, and trading. 
Jennifer Fan
Jennifer graduated from the business school with a degree in finance, operation research, and statistics at only the age of nineteen. She has experience of working under many famous people on the market. Therefore, she learned from some of the best people. Today, Jennifer Fan is a hedge fund manager. She specializes in finding relative value in energy and agriculture markets. By working since her early twenties, she has been a very successful trader and worked for many well-known companies. 
Abigail Johnson
Abigail was born in a family that had a very long successful financial history. She is the daughter of Edward C. Johnson III, who is the Chairman of Fidelity Investments. Abigail's grandfather founded this company. She became the CEO of the company a few years ago, and she has been running it very successfully. Although her family history helped her become very successful in the forex market, she has also worked very hard to be who she is today. 
Conclusion
Not all women become great traders. As for now, the number of great female traders is still lower than men. However, a certain set of ladies' skills and attributes can make them better traders than men in the financial markets. The success of the women mentioned above is very important in this predominantly male market. They give women hope that they can also be successful if they put their effort into it.