Among the free robots that allow you to automate the work with cryptocurrency, Zignaly stands out. This bot helps thousands of traders earn money, including you. To do this, you need to carefully study all the characteristics and features of the trading tool. Our Zignaly review will help you with this.
About Zignaly
The cryptocurrency market is brimming with companies that provide traders with quality trading tools to automate their workflow. One of them is Highend Technologies LLC. In 2018, this company introduced its Zignaly trading robot, quickly gaining popularity and becoming an indispensable assistant for thousands of traders. The developer of this bot is registered in Kingstown (Saint Vincent and the Grenadines). According to the information available on the site, the main office of Highend Technologies is located in this locality. This company generally conducts relatively close work, so it is impossible to find various details about its activities. There needs to be more information about the number and qualifications of employees supporting the bot's performance.
Zignaly is a classic cryptobot. It works according to a pre-built strategy by the developer or the trader. Bot services are provided using the cloud. Thanks to this, it is possible to access it from various devices. This trading tool works with a large number of cryptocurrencies. This increases the number of trading options available and guarantees the product's attractiveness for the most sophisticated users.
Zignaly robot services are entirely free. This means traders are not charged for registration, purchase of service packages, or operation of the robot. Also, users will not pay a commission on each transaction. This feature is both a plus and a minus. The positive point is that even people with minimal financial capabilities have access to work. At the same time, the negative is that the developer will remain in the black, but no one knows how he will do it (most often, profit is received from partners or the sale of statistical data).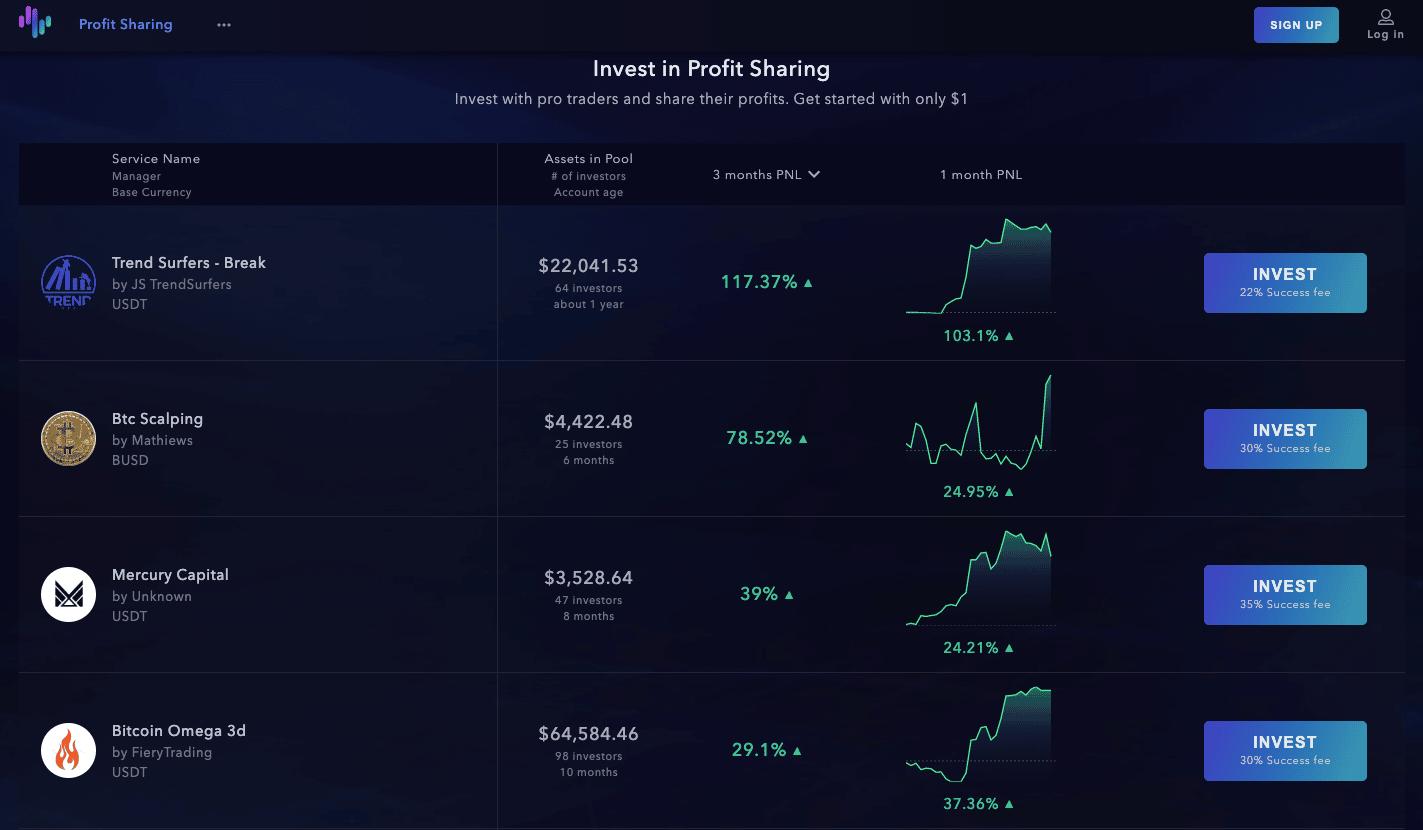 Important features
To unlock all the possibilities of the Zignaly trading bot, you must prepare for its operating correctly. To do this, you must perform specific actions and follow their correct sequence.
Sequencing:
Find the Zignaly website in any way.

After going to it, look for the "Sign up" button at the top of each page.

Click on it, opening the registration form.

Fill in all empty fields and click "Register.»

After that, you will receive a letter with a registration confirmation code to the specified e-mail.

Please enter it in the appropriate field that will appear instead of the registration form.

Log in to your account and open the settings section.

Set additional security settings, set up notifications, check the accuracy of previously entered data, and complete the profile page with missing information.

Save the changes, and then connect the robot to your exchange account.

Choose the optimal trading strategy and launch the bot.
The Zignaly bot has many exciting features. Not all users know about them, so we are happy to share this information with you.
Important features:
Methods of communication. Despite the relatively closed nature of the developers, they provide customers with many ways to communicate. Most often, traders use online chat. With it, you can contact the operator and get answers to any questions. It is worth remembering that operators only work around the clock. Because of this, communication with them is available only at certain times. In addition to chatting, customers can use e-mail, Telegram, and social networks. In each case, the answers come within 10-120 minutes.

Security conditions. Zignaly is a trading robot that does not have direct access to your money. This virtually eliminates the possibility of losing funds from the account. Another advantage is the need to provide a minimum of personal information. This makes it possible to work calmly without fear that your data will fall into the hands of scammers.

Educational materials. Zignaly has a fairly extensive database of educational content. It includes many analytical articles and texts on the topic of trading. In addition, customers are provided with a detailed guide for setting up and operating the bot. As a bonus, registered traders have access to reviews of crypto exchanges.

Cross-platform. Zignaly cloud to you to access the robot from any device. To do this, it is enough to have a stable Internet connection and the ability to use a web browser. This feature allows you to change settings, control the bot's operation, withdraw earned funds and perform many other actions in any convenient place (for example, in public transport, on the street, or between work breaks).

Settings. Zignaly allows traders to build a bot action algorithm independently. This option is ideal for experienced users who have sufficient manual trading experience. Beginners are advised to choose one of the standard strategies that the robot has. All of them are time-tested and guarantee good results.
Making money without much effort is the dream of every trader. To make it a reality, you need to use the Signal bot. It automates the cryptocurrency trading process and takes it to a new level. Thanks to this, everyone will get a good profit and leave much time for more exciting activities.
Verdict
If you have read various Zignaly reviews, then you probably know about this robot's advantages. We have slightly improved this information by adding several significant benefits to the list, which become noticeable only after you start using the trading tool. Zignaly also has significant drawbacks.
PROS
variety of trading strategies
access from any device
ease of setup
positive reviews
a large number of clients
clear interface
a wide range of cryptocurrencies
quality educational materials
excellent work of the support service
free access
CONS
minimum information about the developer
there needs to be more information about how the company makes a profit