This new expert advisor is advertised as a must-have trading tool for those who are willing to make 'tons of money with doing nothing at all.' The robot makes use of technical signals for its entries and exits. The developers of this EA believe that 100% Monthly EA can easily increase our odds of winning.
Is this EA a good trading tool to invest? Is it worth its price? What trading risks does it involve? Keep on reading our unbiased 100% Monthly EA review to get all the necessary info you need to know to make a wise investment decision.
Product Offering
Their product presentation includes several sections that could be divided into features, trading results, pricing, contact details, and what to expect from this EA. We could not find any information about the developer or a team that stands behind this FX tool. The vendor failed to provide any sort of information, which could increase the trust level of the recently launched system. Lack of transparency is not a good sign for this EA.
To get in touch with support traders have to email [email protected] or fill out an online contact form on their website:
This EA follows a simple setup and installation process. After purchasing this expert advisor you can immediately start trading with it. The dev claims that the system is easy to use both for experienced traders and newbies.
To start trading with this EA you need:
Buy the EA copy

Download and install it

Attach the system to your MT4 account

That's all.
The developer points out the following features of this MT4 tool:
The system promises a 100% monthly return

It was designed to work on the MT4 platform

It uses technical signals to enter in trades and performs trades fully automatically for you

It includes the opportunity to make unlimited profits with a single set up

No prior trading experience is needed to trade this system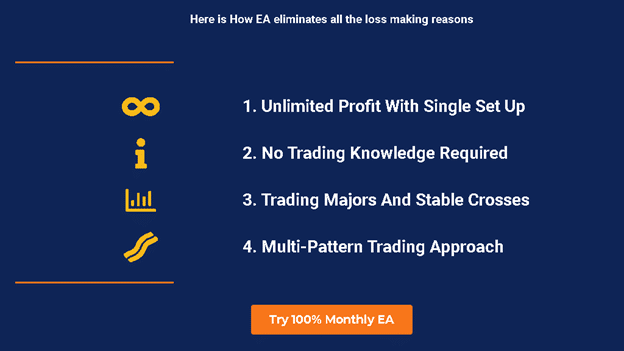 There are 3 options to try this EA offered: Get Signals, Rent EA, and Buy EA. The Get Signals package comes for $35 per month. It includes daily signals, accurate entry levels, updates, profitable trades, and 100% monthly potential. Signals are available in all trading sessions. The Rent EA package comes for $79 per month and includes automated trading, accurate and precise entries, automated trade and risk management, and a 1-time setup. The Buy EA package is sold for $1399. It includes the same features as the Rent EA plus additional ones: unlimited profits and one-time fee and setup. A money-back guarantee is included, but the information provided looks odd: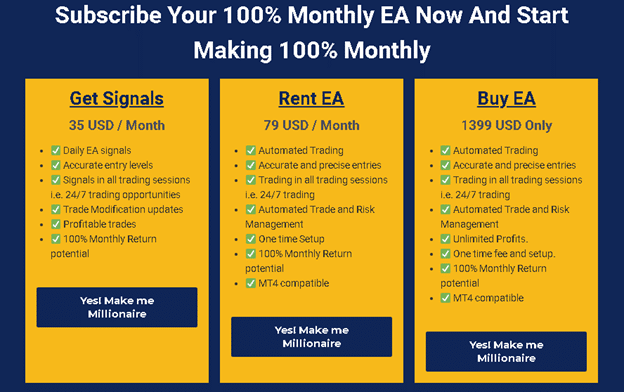 Compared to the other EAs available on the Forex market, the price of a lifetime license of this robot is exorbitant and we do not think it is a worthwhile investment solution.
Trading Strategy
It comes with a multi-pattern trading approach. The vendor failed to provide us with detailed information about how the approach works. Thus, it is difficult to understand the strategy used and its effectiveness. Neither timeframe, minimal leverage nor recommended deposit details are provided. The one thing we know is that the robot offers trading majors currency pairs and stable crosses.
Trading Results
The developer provided us with 3 backtest reports for EUR/GBP, GBP/USD, and NZD/CAD currency pairs. Let's analyze the EUR/GBP in detail.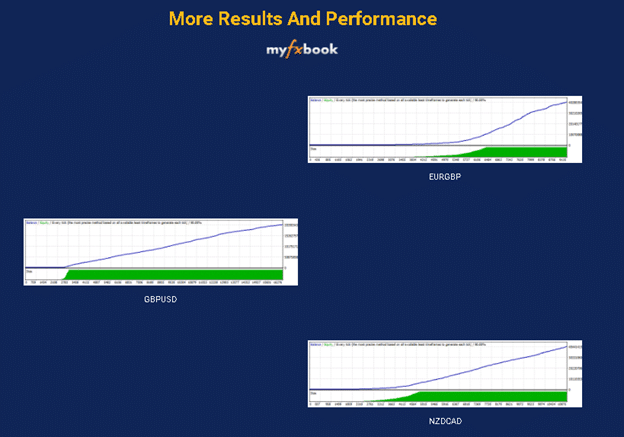 The backtesting started on January 2, 2020, and lasted for a little bit more than one year. The modeling quality is 90%. The account traded under the RoboForex broker with an H4 timeframe. The account was deposited at $1K. A total profit was over $6.35M and the daily and monthly profits were 2.38% and 102.53% respectively. The robot traded with acceptable drawdown – 19, 97%. The system traded 11619 trades and won 63% out of them. The profit factor was high – 4.64%. The win rate for Long trading positions was 63% and 62% for Short trading positions. The average win was significantly higher than the average loss: 4.14 pips/$11097.79 and -1.26 pips/-$4001.35 respectively.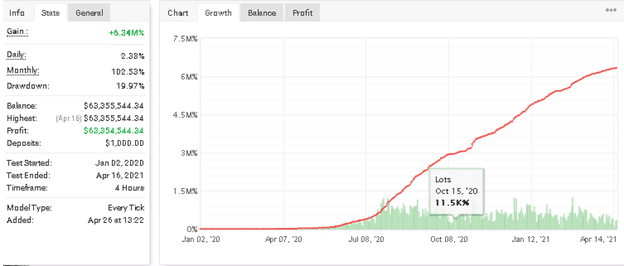 The robot traded with minimal risks to the account balance and a high fixed Lot size of 500. This trading approach is too risky for trading. As you can see on the screenshot below, there were significant losses that ranged between $4000 and $10000.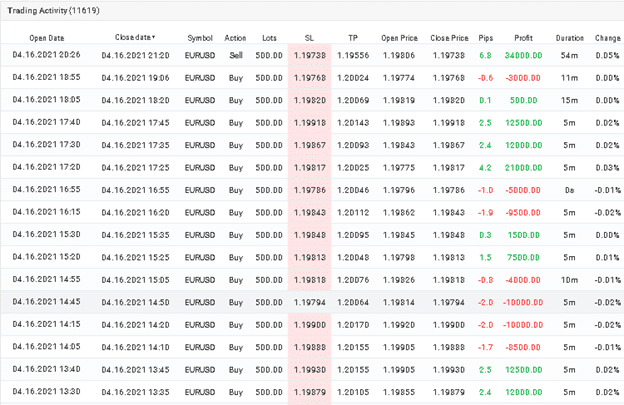 Verified trading results of the robot are also revealed on the website. The developer provided a link to the fxblue trading account.

The account was created on April 26, 2021, and was deposited at over $3K. From the trading stats, we could see the total return is 140, 3%, monthly return is 216% and weekly return is 31, 5%. The robot generated over $3K of profit. The peak drawdown is 12,7%, which is acceptable for trading. The profit factor is high – 2,27. The average trade win is also high – 82, 6%. The robot trades multiple currency pairs. The most traded ones are EUR/GBP (22, 1%), GBP/CAD (20,8%), and EUR/USD (26, 6%).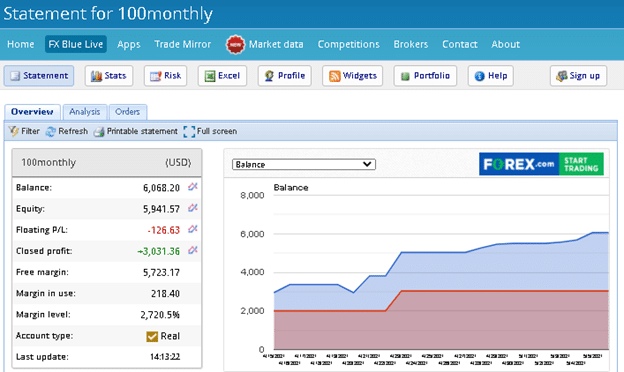 A risk to reward ratio is 5, 89. The average trade frequency is 21 hours. The robot traded 289 trades. It places 13 trades per day. The average loss is twice higher than the average win.

The expert advisor uses 3 strategies for trading:

Customer Reviews
The 100monthly.com website has a page on Forex Peace Army. It was created on April 29, 2021.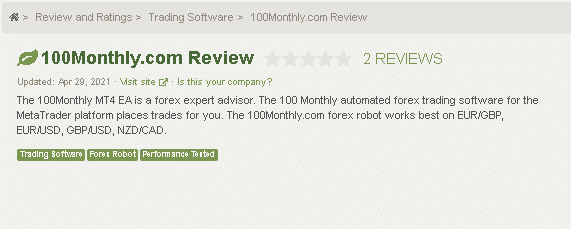 There are two reviews from their customers. One of them is positive when the other one is negative. From the positive review, we know that the risks involved are lower as compared to profit. The other trader complains about the big drawdown. A user states it is 'evident from the test procedure'.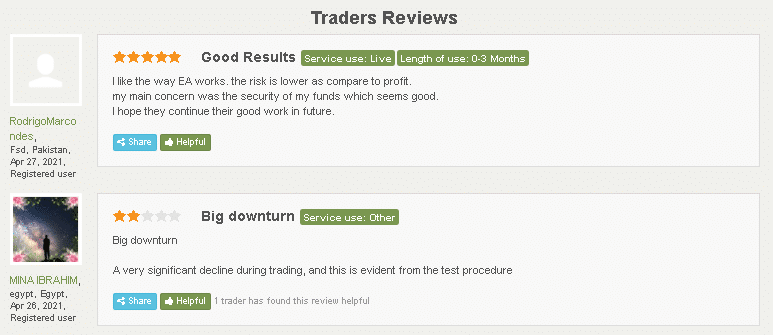 PROS
Backtesting reports provided
Verified trading results
CONS
Lack of vendor transparency
Extremely high pricing
Undisclosed trading strategy
Unclear money-back guarantee
Lack of customer reviews
Risky trading strategy on the board
Verdict
Summing up our review, we can say that the system is extremely expensive and does not show good trading results and smooth trading performance that could justify its sky-high price. Lack of vendor transparency, trading strategy details, and accurate money-back guarantee information are the other drawbacks of this trading tool. A trading history of 22 days is not enough to say something for sure. We need several months to gather more data to analyze and gauge the performance effectively.