Agimat 2020 is a commercial trading system that can be purchased at agimat-trading-system.com for 174 euros. The package includes licenses for two MT4 demo or live account installations, product updates, customer support, installation manual, system manual, trade copier and you will receive author's live trades via telegram channel. According to the author, it is a scalping system that is based on volume and price action indicators. They are claiming that the system accuracy (win rate) is 90%.
The trading system has many positive reviews on respectable forex related reviewing websites. The current version 2020 is a new major update. The first version was introduced in 2016 while two years later the first major update was released. The system itself has a large base of customers and it has an affiliate program. The official website is showing many trading journals as proof about the system's success.
Product Offering
| TYPE | Forex Indicator |
| --- | --- |
| STRATEGY | Scalping |
| COMPATIBLE TRADING PLATFORMS | MetaTrader 4 |
| CURRENCY PAIRS AVAILABLE | Any |
| TIMEFRAME | Any |
| PRICE | €179 |
| MONEY BACK GUARANTEE | N/A |
After purchasing the system you will have to provide your account MT4 numbers and then after a few hours, you will receive the link to download the package. System installation is very simple, you will need to start the setup file and the system indicators and template file will be automatically installed to your MT4 instance.
Trading Results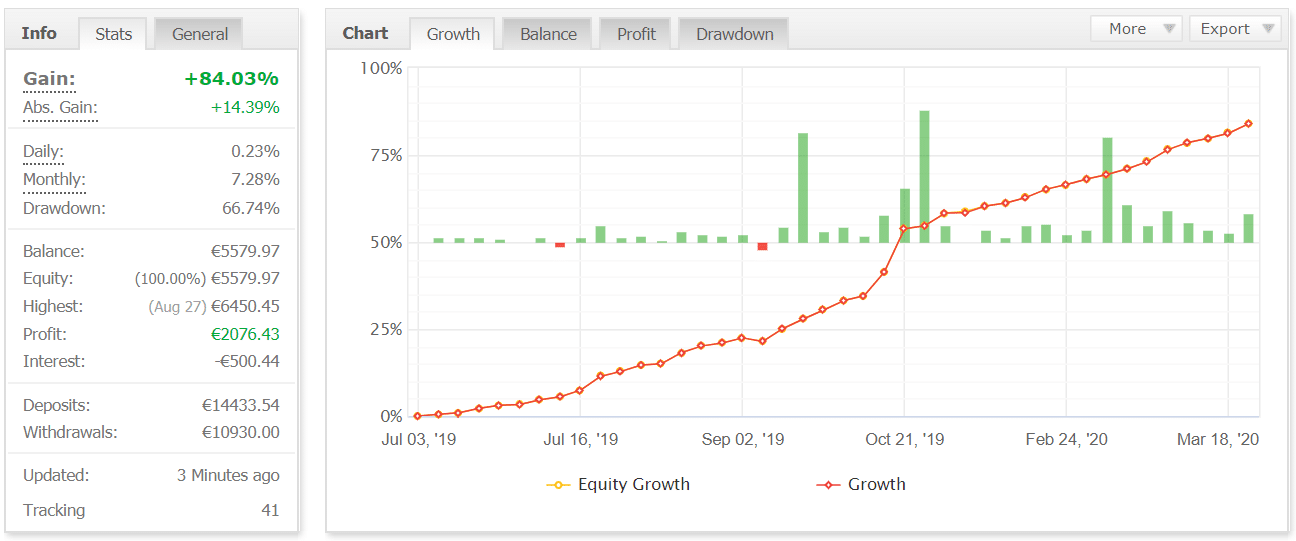 Myfxbook verified account provided by the vendor is showing positive dynamics since July 2019. In this review, we're going to check if it's possible to achieve similar results with Agimat FX in real trading.
How Agimat FX System Works
According to the authors, the system can be used for all trading instruments on all time-frames. It is easy to understand and after watching the educational video you will be ready to use it. Entry rules are clearly defined. Violet arrow will show you the trend and small yellow rectangles will be your entries. You only accept the entries that are in the same direction as the trend. Additional confirmation will be a Heiken Ashi arrow and it has to be bullish for long entry and bearish for a short entry. The last violet arrow is your stop loss level. When a yellow rectangle in the opposite direction appears, it is an exit signal.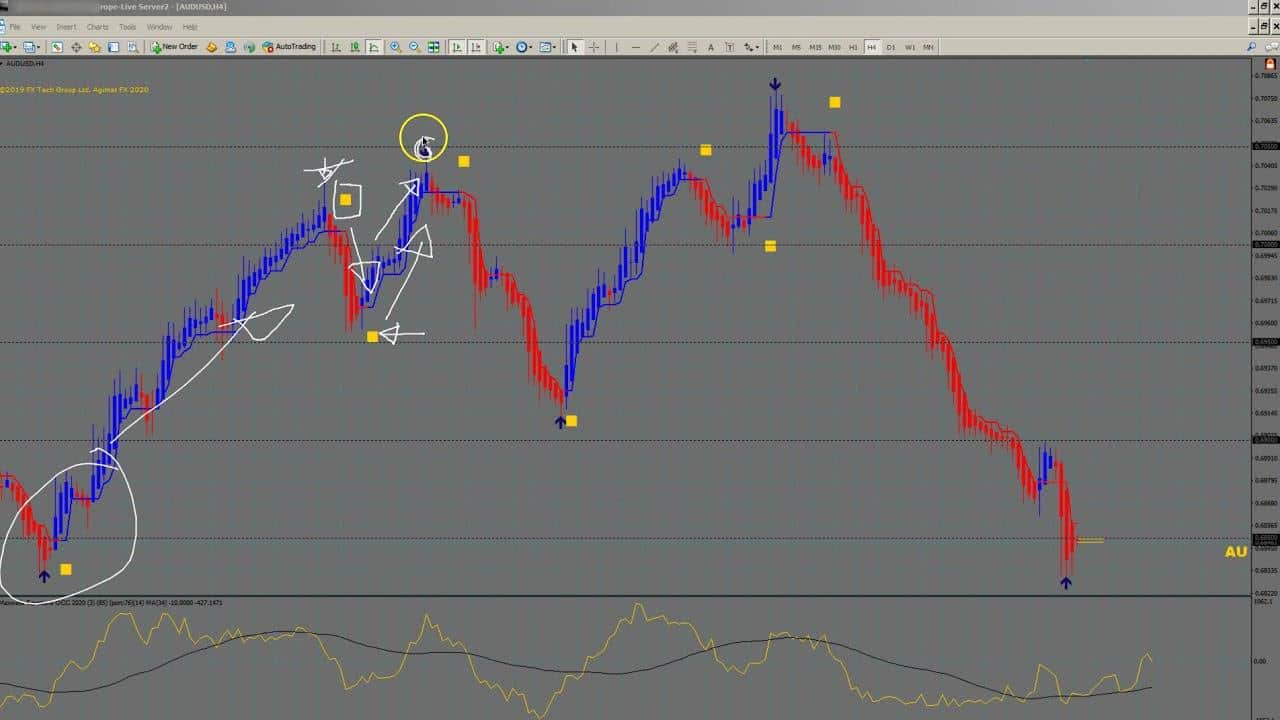 After I have installed the system I wanted to test it but it was not possible because the violet arrow indicator, the one that is determining the trend is repainting one. Well, it does not mean that the system is a scam since the author explains in the educational video why it repaints. Having that in mind I knew that proper back-testing can be performed in Strategy Tester only in Visual mode. Since that process is very slow so I decided to skip it.
Then I have tried trading on a demo account by strictly following the author's rules. My win rate was not even close to 90% as authors claim. On average it was around 55%. So, was it profitable? Well, I traded all majors, minors and some crosses, as well as gold and oil and I, tried trading over different time-frames.
I tried scalping on 15-minute time-frame and I managed to be profitable under following conditions. I traded only majors when there is higher volatility in the market, during London and early New York session. The trading on Asian session was not successful. Trading forex minors and crosses brought mixed results since I have noticed that I should avoid instruments with higher spreads. I also tried a 5-minute time-frame and I managed to generate small profits only on majors. 15-minute time-frame was more profitable than a 5-minute.
Day trading, on one-hour time-frame was not profitable though I had slightly more wins than losses. So, I decided not to trade for one hour for a long time. Four-hour time-frame brought me mixed results. I was slightly profitable but I was not happy with the results. Only time-frame that brought me satisfactory results was a daily one. I can confirm that on daily, I managed to be profitable by strictly following the rules for all trading instruments that I have traded.
---
Verdict
Agimat 2020 is a commercial FX trading system suitable for both beginners and more experienced traders. It can bring you profits on daily time-frame. It can be also profitable for a 4-hour time-frame but it will require more experience. It can be also used for 15-minute scalping only on forex majors during London and early New York session. So, my conclusion is that for 174 euros you can find a better system in the market.