ALA Forex Robot is a new expert advisor that claims to be one of the best trading software available in the Forex market in 2020. The developers of this trading tool say that their "robot can make you a profitable forex trader with zero trading knowledge". However, they emphasize that traders must understand the Forex market if they do want to achieve success with expert advisors.
Today we are going to provide you with a detailed ALA Forex Robot review and decide whether this software is going to make our top-rated list.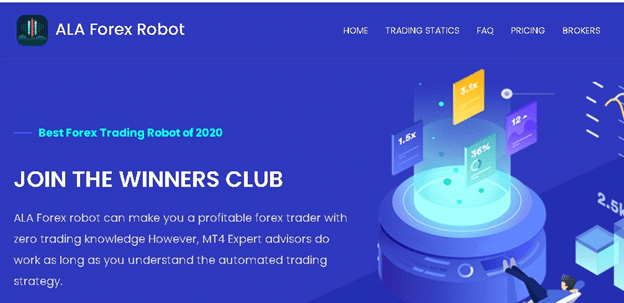 ALA Forex Robot Features
There are three main reasons why the developers of ALA Forex Robot consider their product the best in the Forex market: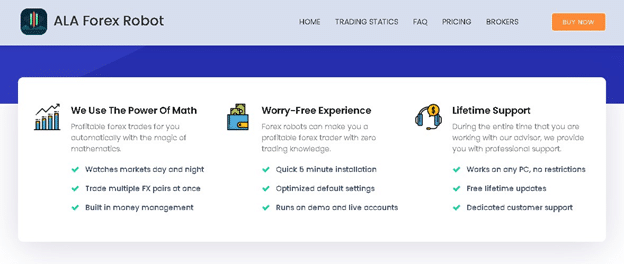 We have analyzed each of the above-listed sections and concluded that they are basic ones for most of the automated trading systems. There is nothing out of the ordinary in this EA, that is not a bad thing, but it does not set them apart from the other EAs in the Forex market. The sections listed on their sales page are not something specific, unusual, or different that makes ALA Forex Robot the best Forex robot candidate.
Trading Strategy
There is no information about the trading strategy approach or methodology on the ALA Forex Robot website. The developers only provide us with links to their backtests results but do not give any real detail.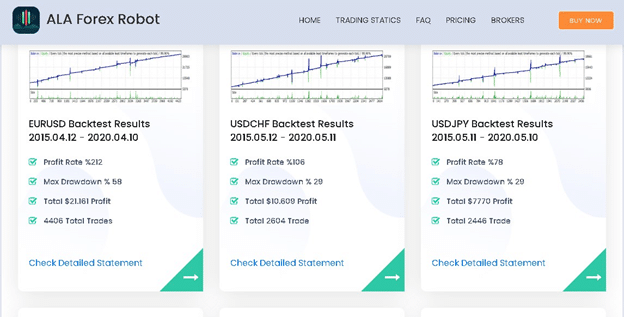 Today those vendors who want to compete in the Forex market try to be smart and provide as much information about themselves, their trading history in the forex market, and trading strategy insight as it is possible. It is not enough for us to know that the developers have tested their trading strategy for many years. We would like to see what exactly stands for their trading strategy and how it can help traders to succeed in the Forex market.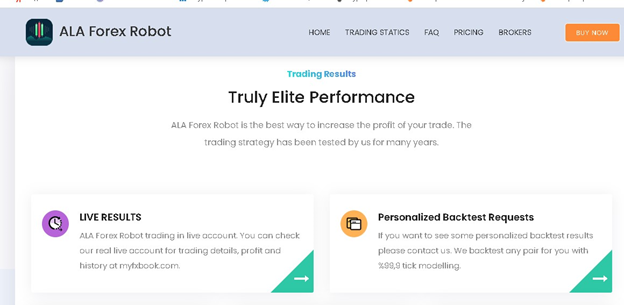 Product Offering
The trading software is going for $349. This package comes with free updates, customer support, PDF manual, and optimized settings: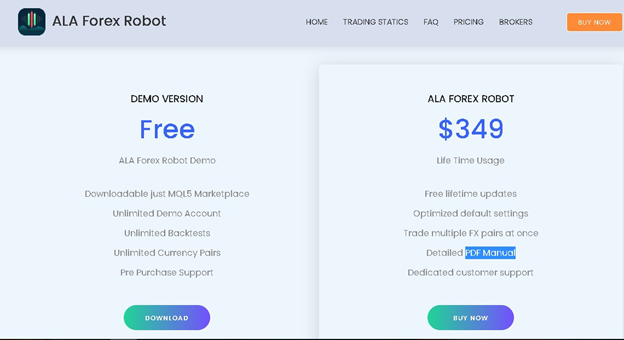 The good thing about ALA Forex Robot is that the developers provide a free demo version for traders who want to test the software before they buy it. Taking into account that we know nothing about the trading strategy of this software, we would like to recommend traders interested in this EA to try a free demo version before investing their money in this robot. The demo version comes with unlimited demo accounts, backtests, currency pairs, and pre-purchase support.
Backtest Results
On the sales page of this expert advisor, the developer provides 1 live myfxbook.com account and 6 different backtests.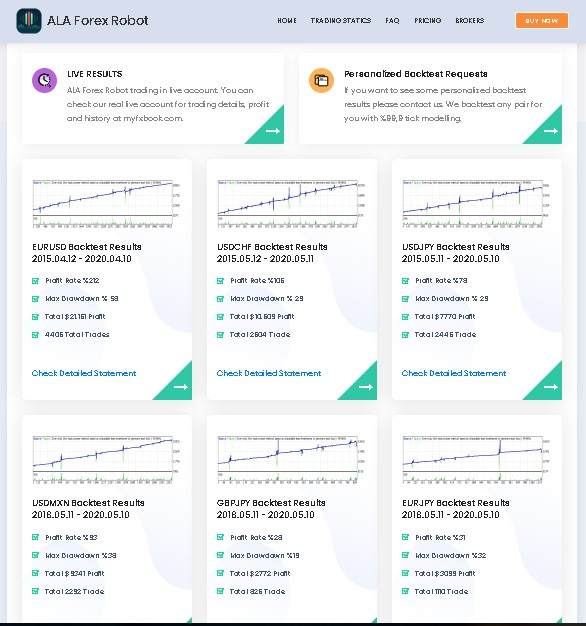 The vendors also promise to provide personalized backtest requests: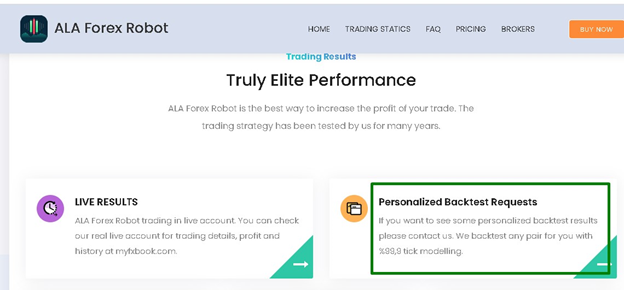 So, if you decide to see backtests over a certain time, they will do it for you. This is a unique technique and this is the first time we see this option offered.
Trading Results
Let's analyze the trading results verified by myfxbook.com.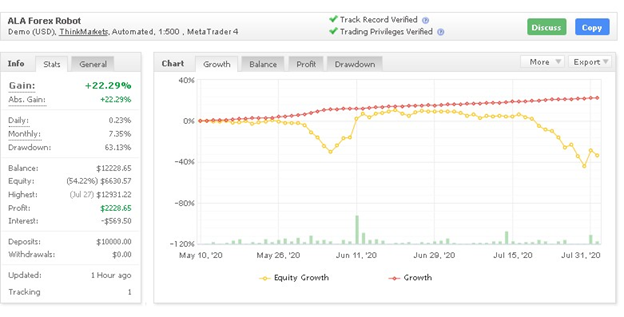 It is a Real Demo account that is working on the Meta Trader 4 platform with a ThinkMarkets broker. The robot launched on May 10, 2020. Currently, it is showing a +22.29% gain with a daily 0.23% gain. It deposited $10000.00 and earned $2228.65. Its peak drawdown is high and is equal to 63.13%. The profit factor is 1.13.

For 3 months, the robot has traded 1647 times and won 1138 out of 1647 trades, which represents 69%.

It trades AUDCAD, AUDNZD, AUDUSD, CADJPY, EURCAD, EURCHF, EURGBP, EURJPY, EURNZD, EURUSD, GBPCAD, GBPCHF, GBPJPY, GBPUSD, NZDCHF, NZDUSD, USDCAD, USDCHF, and USDJPY currency pairs. The largest amount of trades was conducted with the AUDUSD currency pair (204 trades).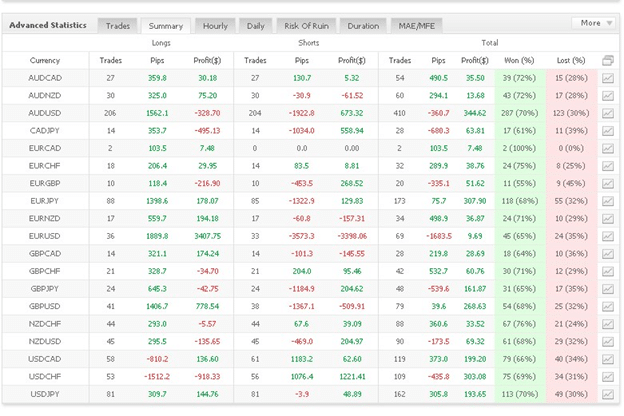 The average winning trade is $17.24, while the average loss is -$34.18 with the average trade length of 2 days. It is showing a risk/reward ratio of about 1:2 with the win coming in at 31.66 pips and the loss at -72.02 pips. The best trade is 273.4 pips and the worst loss is -577.0 pips.

We do not know what the reason is, but the developer has decided to hide certain information from trading activity data. Therefore, we cannot analyze open trades or open orders history that might provide us with additional information about the software.
Lack Of Transparency
The developers of ALA Forex Robot do not tell anything about themselves on their sales page. This is not the first time these details have been left out of a presentation, but it is not a good sign for vendors, who want to obtain a reputation among traders, compete in the automated Forex market, and sell out their product.
Therefore, we have decided to do our additional research to find any information about the website. Based on whois.domaintools.com results, we have found that the website was launched on February 9, 2020. The website IP location is Sachsen – Falkenstein. This is all research we did on our own.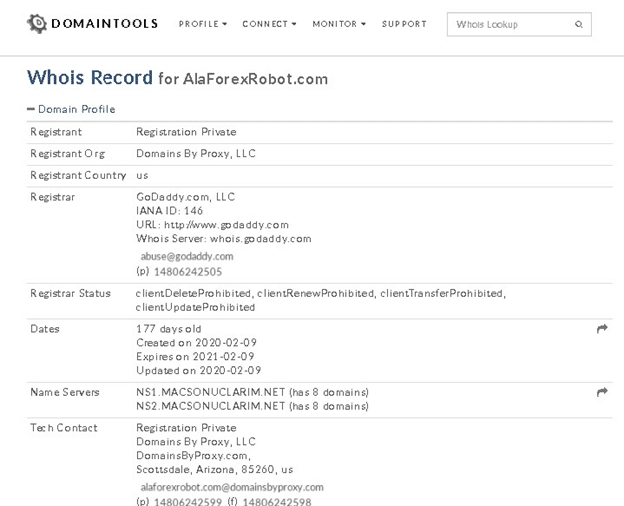 The developers of ALA Forex Robot need to be more transparent with traders and provide detailed information about themselves, their team, and location on their sales page. Lack of information and transparency is a red flag for any EA.
Pros
Demo version
Verified trading results
Cons
No information about trading strategy approach or methodology
No data about the people who stand for this EA
High drawdown performance
Hidden trading activity data
Verdict
We are not in a position to recommend ALA Forex Robot. The developers of this expert advisor do not provide any information about themselves, their trading strategy, or company details on their website. In addition to this, myfxbook results are showing poor trading performance data, high drawdown, and hidden trading activity data. At this point, we do not recommend this robot to the public.