In order to bring you the best Forex trading robots out there, we are going through a number of robots on the market, both reliable and crooked. In this review, we take a look at the August Forex Golem trading robot and find out which category it belongs to.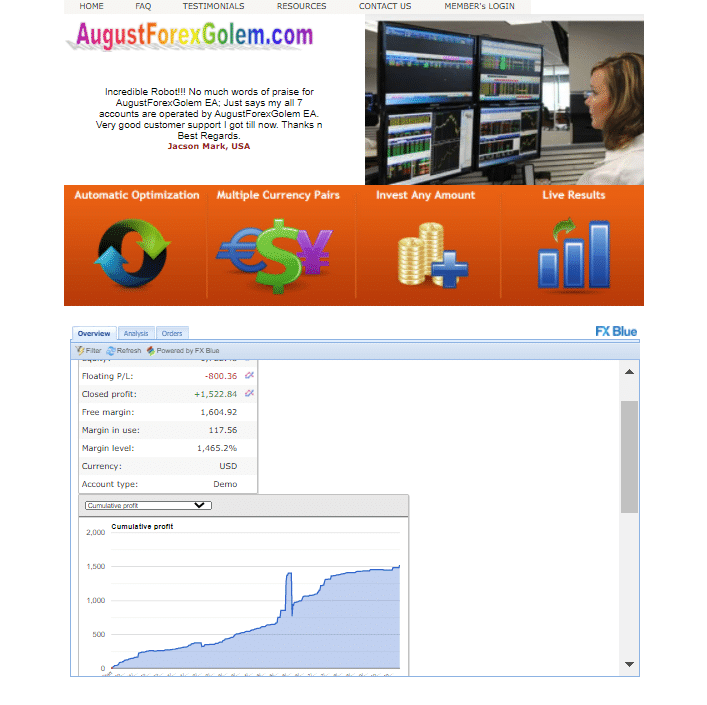 It is advertised by its developers that this robot optimizes in real-time and has verifiable external trading results, but we leave that for you to assess. The EA trades major currency pairs and has been in the market for about 4 years now. So, why does it not have any following in any trading forum? Let's uncover what traders are slowly figuring out.  
Product Offering
The platform website has a weird, bland, and haphazardly put together design. Plus, its presentation needs an urgent update. But, apart from that, there is no real information available. With fancy terminologies and unverified claims, this robot is clearly aimed towards gullible traders who don't have much knowledge about trading. As a $197 Forex robot with no profit or money-back guarantees, it is clearly indicative of a scam that everyone should stay away from. 
Price

$197

Trading Strategy

Fibonacci retracement

License and Regulation

Not certified by the NFA or the CFTC

Currency Pairs

Major pairs like EURGBP, USDCHF, USDSGD

Robot Launch

16

th

November 2015
The surprising thing is that this robot has been around for a while, since November 2015. But, the problem is that it is not mentioned at all in any of the trading forums. There is no following for August Forex Golem and, therefore, no one to verify its claims. 
Trading Strategy
The strategy that the robot developers assert it uses is the Fibonacci retracement, which, if you've been in trading for long, you would know is a disastrous strategy. In almost all cases, this strategy opens up numerous positions in a single direction. This is highly problematic as it increases the chance of draining your account funds with a single loss. 
As a completely automated robot, it is developed to run on MT4 so that anyone can use it. One has to simply pay for it, download it, and follow the setup guide to get it up and running and trading your capital within a few minutes. Plus, there is nothing more to do other than that, except checking back on its performance. 
Trading Results
The backtest results as given on their website may appear authentic and even profitable at first glance. But the devil is in the details and they tell a whole different story. The profitability is no higher than the losses that one would incur with this robot as is highlighted by the peak drawdown of -26.5% which is much higher than any trader would be comfortable with. On top of that, there has been a loss of -2716.6 pips which, in itself, should set the alarm bells ringing. If that weren't enough, the average loss is 11% higher than the average profit.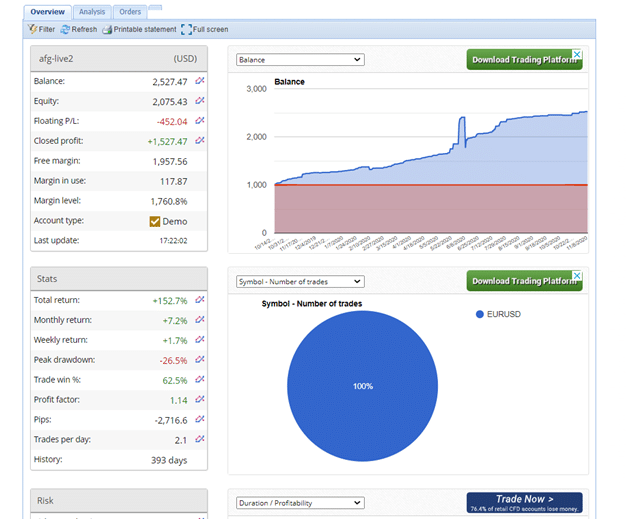 Customer Reviews
It is clear from customer reviews posted on the website that they are unverifiable and fake. There are no pictures against the names of the users and we know how easy it is to manufacture a positive image through customer reviews. However, when we did our own research, we found that there aren't many positive reviews as we were led to believe at first.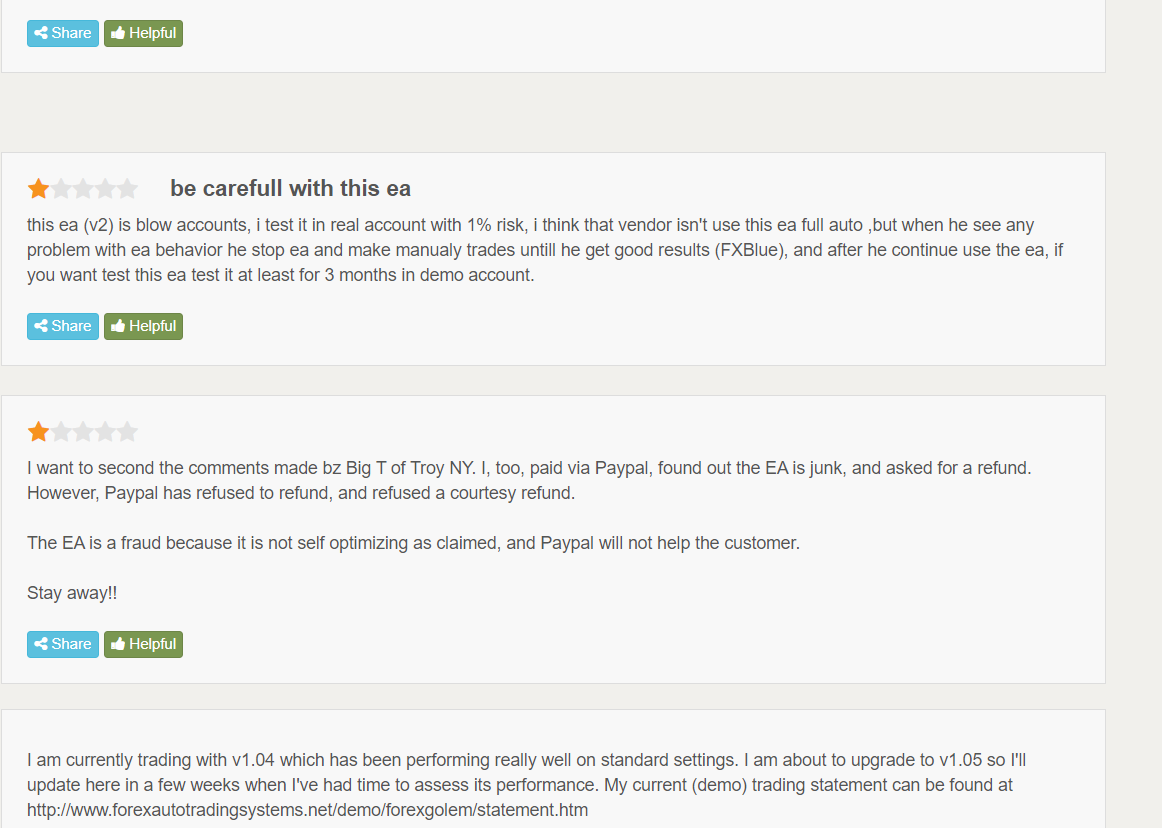 In fact, there are hardly any. All popular trading forums that have mentioned August Forex Golem have done so in a negative light. 
PROS
Runs on MT4
Not too pricey
Easy to setup
CONS
Fake testimonials
Disastrous live results
No backtesting data
Shady website
Worst trading strategy
Not certified or regulated
Verdict
Keeping the interest of fellow traders and readers in mind, we cannot recommend this robot in the least. It breaches its users' trust with fake testimonials and by withholding important information that would be considered basic by any Forex trader. The trading results are nothing short of disastrous and we cannot advocate for this robot.