Forex Ninja is a newcomer in the market. It claims to make trading easier and offer a quality trading product that has been backed up by a decade worth of backtests. As far as first impressions go, this robot really goes all out to impress potential users. But, what is behind its flashy exterior? Let's find out whether its promises and its claims are well-founded or not.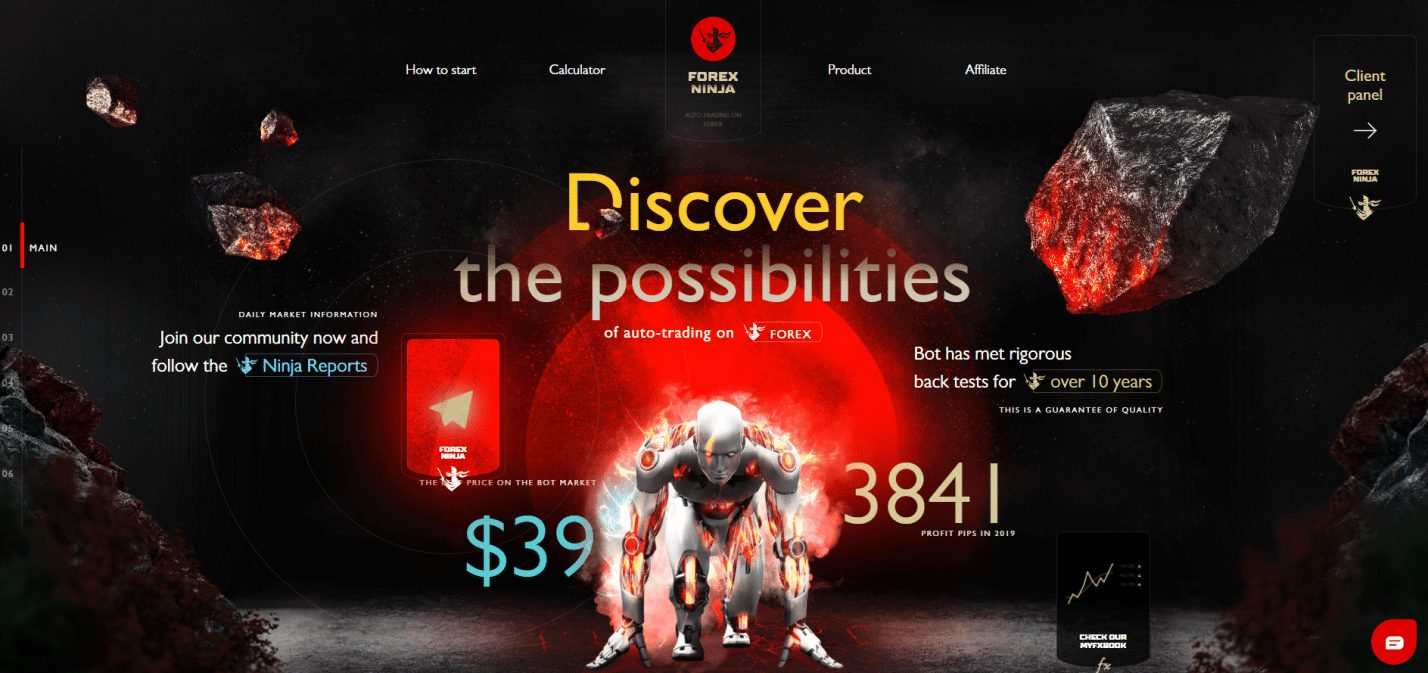 Product Offering
Forex Ninja is developed by a Polish man and released in 2018. It goes at the starting price of $39 per month, which goes up depending on the size of your trading capital and the length of time for which you intend to use it. Such a pricing model is not available with most robots and does ring some alarm bells. 
There is no information about which time-frame the robot works best, which, again, is quite shady. On top of that, the fact that it doesn't have much experience doesn't help it to be regarded with much respect. 
In terms of transparency, this robot fails miserably. There is no information on how to contact the company – no email, headquarters location, or phone number – as though the whole thing was run out of someone's basement. It also has a high withdrawal fee, which is never appreciated by any trader. 
| | |
| --- | --- |
| Existing since: | 2018 |
| Price: | $39 and above (based on capital size and time) |
| Deposit Fee: | No |
| Withdrawal fee: | High; $30-$40 per withdrawal |
| Financial Information: | Not publicly available |
| Trading Platform: | MT4 |
Trading Strategy
As mentioned before, there is no information on the time-frame in which the robot works best. And for the currency pairs, it deals in 12 most commonly traded currency pairs, so perhaps we can assume that the time would vary depending on which pair one is trading. Of course, there's no way to confirm this due to the lack of information. The minimum deposit that one has to make on the robot to get started is $400. 
Other than that, there isn't any information on the trading strategy that the robot utilizes. Given how new it is, it would surely have helped its case if there was some insight into its workings. Without such information, there is no way for anyone to ascertain how the robot is going to deliver on its promises. 
Trading Results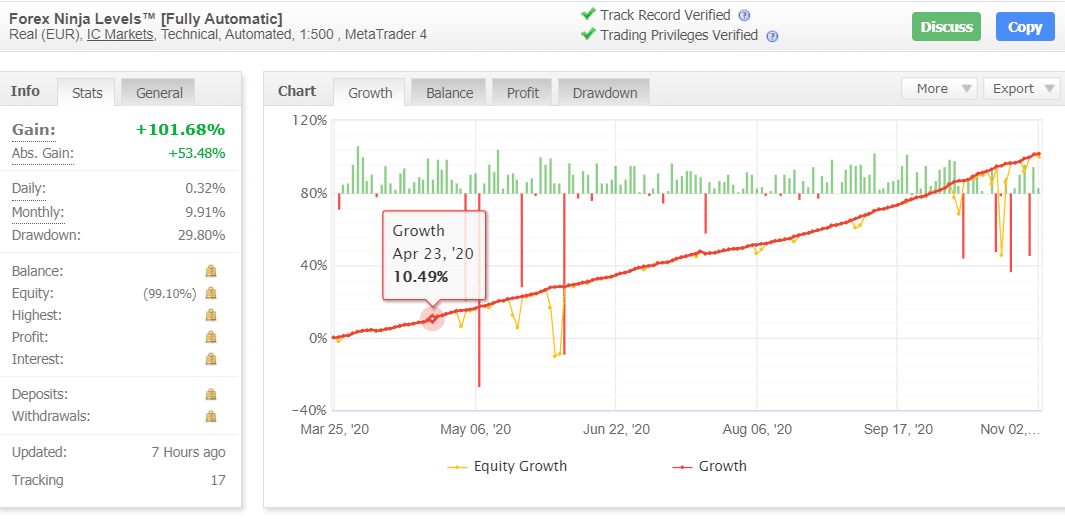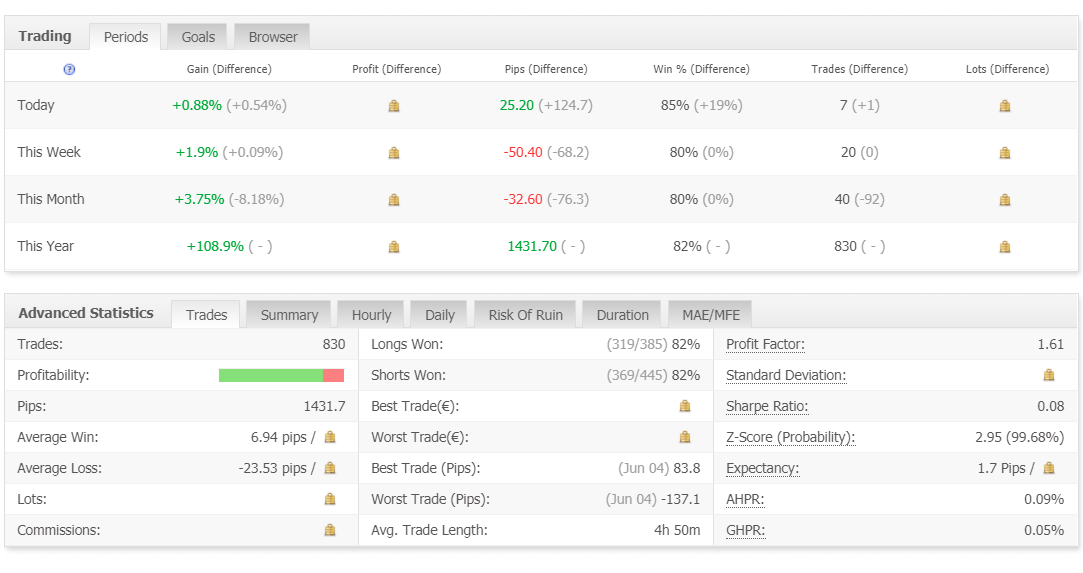 Even though the website boldly claims 10 years of backtesting, there is not a single reference advanced by them. So, what are potential users supposed to make of it? As for live trading, the developers provide the results from a total of one Myfxbook account. It seems wanting to get some verification of their claims is too much to ask. 
Coming to the analysis of the results (as shown in the figure above), the robot uses a leverage of 1:500. The account started in March of 2020 and has placed about 580 trades since then. Its performance looks nice with a gain of 67.75%, that is, until one looks at the drawdown of 29.80% which is quite significant. 
Moving on to average losses and wins, the former is higher than the latter by at least 16 pips, highlighting further the high risk-reward ratio. We can clearly glean from such numbers that they're using the scalping technique, but, of course, that cannot be confirmed.  
Customer Reviews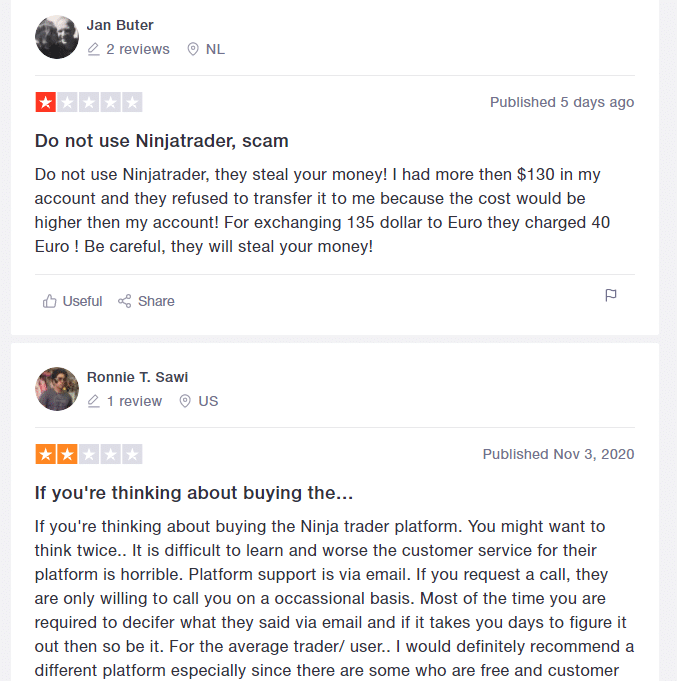 Wherever we looked, we found only negative feedback for Forex Ninja. But, what's surprising is that on their main website, there was nothing but positive reviews. Now, that begs that question – how can we trust them? We would rather trust users who have tried it and fallen prey to their scam than their own advertisements. Also, it is not hard to create fake testimonials and pick and choose which one to put online. 
PROS
Impressive website
Trades all major currencies
CONS
No backtest verification
Bad customer feedback
High withdrawal fees
No information on the strategy
High risk-reward ratio
Verdict
There are hardly any positives that we found about the Forex Ninja robot. Although it has had a couple of years' worth of experience in the market, there is hardly any information that they are willing to disclose about its strategies, backtest data, and a whole lot more. Traders would be better off choosing some other robot where it could be put to better use. As for a Forex robot, steer clear of it.